With a young player comes excitement. Fans never want to believe that the players, who are supposed to be the future faces of their franchise, will never reach those expectations. Young players do fail occasionally, though, even with glimpses of high-level play on their record.
These five players all gave reason to be believed in at one point or another, but now their careers are trending downwards. It doesn't mean they can't restore that belief, but their play needs to improve and improve quickly in order to do so.
[Editor's note: Available to all of PFF's EDGE and ELITE subscribers, PFF's Free Agent Rankings Page consists of three-year grades, PFF WAR and in-depth analysis for all of the top NFL free agents. Contract information from our friends at Over The Cap is also available. Subscribe today for access!]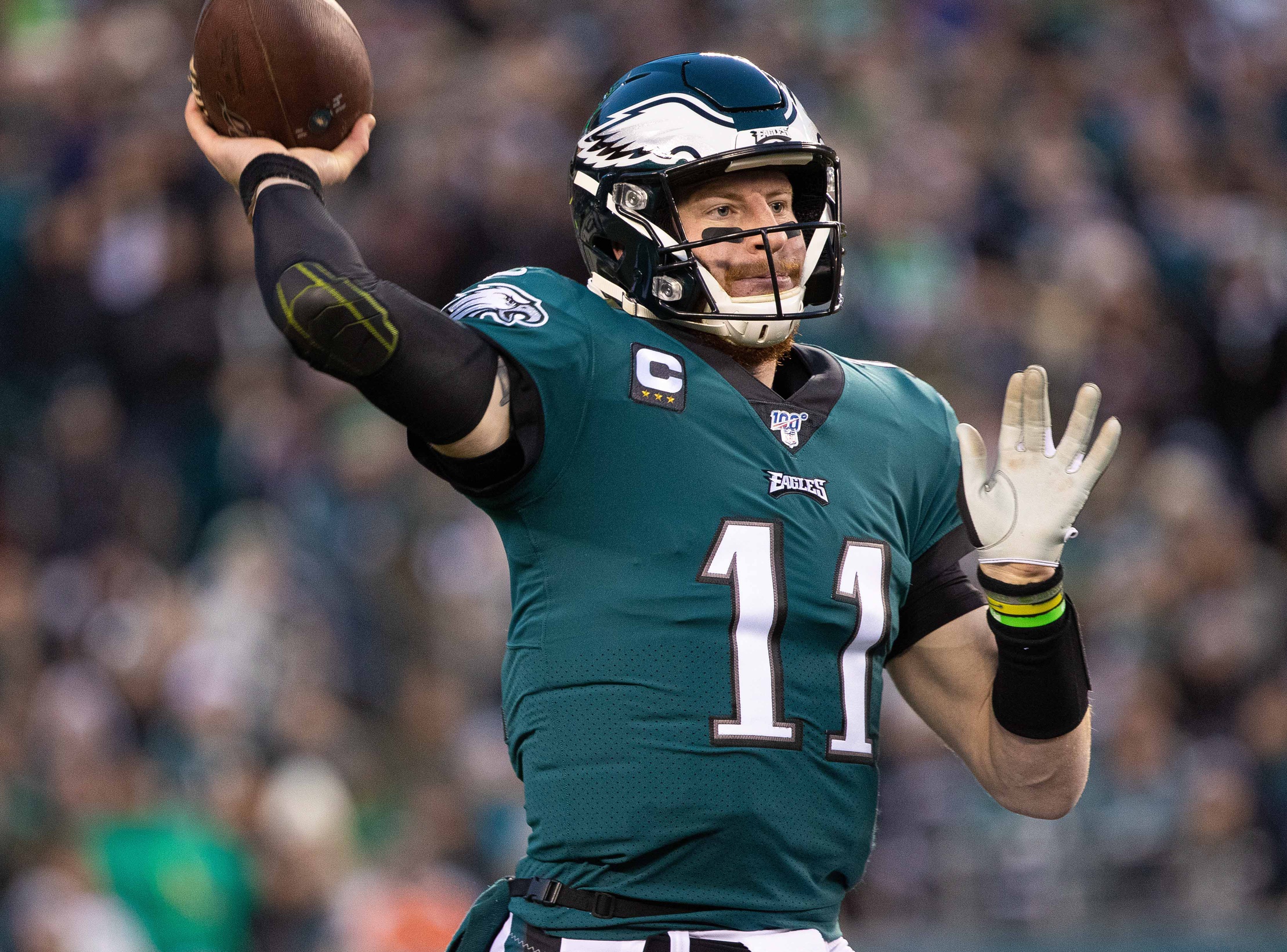 Wentz was a legitimate MVP candidate prior to the injury that ended his 2017 season prematurely. Through Week 14, his 84.9 overall grade ranked third at the quarterback position behind only Tom Brady and Matt Ryan. Those kinds of results in his second season as the starter seemed to be a precursor to a career with his name sitting among the best at the position, but the encore performances have yet to live up to what Wentz was able to do three seasons ago. He dealt with injuries again in 2018, and his overall grade fell from 84.9 to 79.4 in the process.
It looked like he was getting back to that 2017 form early this past season, as Wentz's grade of 90.6 through the first six weeks of the season ranked tied for first with Russell Wilson among qualifying quarterbacks. The stats might not have matched up, but that was more due to a lack of help from his receivers rather than from poor play from Wentz. Does everyone remember this fourth-quarter effort from Nelson Agholor back in Week 2?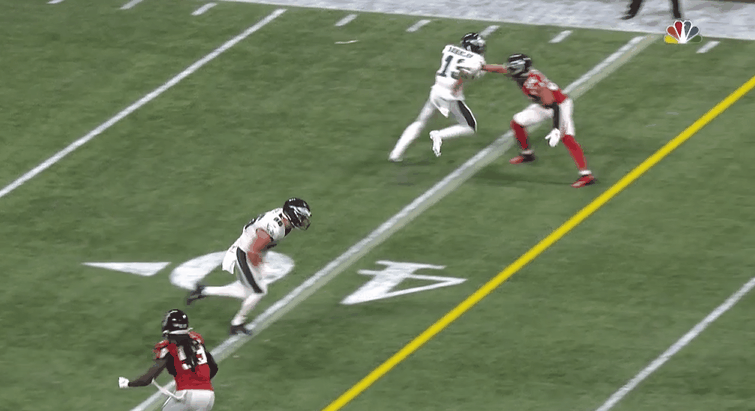 Wentz couldn't keep up that level of play as the season progressed, however, and he ultimately ended the season with a 75.6 grade that ranked 16th at the position. The 2020 campaign will be big for Wentz to prove that he belongs in the upper tier of NFL quarterbacks rather than being grouped in with the middle-of-the-pack starters.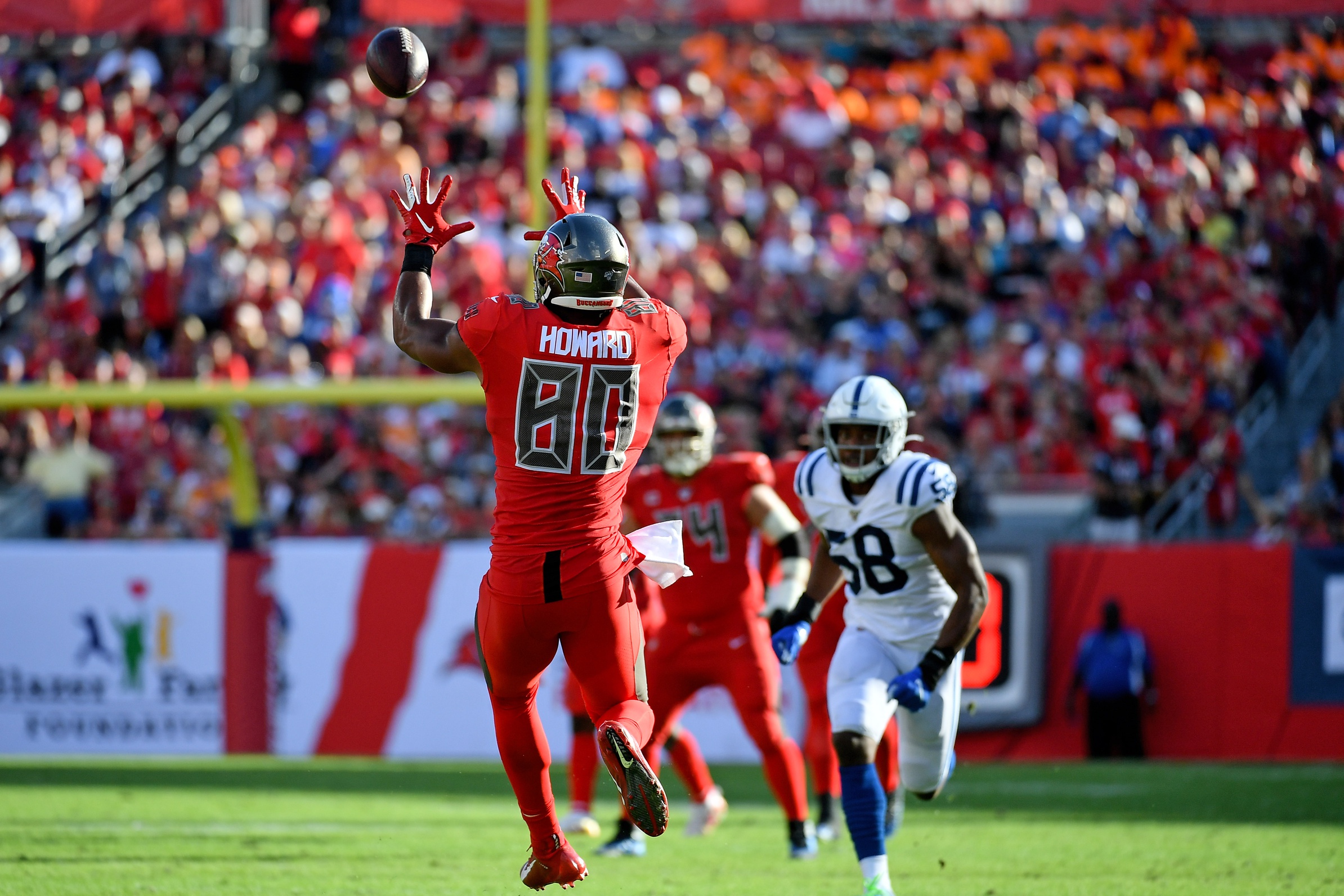 One of the stranger developments of the 2019 NFL season was a player as talented as Howard becoming a complete non-factor on a team that dropped back to pass 709 times, fourth-most in the NFL. Despite playing a career-high 781 snaps, Howard caught the same number of passes as he did in the 2018 season, with 100 fewer receiving yards and four fewer touchdowns. If you needed a refresher, Howard's 2018 season ended after 11 weeks. His 89.1 overall grade in that shortened season ranked second among qualifiers at the position behind only George Kittle.
Rather than building on that, Howard regressed significantly last season and earned a grade of only 54.7. He went from running a route on 60.1% of his snaps and being targeted on 18.0% of his routes in 2018 to running a route just 51.5% of the time and being targeted on only 12.9% of them in 2019. Buccaneers' head coach Bruce Arians has made his thoughts on the tight end position known before, saying in a 2015 interview, "We pay Larry (Fitzgerald) and those guys too much money to throw it to the tight ends. They're here to block." A fresh start for Howard on a new team might be best for both parties.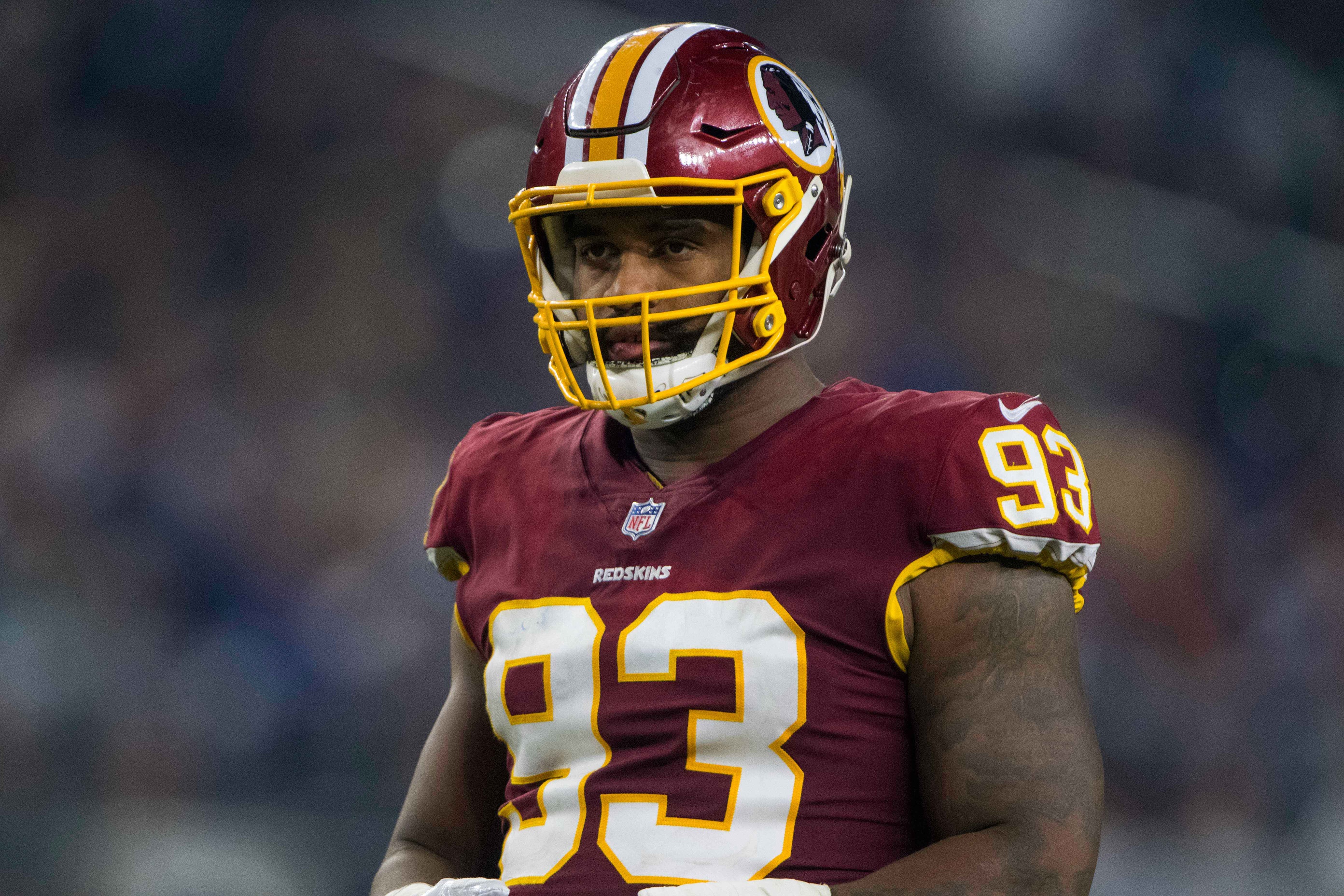 Any time you have a player who earned two consecutive 90.0-plus overall grades at Alabama and a first-round pedigree, as Allen does, expectations are always going to be high. Those expectations only continue to heighten with the kind of rookie season that Allen had — flashing upside with a 78.2 PFF grade across 159 defensive snaps before a Lisfranc injury sidelined him for the remainder of the year. He showed an ability to disrupt the pocket and move quarterbacks off their spot — like on the play below — by earning 16 pressures on 112 pass-rushing snaps as a rookie.
Allen has since worked himself into a full-time role on the Redskins' defensive line over the last two seasons, playing over 700 snaps both years, but he has been unable to bring that same disruption as both a run defender and as a pass-rusher. Allen's grade dropped to 69.7 in 2018 and down to 60.5 in his third season. The promise he showed early in his career has been largely unfulfilled despite the sack numbers, and he'll need to show that he's worth an extension over the next year (or two if the Redskins pick up his fifth-year option).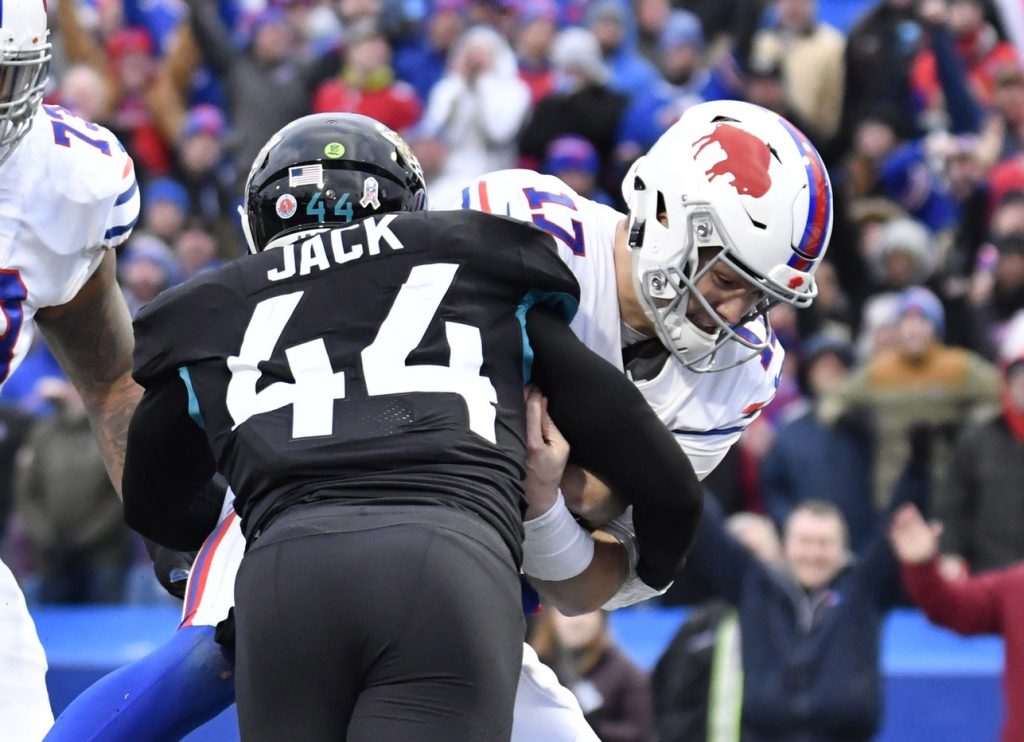 Speaking of extensions, Jack already got his locked up with the Jaguars, inking a four-year, $57 million deal that sits as the third-highest average value at the position, per Over the Cap. Jack kicked that deal off on the right foot by earning a … 46.1 overall grade that ranked 76th out of 90 qualifying linebackers. Not only was Jack's play on the field disappointing, but his season ended prematurely with a knee injury that forced him onto the Injured Reserve after Week 12.
When the extension was signed, I wrote that Jack's coverage ability and the durability he had shown across the 2017 and 2018 seasons were reasons to be optimistic about his future in the league. An excellent season in 2017 in which Jack earned an overall grade of 79.2 and an 82.4 grade in coverage turned into a less spectacular, yet still solid 2018 campaign. The wheels fell off this past season, though, marking two straight seasons of declining play. If the Jaguars' defense is going to get back to anything resembling the 2017 defense, Jack once again playing like he did that year is going to be a big reason why.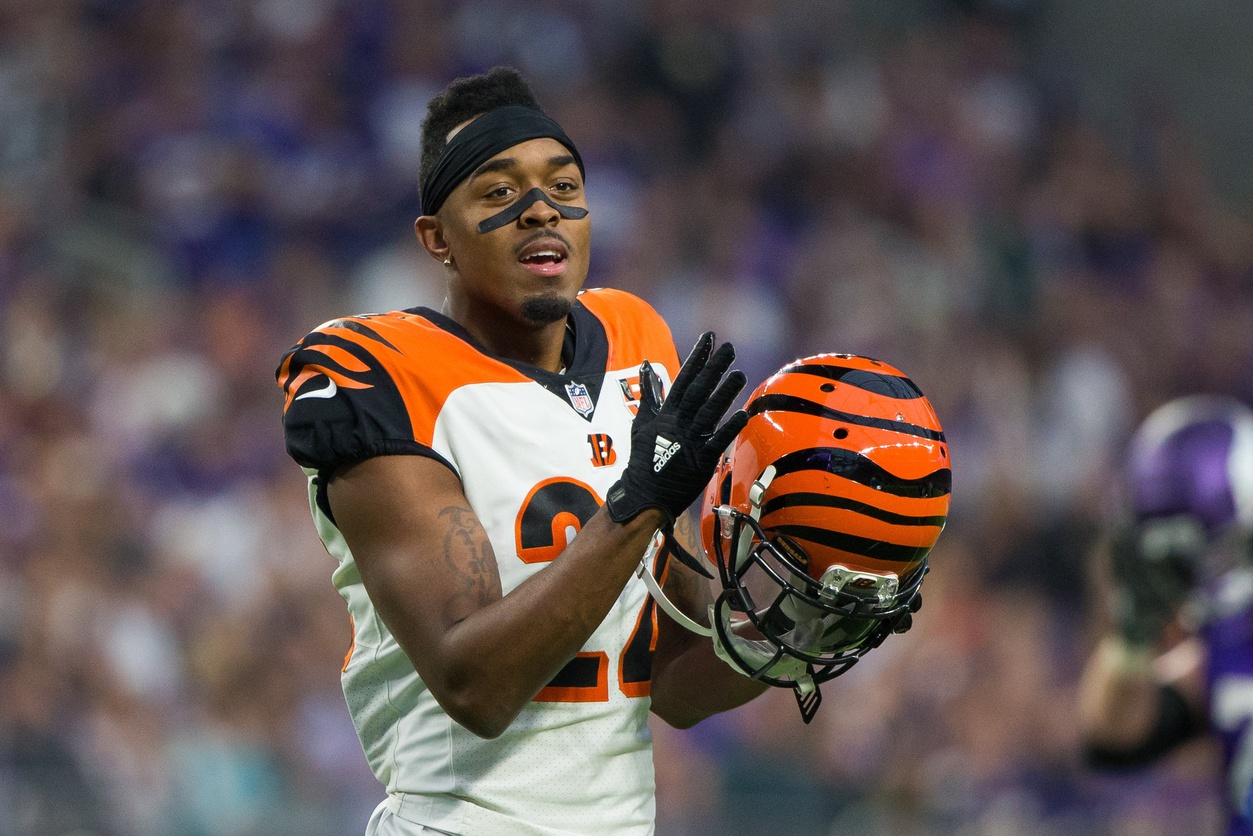 Bengals' fans had to wait to see Jackson hit the field. After being selected at 24th overall in the 2016 NFL Draft, a torn pectoral muscle kept him sidelined throughout the entirety of his rookie season. The anticipation was certainly built for his debut in 2017, and Jackson did not disappoint.
| | | |
| --- | --- | --- |
| Season | Coverage grade | Forced incompletion rate |
| 2017 | 90.4 | 39.5% |
| 2018 | 72.9 | 18.8% |
| 2019 | 55.2 | 3.1% |
Jackson was excellent in his first season of NFL action, notching an elite coverage grade of 90.4 and forcing incompletions on an absurd 17 of the 43 targets thrown his way. He allowed just 15 completions in total for 151 yards and no touchdowns. Since that point, however, he's not come close to reaching those marks in coverage. Jackson had a solid 2018 season that was followed up with a poor showing in 2019, forcing incompletions on just two of the 64 passes thrown his way. We've seen the ability in Jackson to be a lockdown cornerback, going toe-to-toe with some of the game's most talented wide receivers. He needs to find that ability again in 2020.