As the best first-round quarterbacks of the 2018 NFL Draft march toward bountiful second contracts, it's easy to see the identities each franchise has carved around its centerpieces.
The Baltimore Ravens have leaned all the way into Lamar Jackson as the engine of their offense. Through the structure of its downhill option runs, Jackson has been the Ravens' best runner between the tackles and on the edge. The passing game, often out of four-open sets (all receiving threats spread out) and empty, puts the game in Jackson's hands completely, releasing every receiving option downfield and asking him to use his legs as the checkdown.
The Cleveland Browns have settled into a multiple tight end, downhill rushing attack of its own for Baker Mayfield. Head coach Kevin Stefanski, offensive coordinator Alex Van Pelt, and offensive line coaching legend Bill Callahan have combined outside zone and power runs to manufacture clean pockets and open crossers for the quarterback.
---
Click here for more PFF tools:
Rankings & Projections | WR/CB Matchup Chart | NFL & NCAA Betting Dashboards | NFL Player Props tool | NFL & NCAA Power Rankings
---
What the aforementioned situations have in common, aside from sharing some concepts and play design, is an organizational commitment to replicate the things that their quarterbacks did best coming into the NFL. Lamar Jackson's breakout game in his Louisville career — at home against Florida State — was a display of his ability to run "power read" and work through pro-level progressions. Baker Mayfield looked like an immediate lock for the No. 1 pick behind the gap-scheme run (power, counter, etc.), play-action, pass-heavy approach Lincoln Riley runs at Oklahoma.
That leaves Josh Allen and the Buffalo Bills. On its face, what Buffalo is doing couldn't be more opposite from what Allen operated within during his time at Wyoming. Offensive coordinator Brian Daboll was called up from Alabama to lead Allen's development as a quarterback, fresh off a national championship season that required building an offense around a raw quarterback.
The two came into Orchard Park as a package deal in 2018, and the trajectory they've been on is evidence not just of success, but of adjustments in philosophy and scheme to maximize a franchise-altering talent.
In order to contextualize the present-day Josh Allen, it's imperative to look at 2021 in comparison to what he was asked to do between his final year in college, his first two years in the pros with Daboll and their breakout 2020 campaign.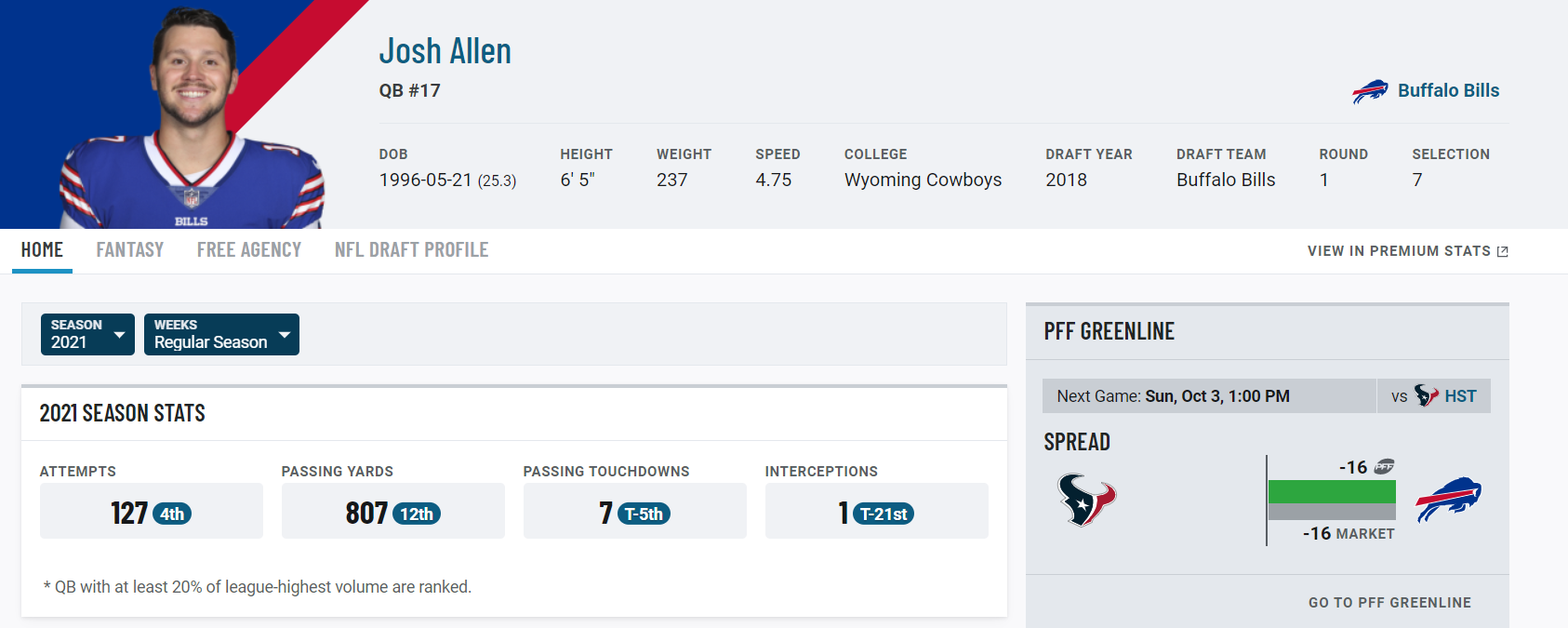 Base Offense & Meeting in the Middle
It's not revolutionary to play out of 11 personnel (one back, one tight end) on almost two-thirds of snaps (65%) as Buffalo has this year. The average NFL usage is just under a three-fifths share. 
At Wyoming, an offense made to smash teams with fullbacks and multiple tight ends had much less use for one back and one tight end (38% of snaps) than you'd typically see for a pro prospect in the modern college era. If the Wyoming Cowboys had a slot receiver on the field, it was as clear a passing tendency as there could be, using 70% of the 315 snaps to pass the ball. Because Wyoming was majority run out of almost every other personnel group it had, its 11 personnel package lacked window dressing like play action (15%) and RPOs (9%).
Having a complete 11 personnel package wasn't an issue for Daboll in Alabama (72% of snaps in 2017), filling the shoes of former offensive coordinator Lane Kiffin. Not only had the Crimson Tide built out a perfectly balanced run-to-pass attack, but with 16% of the snaps being an RPO and 26% a play-action pass, defenses could not divide their gameplan between how it wanted to stop the run and cover the field.
Leaving Alabama and coming back into the NFL, Daboll had a clear philosophical belief that a healthy run game required a large share of gap scheme runs to keep a defense honest. Power and counter — plays with pulling guards and lead blockers — made up one-third of the rushing attack in 2017.
Pin and pull schemes replaced counter in his current tenure, better handling the elite athletes on the edge (many counter plays leave an edge defender unblocked), but the use of bedrock gap scheme runs have waned as the seasons passed. This suggests that Daboll had to recalibrate his approach — not just to suit Allen and his rare arm talent, but to concede that the investment in gap schemes at the NFL level doesn't yield the same results it may in college, especially if you're not looking to run the ball as often (The 50-50 split at Alabama in 2017 became 67-33 in favor of the pass in his four years in Buffalo).
| | | | | |
| --- | --- | --- | --- | --- |
| 11 Personnel Run Game | Top Run Concept | Second Concept | Third Concept | Fourth Concept |
| 2017 Alabama | Inside Zone (28%) | Outside Zone (27%) | Counter (17%) | Power (16%) |
| 2018-2019 Buffalo Bills | Inside Zone (21%) | Outside Zone (17%) | Pin & Pull (17%) | Power (11%) |
| 2020-2021 Buffalo Bills | Outside Zone (29%) | Inside Zone (26%) | Pin & Pull (10%) | [Tie] Man/Power (7%) |
Where Allen had to make adjustments came in the RPO game. Coming out of Wyoming in 2017, he had only five passing attempts on RPOs in 11 personnel. For comparison, Jalen Hurts and Tua Tagovailoa combined for 43 in 2017. The "glance" route, effectively a slant, was Daboll's favorite to package on his runs (22% of RPO pass targets in 2017), and a strong-armed quarterback like Allen made fast friends with his wide receivers on glances in the NFL, throwing them into areas vacated by linebackers who went to fit the run.
In total, Allen's 75 dropbacks on all 11 personnel RPOs ranks fourth over the span of his NFL career, and his 6.9 yards per attempt ranks ninth among signal-callers with at least 25 dropbacks.
| | | | | |
| --- | --- | --- | --- | --- |
| QBs on Glance RPOs | Attempts | Completion % | Yards Per Attempt | Passer Rating |
| Allen, Wyoming, 2017 | 1 | 0% | 0 | 39.6 |
| Hurts/Tagovailoa, Alabama, 2017 | 11 | 73% | 9.8 | 103.6 |
| Allen, Buffalo, 2018-2019 | 16 | 62% | 13.2 | 113.5 |
| Allen, Buffalo, 2020-2021 | 5 | 100% | 13.2 | 118.8 |
Ditching Heavy, Going All-In on the Spread
Ultimately, the conditions that led to the structural changes in Daboll's 11 personnel scheme would have happened independent of Allen. If an offense is in 11 personnel and not using tight splits so receivers can create extra gaps as blockers or with misdirection off of jet motions, the option game is just about the only way to keep linebackers from flying downhill.
Where Daboll and Allen have forged a new identity for this offense has more to do with what Buffalo stopped doing than what it added.
Allen's college offense being predicated on hitting defenses in the mouth influenced Wyoming's secondary and tertiary personnel packages. The Cowboys used 12 personnel (one back, two tight ends) 22% of the time compared to an 11% share of that personnel grouping for Alabama.
Though two tight end sets were shared as the No. 2 package, the way that Allen and Daboll's offenses operated out of it couldn't have been more opposite. For Allen, getting out of 11 personnel seemed to balance the offense's play calling out (54-46 split, leaning run), and Daboll got into two-tight end sets almost exclusively to run (83-17 split). The element of downhill runs also opened the door for play-action opportunities for Allen in a way he missed out on in 11 personnel, with 46% of his 12 personnel passes coming after faking the run.
For Allen's first two years in Buffalo, Daboll adjusted his scheme to replicate an approach in 12 personnel that Allen would theoretically be comfortable with. In 2018 & 2019, 12 personnel was the third-most used personnel grouping behind 21, and a 52-48 run-pass split with 55% of passes being play action fit right into what Allen knew best.
In spite of the effort, his performance on play action out of heavier personnel didn't hold in his transition to the NFL. Some of Allen's worst habits would rear their head on play action. He extended outside of the pocket or hung on to the ball too long and made a bad play worse with inaccurate throws.
| | | | | | |
| --- | --- | --- | --- | --- | --- |
| 12 Personnel Play Action | Passing Grade | Dropbacks | Completion % | Yards Per Attempt | Passer Rating |
| Allen, Wyoming, 2017 | 82.3 | 33 | 63% | 7.5 | 119.6 |
| Allen, Buffalo, 2018-2019 | 63.1 | 43 | 51% | 5.5 | 56.5 |
At the end of the 2019 season, if Daboll had said the answer to fixing the flaws of Allen's game in 2020 and 2021 would be best addressed by trimming the 12 personnel package down (11% to 7%), cutting the 21 personnel package out completely (11% to 2%) and investing scheme and talent resources into playing with more wide receivers, I'd have signed his walking papers myself.
Nothing about Allen's resume suggested that the issue was Buffalo running too few dropback passes. Nothing about the tape or data suggested Daboll or Allen would've been able to make this work either. Alabama in 2017 ran 10 personnel on only 5% of its snaps, while Wyoming was at an 8% clip. Yet, Allen's 180-degree turn in 2020 was brought on by just that, and the addition of Stefon Diggs putting all of Allen's receiving threats in their proper roles.
Playing with four true wide receivers (10 personnel) was something Daboll hadn't done with Buffalo. After Allen's first two seasons, Daboll had played less than half a percent of snaps out of 10 personnel — a number that flew up to 15% between 2020 and now.
Opening the field like such came just as Allen's accuracy and efficiency working through progressions evolved. Evaluating his pure dropback game shows the unforeseeable jump everyone raved about throughout 2020.
| | | | | | |
| --- | --- | --- | --- | --- | --- |
| Allen Dropback Passing (no RPO, Play Action) | Dropbacks | Passing Grade | Completion % | Yards Per Attempt | Passer Rating |
| 10 Personnel, 2018-2019 | 4 | 60.3 | 67% | 11.7 | 106.3 |
| 10 Personnel, 2020-2021 | 135 | 80.8 | 71% | 7.1 | 91.1 |
| 11 Personnel, 2018-2019 | 585 | 56.9 | 53% | 6.2 | 70.7 |
| 11 Personnel, 2020-2021 | 348 | 80.6 | 71% | 7.3 | 103.8 |
This investment in the spread does not come without trade-offs, especially in the run game. Many offenses, because of the multiplicity that can be found in using different personnel packages, are able to flex their tight end in and out of the box (between the tackles and on the edge) and the slot to toggle between run- and pass-first sets.
This season in Buffalo, tight end Dawson Knox almost has to line up in the box when he's on the field. Otherwise, the Bills wouldn't have any formations in their base offense that employ an inline tight end. Of the 24 teams with at least 100 snaps out of 11 personnel, Buffalo ranks sixth in its usage of an in-line tight end, even though Daboll is looking to pass first and pass second.
The third-most used personnel package in 2021 — 21 personnel — has to be categorized differently than how most defenses would scout that grouping. Of the 18 snaps Buffalo has in 2021 with two backs and one tight end, eight have come in the red zone. For all intents and purposes, that's the Bills' short-yardage package, where a more typical team would play out of 22 personnel.
Buffalo's offense this season is completely bought into the spread. In 2020, it worked better than anyone outside of upstate New York could have imagined. In 2021, though, the high variance nature of the spread has been on full display already. The lack of a run game to punish Pittsburgh cost Buffalo to open the season, and the offense has torn off 78 points in the two games since.
As the year goes on, it will be interesting to see if defenses start to treat this offense the way college defenses do the Air Raid — sitting deep in coverage to force as many checkdowns and handoffs as possible. 
Allen and Daboll have evolved this offense once already, but if leaning this hard into wide-open offenses doesn't work, I would expect an offseason to correct some of the holes in this roster between the tackles.