The Buffalo Bills and quarterback Josh Allen have reached an agreement on a massive contract extension to make him the second-highest paid quarterback in the NFL. 
The move comes right before the preseason deadline set by general manager Brandon Beane. Allen is now slated to receive a whopping $258 million over six years, with $150 million of that being guaranteed, according to ESPN's Adam Schefter. His per-year salary slots in behind only the Kansas City Chiefs' Patrick Mahomes, and his new contract includes the most guaranteed money in league history (surpassing Mahomes, who received $141 million).

Allen's Year 3 breakout in 2020 was nothing short of an anomaly. After posting passing grades of 58.0 and 61.4 in his first two NFL seasons in 2018 and 2019, respectively, Allen recorded a near-elite mark of 89.8 in regular-season play this past season (sixth in the NFL). He ranked dead last in percentage of uncatchable passes thrown in both 2018 and 2019, with rates above 25%, but he nearly cut that in half to 16.5% (tied for fourth) last year. While many of his downfield passes were catchable but inaccurate, he at least gave his receiver a chance on those attempts, more than doubling his big-time throw rate year over year.
Coaches and scouts preach all the time that accuracy is an inherent trait. It's rare to see a quarterback take a massive leap from the bottom to the top in that facet, whether it's the NFL, college or even high school. Allen, however, defied those odds. After working with quarterback coach Jordan Palmer, Allen came out a new player in 2021.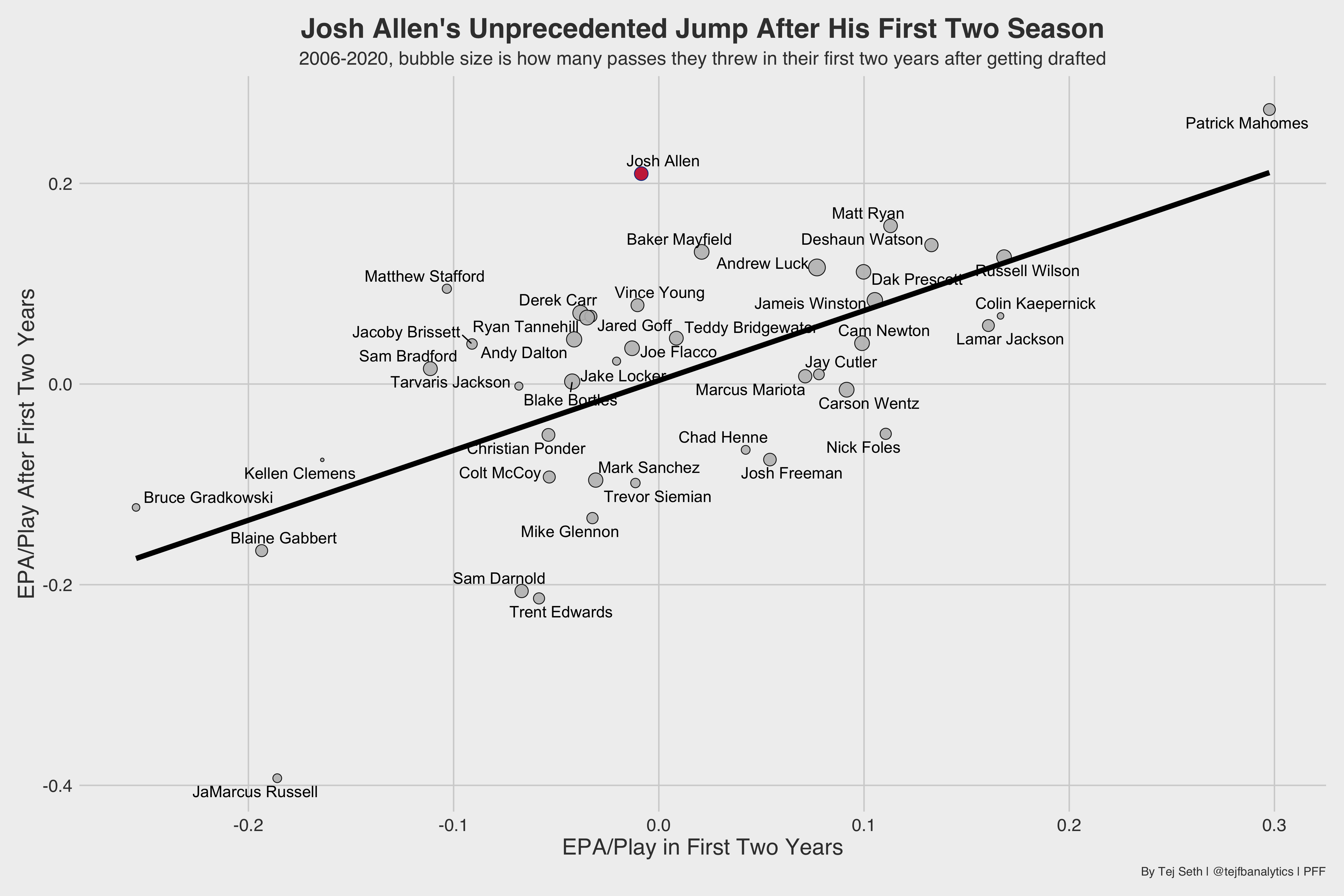 estimated value generated by Josh Allen on the field:
2018: $1.5 million
2019: $4.5 million
2020: $35 million

— Eric Eager ???????? (@PFF_Eric) August 6, 2021
It wouldn't be a surprise to see Allen regress slightly in 2021, but it's clear he proved us all wrong and showed he can be a franchise quarterback. As PFF's Eric Eager mentioned in a tweet following up Allen's expected value generated throughout his NFL career, it'll be tough for him to match the value of the contract. But, this is a big win for Brandon Beane and the Bills.
The Allen extension is the latest in a string of sharp moves by Beane, once again beating other teams to market, just as he did with tackle Dion Dawkins (beating out Ronnie Stanley and Garett Bolles) and cornerback Tre'Davious White (beating out Marlon Humphrey and Jalen Ramsey).
It remains to be seen if Baltimore Ravens quarterback Lamar Jackson and/or Cleveland Browns quarterback Baker Mayfield will subsequently top Allen's mark, but getting the deal done first ensures a new floor isn't set by Allen's camp.
Furthermore, the length of the deal is a slam-dunk for the Bills. There is a long list of franchise quarterbacks who signed recently to four-year extensions, establishing a strong precedent for representation to lean on — Deshaun Watson, Jared Goff, Carson Wentz and Dak Prescott, among others. The six-year extension that keeps Allen under contract through 2028 will likely age tremendously, especially with the NFL salary cap set to spike in 2023. Prior to this move, Allen's fifth-year option meant he was under contract through 2022, right before the big boost is expected. Now, he may play several years beyond 2023 on this contract as other premier quarterbacks look to earn $50 million or more per year in the not-so-distant future.