•At +850, Pittsburgh Steelers WR George Pickens currently has the highest odds to win OROY.
•Defensively, Detroit Lions EDGE Aidan Hutchinson has the highest odds at +450.
•All odds are provided by BetMGM.
---
We've seen enough through two preseason games to know which rookies look primed to make an impact in Week 1 and which may take a little longer. That means it's a perfect time to take advantage of the imperfect NFL Rookie of the Year odds. These are the best bets to make on both sides of the ball.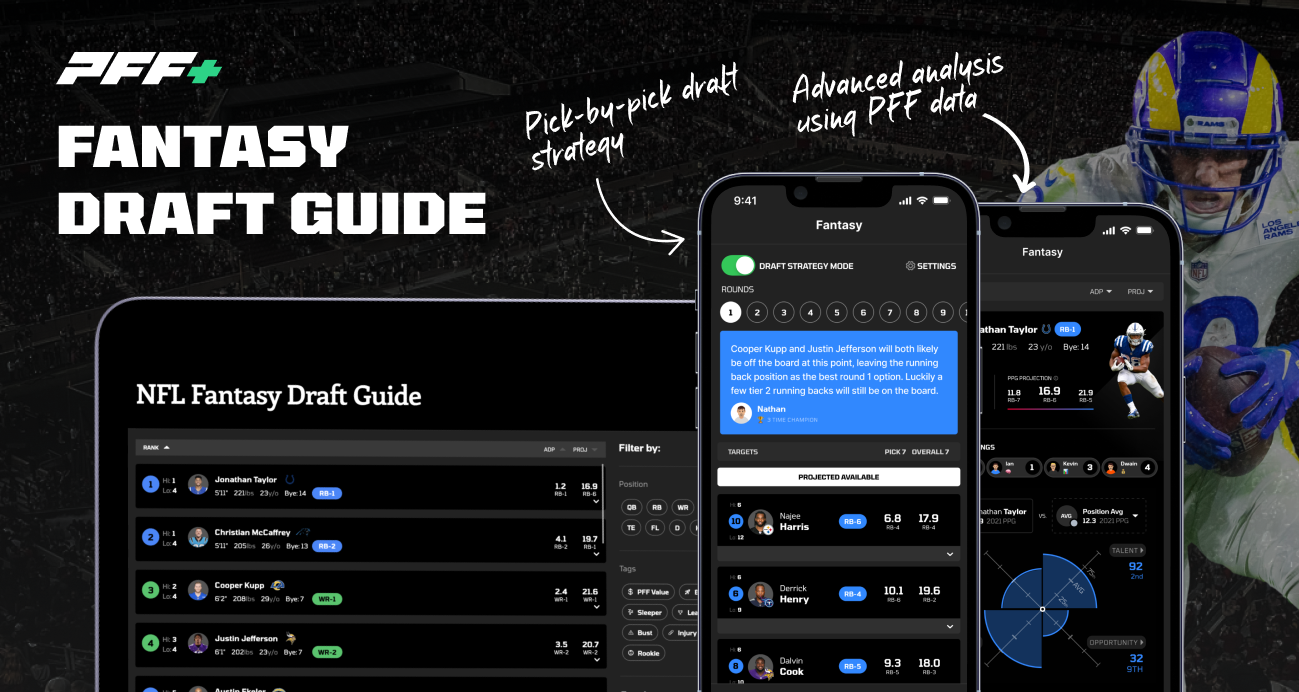 OFFENSIVE ROOKIE OF THE YEAR ODDS
| | |
| --- | --- |
| Player | Odds |
| George Pickens | +850 |
| Kenny Pickett | +900 |
| Breece Hall | +1000 |
| Chris Olave | +1000 |
| Skyy Moore | +1000 |
| Drake London | +1200 |
| Treylon Burks | +1400 |
| Christian Watson | +1400 |
| Romeo Doubs | +1400 |
Best Bets
Yes, Hall still isn't "technically" the starter in New York. In my eyes, that's a mere formality, as only Seattle Seahawks head coach Pete Carroll drafts backup running backs that highly. Hall is going to get the bulk of the carries in the Jets' offense with Michael Carter serving as the receiving-down/change-of-pace back. 
Hall ran behind a bad offensive line at Iowa State that prepared him well for what NFL-sized creases look like, and the elusiveness we saw from him in college has already materialized in the league (albeit on a small sample size). He led the draft class with 196 career broken tackles and already broke two more on five carries in his preseason debut. 
London is the clear-cut WR1 in the Falcons' offense (albeit with Kyle Pitts in the fold as the offense's primary target), yet he's got longer odds than some rookies who aren't even guaranteed to be WR1 or WR2 in their respective offenses (George Pickens, Chris Olave and Skyy Moore). 
London quite clearly can handle a high-volume workload — he led the Power FIve with 11 receptions per game last season. His ability to run a full route tree was why he was so high on the PFF draft board. Running a full route tree is also a quick way for a player to ingratiate themselves to a large target share early on in their NFL career. Atlanta's quarterback situation is really the only thing keeping London from being the clear-cut favorite here.
Get ready for these odds to continue going down. At the start of August, Pierce was one of many in the Texans' backfield and at +4000 to win Offensive Rookie of the Year. Now, he's the clear-cut favorite for a hefty workload. 
And for good reason.
Pierce was scintillating in his lone preseason outing, picking up 49 yards on five carries with two broken tackles. The reason you can feel confident about Pierce seeing the field is that he was the top pass-protecting back in the class and already looked the part in preseason. That's going to get in any coach's good graces.  
If you want to sprinkle a little cheddar on someone to come out of nowhere to take home the award, Shakir would be my pick. That's because we know Josh Allen is going to put up numbers no matter who he's throwing to. And Shakir is one injury away from being in the three deep, and he could even take Isaiah McKenzie's snaps at some point this season. 
Shakir has already been the toast of the preseason with eight catches on eight targets for 151 yards. Anyone who watched his tape at Boise State saw an NFL-ready route-runner from the slot. That's a very defined role in the Bills' offense from which Cole Beasley racked up nearly 1,000 yards a couple of years ago. If Shakir grabs ahold of that, he could sneak his way into the conversation.
---
DEFENSIVE ROOKIE OF THE YEAR
| | |
| --- | --- |
| Player | Odds |
| Aidan Hutchinson | +450 |
| Kayvon Thibodeaux | +550 |
| Travon Walker | +900 |
| Kyle Hamilton | +1000 |
| Quay Walker | +1200 |
| Ahmad Gardner | +1200 |
| Derek Stingley Jr. | +1300 |
| Jermaine Johnson II | +1600 |
Best Bets
While +450 is fairly short odds before Hutchinson has even played a regular season game, flip on the 11 snaps he played against the Falcons' starting offensive line and you'll agree that he's still a good value bet. Hutchinson earned an 88.0 overall grade in that Week 1 preseason contest, as he was the best player on that football field already. His NFL-readiness combined with a stat-generating position like defensive end makes him a runaway favorite.
In the debate between Derek Stingley Jr. and Gardner for who could take home this award at the cornerback position, Gardner has an X-factor: publicity. A cornerback nicknamed "Sauce" playing in New York City is going to get talked about endlessly if he plays well. A cornerback named Derek playing for the Texans is not. 
After Hutchinson in the 2022 class, the two cornerbacks were the only ones the PFF draft board saw as blue-chip types of early contributors defensively. That's clearly not reflected in the betting markets, as projects like Kayvon Thibodeaux and Travon Walker have much shorter odds.
Dean is yet another player you can rely on to play a sizable role for his defense — something that can't be said about a number of players with better odds than Dean. Georgia coaches said he had the playbook memorized by freshman year install and was teaching his fellow classmates. That means Dean getting up to speed on an NFL playbook shouldn't be a worry whatsoever. 
Dean was the highest-graded Georgia defender last season and fell in the draft due to size and injury history, not on-field performance. He's already been lights out in the run game through two preseason games with an 84.5 grade in that regard.
Mafe is a long shot for good reason. He was far from the most refined rusher coming out of Minnesota and isn't even slated for a starting role with the Seahawks. Still, the third defensive end on a lot of teams is a 600-plus snap role, which is more than enough for Mafe to rack up some stats. 
The reason I highlight Mafe as my favorite long shot is because he's a pure edge-bender kind of pass-rusher. Of all the different "types" of pass-rushers, edge-benders rack up sacks and forced fumbles at the highest rate. That's because quarterbacks don't see the pressure coming. In two preseason games, Mafe already has two sacks and a 77.4 pass-rushing grade. He may not be an all-around impact player in Year 1, but with his size and explosiveness, he could put up a healthy sack total.