The holiday season is bringing questions about the future of a Pro Bowl starting quarterback, dark horse Super Bowl contenders, the best non-QB MVP candidate, and much more.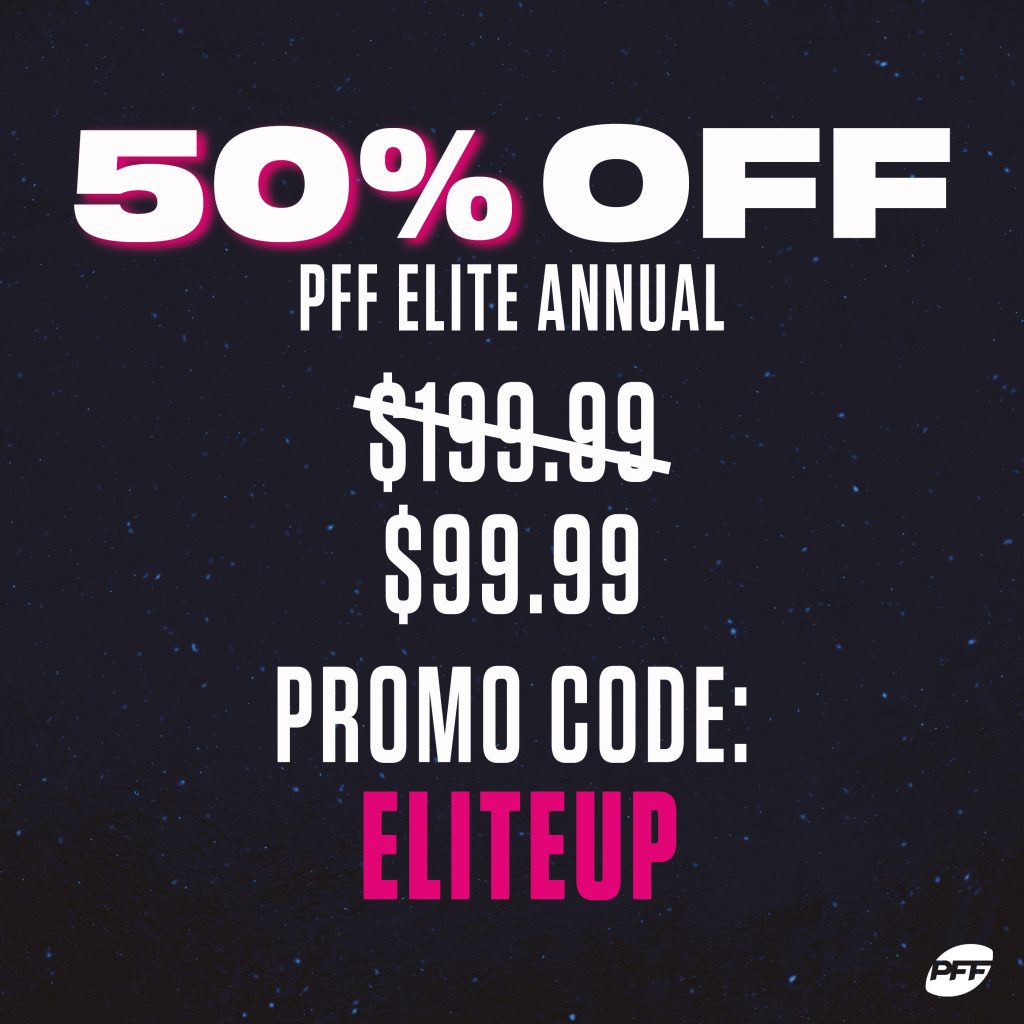 Click here for more PFF tools:
Rankings & Projections | WR/CB Matchup Chart | NFL & NCAA Betting Dashboards | NFL Player Props tool | NFL & NCAA Power Rankings
---
Happy Holidays! Dive in for answers.
I certainly think it's possible because changes are coming to the Las Vegas Raiders this offseason. Quarterback Derek Carr, who made PFF's AFC Pro Bowl team, is under contract through next season, but he has no guaranteed money left on his contract. Carr carries a $19.8 million salary and $100,000 workout bonus for a $19.9 million cap hit in 2022. That's incredibly affordable if the Raiders choose to keep Carr but also really easy to move if Las Vegas elected to trade him. If Sam Darnold can get traded for a second-round pick and Carson Wentz can get dealt for a first-round pick, then the Raiders should be looking for a first-rounder and more for Carr if they decide to move him.
Whether or not the 30-year-old stays in Las Vegas next season depends heavily on who gets hired as head coach and whether or not Mike Mayock stays on as general manager. It's not an easy decision for whoever is calling the shots this offseason. 
Carr was one of the NFL's best quarterbacks over the first seven weeks of the season. He had an 89.1 overall grade and 89.9 passing grade before a precipitous fall over the next seven weeks. Las Vegas had a bye in Week 8.
| | | |
| --- | --- | --- |
| Metric | Weeks 1-7 | Weeks 9-15 |
| PFF Grade | 89.1 | 62.7 |
| PFF Passing Grade | 89.9 | 62.8 |
| Big time throw rate | 8.5% | 3.9% |
| Turnover worthy play rate | 1.9% | 3.9% |
That aligns with when the Raiders' season spiraled out of control. Head coach Jon Gruden resigned after his racist, homophobic and misogynistic emails surfaced after Week 5. Wide receiver Henry Ruggs was arrested and charged with DUI resulting in death during Las Vegas' Week 8 bye.
Also of note, Raiders star tight end Darren Waller missed just one game between Weeks 1 and 7 and three from Weeks 9 to 15. Carr has recently relied on wide receivers Hunter Renfrow, Bryan Edwards, Zay Jones and DeSean Jackson and tight end Foster Moreau.
It's unfair to judge the first and second halves of Carr's season in a vacuum. And it might be smart for the next regime to bank on Carr turning back into the player he was during the first half of season, especially since he's so affordable compared to other starting quarterbacks of his caliber. Nonetheless, it also would be understandable to see the last seven weeks and decide it might be best to start over with a young quarterback or more dependable veteran in 2022 and beyond if a full rebuild and reset is coming.
It would behoove many teams to show interest if Carr did become available.
Here's the snap breakdown for Atlanta Falcons running back/offensive weapon Cordarrelle Patterson:
| | |
| --- | --- |
| Backfield | 243 snaps |
| Wide | 89 snaps |
| Slot | 54 snaps |
| Inline | 15 snaps |
| QB | 1 snap |
Patterson has even played one snap at free safety and, of course, 64 more on special teams.
Patterson will be a fascinating free agent this offseason. He's currently playing on a one-year, $3 million contract, and he's one of the best offensive players in the NFL. The most he's ever earned in one season was $5.6 million in 2017 with the Raiders. He should surpass that this offseason due to everything he can contribute to a team on offense and special teams.
Among all qualified NFL offensive players (minimum 204 snaps), Patterson ranks 25th with an 86.0 overall PFF grade. His 91.8 receiving grade ranks tied for third with Green Bay Packers wide receiver Davante Adams and Los Angeles Rams wide receiver Cooper Kupp.
Patterson will be 31 years old in March, so it's unlikely he'll get a massive four- or five-year contract. Nonetheless, he's certainly earned a sizable one- or two-year deal if he gets to free agency. Overall, weapons such as Patterson, who can line up at wide receiver or running back, are the future of the NFL.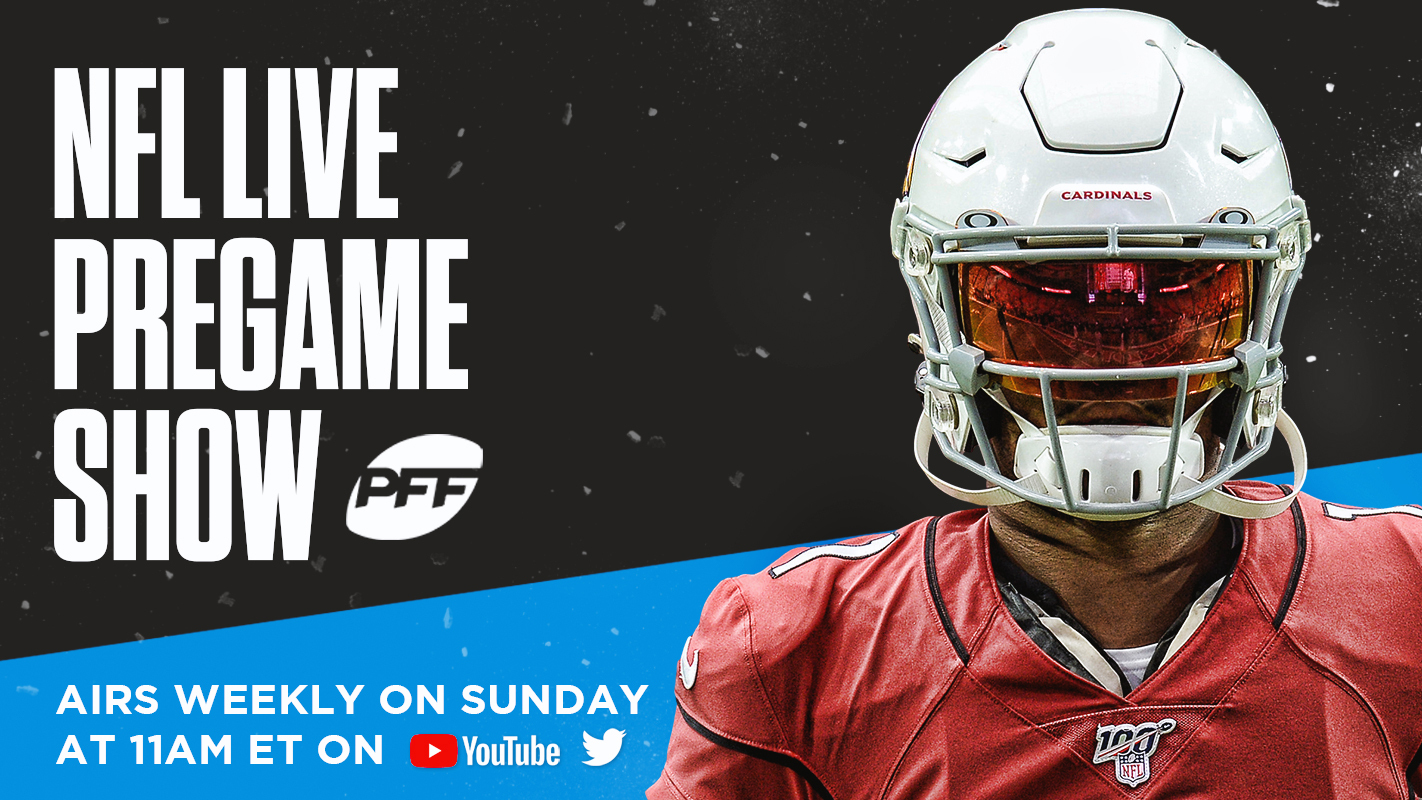 Tampa Bay Buccaneers offensive tackle Tristan Wirfs is our sixth-highest graded offensive tackle this season. He only ranks below San Francisco 49ers left tackle Trent Williams, Dallas Cowboys left tackle Tyron Smith, New England Patriots backup Michael Onwenu, Philadelphia Eagles left tackle Jordan Mailata and 49ers right tackle Tom Compton. Wirfs is tied with Rams left tackle Andrew Whitworth.
I'd probably put him below Williams and Smith. Wirfs and Mailata are both second-year players, and while Mailata grades slightly higher than Wirfs so far this season, Wirfs was better in 2020. So, adding in the consistency, I'd bump him over Mailata. Also, Wirfs didn't get penalized for hugging a defender last week. So, that's a bonus point in my book.
To be fair, Jordan Mailata only started playing football in 2018, but unfortunately you can't block a defender by bear-hugging them. pic.twitter.com/8dlIoFStsm

— Doug Kyed (@DougKyed) December 22, 2021
| | | | | |
| --- | --- | --- | --- | --- |
| Player | Snaps | Overall Grade | Pass-Blocking Grade | Run-Blocking Grade |
| Trent Williams | 816 | 98.5 | 98.6 | 84.2 |
| Tyron Smith | 674 | 91.7 | 90.8 | 88.8 |
| Michael Onwenu | 575 | 88.8 | 91.2 | 70.1 |
| Jordan Mailata | 790 | 86.8 | 88.7 | 80.5 |
| Tom Compton | 380 | 85.1 | 92.5 | 65.4 |
| Andrew Whitworth | 803 | 84.8 | 70.0 | 90.3 |
| Tristan Wirfs | 981 | 84.8 | 74.5 | 84.9 |
The Bucs hit big on Wirfs, who — at 22 years old — is the youngest player on that list and one of the youngest starting left tackles in the NFL.
Out of the wild card teams, PFF currently gives both the Rams and Buffalo Bills a six percent chance of winning the Super Bowl. The Rams have a 12 percent chance of winning the NFC while the Bills have an 11 percent chance of winning the AFC.

I actually agree with my guy Brad Spielberger that Kupp should be the non-QB we're talking about as NFL MVP.
Cooper Kupp is the non-QB MVP candidate we should be talking about if any

— Brad Spielberger, Esq. (@PFF_Brad) December 22, 2021
Rodgers is currently the favorite at +125 while Indianapolis Colts running back Jonathan Taylor is +750 and Kupp is +3500. Buccaneers QB Tom Brady is also in the mix at +200.
Taylor is currently on pace for 328 carries for 1,843 yards with 21 rushing touchdowns and 44 catches for 408 yards with two touchdowns. Those are incredible numbers, but they're not historic. Kupp is on pace for 199 catches for 1,973 yards with 17 touchdowns. If Kupp can get to 200 catches and 2,000 yards, then that's simply unbelievable — even in a 17-game season — and it might be enough to convince voters to give him the MVP.
Kupp currently has a 91.6 overall grade, which is just .2 points below Adams as the top wideout. Taylor has a 90.0 overall PFF grade, which leads running backs. His 90.8 rushing grade is only below Cleveland Browns running back D'Ernest Johnson.
I think we have some molasses cookies, frosted sugar cookies and maybe some peanut butter blossom cookies.
No one asked, but just so you guys know, my favorite Christmas movie is "Home Alone," and my favorite Christmas song is "Christmas (Baby Please Come Home)" by Darlene Love.