We're 13 weeks through the 2021 NFL season and, amazingly, no teams have been officially eliminated from the playoffs.
---
Click here for more PFF tools:
Rankings & Projections | WR/CB Matchup Chart | NFL & NCAA Betting Dashboards | NFL Player Props tool | NFL & NCAA Power Rankings
---
Still, many fanbases already have an eye toward the offseason, so we'll answer how the Indianapolis Colts can improve, who the New York Giants could bring on at general manager, and what the Denver Broncos will do about their quarterback situation (and more!) in this week's mailbag.
The easiest answer is that Chase has regressed to the mean. For a rookie wide receiver, Chase's early-season production was unsustainable. The Cincinnati Bengals wideout was on pace for over 1,800 yards and 14 touchdowns after seven weeks. At some point, Chase was going to start playing like a normal human being, and defenses were going to adjust to his elite play.
Chase faced what PFF categorizes as "single" coverage on 41.4 percent of his receiving snaps through the first seven weeks of the season, and he caught 26 passes for 700 yards with six touchdowns in single coverage during that span of time. Chase has faced single coverage on just 28.1 percent of his receiving snaps in the last six weeks of the season, and he has five catches for 43 yards with one touchdown in single coverage during that span of time. So, not only is Chase facing less single coverage, he's also been less effective against it.
Another element, which is related to the first, is that Chase has faced more Cover-3 and Cover-6 schemes over the last six weeks of the season. Opposing defenses were in Cover 3 or 6 on just 40.5 percent of snaps over the first seven weeks of the season, but that has risen to 48.3 percent over the last six weeks.
Chase also simply isn't playing as well. He has a 61.4 receiving grade with five dropped passes over the last six weeks of the season. He had an 83.4 receiving grade with three dropped passes in the first seven weeks.
I wouldn't worry too much about Chase. He'll be a great player, as he showed over the first half of his rookie season, but some growing pains should have been expected after such an explosive start.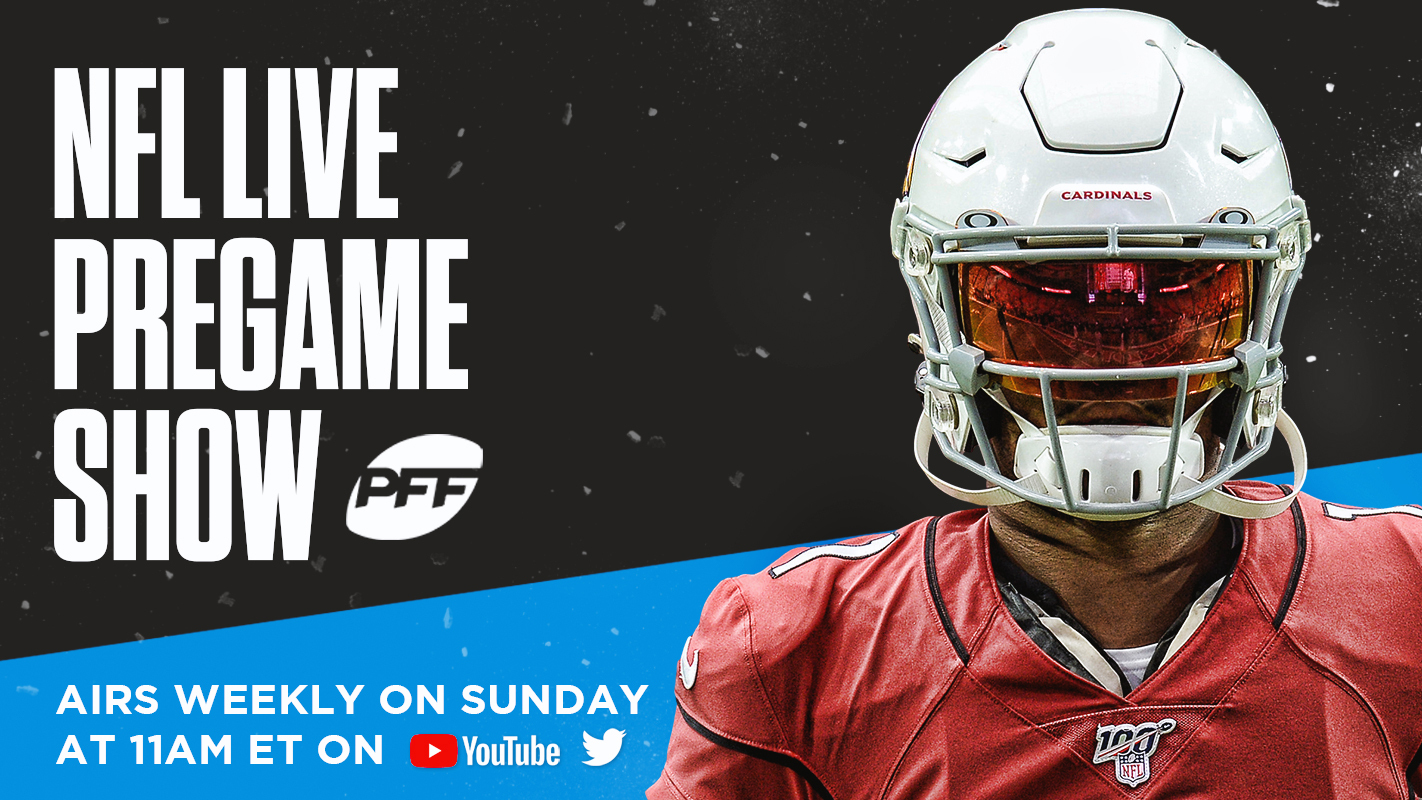 The Indianapolis Colts are a good team, and perhaps unfairly, I haven't taken them very seriously as viable threats in the AFC despite their 7-6 record that includes wins over the San Francisco 49ers and Buffalo Bills. They're currently the No. 9 seed in the conference.
A win over the New England Patriots after their Week 14 bye would force people like myself to take them more seriously. They then face off against the Arizona Cardinals and Las Vegas Raiders, who are also substantial tests.
Nonetheless, for the Colts to take the next step forward, they probably just need to invest more in their passing game — whether that means improving at quarterback or adding more receiving threats.
The Colts' Jonathan Taylor is probably the best running back in the league right now, and their offensive line is top tier, as well.
Quarterback Carson Wentz has been fine this season, as his 71.7 passing grade ranks 18th out of 38 qualified quarterbacks. Wide receiver Michael Pittman is a good player, and T.Y. Hilton is still effective when healthy.
However, the Colts would be wise to spend big on one of the top free-agent wide receivers this offseason — whether that's going all-in on Davante Adams, adding another top-tier option such as Chris Godwin, Allen Robinson II or Mike Williams, or signing another free agent such as Michael Gallup, Antonio Brown, D.J. Chark Jr., Juju Smith-Schuster, Will Fuller V, Christian Kirk or Odell Beckham Jr. Any of them would help, and it's easier to sign a top wide receiver than it is to find a new quarterback, especially in a year when the overall draft class is relatively weak, though it could make sense to still draft a QB in the first or second round with an eye toward the future.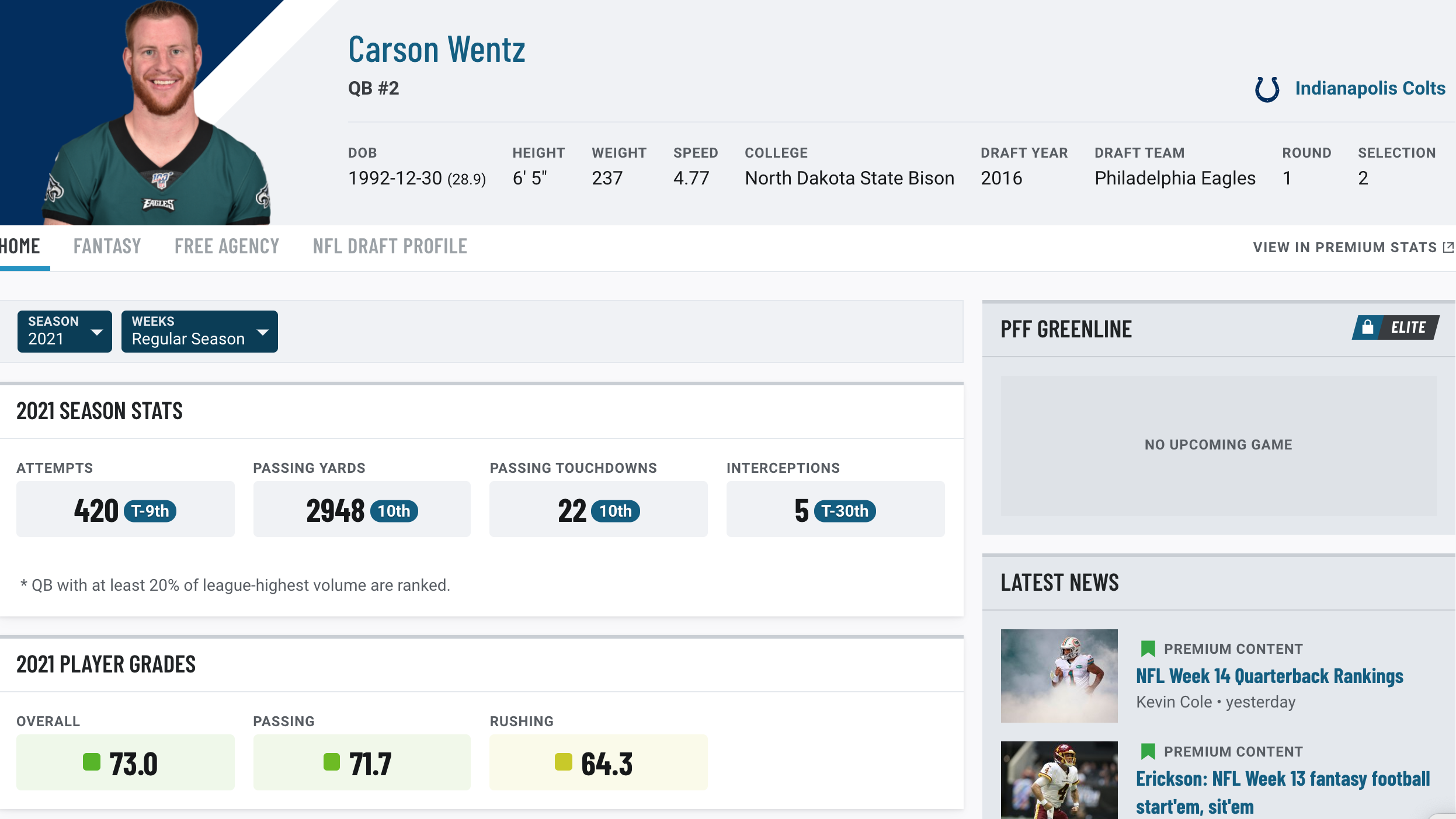 Can the Colts win a Super Bowl with Wentz? That remains to be seen, but it would certainly be easier to do so with their offensive line, Taylor at running back and one or two legitimately dangerous options at wide receiver. The Colts are set to have the sixth-most cap space entering the offseason, as well, per Over The Cap. So, they're positioned better than most teams to spend.
Indianapolis could also use some help on defense, but Kwity Paye appears to be a really good pick at defensive end, and the Colts were smart to lock up linebacker Darius Leonard last summer. The secondary could use some work, and there are good defensive backs — such as Carlton Davis, Stephon Gilmore, JC Jackson, Darious Williams, Marcus Williams, Jessie Bates III, Tyrann Mathieu and Marcus Maye — available as free agents in March.
First of all, Dave Gettleman has not been relieved of his duties as the New York Giants' senior vice president and general manager, but it does seem like that's the most likely outcome assuming the team doesn't pull together a major rebound over the final five games.
I would look closely at three different factors:
Close ties to the Patriots

Internal options

Previous candidates
While it seems most likely that Gettleman will not retain his duties as general manager, I would expect Joe Judge to remain as head coach. And if Judge has a say in New York's next GM, it could very well be a candidate coming from the Patriots' tree.
Some intriguing candidates who fit the criteria are:
Patriots director of player personnel Dave Ziegler

Patriots scouting consultant Eliot Wolf

Tennessee Titans director of player personnel Monti Ossenfort

Raiders assistant director of player personnel DuJuan Daniels

Carolina Panthers vice president of player personnel Pat Stewart
Among internal options, Giants vice president of football operations/assistant general manager Kevin Abrams is the most logical candidate. He interviewed for the position before Gettleman was hired. I've also heard positive things about New York's director of college scouting, Chris Pettit, though he might not be ready for such an ascension just yet.
Beyond Abrams, the Giants also interviewed Marc Ross, their former vice president of player evaluation who's currently executive vice president of football operations for the XFL, and ESPN analyst Louis Riddick.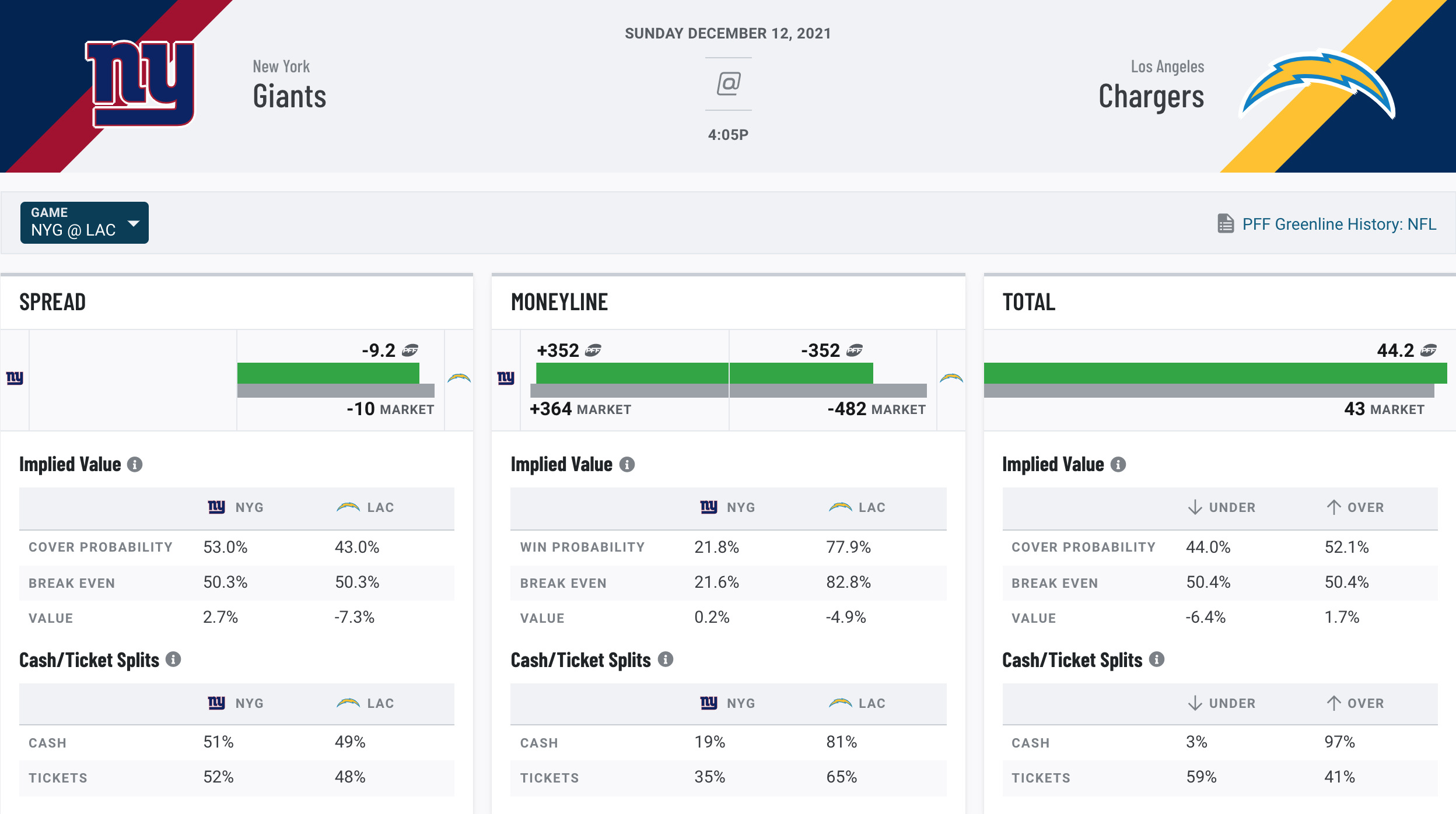 @ChavesBrett: Will the Denver Broncos keep Drew Lock and/or Teddy Bridgewater?
I'd first just look at the contracts there. Bridgewater is in the last year of his deal, and Lock still has a year left on his rookie contract. I know the Broncos didn't want to let Lock go last offseason, and I doubt they'll be in a hurry to do so this year either. He's a solid backup, and his cap hit is only $2.2 million in 2022.
As for Bridgewater, he'll be a free agent this offseason, and he currently ranks as PFF's 16th highest-graded quarterback. He ranked 30th last season. Over the last two years, Bridgewater has a 70.6 passing grade. He's completed 68.3 percent of his passes for 6,508 yards with 31 touchdowns and 18 interceptions while playing with D.J. Moore, Robby Anderson, Curtis Samuel, Mike Davis, Christian McCaffrey (three games), Courtland Sutton, Tim Patrick, Noah Fant, Jerry Jeudy (six games), Javonte Williams, Albert Okwuegbunam and Melvin Gordon III. That's a lot of really good players, and most quarterbacks would be just fine throwing to those weapons.
Teddy Bridgewater's passing grades and production in 2021 | By week
| | | | | | |
| --- | --- | --- | --- | --- | --- |
| Week | Passing Grade | Yards Per Attempt | BTT | TWP | Adjusted Completion % |
| 1 | 84.9 | 7.33 | 1 | 1 | 88% |
| 2 | 68.4 | 9.11 | 2 | 0 | 72% |
| 3 | 76 | 9.07 | 1 | 0 | 84% |
| 4 | 46.3 | 4.06 | 0 | 0 | 60% |
| 5 | 72.1 | 7.38 | 1 | 2 | 71% |
| 6 | 60.9 | 6.9 | 1 | 5 | 78% |
| 7 | 68.3 | 5.5 | 1 | 1 | 75% |
| 8 | 72.9 | 8.3 | 1 | 1 | 81% |
| 9 | 71.1 | 8.1 | 2 | 1 | 74% |
| 10 | 67.9 | 6.11 | 0 | 0 | 69% |
| 12 | 65.8 | 6.79 | 0 | 0 | 73% |
| 13 | 42.8 | 5.89 | 1 | 4 | 74% |
Click here to view Teddy Bridgewaters' career in PFF Premium Stats…
Bridgewater is a starting-caliber quarterback, but after investing resources in Sutton, Patrick, Fant, Jeudy and Williams, the Broncos have to feel like they can do better. I'd expect them to try to upgrade this offseason. And it becomes uncomfortable if Bridgewater is kept around as a backup. It's not an identical situation, but look what happened when Mac Jones earned the starting quarterback job in New England. Cam Newton was released.
Green Bay Packers quarterback Aaron Rodgers still could become available this offseason. Seattle Seahawks quarterback Russell Wilson is due for another eventful offseason, and people around the league believe he could be moved. And, of course, Deshaun Watson still hasn't been traded by the Houston Texans. Those are three elite-tier quarterbacks who would be sizable upgrades over Bridgewater.