PFF Senior Analysts Sam Monson and Steve Palazzolo reviewed the film, advanced stats and grades to offer their key takeaways from the Divisional Round of the NFL season.
[Editor's Note: All ELITE subscribers have access to PFF's advanced statistics and grades referenced below. Subscribe today to gain access!]
Sam Monson
Vikings were too predictable
In the first three quarters of the game Saturday, the Vikings ran the ball on first down 40% of the time. Every time they did it, the 49ers had eight men in the box, because the Vikings simply telegraphed what they were going to do. Sticking to your gameplan is one thing, but at some point you have to realize that by showing the opposition exactly what you are going to do, it makes it easy for them to stop, Kevin Stefanski, the Vikings offensive coordinator, was hired to be the head coach of the Cleveland Browns right after this defeat, and by PFF's metrics he has been a top-five playcaller this season, but this was far from his finest body of work. Minnesota was overmatched heading into this game, and other than the early touchdown to Stefon Diggs, they did very little to flip the script and get the 49ers defense off balance.
Stopping Lamar Jackson starts with knocking Baltimore out of their gameplan
Everybody was asking all week how you stop Lamar Jackson.

Only shot we kept coming back to was score early and get out to a lead, take them out of their offense.

Now we'll see if even that is enough

— Sam Monson (@PFF_Sam) January 12, 2020
Jackson and the Baltimore offense are too good when they are playing their game, so the only way to stop them was to get out to an early lead and force them to change what they want to do and play from behind. As much as Derrick Henry will get all of the ink after Saturday's game, it can't be overstated how important the early turnover and two quick passing scores were for the Titans. That put Baltimore in a double-digit hole and allowed Henry to pound the football and control the clock to maintain and build upon that lead. Jackson made some big mistakes, but was still far from terrible in this game, but the rest of the offense wasn't able to function as planned.
Fourth-down decisions shouldn't be that hard, Houston
Blowing a 24-point lead in a playoff game is bad enough. Getting blown out after leading by 24 points is something else, and the entirety of Sunday's game seemed to center around fourth-down calls for the Texans. First, up 21 points, they had a fourth-and-1 play that would have given them a real chance of making it a four-score game while the Chiefs were flailing and putting the game in a hole that would have seemed unsurmountable. The Texans threatened to go for it before pulling back and kicking the field goal. Then, almost as if trying to make up for that, they went for a fourth down inside their own territory on a fake punt, only to see it stuffed and only assist Kansas City's comeback. The final piece of the fourth-down disaster puzzle was needing Deshaun Watson to convince his coach to go for it down 17 points with 11 minutes left in the game on fourth-and-4. These are plays that give teams a winning edge, and the Texans butchered them all.
Maybe vintage Aaron Rodgers does still exist.
Having just suggested that the 2011 or 2014 version of Rodgers — one of the greatest quarterbacks the game has ever seen — may just not exist anymore during the week on the podcast, and thrown some scorn on the people expecting him to show back up for the playoffs … that's exactly what happened. Rodgers put forward one of his best performances for a long time, and while the ball location on some of his passes left something to be desired, they at least got to their intended target and gave them a chance to make a play. Rodgers was particularly effective on third down, converting on six of nine attempts with multiple big-time throws on those passes.
Steve Palazzolo
Mismatch No. 1: 49ers pass-rush vs. Vikings pass-blocking
49ers pressured Vikings QB Kirk Cousins 17 times on 35 dropbacks.

Vikings net minus 5 yards on those plays pic.twitter.com/IjDeALshaK

— Steve Palazzolo (@PFF_Steve) January 13, 2020
In the playoffs, season-long weaknesses tend to be exposed, and that's exactly what happened in the trenches in San Francisco. The 49ers have the No. 3 pass-rush grade in the league, and they dominated the No. 27 pass-blocking unit of the Vikings. Kirk Cousins was pressured on 17 of his 35 dropbacks with the Vikings netting just negative-5 passing yards (41 yards, negative-46 on sacks) on those dropbacks. San Francisco got after Cousins from all angles, with Nick Bosa grading at 89.7 as a pass-rusher (seven pressures on 27 rushes) and interior defensive lineman DeForest Buckner right behind him at 85.8 (five pressures on 28 rushes). The 49ers pass-rush is one of the most improved units in the league and they dominated Saturday.
Titans playing power football up front
Derrick Henry has been one of the best players on the field during the playoffs (377 rushing yards, 299 after contact on 64 rushes), the Tennessee run-blocking deserves just as much credit. Both tackles — Taylor Lewan and Jack Conklin — have been outstanding, as Lewan has the top run-blocking grade among tackles in the postseason and Conklin ranks third. Throw in left guard Rodger Saffold, who has the No. 5 run-blocking grade among all offensive linemen in the playoffs, and the Titans offensive line deserves similar accolades as Henry. All that said, Henry deserves a ton of credit for his success, especially his 66-yard run in the third quarter that may have been the biggest play of the game.
Mismatch No. 2: Chiefs pass game vs. Texans coverage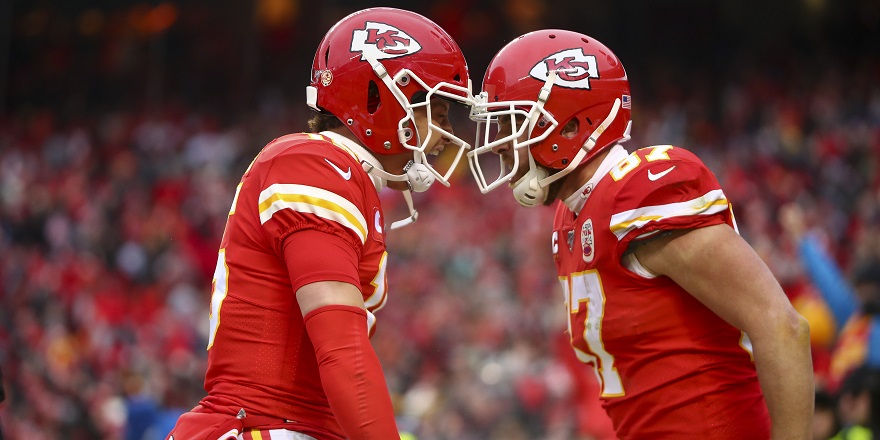 © Mark J Rebilas-USA TODAY Sports
While the majority of divisional weekend was a roller coaster of emotions, the biggest on-paper mismatch of the weekend proved true as the Chiefs passing attack diced up the Texans' back-seven. During the regular season, the Chiefs ranked No. 2 in passing EPA compared to the Texans' pass defense ranking just 24th. After the fluky plays settled down, the Chiefs got to work and Patrick Mahomes was on target on 85% of his passes while Travis Kelce proved impossible to cover, catching 10 of his 12 targets to go with two drops. Even when falling behind 24-0, Kansas City had too much firepower for Houston and they dug out of that whole in ridiculously easy fashion.
Seahawks have no answer for Davante Adams
The Packers passing attack has disappeared at times throughout the season, but at other times, the Rodgers-to-Adams connection has been unstoppable. Sunday evening was the latter, as Rodgers found Adams eight times for 160 yards and two scores, including their fourth-quarter slot fade that was as beautiful as it gets from all angles. Adams is one of the slickest route runners in the league, setting up defensive backs and creating separation against man coverage, and he's clearly Rodgers' top target when the game is on the line. The 49ers will spend the week figuring out ways to keep the ball out of Adams' hands, and he's the key to victory as the rest of Green Bay's playmakers may not be enough against a tough San Francisco defense.