Dalvin Cook has been dominant through the first 10 games of the season for the Minnesota Vikings, proving to not only be one of the top running backs from a draft class that also included the likes of Leonard Fournette, Christian McCaffery and Alvin Kamara, but also one of the best backs in the entire NFL. His play so far in 2019 is comparable to one of the greatest seasons we have ever recorded by a running back dating back to 2006; that season belonging to former Vikings and current Washington Redskins running back, Adrian Peterson.

The 2012 season saw Peterson lift the AP's Most Valuable Player Award as a running back, the last time a non-quarterback obtained the accolade. Through the first 10 weeks of the season, the former seventh overall pick had rushed for a whopping 1,128 yards at an average of 5.8 yards per carry, which both led the NFL. The Vikings' offensive line finished the season with the best run-blocking grade, playing a large role in Peterson's success, although AD was phenomenal on his own as well, registering 3.42 yards after contact per attempt (second), 40 missed tackles forced (first), 32 runs of 10 yards or more (first) and a first down/touchdown rate of 25.0% (fifth), all of which were top-five among running backs with at least 100 attempts. He earned a forced missed tackle per attempt of 0.21 that ranked second, and due to his outstanding play, Peterson garnered an elite 90.4 rushing grade, which he would only go on to further increase.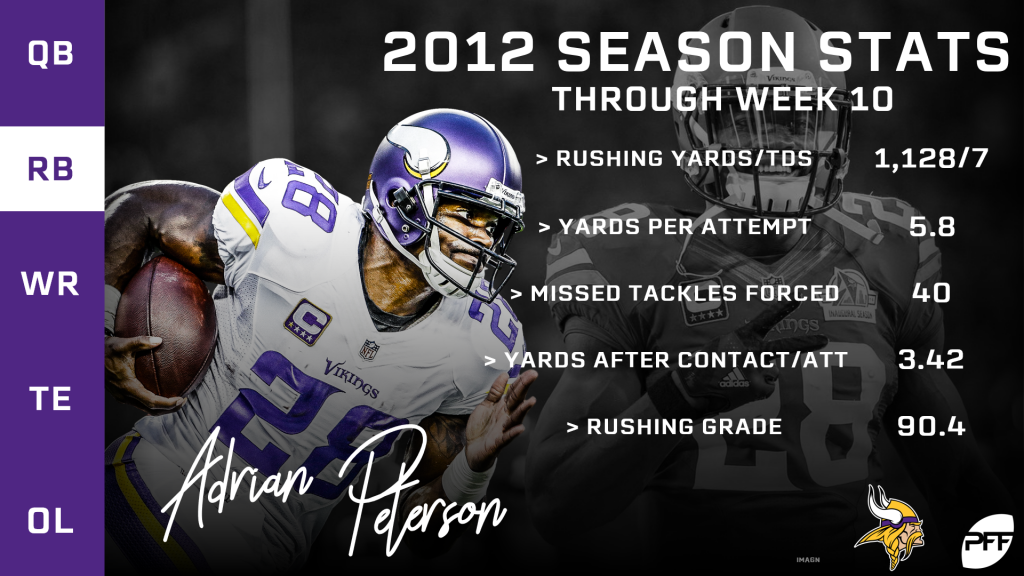 Over the last six games of that season, Peterson accrued 969 more yards, five touchdowns and an average 6.3 yards per carry. On top of mind-boggling standard numbers, Peterson also dropped jaws with a ridiculous 4.59 yards after contact per attempt. He finished the season with an outrageous 92.8 rushing grade and led all running backs with 100-plus attempts in nearly every single rushing statistic: 2,079 rushing yards, 6.0 yards per carry, 85 combined first downs and touchdowns, 61 carries of 10-plus yards, 3.93 yards after contact per attempt and 64 forced missed tackles. Despite the valiant efforts by their star running back, the Vikings would end their season with a 10-6 record and go on to be defeated by the Green Bay Packers in the NFC wild card round, 24-10.
Peterson's 2012 performance was one for the ages, and his 92.8 single-season rushing grade is the highest we have ever awarded an NFL running back since we started recording data in 2006. Seven years later, though, the Vikings once again find themselves with an All-Pro caliber running back on their roster, and he himself is having the best season of his career. This time, it is Dalvin Cook leading the charge on offense, gaining yards and shaking defenders on nearly every play. The third-year back out of Florida State is quietly piecing together a performance analogous to that of Peterson in 2012 and is giving Vikings fans all over the country flashbacks of No. 28.
The former second-round pick has amassed a league-leading 991 rushing yards and the third-most touchdowns (10) so far this year, as he has played a vital role in Minnesota holding a 7-3 record and having a chance at playoff contention. He is running behind an offensive line that is ranked eighth in run-blocking, which has aided him in obtaining a 4.9 YPC mark that is tied for the fifth-most among backs with at least 100 rushing attempts. He has been producing outside of his line as well, as Cook currently holds the third-highest rushing grade among all running backs at 85.8.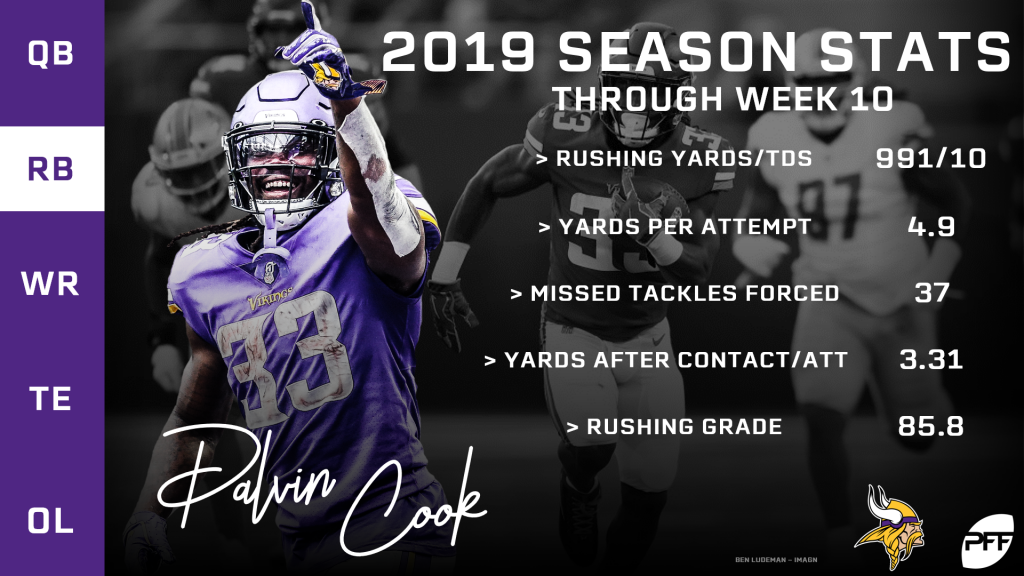 A large reason for his distinguished grade is his ability to create yards after contact and his ability to force missed tackles in the open field. His 37 missed tackles are tied for fourth-most in the league along with the ever-elusive Christian McCaffery, and his 3.31 yards after contact per attempt is sixth among running backs with at least 100 attempts. To further highlight his capability running outside of his offensive line, Cook boasts 25 carries that have gone for 10-plus yards downfield, which is tied with Cleveland Browns back Nick Chubb for the most in the NFL. Not only has he been gaining yards at an elite clip, but he has also picked up first downs and touchdowns on 25.0% of his carries, which is tied for the third-highest rate among backs using the same 100-attempt threshold.
However, Cook's production has not come solely on the ground, as he has also contributed immensely to the passing game out of the backfield. He has yet to haul in a receiving touchdown, but his 424 receiving yards and 10.6 yards per reception are both second-most among running backs with at least 20 targets. Based on the open-field ability that's evident in his rushing game, it is without surprise he presently owns 11 receptions of 15 or more yards, which are tied for the most among backs; he's also forced 16 missed tackles, which is also tied for first, and his 12.3 yards after the catch per reception is the nearly three yards more than the next running back with at least 20 targets. The only issue he has as a receiver is that he has dropped five passes, tied for the most among all backs. If he can cut out the drops and continue his play after the catch, there is no doubt he will achieve receiving numbers that will resemble those of some of the league's best pass-catching options.
Dalvin Cook has had a stellar start to his NFL career and barring any serious injuries, he has the ability and skill to be a perennial All-Pro running back for years to come. He will have arguably his toughest test this season in a Week 11 matchup against a Denver Broncos defense that ranks first in run-defense grade and will do all it can to try and contain the Vikings' star in the backfield.