Another name has now been added to the infamous Cleveland Browns jersey that lists every quarterback to start a game since the franchise was restarted, as Case Keenum just became the 31st quarterback to start a game for the Browns since 1999. And incredibly, at 1-0, he's only the third quarterback with a winning record in that span.
Baker Mayfield is another one of those quarterbacks in the distinguished territory above .500. The fourth-year pro is 26-25 since being selected first overall in the 2018 NFL Draft, and the Browns are now at a crossroads with their best quarterback in recent franchise history.
Click here for more PFF tools:
Rankings & Projections | WR/CB Matchup Chart | NFL & NCAA Betting Dashboards | NFL Player Props tool | NFL & NCAA Power Rankings
---
Mayfield is the fifth quarterback on which Cleveland has spent a first-round pick since 1999, but he's also the only one who has given the team true hope for the future. The Browns were even thought to be sneaky Super Bowl contenders heading into the 2021 season, with the NFL's best 1-2 punch at running back, playmaking wide receivers and a ferocious pass rush. But, since it's the Browns, nothing can ever be simple or easy.
Mayfield tore the labrum in his left shoulder in Week 2 and tried to tough it out until further injuring it by fracturing the humerus bone in Week 6. He sat out of his team's Week 7 victory against the Denver Broncos alongside the team's top two running backs in Nick Chubb and Kareem Hunt. The Browns quarterback won't return until his fractured humerus bone is healed, though he practiced Wednesday before Cleveland's Week 8 matchup with the Pittsburgh Steelers on Sunday.
The Browns are sitting at 4-3, knowing any time Mayfield takes the field, there's a distinct possibility he could land on his left shoulder, head to the blue medical tent on the sideline and miss time once again.
It's an injury that current PFF analyst and former AFC North quarterback Bruce Gradkowski knows all too well.
"I think Mayfield's shoulder is pretty banged up," Gradkowski said. "Even though it's his non-throwing shoulder, it will still impact his game — a little bit with throw mechanics but more so just how he plays the games. I feel he could be a little timid and hesitant playing the way he's capable of because it continued to dislocate on him. I would suggest they rest him 3-to-4 weeks and try getting scar tissue to heal to see if he's healthy enough to finish the season.
"I had a similar injury in college, and it felt like my shoulder was going to dislocate again on any given hit until the offseason, when I had a chance to rehab and get the strength back."
The injury couldn't have come at a worse time for the former No. 1 overall pick, who's eligible for a contract extension in his fourth NFL season. The Browns picked up his fifth-year option for the 2022 season, but Buffalo Bills quarterback Josh Allen, taken six picks after Mayfield, already received his six-year contract extension worth up to $258 million with $150 million guaranteed.
No contract discussions have taken place between Mayfield and the Browns, a source told PFF.
---
Related content for you:
The Fantasy Football Utilization ReportWaiver, trade and drop candidates 
Via Dwain McFarland
2022 NFL Free Agency Primer: Top players at every position
Via Brad Spielberger
---
Five quarterbacks were taken in the first round of the 2018 NFL Draft, and Allen is the only one who's signed a new deal. No. 3 overall pick Sam Darnold was traded from the New York Jets to the Carolina Panthers this offseason and had his 2022 fifth-year option picked up, but there's no hurry to extend him. Josh Rosen, taken 10th overall by the Arizona Cardinals, is already on his fifth NFL team. Lamar Jackson, the 32nd overall pick, is having another standout season for the 5-2 Baltimore Ravens, and it's only a matter of time before he signs a top-end quarterback contract to keep him in Charm City for the long haul.
| | | | | |
| --- | --- | --- | --- | --- |
| | Baker Mayfield | Sam Darnold | Josh Allen | Lamar Jackson |
| PFF grade | 85.1 | 63.1 | 82.8 | 89.1 |
| EPA per dropback | 0.065 | -0.087 | 0.118 | 0.171 |
| Yards per attempt | 7.5 | 6.7 | 7.2 | 7.7 |
But Mayfield's situation isn't nearly as cut and dry, and it was further complicated by the fact that Keenum didn't look like a significant downgrade in Thursday's win. Keenum is a 33-year-old journeyman quarterback, but it's worth noting that he had his best NFL season under Kevin Stefanski when the current Browns head coach was quarterbacks coach of the Minnesota Vikings in 2017.
League sources are torn on whether the Browns should extend Mayfield on a long-term deal. One league source believes the Browns should draft a quarterback and buy time by allowing Mayfield to play on his fifth-year option and potentially apply the franchise tag in the future.
Another league source doesn't believe that's a reasonable option. He believes the Browns will be too good for the foreseeable future to draft a credible franchise quarterback.
"What's the alternative?" he asked. "Russell Wilson and Ciara moving to Cleveland? Aaron Rodgers and Shailene Woodley?"
Fair point.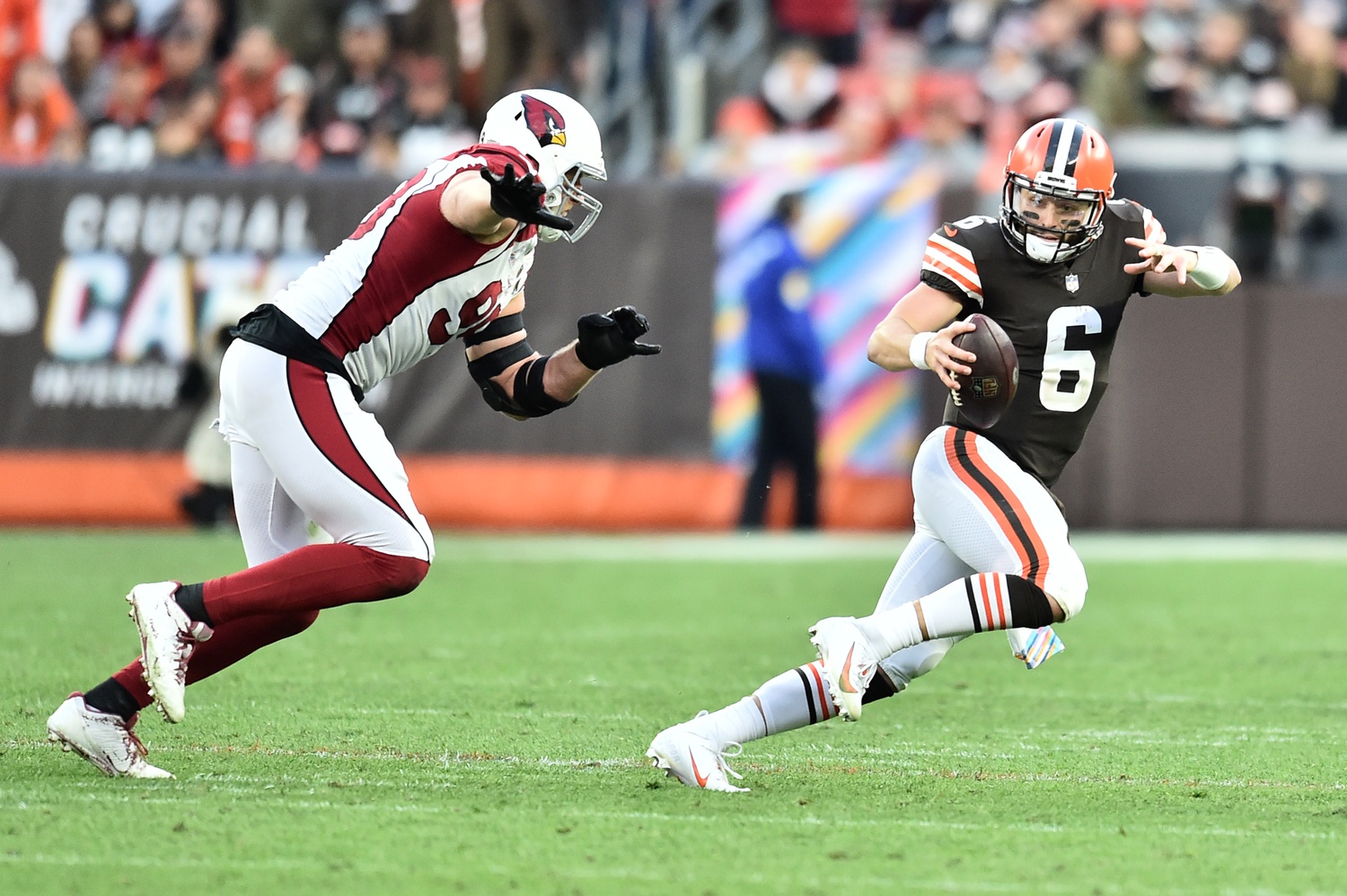 A third league source with extensive knowledge of contract negotiations believes letting Mayfield play out his deal is a wiser option. He believes the hard ceiling for a Mayfield extension would be akin to the deals signed by Dak Prescott ($40 million average annual value) and Deshaun Watson ($39M AAV). He could also see Jared Goff's ($33.5M AAV) or Carson Wentz's ($32M AAV) contracts as a more reasonable ceiling for a Mayfield deal. He believes the floor would be similar to Jimmy Garoppolo's ($27.5M AAV) deal.
Ultimately, he believes the best route is to let Mayfield play out the fifth-year option and one franchise tag. And if he excels in that period, then give him the long-term deal at that point.
PFF salary cap analyst Brad Spielberger noted Mayfield, unlike Allen and Jackson, was drafted by a different general manager than the one currently calling the shots, as Andrew Berry replaced John Dorsey before the 2020 season.
"Berry appears to have drawn a line in the sand with respect to compensation; he is comfortable making Baker a very wealthy man, but not among the league's highest-paid quarterbacks, some of whom are now earning north of $40 million per year," Spielberger said. "Per ESPN's Dan Graziano, the Browns are willing to sign Mayfield to a deal worth in the mid-to-high $30 million per year range.
"Navigating this middle ground at the quarterback position is where things get really convoluted, as it has frankly not been done to much success. When a starting-caliber quarterback hits free agency, they often become among the highest-paid at the position.
"Based on a lot of precedent, it would be more than fair for Mayfield and his camp to believe the Browns have no room to haggle. The dynamic on both sides of the table makes things very interesting, but ultimately we believe the two parties will find common ground on a shorter-term extension for just under $40 million per year, barring unforeseen changes to the situation for the remainder of 2021."
The third league source argued the risk in giving Mayfield the going rate for a contract extension is what happened with Goff or Wentz. The Los Angeles Rams and Philadelphia Eagles were forced to eat money and trade Goff and Wentz to the Detroit Lions and Indianapolis Colts, respectively, two years into their extensions.
He believes Mayfield's current career trajectory is more in line with Andy Dalton's decline from his 2015 contract extension. A possible MVP candidate in 2015, Dalton is currently serving as the Chicago Bears' backup quarterback.
So, how did we get to this point with the top pick in the 2018 NFL Draft?
The Oklahoma product was one of the best college quarterbacks PFF has ever graded, but everything was perfectly set up around him. He was pressured on fewer than 28% of his dropbacks in his junior and senior seasons despite an average time to throw of 3.0 seconds, the fourth-longest mark among 64 Power Five quarterbacks. The Oklahoma offensive line didn't win the Joe Moore Award until the year after Mayfield was drafted in 2018, but that unit afforded him plenty of time to stand in and let his receivers get open downfield.
He also had a plethora of quality receiving weapons, with future NFL players Sterling Shepard, Dede Westbrook, Joe Mixon, Mark Andrews, Samaje Perine, Marquise Brown, CeeDee Lamb and Trey Sermon part of his arsenal, and a strong rushing attack.
Mayfield made the most of those rosy conditions with three consecutive 90.0-plus PFF grades as the Sooners' starter. His 67% accurate-pass rate in his senior season was five percentage points higher than any other quarterback drafted in the 2018 NFL Draft.
He won PFF's offensive rookie of the year award in 2018 and earned one of the highest single-game grades we've given to a rookie in his starting debut (83.0). He finished his rookie season as PFF's 11th highest-graded quarterback (83.2) and still holds the third-highest PFF grade ever earned by a rookie quarterback, behind only Seattle's Russell Wilson and Prescott.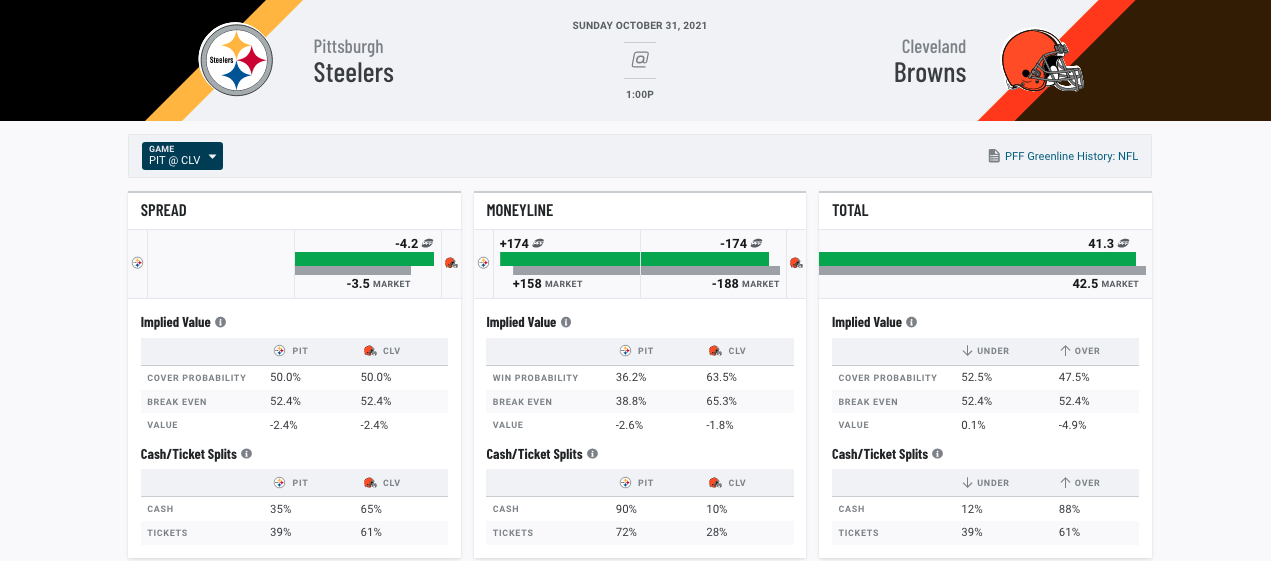 Mayfield once again benefited from a strong rushing attack and offensive line in his rookie season. He didn't continue an upward trajectory in his second NFL season, however, grading out as PFF's 17th-ranked quarterback (74.4) despite the addition of Pro Bowl wide receiver Odell Beckham Jr.
Mayfield rebounded with an 85.7 overall grade in 2020, ranking 10th overall at his position. And oddly, Mayfield had a particularly strong stretch of play (90.3 overall grade) after Beckham tore his ACL in Week 7. In Mayfield's career, he has a 90.7 PFF passing grade without Beckham and a 69.4 PFF passing grade in weeks in which the star wideout has played more than 50% of snaps. The two have combined for a league-low 72.4 passer rating since Beckham joined the team in 2019.
LOWEST PASSER RATING GENERATED BY QB-WR DUOS SINCE 2019
| | |
| --- | --- |
| Duo | Passer rating |
| Baker Mayfield-Odell Beckham Jr. | 72.4 |
| Andy Dalton-Tyler Boyd | 76.0 |
| Mitchell Trubisky-Allen Robinson II | 82.8 |
That brings us to now, when a hampered Mayfield's 70.4 overall grade ranks 24th among qualifying quarterbacks. He could return to the field as early as this week, but he faces offseason surgery and potentially 4-to-6 months of recovery time, which puts him right up against a return in time for 2022 training camp, depending on how long Cleveland's 2021 season lasts.
The 6-foot-1, 215-pound passer currently plays in a quarterback-friendly offense with a strong offensive line, two stellar running backs and an offensive playcaller in Stefanski who uses pre-snap motion and play action to put defenses on their heels. And no quarterback has spent more time in a clean pocket on average than Mayfield since Stefanski took over as head coach.
LONGEST AVERAGE TIME IN A CLEAN POCKET SINCE 2020
| | |
| --- | --- |
| Player | Average time in clean pocket per dropback |
| Baker Mayfield | 2.5 seconds |
| Cam Newton | 2.5 seconds |
| Lamar Jackson | 2.4 seconds |
While Mayfield's production within this kind of offensive environment is impressive at first glance, PFF analyst Seth Galina still isn't quite sold on Mayfield's ability to operate every aspect of the passing offense at an elite level.
"This philosophy inflates his box score numbers, but as seen with Freddie Kitchens in his sophomore season, playing the straight dropback games with Baker might not be wise," Galina said. "Mayfield has a strong arm but has yet to find the ability to put touch on his passes, which costs him easy completions, especially over the intermediate and short areas of the field. His environment is similar to Kirk Cousins', and both players have shown they need their surrounding elements to be elite to survive in the league."
Mayfield also passes against a base defense — defined by four defensive backs being on the field — at one of the highest rates in the NFL thanks to the opposition being forced to respect Chubb and Hunt. Cleveland has seen base defense on 42% of offensive snaps since 2020, the fourth-highest rate in the league.
It's generally easier to have success through the air against base defenses, given that there are more favorable coverage matchups to exploit. Offenses have averaged 6.8 yards per pass play against base defense compared to 6.2 yards per pass play against nickel and dime personnel groupings since the start of last season.
The Browns passer has been one of the NFL's most accurate quarterbacks over his career. He's 12th in accurate-pass rate and fifth in percentage of passes with perfect ball placement since being drafted. He's at his best when he can play in structure, however. Since 2020, he's ninth among 32 qualified quarterbacks in PFF passing grade from a clean pocket but 31st while under pressure. He's eighth in passing grade on first reads and 20th beyond the first read.
PFF senior analyst Sam Monson notes that while Mayfield hasn't quite lived up to his full potential as the No. 1 overall pick in the 2018 NFL Draft, he's also the only legitimate franchise quarterback the Browns have rostered in the 22 years since Cleveland regained a franchise.
"Baker has never quite become the player the Browns thought he would when they drafted him No. 1 overall, but he's also never been as bad as his critics would have you believe. He is somewhere in between, and being tied long-term to a quarterback who is in between can be a dangerous place to be in today's NFL.
"Mayfield likely lost a chance to have a career year this season with a shoulder injury. Without that injury, everybody may have felt a lot better about handing Mayfield a big extension. As it is, the Browns are making the move likely because they have already shown they can go toe-to-toe with elite teams with Mayfield at quarterback, and they know more than most franchises how bleak things can get if you don't have even a mid-tier quarterback."
The question Cleveland must answer before giving Mayfield a new deal is whether he can only be successful when everything is in place or if he can elevate the players around him. If it's the former, then a top-end salary cuts into available cap space Cleveland can spend to improve its roster around Mayfield. If it's the latter, then Mayfield is worthy of a top-end deal.