A pro scout believes a change of scheme could help 2021 first-round pick Alex Leatherwood.
An AFC scout who studied the Patriots' offense is concerned by what he's seen.
A personnel executive still isn't convinced Trey Lance is better than Jimmy Garoppolo.
---
Let's go around the NFL and find out what league sources are buying and selling when it comes to the NFL's major storylines.
---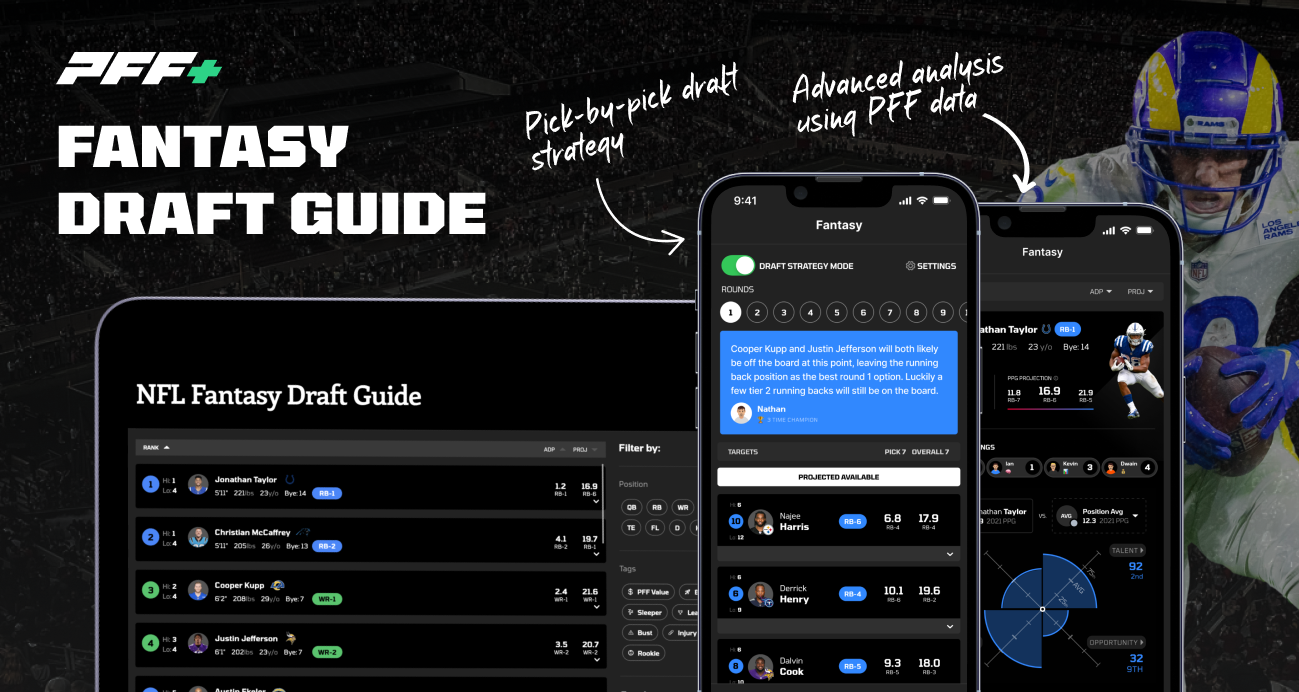 ---
Offensive lineman Alex Leatherwood was involved in two surprising transactions in consecutive days. Though PFF had been told Leatherwood was a surprise cut or trade candidate, the Las Vegas Raiders' decision to waive the 2021 17th overall pick on Tuesday was still relatively unexpected since the move was set to cost them $7.86 million in dead cap.
The Chicago Bears bailed them out in the next surprising move when they decided to claim Leatherwood on waivers, inheriting his fully guaranteed three-year, $5.9 million contract. The Raiders now are charged with only $1.96 million in dead cap, and the Bears inherit the risk of the contract.
If Leatherwood is waived by the Bears and goes unclaimed, Chicago would have $4.59 million subtracted from its cap space.
We asked an AFC pro scout if Leatherwood can salvage his career in Chicago, and he wasn't fully buying.
"The tape was so bad, man," the scout said. "He'll benefit from a fresh start and their scheme, but he's got a ways to go."
Bears offensive line coach Chris Morgan was the Seattle Seahawks' assistant offensive line coach in 2014 under Tom Cable, who was the Raiders' offensive line coach last year when Leatherwood was drafted. Bears assistant offensive line coach Austin King was with Las Vegas last season. So, connections abound.
The Raiders shopped Leatherwood this summer but were unable to find any buyers. He earned a 57.7 PFF grade this summer exclusively playing right tackle in the preseason. Last year, while playing right tackle and right guard, he earned a 45.5 PFF grade during the regular season and playoffs.
Leatherwood was a surprise first-round pick, but he had a successful college career at Alabama, earning an 80.7 PFF grade as a senior left tackle in 2020.
---
PATRIOTS' OFFENSIVE STRUGGLES
The Patriots' offense struggled against its defense when the pads came on in training camp and never looked significantly better in joint practices and preseason games with the Carolina Panthers and Las Vegas Raiders.
One AFC scout is buying the Patriots' issues on offense after studying them this summer and believes the struggles are real.
"They are not good," he said.
New England has plenty of talent on offense, carrying over four members of last year's offensive line in Trent Brown, David Andrews, Michael Onwenu and Isaiah Wynn plus 2022 first-round pick Cole Strange, two high-priced tight ends in Hunter Henry and Jonnu Smith, four starting-caliber wide receivers in Jakobi Meyers, DeVante Parker, Nelson Agholor and Kendrick Bourne and Mac Jones, who looked like the best quarterback of his rookie class last season.
But offensive coordinator Josh McDaniels left to become the Raiders' head coach this offseason, and he brought three assistants with him from New England in offensive coordinator Mick Lombardi, quarterbacks coach Bo Hardegree and offensive line coach Carmen Bricillo.
The Patriots filled in the gaps by moving former defensive coordinator and Detroit Lions head coach Matt Patricia from senior football advisor to offensive line coach/preseason play caller and hiring former special teams coordinator and New York Giants head coach Joe Judge as quarterbacks coach.
It's been a work in progress so far, as the attempt to simplify the offense and play to its talents' strengths didn't catch on over the summer. Internally, the Patriots still believe the unit will jell during the regular season when games count.
---
The San Francisco 49ers handed over the reins to Trey Lance this summer, and they were expected to part ways with Jimmy Garoppolo. A trade never materialized, so the 49ers instead got Garoppolo to agree to a reduced salary heavy on incentives and will keep him around as a backup.
Based on what PFF has heard, the 49ers have cautious optimism about Lance this season with the hope that he can become one of the league's top quarterbacks. The No. 3 overall pick in the 2021 NFL Draft's lack of recent playing time — he played just one game in 2020 and started two games in 2021 — still makes him a relative unknown.
One AFC scout isn't buying the 49ers' trust in Lance and believed San Francisco's decision to retain Garoppolo rather than outright releasing him was a "bad sign" for the North Dakota State product.
Another AFC scout noted that the "best thing (the 49ers) did was make it known it's Lance's team." That was forged through Lance taking first-team reps throughout the summer while Garoppolo threw on a separate field.
A personnel executive said he wasn't surprised by the 49ers' decision to retain Garoppolo because "I still think Jimmy is better than Lance" but noted he's always been a fan of the 30-year-old signal-caller.
The restructured deal makes Garoppolo easier to trade since his salary is reduced if a starting quarterback around the NFL suffers an injury. Garoppolo does have a no-trade clause now, however, so he must OK any deal.