No one knows exactly how football players are going to develop. That's the beauty of it. There's hope to go around for every NFL fan base.
The people still want to know which players were "steals" and which were "reaches," though. Here is one player from each round of the 2021 NFL Draft who qualified in the latter category based on where they stacked up as prospects, both on PFF's Big Board and The Athletic's Consensus Big Board, and the other players who were still available at those draft slots.
More of PFF's 2021 NFL Draft tools here: 
2021 NFL Draft Big Board | 2021 NFL Draft Guide | 2021 NFL Draft Stats Export | NFL Mock Drafts | NFL Mock Draft Simulator
Round 1
The Raiders have done it again. Leatherwood joins the likes of Clelin Ferrell and Damon Arnette as an example that general manager Mike Mayock and head coach Jon Gruden pay no mind to consensus when it comes to their first-round draft picks.
Leatherwood ranked 45th on The Athletic's Consensus Big Board, where he was listed as the second-ranked guard. PFF listed him as the 40th-best player in this draft overall and OT8. His biggest con in the PFF Draft Guide — adjusting in space — could ultimately lead to him being better suited inside.
Las Vegas addressing its offensive line after parting ways with Rodney Hudson, Gabe Jackson and Trent Brown this offseason isn't a bad decision. Leatherwood, a prospect who could have slipped to the second round, just doesn't profile as the best option to fill that need at this stage of the draft. The Raiders will look for Leatherwood's length and strength to prove the doubters wrong.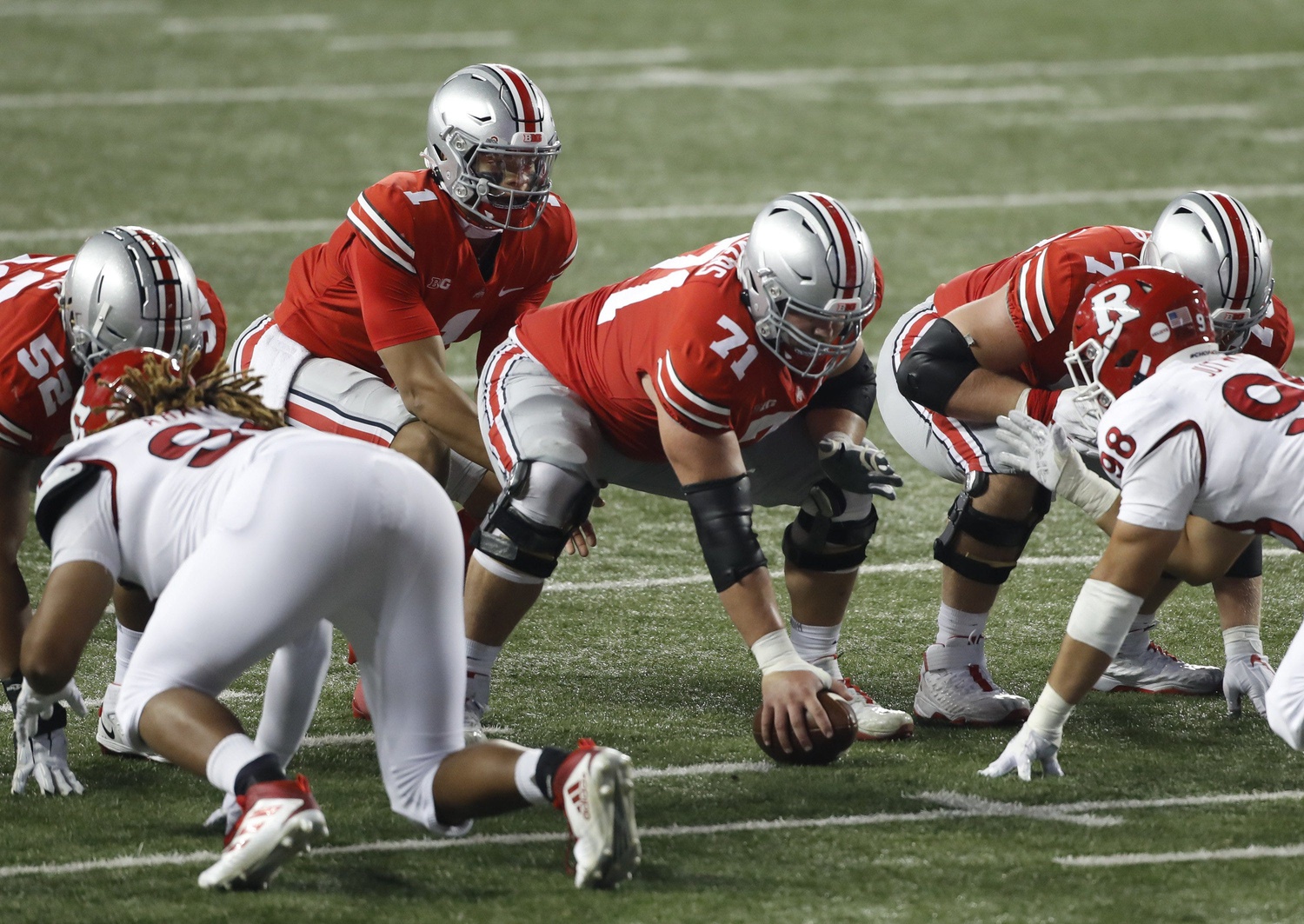 Round 2
Most other draft analysts were higher on Myers than PFF. He was the 154th-ranked player on PFF's Big Board entering the 2021 NFL Draft, and that largely had to do with his consistent issues in pass protection. There were balance and recovery concerns for Myers on tape, which led to a 65.9 pass-blocking grade this past season at Ohio State. 
It will be a significant step down in pass protection for whoever the Packers' starting quarterback ends up being if Myers is the replacement for Corey Linsley at center.
This selection is made worse by the fact that Green Bay could have selected Creed Humphrey or Quinn Meinerz with this pick. Both players were top-62 prospects on PFF's Big Board, significantly higher than Myers, and also ranked higher on The Athletic's Consensus Big Board. Meinerz would have even been available for Green Bay in Round 3.
Round 3
Wright was one of the first big surprises of Day 2. He wasn't listed in the top 300 players on The Athletic Consensus Big Board and didn't make an appearance among PFF's top 300 players, either. Yet, Dallas made him a top-100 draft pick this year.
Wright transferred from Laney Community College, of Last Chance U fame, to Oregon State, where he played the past two seasons. His length is obvious at 6-foot-4 with 33-inch arms. It's not hard to see why defensive coordinator Dan Quinn might have coveted that type of frame to play cornerback in his defense. Dallas is one of the better scheme fits in the league for Wright's skill set.
Wright had middle-of-the-road production at Oregon State, with PFF grades in the 60s in 2019 and 2020, and has concerning short-area quickness and change-of-direction ability. It's just difficult to get behind him coming off the board on Day 2 when most viewed him as a seventh-rounder or undrafted free agent.
Round 4
I did not expect to see Book selected this early in the 2021 NFL Draft. And I say that as someone who has spent a lot of time going through his tape and data in preparation for Notre Dame broadcasts over the past few seasons.
Book's scrambling ability was one of his biggest strengths at Notre Dame, but the gap in athleticism from college to the pros will limit what he can offer in that facet in the NFL. And he just doesn't bring much to the table as a passer. His bottom line in the PFF Draft Guide reads, "Book hasn't shown he can operate with the timing necessary to see the field in the NFL. He has below-average arm talent."
This is a Saints' roster that has shed players and still sits in a questionable cap situation moving forward. They need to be looking for contributors who can see the field with fourth-round draft picks. It's difficult to anticipate that from Book, who most people viewed as a late Day 3 flier.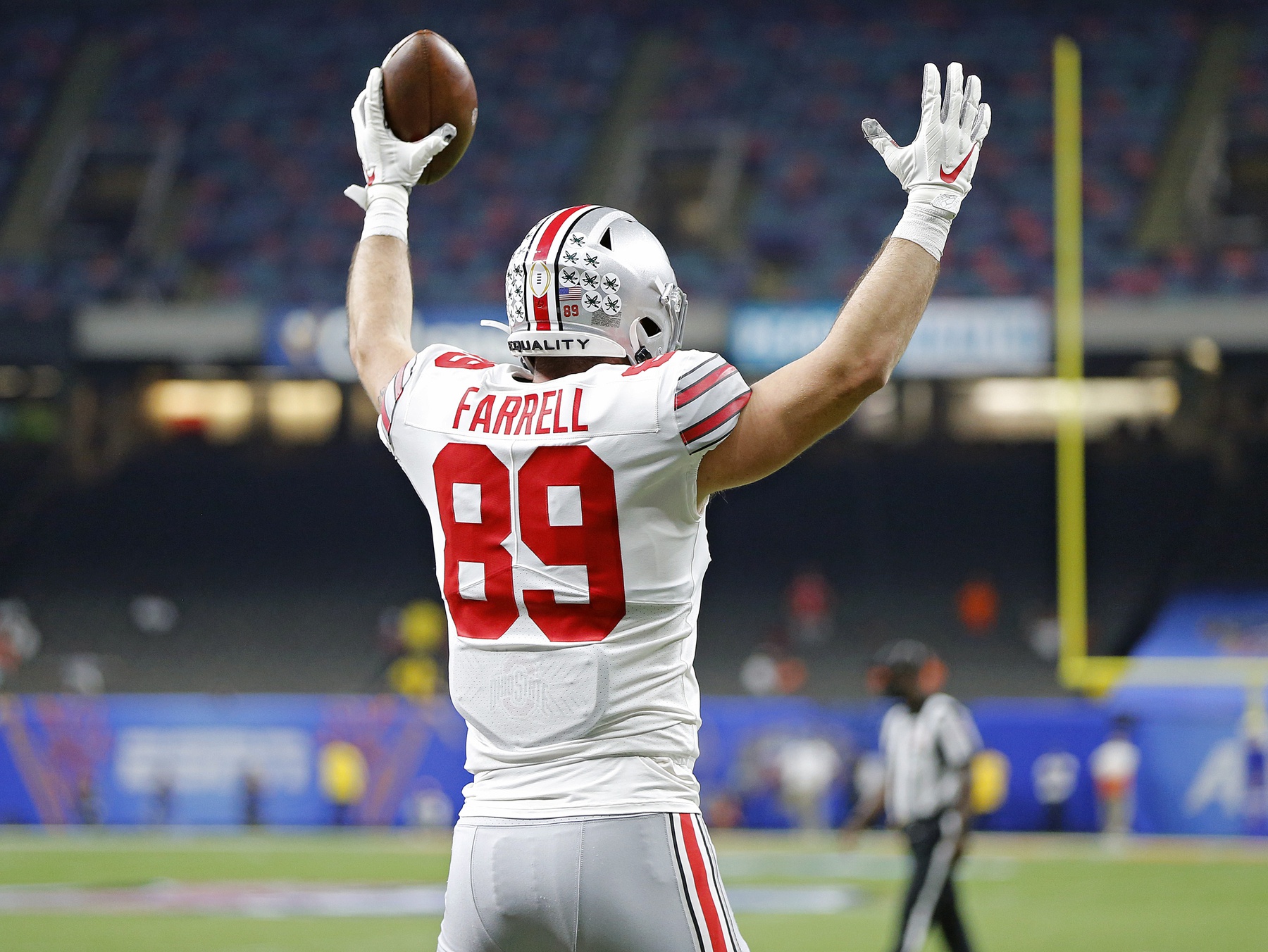 Round 5
It's not a surprise to see Jacksonville attack the tight end position. It was a surprise to see them draft Farrell, though. He earned an 80.8 run-blocking grade this past season for the Buckeyes, but he never graded out above 60.0 as a receiver in his four-year college career. It's hard to see him making a big impact in the Jaguars' passing game.
The thing is, Jacksonville already signed its blocking tight end in free agency — Chris Manhertz from the Carolina Panthers. He's projected to fill the "Y" role. The Jaguars still don't have a good answer for their "F" tight end, a role Farrell likely won't fill. Brevin Jordan, who went two spots later, would have made much more sense given Jacksonville's needs.
This looks like Meyer pounding the table for someone who he was familiar with from his time at Ohio State. 
Round 6
The Saints make a second appearance on the list with a Day 3 pick. This isn't all that much of a reach based on the consensus, but I listed it here for a few different reasons.
The first is that PFF is lower on Young than the consensus. He wasn't a top-300 player on PFF's Big Board, specifically because of movement skills that will likely keep him from having any kind of pass-blocking success at tackle in the NFL. His tendency to play high will be a concern on the interior, as well. Young was largely protected in Kentucky's offense at the college level. 
The other reason is the context surrounding the pick. The Saints gave up Picks 218 and 229 to move up to select Young, essentially reducing two similar low-percentage chances down to one. They also passed on Stone Forsythe, who ranked 118th on the consensus big board and 82nd overall on PFF's Big Board.
Round 7
N/A
I can't bring myself to stoop down to calling a seventh-round draft pick a reach.