Shaquil Barrett racked up 104 total quarterback pressures across four seasons with the Denver Broncos to begin his career. He recorded 82 pressures in 2019 alone for the Tampa Bay Buccaneers, leading the NFL in sacks. It wasn't as if he didn't have the ability to produce like that before; Barrett graded above 75.0 in each of his first four seasons in a part-time role. His increased responsibility with Tampa Bay simply allowed him to post the kind of numbers that will earn him a lucrative contract this offseason.
Predicting those types of breakouts is an inexact science, but there are indicators — just like there were with Barrett — that highlight potential candidates. In one way or another, there is reason to believe that each of these candidates could break out in 2020.
Hill as a quarterback breakout candidate obviously only becomes possible if the Saints decide not to bring back both Drew Brees and Teddy Bridgewater while committing to Hill — a restricted free agent — as their starting quarterback. Alternatively, it could work outside of New Orleans if another team was intrigued enough by Hill's unique skill set to make him an offer to be their starting signal-caller in 2020. If he gets a chance to play a large role next season, we've seen enough from him to at least be intrigued by what it would look like. Across his escapades as a passer, runner and receiver, Hill picked up an impressive 88.7 PFF overall grade on 266 offensive snaps this season.
This is far from a sure thing. We simply don't know enough about Hill as a passer, as he had just 10 dropbacks combined in the regular season and postseason this past year. He did have more of those opportunities this preseason, and he impressed on them, completing 40 of 59 passes for 443 yards, three touchdowns and an interception while scrambling 11 times for 109 yards. That wasn't against starting-caliber NFL defenses, but the only way to evaluate him in that capacity is to give him the chance. Who wouldn't want to see Steve Young back on the field as a starter? At the very least, it would be fun.
The first two years of Guice's career have not gone according to plan. Due to injury, the talented running back out of LSU has played just 95 regular season offensive snaps, all coming this past year, since entering the league in 2018. In the few opportunities he has had to run the ball, though, Guice has looked like one of the better backs in the league. He broke 14 tackles on 49 touches this season while rushing for over five yards after contact per attempt. It's obviously a small sample, but that's certainly reason to be excited when you pair that with his production at LSU, where he recorded PFF rushing grades above 85.0 in three consecutive seasons.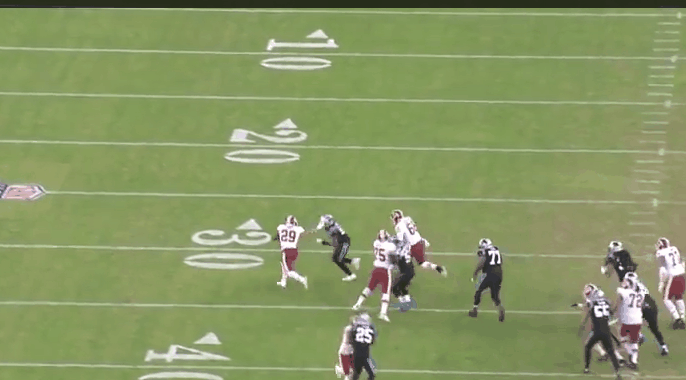 As Shaq Thompson can attest, Guice just runs angry. If he can stay healthy in 2020 and add a little bit more juice in the passing game, the third-year back is a prime candidate to break out in Washington.
Is there anyone more excited to have a new quarterback in Carolina and Joe Brady scheming up plays than Samuel? We've been here with the predicted Samuel breakout before, but the 2017 second-round pick hasn't yet delivered despite increasing his snaps from 225 in his rookie season all the way to 955 in 2019.
A couple of things make it look like 2020 will finally be the year, namely just how poor his quarterbacks were when targeting him this season. Samuel had nearly 1,000 more air yards than receiving yards, the largest gap of any wide receiver in the NFL. Kyle Allen and Will Grier simply couldn't get him the ball with any regularity. Just 62% of Samuel's targets were catchable; that was the lowest rate of the 26 wide receivers who saw at least 100 targets in 2019. Either a healthy Cam Newton at quarterback or an acquisition from outside the organization who could take advantage of Samuel's 4.3 speed would be a major bump to his expectation in 2020.
Dissly's 2018 season ended with a patellar injury. His 2019 season ended with an Achilles injury. That has resulted in him receiving only 38 targets over the past two years, but when he has been on the field, he has excelled as a receiver. Looking at the last two campaigns, Dissly's 87.3 receiving grade ranks fourth among tight ends with 25 or more targets, behind only George Kittle, Travis Kelce and Mark Andrews. His 152.1 passer rating when targeted ranks first among the same group. Smaller samples and excellent results with no roadblocks to a bigger role is the perfect storm for breakout candidates.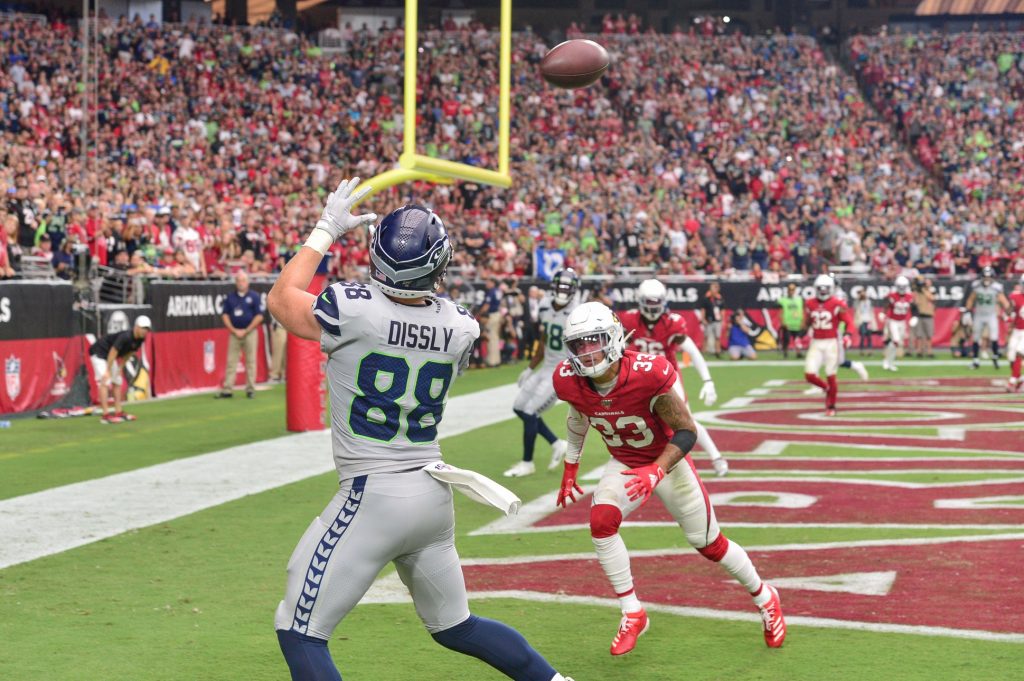 © Matt Kartozian-USA TODAY Sports
Injuries have kept us from seeing a whole lot of Dissly paired with Russell Wilson, but a passing offense that features him fully healthy alongside Tyler Lockett and D.K. Metcalf would be difficult for opposing teams to contend with. Now, all we need to do is tell Pete Carroll and Brian Schottenheimer.
Wynn is another case of injuries limiting a talented player early on in his career. An Achilles' injury suffered in the preseason kept him out of the entire 2018 season, and a toe injury caused Wynn to miss much of the 2019 campaign after being placed on Injured Reserve. That makes it easy to forget just how good he was coming out of Georgia. He recorded overall grades of 87.7, 73.7 and 91.3 in his last three seasons on at least 700 snaps in each year.
This season, he graded out at 69.9, which ranked 19th among 37 qualifying left tackles. For a player who has missed as much time as Wynn has over his first two seasons, that's not a bad result at all in his first regular-season NFL action. Given what we saw from him in college, it should only be expected that Wynn continues to improve, making him a strong breakout candidate in hopefully a full season of action next year.
Daniels has been a full-time starter on the Bears' line in each of his first two seasons after being selected in the second round of the 2018 NFL Draft, and he improved his overall grade from 65.3 as a rookie to 70.3 this past season. The improvement is even more impressive if you split his snaps by position.
The Bears moved Daniels to center to start 2019, switching his spot on the line with Cody Whitehair, after he had played left guard the entirety of his first season. Daniels earned a 63.2 overall grade at center, which would have been good for 22nd out of 37 qualifiers at the position. Meanwhile, his 73.9 grade at left guard would have ranked fifth among 39 qualifiers. It remains to be seen how the Bears use Daniels in 2020, but it's clear that he performed better at guard. As talented as he is at just 22 years old, another season with position continuity could have Daniels poised to break out.
Prior to this season, McGovern would have been nowhere close to this list. He recorded a 49.2 overall grade in his first year of action in 2017 and a 58.3 mark in a full-time starter role during the 2018 season. Under first-year offensive line coach Mike Munchak — one of the best coaches in the business — McGovern took a big step forward this past season. His 71.9 overall grade ranked 10th among all qualifying centers, and his 82.5 pass-blocking grade was even better, ranking fifth among qualifiers.
McGovern is an unrestricted free agent this offseason, so wherever he lands will play a role in his projection, but the improvement we saw from him in his fourth NFL season makes him an interesting target for teams that need an interior offensive lineman. Ideally, he'd be back in Denver to continue progressing underneath Munchak on an offensive line that should return their expensive offseason acquisition, Ja'Wuan James.
In his time at Michigan, Hurst was one of the top players in all of college football. He recorded PFF run-defense and pass-rush grades of 85.0 or higher in each of 2015, 2016 and 2017. In his final season, he recorded elite marks in both run defense (95.0) and as a pass rusher (91.0). There was no reason to believe that sort of talent wouldn't translate to the NFL level, assuming the heart condition that pushed him to the fifth round of the draft didn't derail his career.
It hasn't, as Hurst had a solid rookie season for Oakland in 2018, posting a 70.4 overall grade on 472 defensive snaps. He was even better this past season, particularly as a pass rusher. Among 61 interior defenders with 250 or more pass-rushing snaps in the 2019 regular season, Hurst ranked sixth in pass-rush win rate (15.1%) and seventh in pressure rate (12.0%). He started to build on some of that dominant pass-rushing ability that we saw at Michigan, and another step forward in his third year could mean big things for his future as one of the top names at the position for seasons to come.
Coming out of Rutgers for the 2018 NFL Draft, Turay came in at fifth on the PFF edge defender big board rankings after grading at 75.0 or better as a pass rusher in each of the three college seasons where he had at least 100 pass-rushing snaps. As a rookie, Turay wasn't winning his pass-rushing reps in dominant fashion, but he was still performing at an above-average level. His 67.6 pass-rushing grade in 2018 ranked 43rd among 102 qualifying players. The 14.8% pressure rate that ranked eighth among qualifying edge rushers indicated he was getting pressure at an elite rate early on, though.
He was beginning to really flash as a situational pass rusher this season — such as on this play, where he throws Cam Erving into Patrick Mahomes — before an early injury derailed his sophomore campaign. Across the first five weeks of the season, Turay's 91.0 pass-rushing grade ranked second among all qualifying edge defenders, and his 22.9% pressure rate ranked second to only Nick Bosa. With Jabaal Sheard potentially leaving in free agency, there could be a golden opportunity for Turay to continue that progression across from Justin Houston.
This offseason, we wrote that Hamilton was in a position to break out in the wake of Reuben Foster's knee injury. In a part-time role, he did play well, earning a 74.9 overall grade on 387 defensive snaps. Most importantly, he was excellent in coverage. Hamilton's 89.7 coverage grade this season ranked second among all qualifying linebackers, sandwiched between Lavonte David and the recently retired Luke Kuechly for the best marks in the NFL. It's an area of his game that was a strength coming out of Alabama, and it has flashed at the NFL level.
Jon Bostic and rookie Cole Holcomb both saw significantly more snaps than Hamilton, but both were outplayed by the second-year player. If he is able to carve out a larger role next season alongside the returning Foster, his coverage ability makes him an intriguing breakout candidate in addition to his teammate Guice on the other side of the ball.
As a rookie, Dean didn't play significant snaps until Week 9. But after a rough first outing against the Seahawks in which he allowed over 150 receiving yards into his coverage, he played like one of the best cornerbacks in the entire NFL.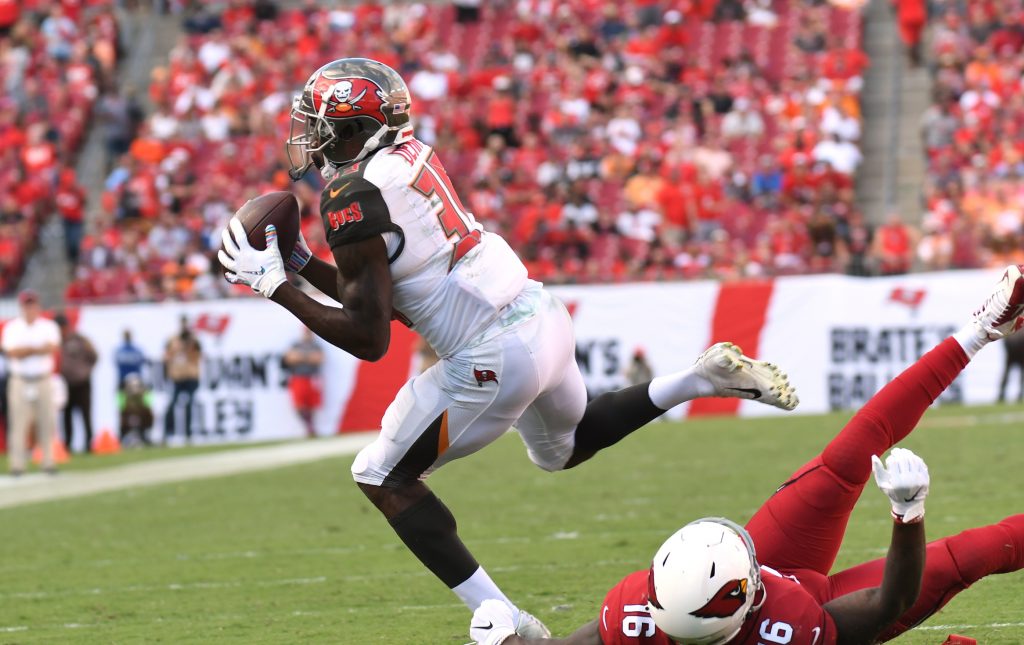 © Jonathan Dyer-USA TODAY Sports
Over those final eight weeks of the season, Dean's 89.8 coverage grade ranked second among qualifying cornerbacks, behind only Stephon Gilmore. He allowed just 42.3% of the passes into his coverage to be completed while forcing incompletions on a league-best 30.3% of the targets. That's impressive production from a rookie who didn't touch the field for the first half of the season. If he plays like that again in 2020 in a full-time role, Dean will start to find his name in the conversation of the top cornerbacks in the NFL.
The Cardinals played Thompson mainly at free safety this season, a position he hasn't played the majority of his snaps at since his 2016 season at Washington State. He spent most of his time in the slot and box over his last two collegiate seasons, and despite that, Thompson still had a pretty strong rookie season in coverage for the Cardinals. His 70.3 coverage grade ranked 34th out of 94 qualifying safeties this season.
Thompson picked up coverage grades of 77.7 and 85.1 in his final two seasons at Washington State. The coverage ability is there, and as his profile in our preseason draft guide said, "It's difficult not to be impressed with some of the high-level reps Thompson has on his tape." More familiarity with the free safety position and the incorporation of more time in the slot and strong safety roles that he thrived from in college could mean big things for his development for the Cardinals' defense.