• Bet Vikings WR Justin Jefferson to lead NFL in catches (+1100): Jefferson's odds nearly three times as long as Cooper Kupp's.
• Bet Commanders WR Jahan Dotson to win OROY (+900): Washington's top pick scored two TDs, posted 16.2 ADOT in scorching first start.
• New users who bet $10 or more at BetMGM will receive a free year's subscription to PFF+ — a $79.99 value.
Estimated reading time: 3 min
---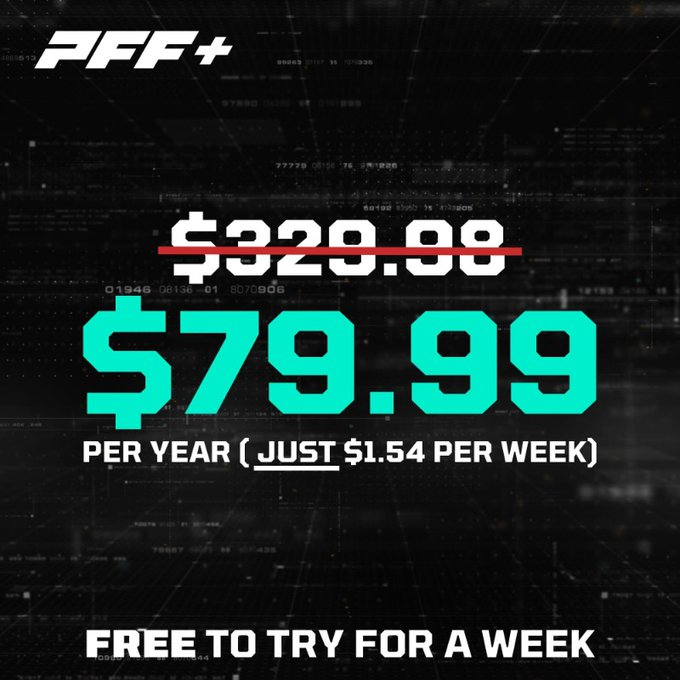 A tie between the Indianapolis Colts and Houston Texans. Cincinnati Bengals QB Joe Burrow throwing four interceptions and losing to the Mitchell Trubisky-led Pittsburgh Steelers. The no-timeout gaffe by Nathaniel Hackett's Denver Broncos Monday night.
Week 1 of the NFL season always has bizarre outcomes. We also tend to see betting markets react in a way that could open up some value as they — like all of us — navigate and forecast the remainder of a long 17-game regular season.
Let's highlight some of the bigger betting overreactions and underreactions.
TIRED OVERREACTION: Cooper Kupp To Lead League In Receptions (+400 BetMGM)
• Inflated odds on Kupp: Los Angeles Rams WR Cooper Kupp again leads the league in receptions, with 13 on 15 targets. There's no denying Kupp's excellence or his all-time season in 2021. However, at +400 odds to lead the league in receptions at BetMGM, we should look elsewhere.
· Davante Adams: +900
· Stefon Diggs: +900
· Justin Jefferson: +1100
· Ja'Marr Chase: +1600
· Travis Kelce: +1600
• A-Rob targets: Kupp will, of course, again be one of the NFL's best receivers this season. Still, the Rams have one major difference that could impact Kupp's final tally: Allen Robinson is an excellent receiver despite not showing up in Week 1, when he made one catch on two targets while running a route on 48 of his 49 snaps. Kupp was already on a tear last season before Robert Woods went down with an injury, but his 8.2 targets per game increased closer to nine. Odell Beckham Jr. only topped five targets once during the regular season.
• Juice up on Jefferson: With such a disparity in the odds, take a swing on someone like Jefferson, PFF's highest-graded Week 1 receiver, who is the unquestioned No. 1 in his offense with less target competition and a quarterback without elbow injury concerns.
BET: Justin Jefferson to lead NFL in catches (+1100 at BetMGM)
WIRED BET: Dotson as OROY
• Dotson's fast start: Washington drafting Jahan Dotson at No. 16 overall was a bit of a head-scratcher, but he produced immediately in Week 1 —with two touchdowns, including one on a 24-yard pass, helping his 16.2 average depth of target. At BetMGM, Dotson currently is tied with Atlanta Falcons WR Drake London and Pittsburgh Steelers WR George Pickens at +900 odds. This is a bet worth making.
• Lacking field: It's only one game, but Pickens had only a three-yard catch, while London was more involved, catching five of seven targets for 74 yards. Generally, we'd be more concerned if there was a clear QB candidate, but the most likely option — Pittsburgh's Kenny Pickett — may not play enough.
• Offensive environment: His odds appear restrained by QB Carson Wentz and the Commanders as a whole, but Dotson will see the field often. He finished just behind fellow WR Terry McLaurin in passing down snaps, including a route run on 85.1%. Wentz is erratic, but if he continues to have 40 or more attempts in a game, this will only help Dotson emerge as the front-runner for the Offensive Rookie of the Year award.
BET: Jahan Dotson to win OROY (+900 BetMGM)
— PFF contributor Richard Janvrin