• Bet Stefon Diggs anytime TD, 2+ TDs (+115 BetMGM, +750 FD): No Titans corner graded above 65.6 in Week 1.
• Bet Justin Jefferson anytime TD (-105 PointsBet): Lining up everywhere (41 snaps outside, 14 slot, 2 backfield Wk 1), he's hard to locate.
• Bet DeVonta Smith anytime TD (+240 FD): After first catch-less NFL game, he draws aging Pat Peterson (sub-66 coverage grade since 2017).
• New users who bet $10 or more at BetMGM will receive a free year's subscription to PFF+ — a $79.99 value.
---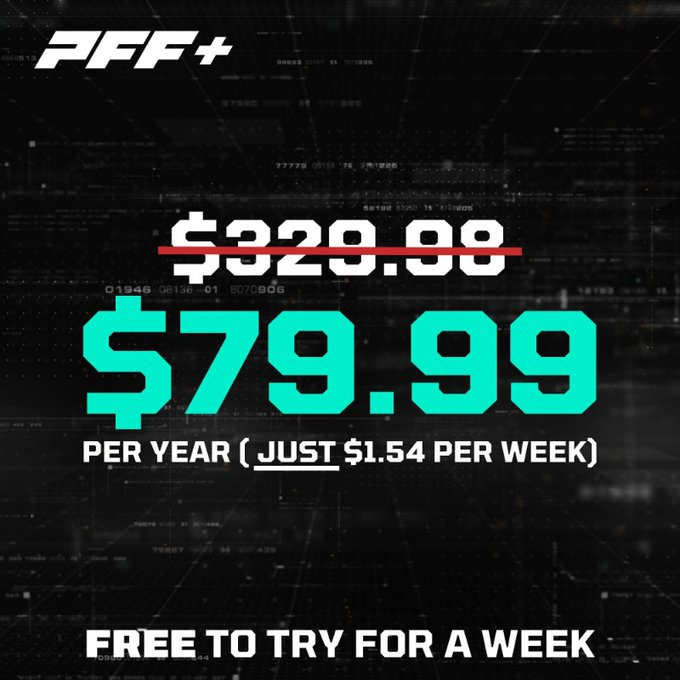 Estimated reading time: 4 min
Week 2 concludes with a Monday-night doubleheader with the Tennessee Titans visiting the Buffalo Bills, followed by the Philadelphia Eagles hosting the Minnesota Vikings.
The totals in these games are 47.5 and 50.5, respectively. These BetMGM lines indicate some potential fireworks, which can pay huge dividends on what we're discussing today — Anytime TD props.
Let's dive in. 
BET: TITANS RB DERRICK HENRY ANYTIME TD (+100 ON DRAFTKINGS)
• King Henry: As we saw in Week 1 against the New York Giants, the Titans struggled to pass the ball. No receiver went over 66 yards; leading the pack was rookie wide receiver Kyle Philips, who saw nine targets. Henry had 21 carries for 80 yards and a fumble. As 10-point underdogs, the Titans' best chance at staying in this one is running the ball and controlling the clock. They'll lose badly if they get into a shootout with the Bills. Henry leads the offense and finds pay dirt in this one. 
BET: BILLS WR STEFON DIGGS ANYTIME TD, 2 OR MORE (+115 BETMGM, +500 ON FD)
• Gabe Davis Out: The Bills are without WR 2 Gabe Davis, who's nursing an ankle injury. This will provide more playing time to Isaiah McKenzie and Jamison Crowder and bolster Diggs. 
• Titans Struggle To Cover: Diggs should line up mostly against Titans CB Caleb Farley (58.4 coverage grade Week 1). Regardless, he should win his matchups against any of the Titans' defensive backs (all had coverage grades of 65.6 or lower, except S Amani Hooker, who posted a fantastic 87.1 grade). The game total is 47.5, so the Bills expect to score plenty of points. Two touchdowns will be harder, hence the +500 odds, but it's worth sprinkling cash on. 
BET: TITANS WR ROBERT WOODS ANYTIME TD (+350 ON DRAFTKINGS)
• Something's Gotta Give: While the Titans hope for a game plan of running the ball and playing keep-away from Bills QB Josh Allen's offense, this is easier said than done. At some point, the Titans and QB Ryan Tannehill will need to pass the ball. The two-TD man from Week 1, RB Dontrell Hilliard is out this week. Woods had just two targets in Week 1, but he led the team in passing-down snaps and ran the most routes. He projects as their No. 1 option, and this is the time they need him to show up. 
• Rookie CB Matchup: Woods expects to matchup mostly against Bills sixth-round rookie CB Christian Benford, who lined up at right cornerback 27 times in Week 1. While he posted a 66.9 coverage grade, compared to Woods' 55.7 receiving grade, the young Benford is going up against a savvy route-runner. A +350 prop here seems worth a shot. 
Philadelphia Eagles (-2.5) vs. Minnesota Vikings (50.5)
BET: VIKINGS WR JUSTIN JEFFERSON ANYTIME TD (-105 ON FANDUEL)
• Death, Taxes, Justin Jefferson: While we enjoy providing data-based analysis, some things speak for themselves, such as Vikings WR Justin Jefferson and his dominant presence. In Week 1, Jefferson played 41 snaps out wide (20 on the left; 21 on the right), 14 out of the slot, and even two out of the backfield. Head coach Kevin O'Connell is turning him into even more of a matchup nightmare. The Eagles could deploy CB Darius Slay to shadow him, but he played all 64 of his CB snaps on the left side. This likely pits Jefferson against James Bradberry, who had a 63.6 coverage grade in Week 1. The -115 price is a bit steep for a touchdown. Still, Jefferson should see double-digit targets and receptions each week. 
BET: EAGLES QB JALEN HURTS ANYTIME TD (+135 ON FANDUEL)
• He Runs. A Lot: In Week 1, Hurts ran with the ball 17 times, including eight designed runs. Only nine running backs in Week 1 had more carries than Hurts. The Vikings' pass rush was so-so vs. Green Bay, with Dalvin Tomlinson posting an 86.7 grade. He will likely face plenty of C Jason Kelce, and double teams with RG Isaac Seumalo if he continues to wreak havoc. If Hurts gets his eight designed runs again, he has an excellent shot at scoring. The +135 feels like easy money. 
BET: EAGLES WR DeVONTA SMITH ANYTIME TD (+250 ON FANDUEL)
• Patrick Peterson Coverage: Once upon a time, a matchup against CB Patrick Peterson typically meant a slow day at the receiving office, but approaching 33, his coverage ability has started to slow down. Peterson hasn't posted a coverage grade above 64.3 since 2017 (83.7). He lines up primarily on the left side (all 59 cornerback snaps there Week 1), where Smith played on 45% of his snaps out wide. 
• Smith Played More Than Any Eagles receiver Week 1: Smith laid a goose egg in the receptions column for the first time as a pro, but don't let this deceive you — he still played the most passing down snaps and ran the most routes. He lines up all over the field. Whether he's facing Peterson or fellow Vikings CB Cameron Dantzler outside, Smith should be in a great position to rebound this week, similar to Los Angeles Rams wide receiver Allen Robinson.