• Bet Seahawks +10 at San Francisco: Niners not good enough currently to lay 10 to anyone, even Seattle club fresh off emotional win vs. Denver.
• Bet Texans +10 at Denver: One of healthier teams coming out of Week 1, Texans have fundamentals to remain spunky.
• Lean Titans +10 at Buffalo: With no QB injury, it's insane that the reigning No. 1 seed in AFC is getting this big a number — even in Buffalo.
• New users who bet $10 or more at BetMGM will receive a free year's subscription to PFF+ — a $79.99 value.
Estimated reading time: 8 mins
---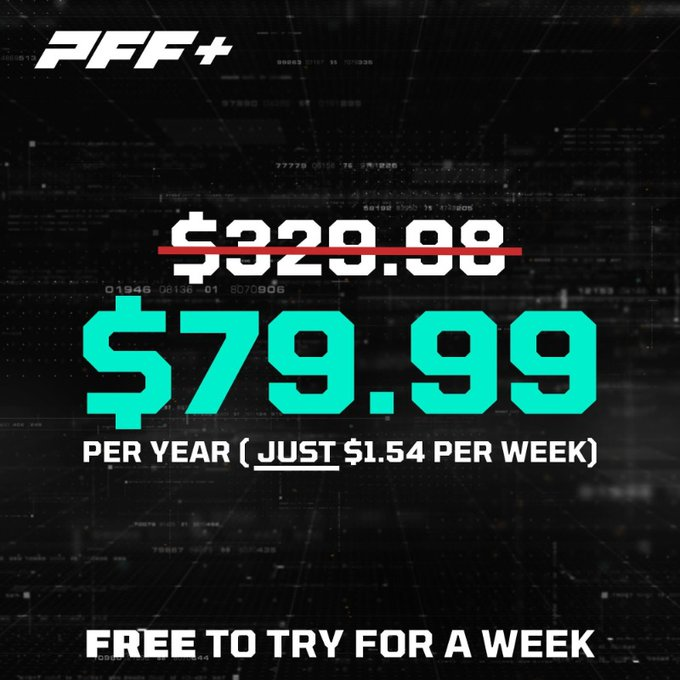 Last week we talked through every game on the slate from an injury perspective, and in many instances those injuries had a real impact on the betting outcomes of the games.  We're running it back in Week 2, looking at the value of the marquee players who are questionable or already ruled out.
This opened in the offseason as Kansas City (-3), and though Chiefs first-round CB Trent McDuffie — after being targeted zero times in his debut — was put on IR by the Chiefs with a hamstring injury, Chargers Keenan Allen (0.31 WAR last year — worth about 0.7 points per game) and CB J.C. Jackson (0.51, 1.2) are questionable at best for the Chargers.  WR depth — or lack thereof — was a winner in Week 1.  When it comes to the total, does the Chargers' lack of pass-catching depth hurt the over?
Reigning Defensive Player of the Year T.J. Watt is out with a torn pectoral muscle — contributing to the fact that the Patriots are still road favorites here.  Najee Harris — the league's Offensive Rookie of the Year in 2021 — is questionable with a foot injury.  Running backs don't really move the market, so bettors shouldn't overreact to Harris' injury.
For the Patriots, Mac Jones' back injury is the biggest concern.  If he's out — which is a longshot — the Steelers would likely move to field goal favorites in the marketplace.
Colts OLB Shaq Leonard (worth 0.45 WAR last year) was out last week with a back injury and continues to be questionable for the Colts as they come off a disappointing tie in Houston.  The Jaguars — who blew an 8-point fourth-quarter lead in the nation's capital last week — are relatively healthy and a side that George Chahrouri and I liked early this week.  
The Panthers, off of a heartbreaker at home against the Browns, are relatively healthy aside from the quarterback position behind Baker Mayfield, while the Giants have a laundry list of players dealing with injuries — starting with first-round pick Kayvon Thibodeaux, and 2021 eight-sack man Azeez Ojulari.  Rookie WR Wan'Dale Robinson (knee) is considered "day-to-day" after out-snapping last year's first-rounder Kadarius Toney.  
The Bucs are dealing with injuries at two of the most important positions in the game: WR Chris Godwin, who hurt his hamstring in his return from an ACL Sunday Night against Dallas; and Donovan Smith, Tom Brady's blind-side protector, is nursing an elbow injury.  Those injuries, combined with ones in the preseason sustained by Ryan Jensen and Aaron Stinnie, could be a death knell for an over against a Saints team that has stymied the Bucs at times during the Brady era.  
Saints RB Alvin Kamara is dealing with a rib injury, which led to the signing of Latavius Murray to the their practice squad.  
This total is pretty high, but given the injuries the Commanders have on the defensive side of the ball — DT Jonathan Allen (groin), Kamren Curl (thumb), DE Chase Young (knee) — and the efficiency of the Lions' run game in Week 1, it starts to make some sense.  Will these injuries lead to an over?  PFF Greenline isn't so sure.  
The Lions also have a decent amount of injuries, but they're to largely the same group — WR Jameson Williams, OT Hal Vaitai, LB Julian Okwara, Des Josh Paschal, Romeo Okwara — that were out in Week 1. Detroit's howe loss to the Eagles sailed over, with Detroit covering as nearly a field goal underdog.  Can the Lions overcome these losses and win as a favorite?
It's starting again for the Ravens, who after playing Week 1 without Marcus Peters (knee), lost quality CB depth in Kyle Fuller (knee).  OT Ja'Wuan James (Achilles), playing for the recovering Ronnie Stanley, is now out for the year, while NT Travis Jones and RB J.K. Dobbins are question marks. Are the Ravens being overvalued here against a team that isn't the Jets?
The Dolphins remain without Byron Jones, who is worth about three-fourths of a point to the point spread.  It didn't matter much against a bad Patriots offense, but his absence could show up this week against what might be an explosive Ravens passing game.
After squeaking out a win against the Panthers on the road Sunday, the Browns enter Week 2 with injuries to OTs Chris Hubbard (undisclosed) and Jack Conklin (knee).  CB Greedy Williams remains on injured reserve.  
The Jets remain without QB Zach Wilson and put Duane Brown — the initial replacement for Mekhi Becton — on injured reserve right before the game against the Ravens.  Brown was worth 0.14 WAR last year, which is about a third of a point to the point spread.  
The 49ers are not healthy enough to be laying a full 10 points against anyone, even if that team is coming off of an emotional Monday Night game against Russell Wilson and the Broncos.  Running back Elijah Mitchell (knee) needed to go to IR this week, which really shouldn't affect the markets, but George Kittle (groin)  remaining out would have an impact.  Couple this with IR players Jimmie Ward (hamstring) and Jason Verrett (knee), and the 49ers are vulnerable to having another stinker.  
For the Seahawks, Jamal Adams (knee) needs surgery and will be out, while Kenneth Walker missed his first NFL game Monday with a hernia injury but is expected to make his debut in San Francisco.  Neither player plays a premium position, but both players are valued by the team — which is likely worse than missing them in the first place.  
We've seen this point spread come down from open, and it will be a theme all year: Matthew Stafford's arm looked bad during in Week 1 — and it likely will be an issue all season.  Will it matter against a Falcons defense without LB Deion Jones (shoulder), CB Isaiah Oliver (knee) and DT Marlon Davidson (knee)?  Likely not enough for the Rams to lose outright, but I would not be laying the points with them this early after such a poor performance at home in the NFL kickoff last Thursday night.
This game is obviously headlined by one injury, and it is to Dak Prescott.  We make Dak worth about 6/6.5 points above a replacement-level quarterback, and while Cooper Rush did win a start last year, he was released and brought back prior to the season — the definition of R in WAR.  But Prescott's injury isn't the only injury moving the line. S Jayron Kearse was one of the most valuable defensive players in the league last year, and he's out with a knee injury, while Tyron Smith (hamstring), James Washington and Michael Gallup's injuries continue to hamper the offense.  
The Bengals might have lost a game Sunday because of an injury to longtime LS Clark Harris (biceps), but the bigger injury question will be whether WR Tee Higgins (worth 0.40 WAR) can return this week from concussion protocol.  
The Broncos have injuries to their offensive line, with Quinn Meinerz and Billy Turner nursing hamstring and knees, respectively.  Furthermore, LB Josey Jewell is questionable right now with a calf injury.  The Texans, off of a good week against the Colts, don't really have any starters dealing with new injuries.  Many people believe that the Broncos will win this game handily, and they might be right, but the Texans do have some fundamentals that add up to being spunky again this week.
After missing last week, J.J. Watt is questionable again with a calf injury, which hurts the Cardinals as they try to take advantage of one of the worst offensive lines in football in the Raiders.  C Justin Pugh, CB Trayvon Mullen and WR Rondale Moore are all iffy as well for the Cardinals, which is why things have trended in the direction of Vegas on the markets since open.
The Raiders are nursing injuries to S Tre'von Moehrig (hip) and LB Denzel Perryman (ankle), which is likely contributing to the total over 50.
The Packers struggled mightily last week with injuries to WR Allen Lazard, LT David Bahktiari, RT Elton Jenkins, among others, and got rolled by a healthy Vikings team in Minneapolis.  These things remain issues as they try not to go 0-2 in the division this Sunday night — which would put the Packers a full two games behind the Bears, who won last week against an injured 49ers team.  
The Bears are nursing an injury to rookie WR Velus Jones, with veteran WRs N'Keal Harry and David Moore already on IR.  A lack of depth at the position ultimately didn't hurt Justin Fields and Co. Sunday, but it could be an issue against a decent Packers defensive backfield smarting from being embarrassed by Justin Jefferson last week.
It's absolutely insane that a team coming off earning a one seed the season prior is double-digit underdogs this early in the following season, especially without a quarterback injury moving the spread that much.  But the Titans squandered a 13-point lead to the Giants in Week 1 and are still seething from losing Harold Landry III (knee) before the season began.  Most of their other injuries are trace values at best.
The Bills are still without CB1 Tre White, but that should be less of a concern against the Titans than it was against a Rams team with more WR depth.  DT Ed Oliver (ankle, worth 0.16 WAR last year) was seen wearing a boot this week.  The Bills' defensive line was a treat last Thursday night, and it surely could use him again Monday.
This number has jockeyed around, from the MIN +3 we took Monday morning down to PHI (-1.5) less than 48 hours later.  The Vikings are pretty healthy, although their top two draft picks — Lewis Cine (knee) and Andrew Booth (quad) — are nursing injuries.  That could be a problem against A.J. Brown — who set a career high with 155 receiving yards in his Eagles debut — and former Heisman winner DeVontaSmith, who was held without a catch for the first time in the NFL.  
The Eagles lost DE Derek Barnett (knee) to an injury last week but are otherwise pretty healthy in a matchup of two top teams in the NFC.