• Bet Browns o8.5 wins (+116): Fundamentally, this isn't a 2-2 team, not with a run game EPA/rush (0.179) better than the EPA/pass of 26 NFL teams.
• Cleveland's offense exceeding expectations with QB2 Jacoby Brissett: Browns rank top 10 in EPA/play and success rate in non-garbage time.
• New users who bet $10 or more at BetMGM will receive a free year's subscription to PFF+ — a $79.99 value.
Estimated reading time: 3 mins
---
Even though we had more than six months prior to the start of the season to bet on NFL futures, the market is always live and there are some opportunities to make some money when looking at a team from a macro perspective. Now that we've had 4 weeks of film and data to look at for every NFL team, here are a couple valuable futures bets to make now.
Bet: Cleveland Browns o8.5 wins (+116; 13.2% edge on PFF's simulations)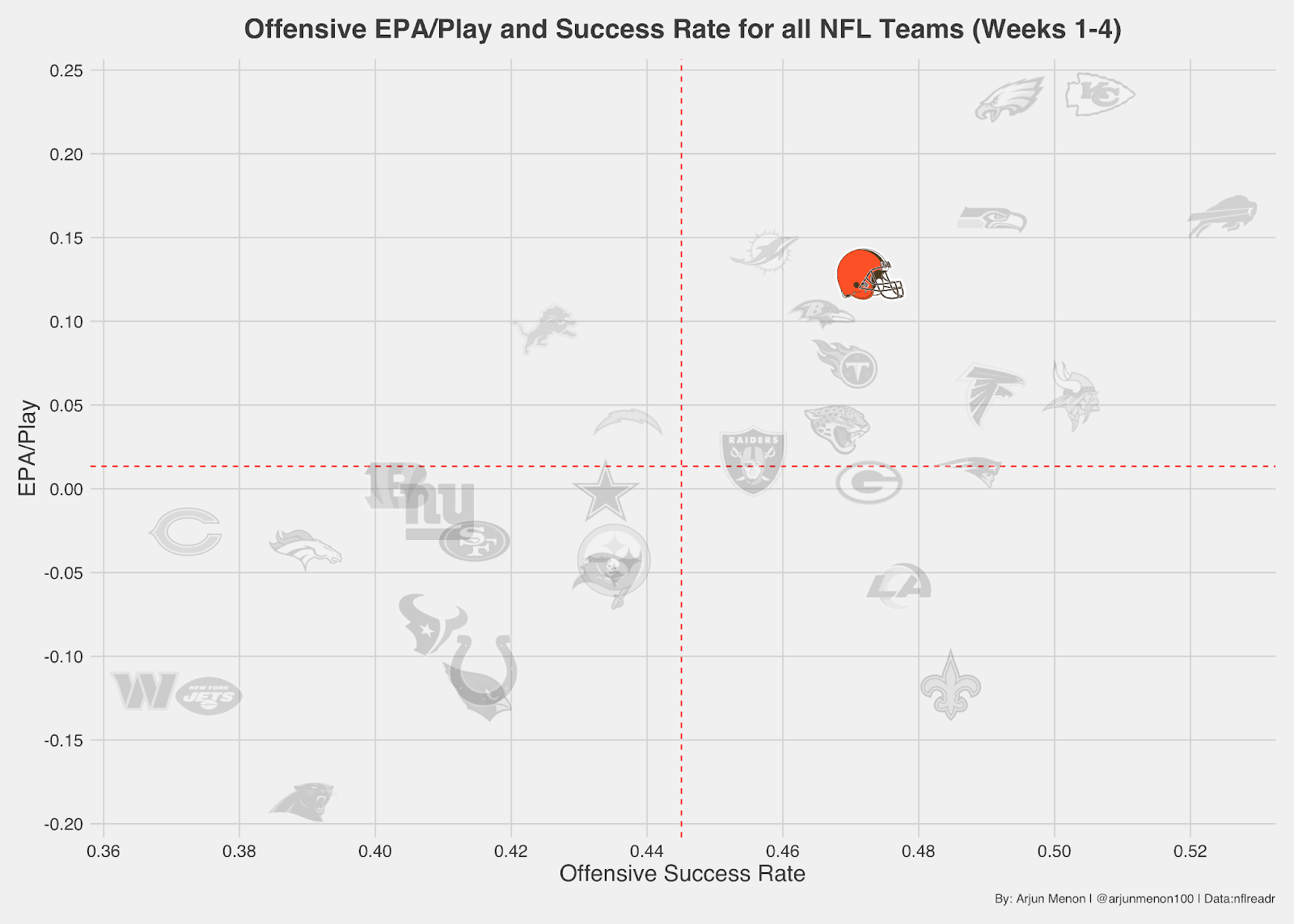 • The Browns boast one of the most efficient offenses in the NFL. They rank in the top 10 in both EPA/play and offensive success rate in non-garbage time, despite having QB2 Jacoby Brissett at the helm. Remember, suspended starter Deshaun Watson is eligible to return as early as Dec. 4.
• Cleveland's run game is the best in the NFL right now. The Browns' current average of 0.179 EPA/rush is more efficient than 26 NFL teams' EPA/pass. In a league where passing is king, the Browns have zagged, gone back to the ground game and are finding a lot of success.
• Fundamentally, the Browns really aren't a 2-2 team. Per Kevin Cole's weekly adjusted scores, Cleveland should currently be 4-0. Looking back on its loss vs. the Falcons Sunday, the offense moved the ball down the field at will, but  two goal-line trips ended in a combined 3 points — which eventually cost them in the end.
Bet: Seattle Seahawks o5.5 wins (-103; 19.3% edge on PFF's simulations)
• Geno Smith is… good? After getting his first real shot in eight years at a starting role, Smith has excelled. He currently sports an 84.5 PFF grade (1st), 0.229 EPA/play (5th), and a 54% success rate through the air (4th). While this has come at the hand of weaker competition, it's still exceeding the expectations that many had for him entering the season
• The Seahawks are also seemingly leaning into their strength on offense. They are currently passing the ball about 1% more than expected (given the game situation), a step up from last year, when they passed the ball 2% less than expected with Russell Wilson. Because passing is more efficient than running, in most cases, passing more often will put the offense in more favorable situations, helping score more points
• The rest of the NFC West has weakened. The Rams look like a shell of their 2021 self currently, with no interior offensive line, no run game, and no secondary receivers to go to. The Cardinals currently have the lowest offensive efficiency (per EPA/play) in the first half on games, and have won both their games on second half comebacks. There are opportunities to steal games from their divisional rivals, especially if the offense continues to perform at the level it has.