Orlando Brown Jr. is the top free-agent option: The Kansas City Chiefs offensive tackle has proven to be an effective pass blocker and a solid run blocker, making him the top OL in free agency.
Peter Skoronski is the best offensive lineman in the draft: Whether he plays tackle or guard in the NFL, Skoronski has the best college tape in the class and would immediately improve any team's offensive line.
Arizona Cardinals have two valuable offensive tackles who could be available on the trading market: Josh Jones and D.J. Humphries could be available in the trading market, and both have proven to be capable starting left tackles in the NFL.
Estimated reading time: 5 minutes
---
We have already looked at several other positions this offseason, so now it's time to evaluate the available offensive linemen. There's a surprising quantity of quality offensive linemen available on the open market.
Let's run through the best options.

---
One of the biggest takeaways from the deployment of the franchise tags throughout the league was the Kansas City Chiefs choosing not to apply the tag to Brown and potentially allow him to leave if they don't get a long-term contract worked out. Brown has a PFF pass-blocking grade between 74.4 and 83.3 in each season of his NFL career playing both right tackle and left tackle. He has shown he is a good-not-great pass protector with solid contributions as a run blocker. Critically, he has also proven that he can perform at that same level at left tackle, something he wanted to prove when he left the Baltimore Ravens.
McGlinchey has been a consistently excellent run blocker in the NFL, but his pass protection has been a little more hit-or-miss. Last season, he allowed six sacks and 36 total pressures as well as being flagged for 10 penalties. He has shown to be a quality starter at right tackle, but in a system that benefits its offensive linemen as much as it does quarterback or skill position players.
Taylor allowed 21 total pressures in 19 games last year and is seen throughout the league as an elite pass blocker at right tackle. PFF grades would suggest that is perhaps overstating things a little, but he has been good in that area in each of the last two years and is far better at pass-blocking than he is in the run game. 
Seumalo is the best interior lineman available and coming off a season in which the Philadelphia Eagles line was comfortably the best in the NFL. Seumalo will hope to parlay that success into a big payday for a team needing to upgrade on the inside.

---
Best OL in the 2023 NFL Draft (PFF Big Board rank)
It's a strong year for offensive linemen in the draft, as evidenced by the top-10 players all ranking inside the top 55 spots on the PFF big board. Skoronski is the top offensive lineman in the draft, but there is debate about whether he will play tackle or guard at the next level after measuring in with 32 ¼-inch arms. That is borderline for NFL evaluators, and he has had some struggles with longer pass-rushers in college. Though it might behoove his next team to let him fail at the more valuable position first (tackle), if he is viewed as a guard only, that may affect his ranking on boards.
Outside of Skoronski, there are still plenty of options for tackles high in the draft. Johnson, Harrison and Broderick Jones all figure to be sure-fire first-round picks, and Dawand Jones' massive size will intrigue teams after his display at the Senior Bowl, where he was virtually impossible to beat.
The interior positions take a little longer to get going, but there are several good options in the second and third rounds, where this is a particularly solid group at center. Ohio State, Wisconsin and Minnesota are all sending centers to the draft that could come off the board by the end of Day 2 and have the potential to start right away.
Overall, this is a good year to find offensive line help in the draft, and it will likely be an area some teams target.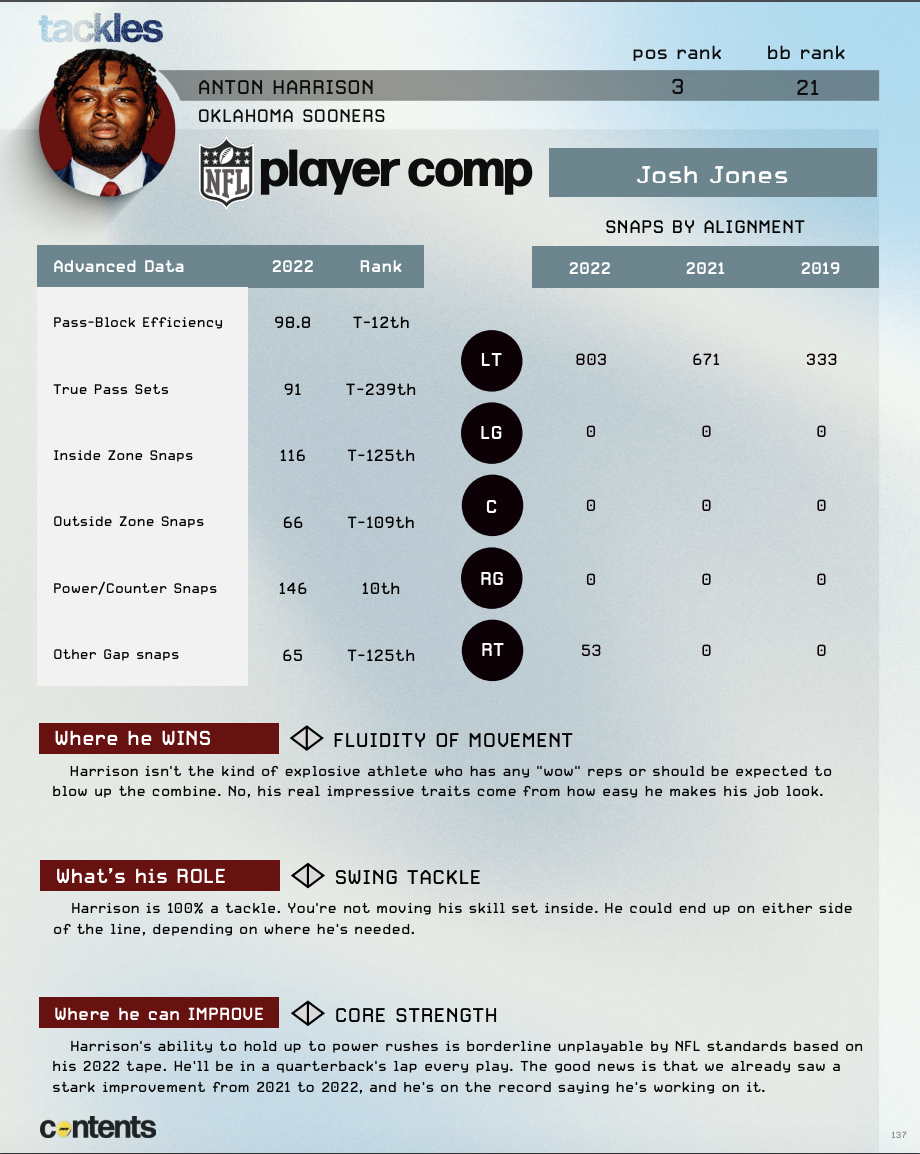 ---
Best OL Available via a potential trade
The Cardinals do not have a lot of talent on the offensive line, but they do have two good starters at one position — left tackle — opening up the possibility that they will look to move one of them via trade. Jones has struggled at every position he has played in the NFL except left tackle, his college position, but showed last year he can play at a high level at that spot. His PFF grade was at least 74.0 in both facets of play.
Humphries has been a good starter at left tackle, and it seems unlikely that the team would ask him to swap sides of the line to accommodate Jones eight years into his career. It would be his first snaps at right tackle since his rookie season.