Tom Brady, the venerable old man of the NFL, continues to lead the way in PFF's first-quarter All-Pro team, showing that age truly is just a number if you're eating enough avocados. Brady leads the league with 17 big-time throws and looks better than he did in his mid-20s.
The pass game remains king, and some of the best receiving weapons in the game — Davante Adams, Tyreek Hill and Travis Kelce — make unsurprising appearances here, but they're joined by breakout players Dalton Schultz and Deebo Samuel, among others.
The defense sees a similar mix of expected names and surprises, with Myles Garrett and Aaron Donald dominating as per usual but Raiders cornerback Casey Hayward Jr. rebounding from a poor 2020 season to jump back into an All-Pro place.
After four games of NFL action, let's run through the PFF All-Pro team.
Click here for more PFF tools:
Rankings & Projections | WR/CB Matchup Chart | NFL & NCAA Betting Dashboards | NFL Player Props tool | NFL & NCAA Power Rankings
---
Offense
What Brady continues to do is not normal. To even be a functional starting quarterback at 44 years old is extremely unlikely, but to be the best in the NFL is madness.
Brady doesn't yet have a turnover-worthy play this season — and has just 12 in the regular season since he began running Bruce Arians' offense, one of the highest-risk systems in the league. Brady has been accurate yet unlucky with some dropped passes, and he's getting rid of the ball on average in just 2.41 seconds, protecting his offensive line as much as they protect him.
Even ignoring his age, Brady is comfortably the best-graded quarterback in the NFL through the first four games of the season.
Henry continues to break every tenet we hold true about running backs. With Tennessee's receivers dropping like flies, more gets put on Henry's plate, and he produces the same inevitable results.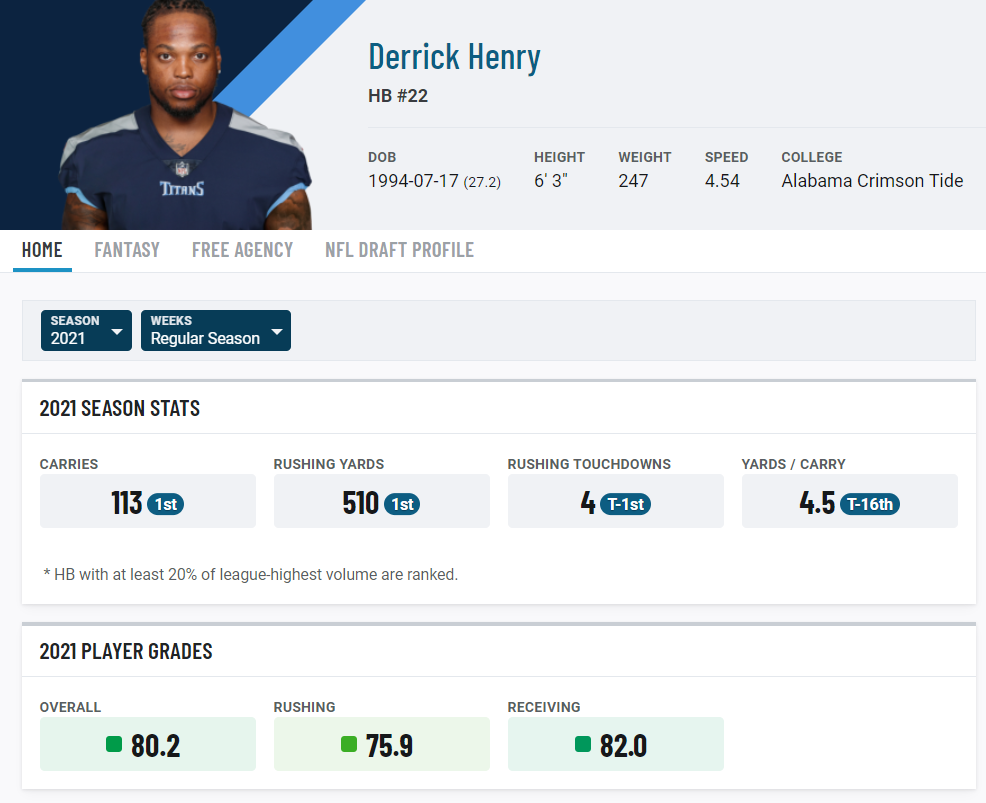 Henry leads the league in rushing by almost 150 yards, but he also has more yards after contact (365) than any other back in the league has in total rushing yards. Henry's six runs of 15 or more yards are two more than any other running back, and he has 23 more carries against a loaded box count than anybody else.
King Henry truly is one of a kind. 
The Aaron Rodgers to Davante Adams connection is as strong this season as it was a year ago when both players led the league in overall PFF grade at their respective positions. Adams is tied with Cooper Kupp for the league lead in targets (45), catching 31 of those passes and generating 2.8 yards per route run.
When the San Francisco 49ers elected to actually play Adams straight up in man coverage, it was like painting a bullseye on whichever cornerback was covering him on any given play. Adams needs to receive special attention from multiple defenders, or the play is over before it starts.
Hill makes the elite NFL athletes defending him look helpless before and after the catch. Against the Philadelphia Eagles, he caught a pass and then evaded a triangle of defenders in the secondary like they weren't even there, turning a big play into a huge one with scary ease.
He is the most explosive player in the game and ranks second in the league in receiving yards despite seeing only the eighth-most targets. Hill's average depth of target is 14.1 yards downfield, giving him a chance to make impact plays any time the ball comes his way.
Kelce is a special player and one of the true greats at any position in the league. When he appeared on ESPN's "Manningcast" during Monday Night Football to explain how he effectively has license to freelance on routes to get open as long as he doesn't disrupt anybody else's pattern, we got a glimpse into just how high a level he's operating at both mentally and physically.
With eight broken tackles, Kelce is tied for the league lead among pass-catchers and is generating 2.3 yards per route run. An underrated aspect of his game is how much he has improved as a blocker from early in his career. He has PFF blocking grades of at least 72.0 in both the run and pass games.
Samuel has always been a dynamic player with the ball in his hands, but he was largely an after-the-catch and gimmick player within the 49ers offense prior to 2021. With Brandon Aiyuk mysteriously in the doghouse for the start of the season, Samuel has seen an expanded role as a true all-around receiver. And he's been thriving.
He leads the league in yards per route run (3.55), and passes thrown his way are generating a 130.1 passer rating. Second-teamer Cordarrelle Patterson has emerged into the best player on the Falcons offense through one month of play and is a threat to score from any alignment.
Williams was the best tackle in football during 2020, and he's not giving up that title any time soon despite some real competition for it over the first month of the season.
He has allowed four total pressures in four games and is absolutely peerless in the run game, erasing defenders from the play if he gets a clean shot on them. Few players can even come close to that level of dominance, but it would be remiss not to note the bounce-back season a healthy Tyron Smith is having in Dallas. Smith looks back to his best play once again.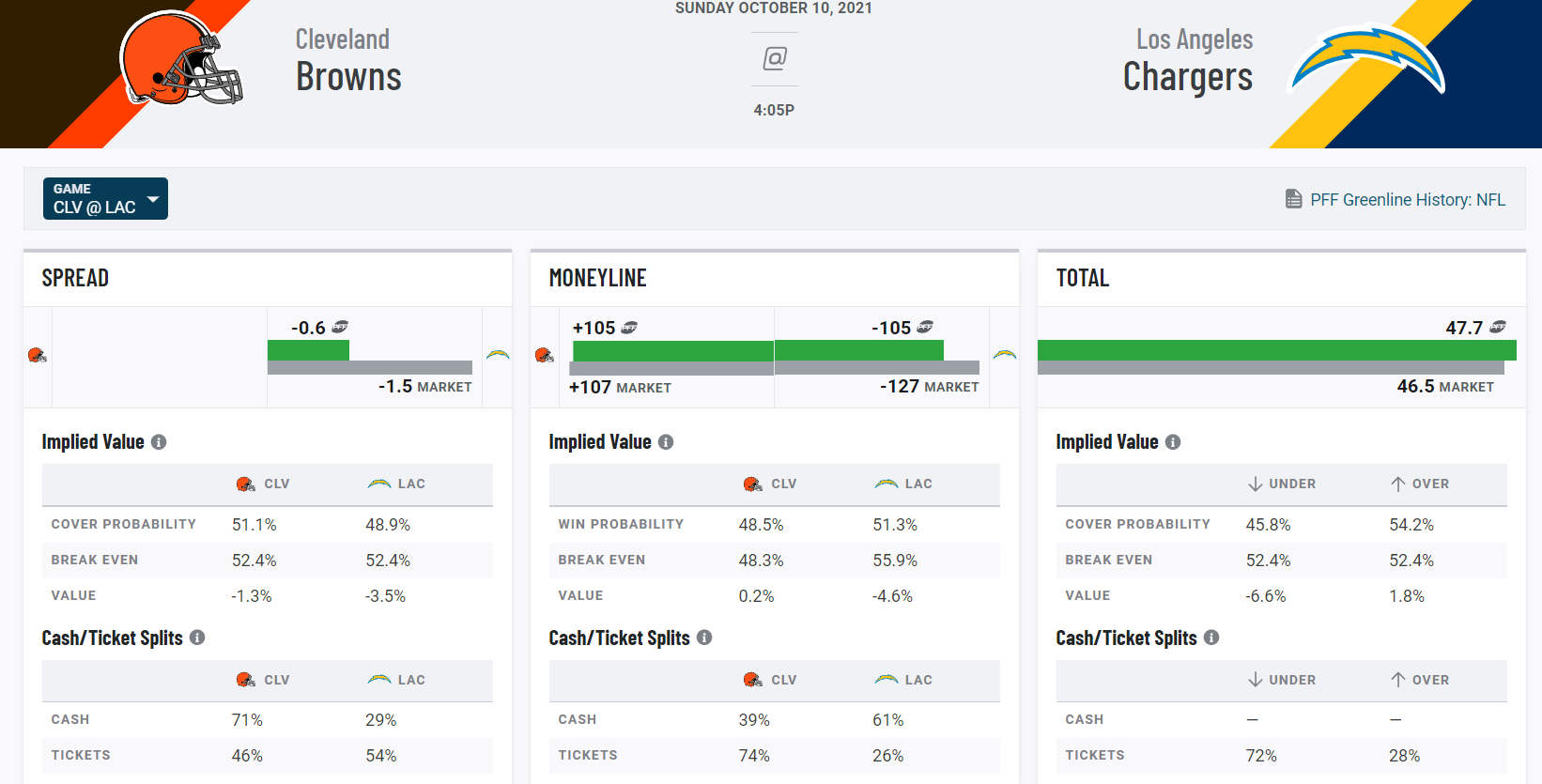 Bitonio has been one of the best pass-blocking guards in the league for years and now looks even better within a system that boosts the efficiency of its offensive linemen by reducing the number of pure true pass-blocking sets. Bitonio has allowed just two pressures so far this season and has an 80.0-plus PFF run-blocking grade, making him one of just two guards to grade out above 80.0 in both facets of play. 
Kelce at his best is a joy to watch in the run game. It's not usually a highlight reel of pancake blocks and displays of brute power but, rather, a teaching tape of technique and athleticism that shows him moving bigger and more powerful defensive linemen to open up space for his running backs time after time.
He has allowed seven total pressures so far this season and boasts a 95.2 run-blocking grade, the best of any lineman at any position over the first month of play.
Martin was the only member of the Dallas offensive line last season who remained playing at an elite level until even he was felled by injury. This year, he is again the best guard, and arguably the best lineman overall, in the NFL.
Martin has allowed just one pressure so far this season while proving himself to be a dominant force in the run game. His most recent game saw him destroy a Carolina Panthers run defense that had averaged just 10 yards before contact on the ground heading into the week. 
Conklin is another player benefiting from a perfect offensive scheme fit. Always one of the best run-blocking tackles in the league, he has been a big part of the success enjoyed on the ground by Browns running backs Nick Chubb and Kareem Hunt.
Conklin has allowed seven total pressures from 144 pass-blocking snaps, but only Trent Williams and Tyron Smith have earned better run-blocking grades thus far.
---
Defense
It's not often that Aaron Donald doesn't lead the league in overall PFF grade at his position, but he has to settle for second place after four games because Heyward has him beat.
Heyward has 17 total pressures this season and several more clean wins that never had a chance to become pressure because the ball came out quickly, particularly from Joe Burrow and the Bengals. Heyward is also the only interior defender with a PFF run-defense grade above 90.0.
Aaron Donald may rank second-best in PFF grade among interior linemen, but he has still been a dominant force. Donald leads all interior linemen with 21 total pressures, four more than anyone else. He has also rushed the passer 26 times more than any other interior lineman, as the Rams continue to lean heavily on his talents as their primary source of pressure. About the only blemish on Donald's season has been four missed tackles, just two short of the number he managed all last season.
Crosby has been one of the biggest surprises of the season and an absolutely dominant pass-rushing force for the Raiders off the edge. He leads the NFL in total pressures with 30, five more than any other player and the fourth-most after four weeks since 2010.
The only issue is that Crosby has yet to face a viable right tackle, so we don't quite know how much of this stellar performance is development and how much is simply a product of a cupcake run of right tackles. Crosby's 91.6 PFF pass-rushing grade is almost 25 grading points better than his previous career-high, and he is already 62% of the way toward eclipsing his pressure total from 2020.
The past two weeks have shown the kind of destructive power that Myles Garrett possesses. You can make a good case that Garrett was the single most important force involved for the Browns in Weeks 3 and 4, racking up 17 combined pressures and six sacks in those outings. Garrett now ranks second in the league in total pressures and has been absolutely unblockable.
There has never been any doubt as to his talent and ability, but Garrett has yet to put it all together over a full season. This could be his year, which would put him firmly in the Defensive Player of the Year running.
Milano has been all over the field for the Bills' defense over the first month of the season. He has eight total pressures on the blitz, almost halfway to his season total last year on less than one-third of the rushes. In coverage, he's broken up two passes from just 10 targets, and he is currently posting the best run-defense grade (77.7) of his career.
Milano has been one of the league's best coverage linebackers for a few years now, but he's been excellent in all facets of play thus far in 2021.
One of the early Rookie of the Year candidates is second-round linebacker Jeremiah Owusu-Koramoah, who has looked phenomenal so far. JOK was ranked 19th on PFF's Big Board before the draft but slipped to the second round.
He possesses exceptional athleticism and explosiveness and has been playing with no restriction on his instincts so far in the NFL. When he sees something, he goes for it 100%, and it's resulting in some impact plays for Cleveland's defense. Only Matt Milano has a better overall PFF grade. Owusu-Koramoah has four pass breakups in four games, the most of any linebacker.
Hayward has been one of the best cornerbacks in the NFL over his career spanning most of the past decade. In 2020, at the age of 31, he had the worst season of his NFL tenure with a PFF grade in the 50s, more than 10 grading points lower than any of his other campaigns. It made sense to assume that Hayward had just reached the age where decline sets in, but so far in 2021, he is proving that assumption wrong.
Hayward has broken up two passes while allowing just 39 yards across four games. Passes thrown into his coverage have generated only a 46.6 passer rating, making him a huge driving force behind the Raiders' improved defense.
Johnson was arguably the best rookie cornerback last season, but that was a pretty low bar to clear, and he ended the year with just a 54.9 overall PFF grade. He has built on those encouraging signs in Year 2 and is allowing a lowly 42.7 passer rating, locking down his man in the Chicago defense.
Johnson has an interception and four pass breakups in 2021 while also impressing as a run defender. He hasn't just been one of the best second-year corners; he's been one of the best corners in the NFL, period.
Few players are as consistently good across the board as Hyde, who is off to another excellent start in 2021. Hyde has at least above-average PFF grades in every facet of play, including rushing the passer on the blitz, where he has a sack and two total pressures from five rushes. Hyde has racked up seven defensive stops, two picks and a pass breakup to go along with those pressures.
Williams has never had a bad season in the NFL, and that doesn't look like it's changing any time soon. He has a forced fumble to go along with two picks and a pass breakup so far this season for the Saints. His coverage grade is an impressive 74.9, and his 67.3 run-defense grade is above average despite three missed tackles so far this season.
Williams spends most of his time (88.8% of his snaps) as a free safety, well off the line of scrimmage, so his ability to make as many impactful plays as he does is truly impressive.
Ramsey has long been thought of as the best cornerback in the NFL, and he has typically been deployed as a perimeter player that would lock up No. 1 receivers. This season, Ramsey is spending the majority of his time in the slot, moving around the defense so he can impact all areas. Some 50.7% of his snaps this season have come from the slot, up from just 15.9% a season ago. Ramsey already has an interception and three pass breakups and has yet to allow a catch longer than 21 yards.
---
Special Teams
NFL record game-winning 66-yard field goal. Need we say more? 
PFF's punting grades are a unique matrix of hang time, direction and distance all controlled for area of the field, which can add hugely valuable additional information to just net averages. Cole has simply had some phenomenal punts so far this season.
Montgomery has four special teams tackles so far after playing 57 snaps across four phases — kick coverage, kick return, punt coverage and punt return.
One of the two return touchdowns so far this season belongs to Carter, who danced through half the team on his way back to the end zone. He has averaged 27.8 yards per kick return and also has three punt returns to his name.