After the PFF All-Pro team was unveiled earlier this week, we can now look ahead to the playoffs to identify which honored All-Pros will be matched up against one another.
Wild Card weekend has a number of strong individual matchups, particularly in the NFC where many of the best players in the league will square off. Here's a look at the All-Pros who will face off in head-to-head battles.

Falcons LB Deion Jones vs Rams RB Todd Gurley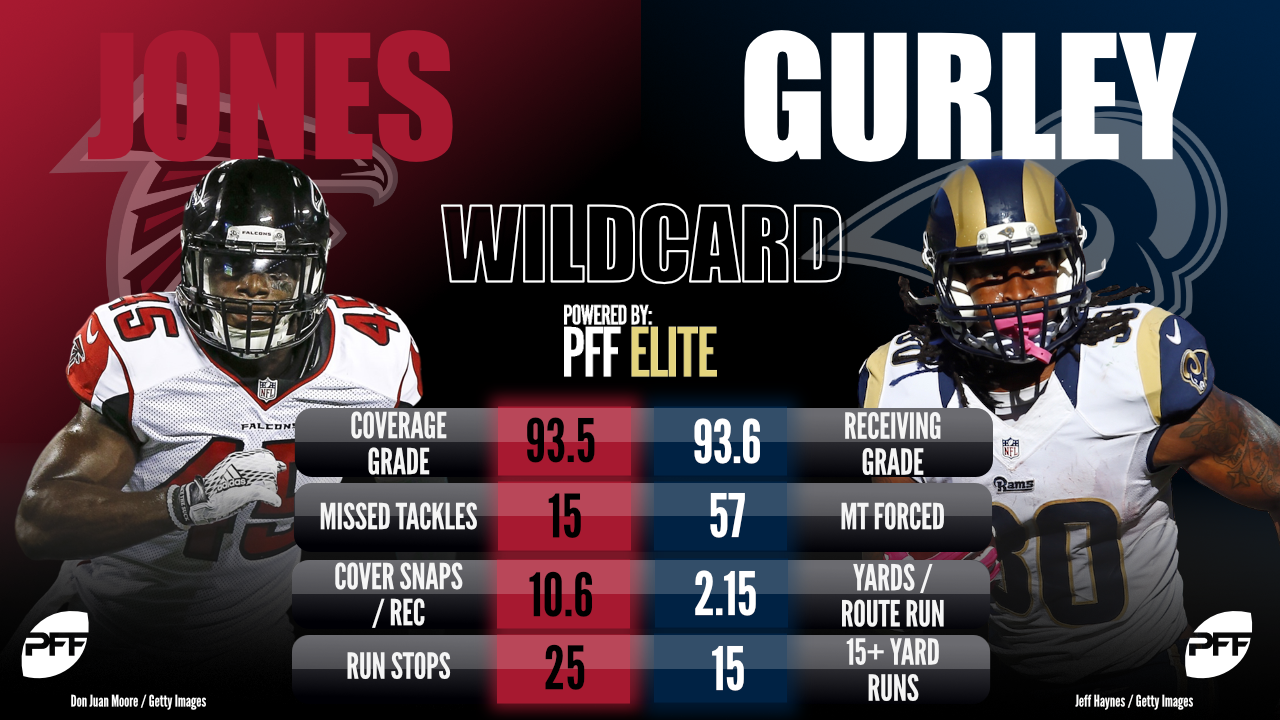 The league's top receiving running goes up against the No. 1 coverage linebacker as Todd Gurley's versatility will be challenged by Deion Jones' athleticism. Gurley is the top-graded running back overall this season, earning him first-team All-Pro status, and the Rams will need him to be an impact in both the run and pass game. They will line him up out wide at receiver or feed him screen passes as they did in Week 16 when he finished with 10 catches for 158 yards, including an 80-yard score on a classic running-back screen.
The Falcons can combat Gurley with Jones, who brings great range to zone coverage and has the ability to read and diagnose those screen passes. While linebacker coverage stats can be misleading, Jones has allowed only 7.9 yards per reception into his primary coverage this season, eighth-best out of 90 qualifying linebackers, and it's indicative of his ability to limit big plays which is a must if the Falcons are going to pull the upset against the Rams.
Panthers LB Luke Kuechly vs Saints RB Alvin Kamara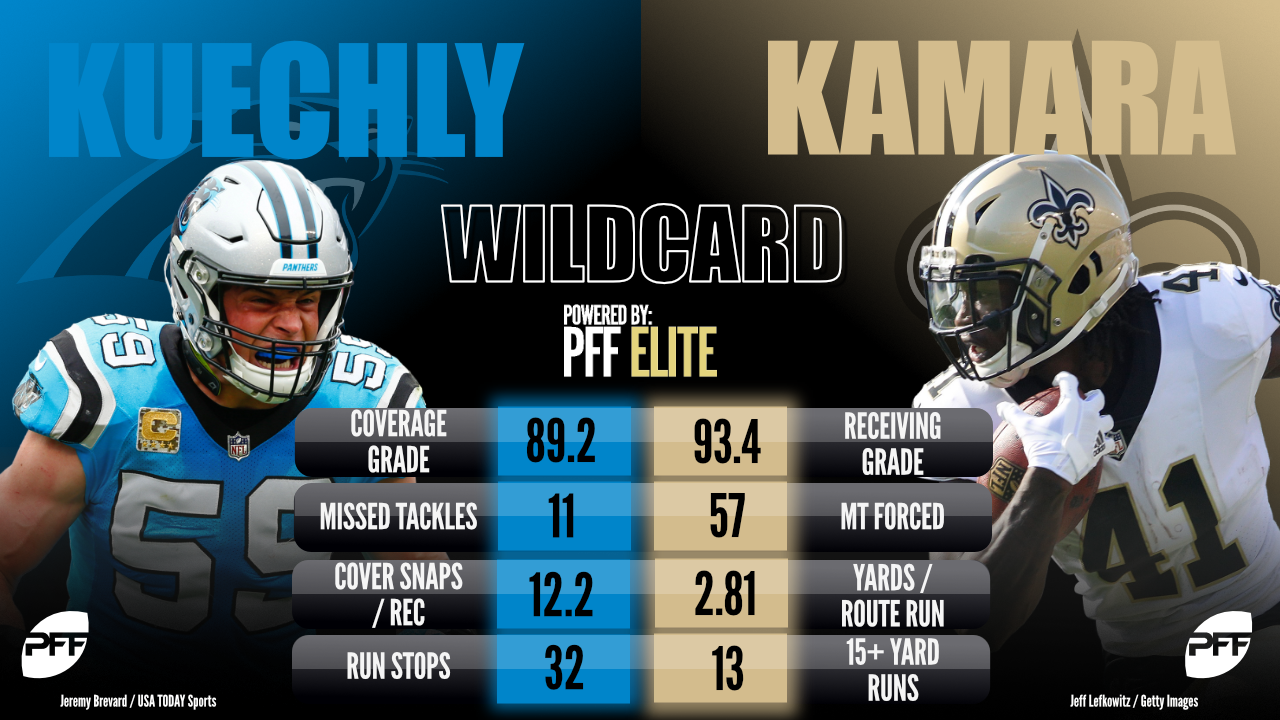 Perhaps the league's best "space" player goes up against one of the league's best tackler over the last few years as second-team All-Pro Alvin Kamara will have his open-field ability tested by Luke Kuechly, who just capped his fourth-straight year with an elite overall PFF grade. Kamara is the movable chess piece the Saints love to incorporate into their offense as they'll line him up out wide and throw the ball down the field or they'll feature him in the screen game from multiple alignments.
No linebacker diagnoses plays as quickly as Kuechly who also knows how to finish the play once he gets there (only 62 missed tackles on 892 attempts in his career). Kamara led the league with an elusive rating of 108.5 this season, forcing 28 missed tackles as a runner and another 29 on his 81 receptions. Kuechly will be the key to stopping him, whether in the run game, in man coverage all over the field, or perhaps while playing short zone, and this All-Pro matchup may determine the game between the Panthers and the Saints.
Panthers tackle Daryl Williams vs Saints edge Cameron Jordan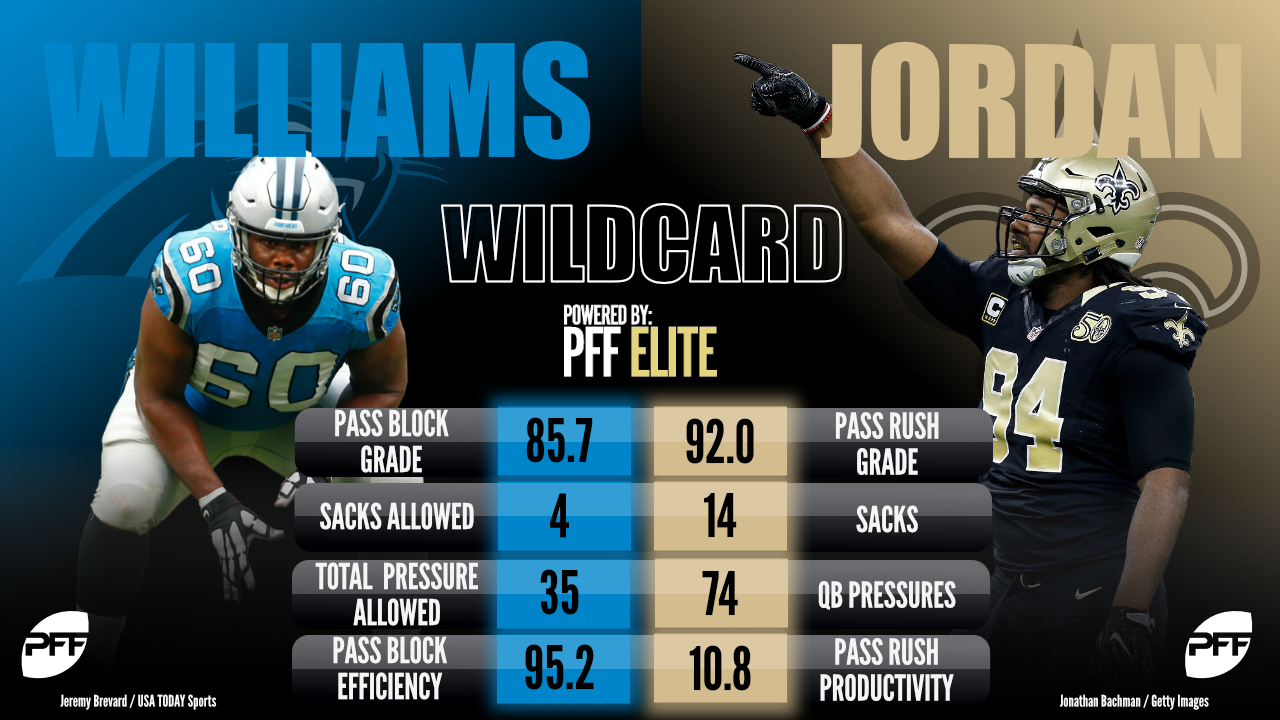 It's a battle of the underrated as first-team PFF All-Pro Cameron Jordan will line up at defensive left end and go head-to-head with first-team PFF All-Pro right tackle Daryl Williams. Jordan is the top-graded edge defender with a career-high 95.4 grade, continuing his ascent from criminally underrated to consistently elite. Williams has had one of the league's biggest breakouts this season, posting an 86.2 overall grade to rank fifth among all tackles and lead all right tackles, while dwarfing last year's overall grade of 70.3.
Williams surrendered four pressures to Jordan in their Week 3 matchup, none of which were "dominant" wins, but Williams had a clean sheet in pass protection in Week 13 while Jordan did most of his damage on the other side of the line that week. Even with the Saints moving Jordan around along the defensive line, there should be plenty of matchups between the first-team All-Pros and it's good reason to keep an eye on the trenches when the Panthers are on offense.