The 2023 NFL Draft cycle rages on with the annual influx of post-draft signings. Every year, hundreds of talented players go undrafted, and teams work quickly to scoop them up and build out their rosters.
Stay up to date with each team's undrafted free agent (UDFA) signings below, with each listed player linked to the source.
Note: Signing reports are subject to change, as many have not been confirmed by NFL teams.
Last Updated: May 3, 8 a.m.
---
More PFF draft content:
Draft Grades | Mock Draft Simulator | 2023 NFL Draft Guide
Top 200 Big Board  | Measureables & Workout Data
NCAA Premium Stats | Draft Rankings By Position | Prospect Superlatives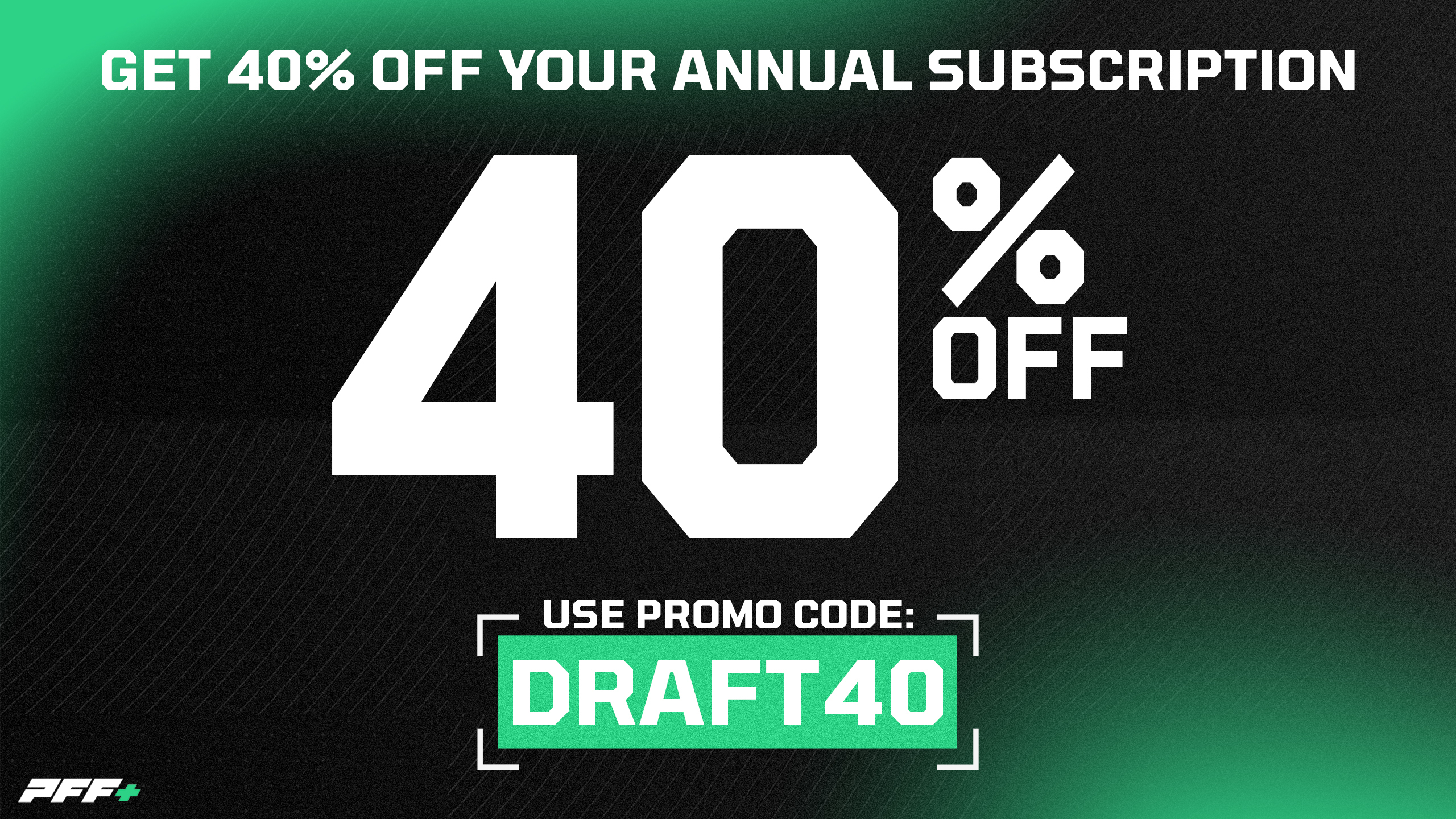 ---
JUMP TO A TEAM:
ARZ | ATL | BLT | BUF | CAR | CIN | CHI | CLE | DEN | DAL | DET | GB | HOU | IND | JAX | KC | LVR | LAC | LAR | MIA | MIN | NE | NO | NYG | NYJ | PHI | PIT | SF | SEA | TB | TEN | WSH
---
Click here to read more about the team's 2023 NFL Draft class and see their grade
Signings
Minicamp
---
Click here to read more about the team's 2023 NFL Draft class and see their grade
Signings
Minicamp
---
Click here to read more about the team's 2023 NFL Draft class and see their grade
Signings
Minicamp
---
Click here to read more about the team's 2023 NFL Draft class and see their grade
Signings
Minicamp
---
Click here to read more about the team's 2023 NFL Draft class and see their grade
Signings
Minicamp
---
Click here to read more about the team's 2023 NFL Draft class and see their grade
Signings
Minicamp
---
Click here to read more about the team's 2023 NFL Draft class and see their grade
Signings
Minicamp
---
Click here to read more about the team's 2023 NFL Draft class and see their grade
Signings
Minicamp
---
Click here to read more about the team's 2023 NFL Draft class and see their grade
Signings
Minicamp
---
Click here to read more about the team's 2023 NFL Draft class and see their grade
Signings
Minicamp
---
Click here to read more about the team's 2023 NFL Draft class and see their grade
Signings
Minicamp
---
Click here to read more about the team's 2023 NFL Draft class and see their grade
Signings
Minicamp
---
Click here to read more about the team's 2023 NFL Draft class and see their grade
Signings
Minicamp
---
Click here to read more about the team's 2023 NFL Draft class and see their grade
Signings
Minicamp
---
Click here to read more about the team's 2023 NFL Draft class and see their grade
Signings
Minicamp
---
Click here to read more about the team's 2023 NFL Draft class and see their grade
Signings
Minicamp
---
Click here to read more about the team's 2023 NFL Draft class and see their grade
Signings
Minicamp
---
Click here to read more about the team's 2023 NFL Draft class and see their grade
Signings
Minicamp
---
Click here to read more about the team's 2023 NFL Draft class and see their grade
Signings
Minicamp
---
Click here to read more about the team's 2023 NFL Draft class and see their grade
Signings
Minicamp
---
Click here to read more about the team's 2023 NFL Draft class and see their grade
Signings
Minicamp
---
Click here to read more about the team's 2023 NFL Draft class and see their grade
Signings
Minicamp
---
Click here to read more about the team's 2023 NFL Draft class and see their grade
Signings
Minicamp
---
Click here to read more about the team's 2023 NFL Draft class and see their grade
Signings
Minicamp
---
Click here to read more about the team's 2023 NFL Draft class and see their grade
Signings
Minicamp
---
Click here to read more about the team's 2023 NFL Draft class and see their grade
Signings
Minicamp
---
Click here to read more about the team's 2023 NFL Draft class and see their grade
Signings
Minicamp
---
Click here to read more about the team's 2023 NFL Draft class and see their grade
Signings
Minicamp
---
Click here to read more about the team's 2023 NFL Draft class and see their grade
Signings
Minicamp
---
Click here to read more about the team's 2023 NFL Draft class and see their grade
Signings
Minicamp
---
Click here to read more about the team's 2023 NFL Draft class and see their grade
Signings
Minicamp
---
Click here to read more about the team's 2023 NFL Draft class and see their grade
Signings
Minicamp