• Strongest position groups: The running back and off-ball linebacker markets look extremely strong this upcoming offseason.
• Weakest position groups: It's not a great offseason to need help at edge defender or wide receiver.
• The QB market: The quarterback carousel in 2023 could be just as crazy as in the past few years.
Estimated Reading Time: 5 mins
---
We've slowly begun building our free agent board for the 2023 offseason, with the latest iteration pushing the list out to the top 25 pending free agents. Before we rank more players and start projecting scheme fit and potential contract values, we wanted to take a step back to provide a 30,000-foot view of the free agent landscape.
One focus of our free agency work, in addition to telling individual stories, is to paint a picture of each position market and the relative strengths and weaknesses each offseason. To that end, we wanted to mirror our NFL draft analysis wherein we provide a relative strength rating at each position for each offseason.

We devised a methodology to grade each free agent position group on a 0-100 scale using PFF wins above replacement (WAR) data. Combining WAR for the two years prior to the free agent year, we give each player who logged a snap over the two-season sample a percentile rank at their position. We then observe how many players in each quartile at each position reached the unrestricted free agent market.
After creating a composite score by weighting the number of free agents in each quartile against the mean number of available players in each quartile over the entire decade, we arrive at the 0-100 scores depicted below for each position group: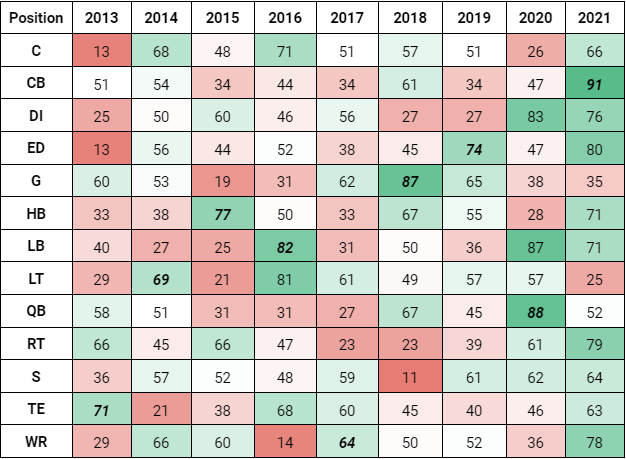 For example, the above chart illustrates that the 2018 free agent group at safety was the weakest collection of available talent relative to the average over the span. Conversely, the group of cornerbacks in 2021 was the strongest of any group over the span. As you can see with the conditional formatting, the 2021 class was strong almost across the board, and our hypothesis here is this could be an anomaly as a result of the salary cap drop forcing teams to let more players reach free agency.
It's still too early to tell how strong each position group will be for this upcoming free agent class — with early extensions and franchise tags an inevitability — but a few positions look to be fairly loaded with talent: running back, off-ball linebacker and, to a lesser degree, interior defender and quarterback. On the other hand, the edge defender group is largely carried by older veterans, and teams made sure to extend almost every top wide receiver that could've been available this offseason with the position market exploding before 2022 began. 
There will always be variability from season to season, simply because of talent disparities, but we can also better understand how market growth or retraction impacts each offseason. A strong buyer's market keeping contracts lower could also lead to more salary cap casualties, which in turn exacerbates the problem since more talent is readily available. As we make our way into January and February, we will continue to analyze the market from different angles in an effort to combat the asymmetry of information and optimize the marketplace.
With that foundation laid, we've identified the top five pending free agents at each position — subject to change through the end of the season — with some honorable mentions included, as well. 
---
Offense
Quarterback
---
Running back
Next up: Devin Singletary (BUF), Kareem Hunt (CLE), Damien Harris (NE), D'Onta Foreman (CAR)
---
Tight end
---
Wide Receiver
Next up: Randall Cobb (GB), Parris Campbell (IND)
---
Center 
---
Guard
---
Tackle
---
Defense
Cornerback
Next up: Byron Murphy Jr. (ARZ), Marcus Peters (BAL)
---
Interior defender
Next up: Zach Allen (ARZ), Sheldon Rankins (NYJ), Matt Ioannidis (CAR), A'Shawn Robinson (LAR)
---
Edge defender
Next up: Ogbonnia Okoronkwo (HOU), Arden Key (JAX)
---
Linebacker
Next up: Germaine Pratt (CIN), Leighton Vander Esch (DAL), Alex Singleton (DEN), Bobby Okereke (IND)
---
Safety
Next up: Devin McCourty (NE), Julian Love (NYG), Nick Scott (LAR)