Quarterback is the most important position in sports.
Without a signal-caller, an NFL franchise will never be successful, but a franchise quarterback can turn around the fortunes of an entire city. That being said, let's take a look at the quarterbacks around the league entering the 2022 season.
***Note: These are tiers, not rankings. So, the quarterbacks within each tier are ranked against each other, not every quarterback. For example, we are not comparing Matt Ryan (Tier A) to Patrick Mahomes (Tier B).***
Tier A: Golden Oldies — Playing at an elite level over the age of 30
Over the past five seasons, Brady and Rodgers rank first and third in average WAR (wins above replacement) per season at 4.39 and 3.14 respectively. Rodgers' 2020 season is the highest graded season between the two over the last five seasons (95.1), but Brady holds the next four spots.  
| | | |
| --- | --- | --- |
| Rank | Player, Season | PFF Grade |
| 1 | Aaron Rodgers, 2020 | 95.1 |
| 2 | Tom Brady, 2017 | 94.0 |
| 3 | Tom Brady, 2020 | 93.3 |
| 4 | Tom Brady, 2021 | 91.7 |
| 5 | Tom Brady, 2018 | 90.6 |
| 6 | Aaron Rodgers, 2021 | 89.3 |
| 7 | Aaron Rodgers, 2018 | 89.0 |
| 8 | Aaron Rodgers, 2019 | 83.7 |
| 9 | Aaron Rodgers, 2017 | 79.2 |
| 10 | Tom Brady, 2019 | 79.0 |
---
A case could be made to rank these three quarterbacks in any order. Wilson has the highest average WAR per season among three over the last five seasons. He just barely beats out Ryan's 3.04 WAR per season with his 3.07. Stafford is a bit lower (2.51) but just had his best season (3.93). 
Wilson owns the top three seasons in PFF grade between the three with his 2019, 2020 and 2018 seasons coming in with elite grades. The five-year cut off does remove Ryan's 2016 season (92.2) which would be the highest. Before Wilson's injury in 2021, he was flirting with the top spot in PFF grade for the season before coming back and seeing his grade drop post-injury. 
Stafford's highest grade in the sample is 86.1, but he is ascending while Ryan might be descending. This is why Stafford projects to be barely above Ryan.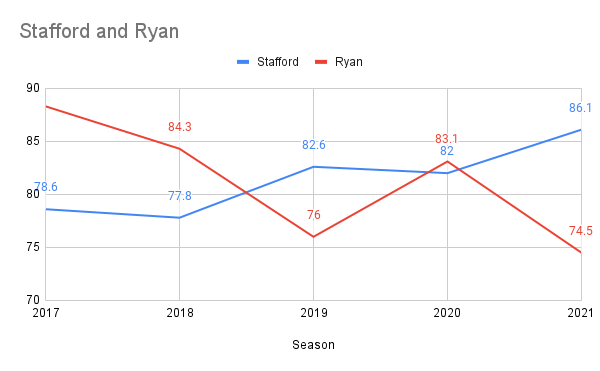 ---
Tier B: Shooting Stars — The best under the age of 30
The gap between these two top-tier quarterbacks shrunk a bit in 2020 after Allen exploded into an MVP candidate after two poor years to start his career in Buffalo. The gap shrunk again once Allen continued to play at an elite level in 2021 while Mahomes suffered the worst season of his career. Mahomes' 80.4 grade in 2021 was his lowest in a full season by just about 10 points. Allen has now posted back-to-back elite 90-plus-graded seasons while Mahomes posted three straight from 2018-2020.
---
Each quarterback on this list has had one elite 90-plus-graded season, and Jackson's 2019 season culminated in an MVP award. Since then, Jackson posted just 79.3 and then 70.2 overall grades over the last two years, respectively. That's why Jackson slips to fifth in this tier. Herbert and Burrow both posted solid rookie campaigns before breaking out in their sophomore seasons. Herbert gets is rated slightly higher because when looking at their entire careers thus far, his 3.25 WAR per season edges Burrow's 2.98.
---
Tier C: Mixed Bag — The most polarizing players
Here is the group of players that half of the entire Earth believes is elite while the other half believes the opposite. There is, apparently, no in-between. 
Prescott is probably the most consistent of the bunch, and his overall grade over the last five years edges out both Carr and Murray. However, if we remove Prescott's injury-shortened 2020 campaign, Carr and Murray have produced the three highest graded single seasons over that span. 
---
Tier D: Play-Action Merchants — Propped up by scheme
This tier has similar grades and WAR to the tier above but benefits from their team's scheme more. Cousins has been the most successful per PFF grade and WAR over the last five seasons, as he bests Tannehill's 2.06 WAR per season (2.57). However, since Tannehill joined the Titans in 2019 and became a play-action merchant, his 3.01 WAR per season is better than Cousins' 2.86. He gets the nod, but the case can be made for either of them.
---
Garoppolo and Goff are also in the same tier but because Goff's record in years where Sean McVay is not his head coach and playcaller is horrendous, the 49ers quarterback — who may not even start this year — is ahead. Goff's WAR per season with McVay was 2.41, but it's called to 0.21 since he left Los Angeles.
---
Tier D: Prove it or Lose it — Potentially their last year starting
It seems as though the Saints reluctantly re-signed Winston this offseason after waiting out some other potential quarterback moves. He was on pace for his best season as far as PFF grade is concerned, as his 74.2 grade before a season-ending knee injury would have eclipsed his 73.7-graded season in 2017. Winston probably has just one more shot as a starter before he becomes this generation's Ryan Fitzpatrick, his former teammate.
---
The Giants have already decided to not pick up Jones' fifth-year option, so he might be playing for his career this season. Luckily, the Giants have given him, probably, the best supporting cast he's played with in his career. None of the players in this group have posted an 80.0-plus single-season grade in their career, but Jones' 78.4 ranks No. 1, and he has two of three 70-plus-graded seasons.
Hurts has the other 70-plus-graded season with a 77.1 grade last season. Lock has not even eclipsed a 65.0-plus single-season grade.
Tagovailoa is set up for success this season because the Dolphins have created a better environment for their young quarterback. They will be looking for the elusive third-year breakout after Tagovailoa improved his 65.4 season grade as a rookie to 68.3 last season.
---
Tier E: Let's Not Get Our Hopes Up
Wentz leads the group with an 82.2 grade over the last five seasons, but he has been spiraling downward since his almost-MVP 2017 season. His 84.9 grade in 2017 was fifth overall that season and it was the high watermark so far in his career. The 2020 season was the low point of his career (65.0 overall grade) but even with a slight bump up to 70.9 last year, he could not lift the Colts into the playoffs with a good group of offensive players.
Even his bump back up to over 70.0 was potentially inflated by metrics that are generally unstable. He ranked in the 73rd and 70th percentiles in grade under pressure and late-down grade. In two key stable metrics — clean pocket grade and early-down grade — he was 25th and 17th, respectively. 
Mariota remains a competent starting option but has not played more than 1,000 snaps in a season since 2017. Trubisky and Darnold are not viable starting options.
---
Tier F: Sophomoric Hijinks 
Given we are just one year into this tier's career, there is still a ton of projection to consider. Draft position and overall team health are considered. 
Team health is why Lawrence, who was drafted first overall in 2020, is still first in this tier. 
Just from a numbers standpoint after one season, Jones had the highest WAR and overall grade among the rookies, but his season tanked in the second half. He went through a stretch of six games where he received five sub-63.0 grades. That stretch proceeded a five-game stretch where he posted at least a 75.0 grade four times.
Fields and Lance have the kind of athletic ability that should enable them to work through the issues they faced in their first years. However, Lance may not even start this year, and Fields is dealing with an organization that doesn't want him to play with any nice toys this season.
Wilson played most of the season and finished seventh in total rookie WAR, which ranked behind Ian Book. It was a disaster. Mills had some bright moments but was otherwise not very good for the "horrendous" Texans.