Free agency can make or break a team. It can be a vital step toward building a contender, just as the Tampa Bay Buccaneers proved this past year, or it can set a franchise back years because of the bad decisions made.
Whether that be due to handing out a massive contract to a player who never lives up to it or signing a free agent with a risky past to be a starter, there are instances every season of free agency burning a team. But there are also annual examples of free agents who fly under the radar and far exceed their market value on their new contract. 
We identified the riskiest free agent at every position on Thursday, so today we are going to outline the most underrated free agent at every position by using PFF's Free Agent Rankings page, which contains position rankings, projected contracts, PFF grades, PFF Wins Above Replacement (WAR) and more.
Winston is quite easily the most volatile quarterback PFF has ever charted. He has the ability to produce jaw-dropping dimes downfield as well as the monstrously ugly decisions that have resulted in a lot of interceptions.
His positively and negatively graded throw rates over the years perfectly reflect that:
Jameis Winston: positively and negatively graded throw rate rank by season
| | | |
| --- | --- | --- |
| Year | Positively graded throw %  | Negatively graded throw % |
| 2019 | 3rd | 29th |
| 2018 | 1st | 29th |
| 2017 | 1st | 30th |
| 2016 | 1st | 25th |
| 2015 | 4th | 31st |
Taking Dak Prescott out of the equation, no quarterback on the free agent market can come remotely close to Winston's high end — for as many negatives as Winston has produced, he's nearly doubled the output with positives.
The decision-making has been a liability at times, but there is no question that he has the arm talent necessary to succeed at the NFL level. With the right playcaller and supporting cast, as well as some turnover luck, Winston can help lead a successful passing offense. That potential upside makes his projected contract of just $5 million a massive steal.
---
RUNNING BACK: ANYONE WHO CAN BE SIGNED AT OR NEAR THE MINIMUM
There is no longer a valid reason for teams to dish out monster contracts to the running back position, especially in a year when teams will be held back with their spending due to the decline in the salary cap. The position isn't valuable and there is only a marginal difference, value-wise, between the top backs on the market and those who are likely to sign for relatively nothing.
For example, Green Bay Packers' free agent Aaron Jones is projected to receive a four-year, $46 million contract with $25 million guaranteed, while Carolina Panthers' free agent Mike Davis is projected to receive a two-year, $8.5 million contract with just $5 million guaranteed. In 2020, those two backs posted identical WAR (0.13).
Moral of the story: Paying a premium for running backs does not correlate to wins.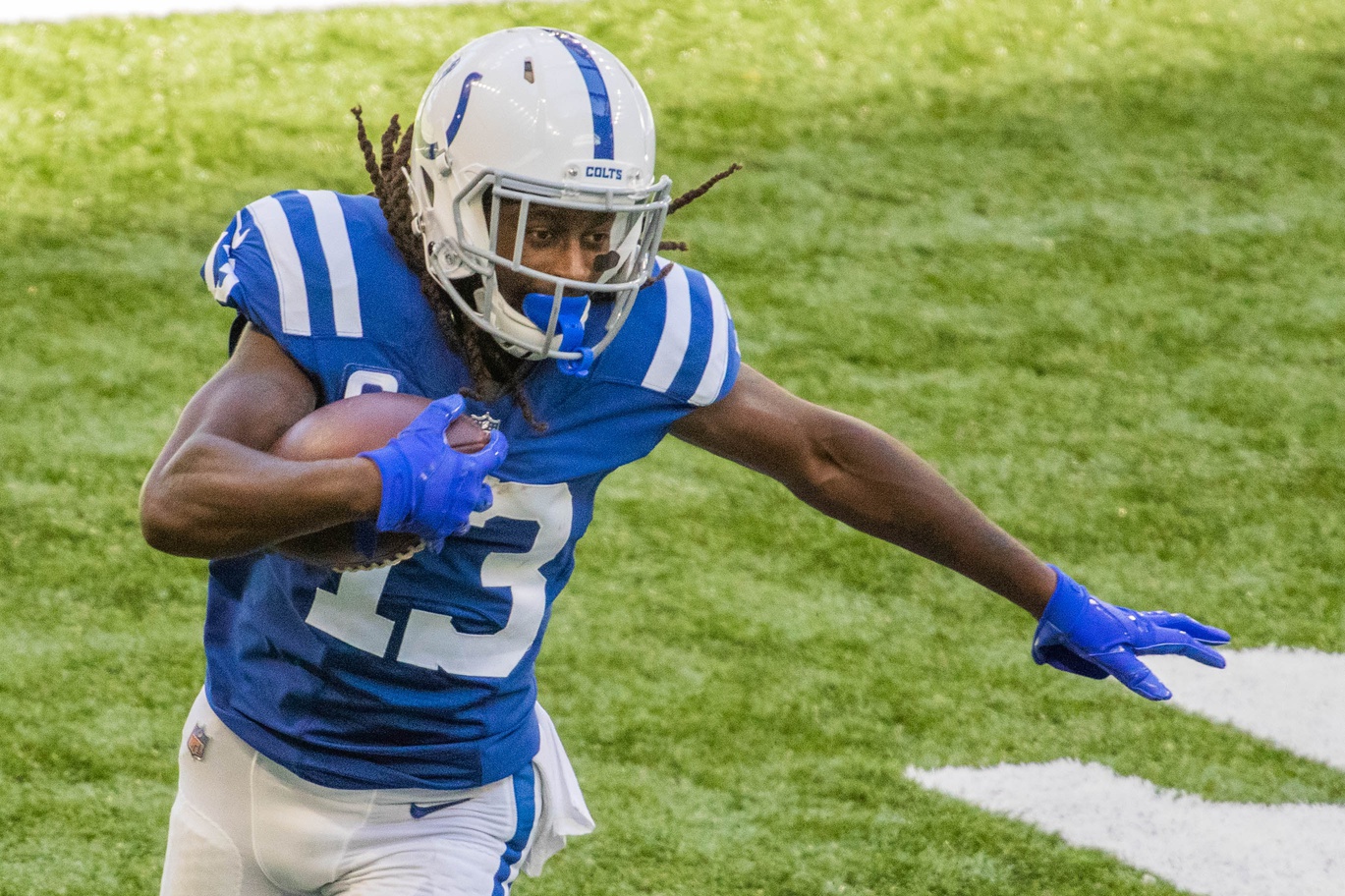 The wide receiver free agent market is going to be hot and heavy in March. Several teams are in need of a reliable wideout, and we are likely to see most of the top free agents at the position — players such as Chris Godwin, Allen Robinson II, Kenny Golladay and Will Fuller V — receive the franchise tag. Hilton isn't quite on the same level as those receivers anymore, but he should be a good consolation prize with a contract of this nature.
Hilton was once considered one of the league's best deep threats, but that production has tailed off in the years since Andrew Luck's retirement. With Jacoby Brissett and Philip Rivers running the offense, Hilton has only brought in 190 yards from vertical targets over the last two seasons, which is less than half of his 2018 total of 397 that ranked seventh in the NFL.
Sure, Hilton has lost a step and may not possess the 4.34 speed he once boasted. However, it's also worth considering that injury, quarterback play and usage got in the way in 2019, while the offense was a bit limited with Rivers' declining arm in 2020.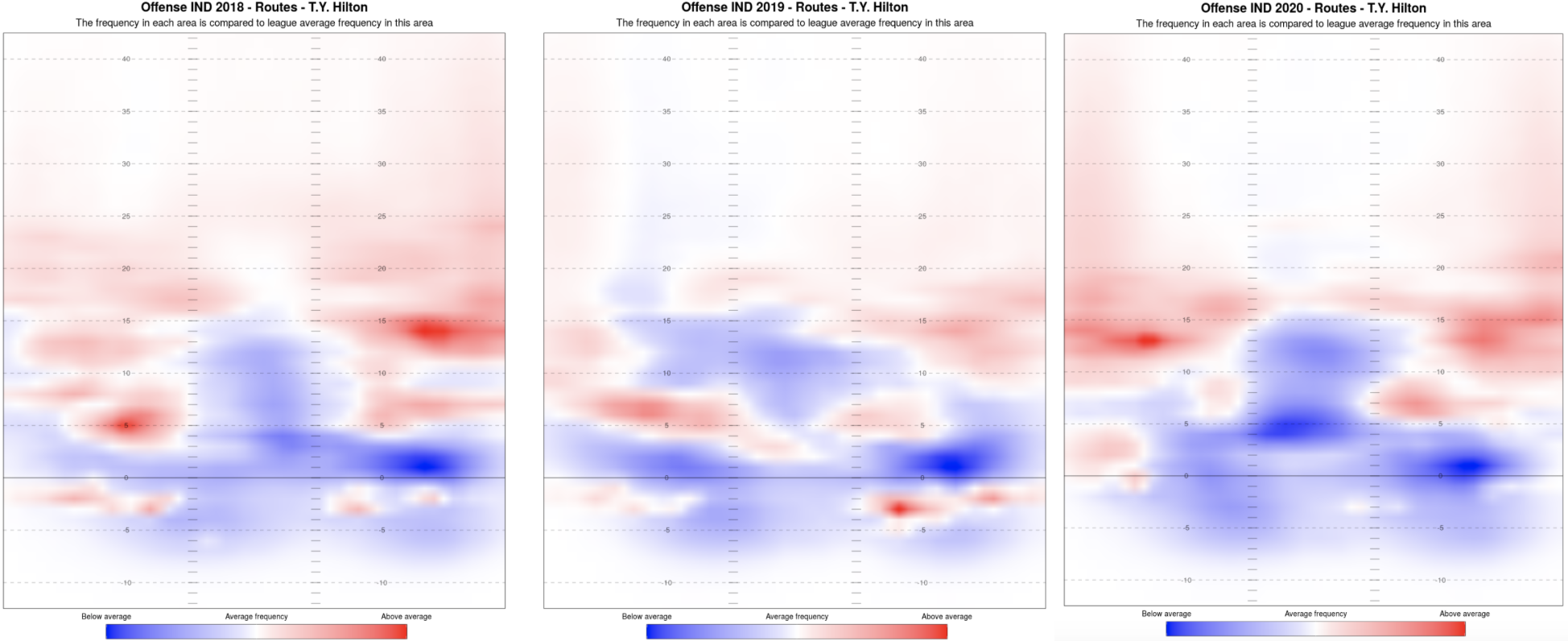 Hilton did post a top-15 receiving grade on targets at the intermediate level in 2020, so it wouldn't be crazy to say he can still add value as a vertical threat if paired with the right quarterback. Perhaps going to Jacksonville to pair up with eventual No. 1 overall pick Trevor Lawrence would squeeze that last bit of juice out of him and help reclaim the production we saw from him back in 2018.
---
Cook will turn 34 years old shortly after the new league year commences, but the veteran still has plenty of gas left in the tank and should be on the radar for 2021 Super Bowl contenders.
Cook has recorded the fifth-best receiving grade at the position over the last three years. He has also turned 26.4% of his targets into a 15-plus yard gain in that span, trailing only Travis Kelce by six-tenths of a percentage point for the highest rate by a tight end.
---
One thing is for sure with Beachum: Whoever signs him won't be getting standout run blocking. Of his seven seasons with at least 400 snaps played, only one ended in a run-blocking grade above 60.0. What you will get with Beachum, however, is an above-average pass-protector who has the flexibility to play left or right tackle.
The veteran tackle has recorded a pass-block grade above 72.0 in each of those seven seasons. This past season with the Arizona Cardinals, Beachum started at right tackle instead of left tackle for the first time since his rookie year back in 2012; he finished 2020 as the eighth-highest-graded right tackle in pass-protection and finished in the 83rd percentile in true pass set grade among all players at the position. Considering he's only projected to cost $4.5 million in 2021, that's a pretty good deal.
---
Feiler has proven to be more than capable of playing at guard or tackle over the last two seasons. He finished fifth among all right tackles in pass-blocking grade back in 2019, then ranked 12th in that same metric among left guards in 2020.
Feiler is a better fit at tackle, but there is a whole lot of demand for quality interior offensive linemen this offseason, and very few free agents fit that bill. Teams like the New York Giants and Minnesota Vikings that have little cap space and desperately need an upgrade at guard — their left guard play ranked 31st and 32nd among all NFL teams in pass protection this past season — should be all over Feiler.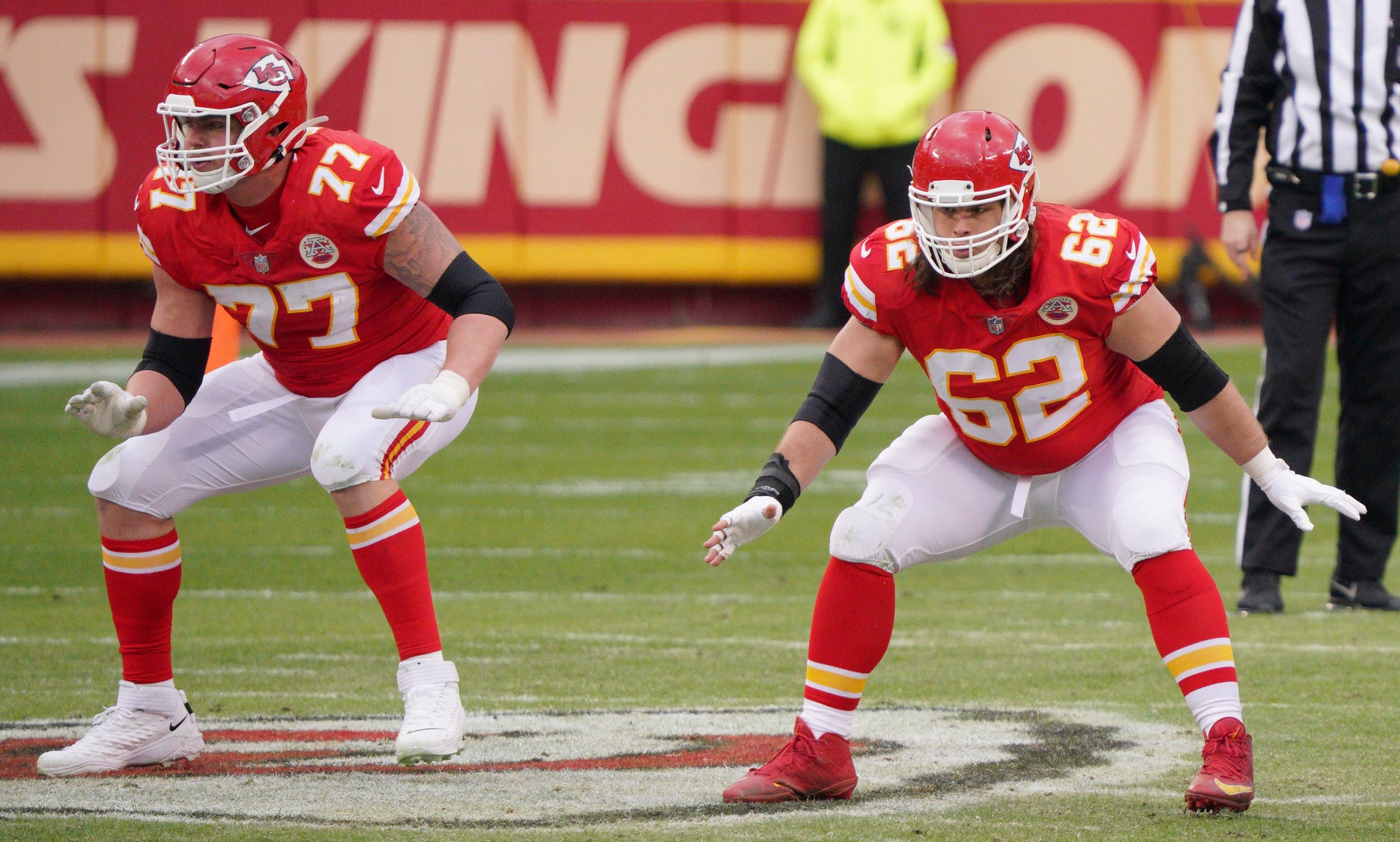 This kind of contract would barely make Reiter one of the 20 highest-paid centers on an annual basis. Yet, over the last two years, Reiter has ranked third at his position in pass-block grade and first in pressure rate allowed at 1.1%.
Reiter's run blocking hasn't been nearly as strong, given that he ranks 27th among centers in run-blocking grade since 2019, but should that outweigh his standout pass protection and put him in the bottom half of the league's starting centers in terms of annual pay? I'd say no.
Nick Allegretti, Andrew Wylie and Mike Remmers earned pass-block grades below 47.0 in Kansas City's Super Bowl loss to Tampa; each player allowed six or more pressures. Reiter performed quite well despite the chaos around him, earning what was a standout 71.6 pass-block grade. Reiter, at this price, would be a great value.
Suh is far from the dominant interior defensive lineman we all saw in Detroit, but he is still a durable and effective player.
The veteran has played over 800 snaps in all 11 of his seasons in the NFL, including postseason play. For perspective, only 13 other interior defensive linemen played over 800 snaps in 2020.
Suh has made the most of his opportunity with the Buccaneers these last couple of years by generating the 11th-most WAR at the position, ranking 30th of 87 interior defenders in run-defense grade and ranking 41st of 87 interior defenders in pass-rush win rate. He's a serviceable one-year pickup for a contender in need at the position.
---
After a four-year absence from 2016 to 2019, Smith made his return to the field with the Dallas Cowboys at 31 years of age and managed to record a 70.0 pass-rush grade (34th), 16% pass-rush win rate (20th) and 50 total pressures (20th).
Smith primarily played stand-up outside linebacker, but he also logged considerable snaps all up and down the line. He managed to win as a pass-rusher no matter where he lined up. Exhibit A: This nasty double swipe on Giants' left guard Shane Lemieux while playing 4-tech.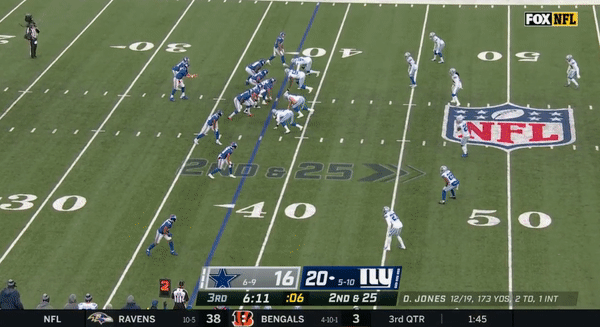 He wasn't quite the same player we saw in San Francisco, but Smith sure was impressive considering he was out of the league for four whole seasons. If Smith did that in his first season back, one would have to imagine the upside there for Year 2 of his comeback.
Smith has already justified a contract worth $15 million over two years for his 2020 performance, but there's a good chance he could far exceed that.
---
Wright has been a consistent performer in every facet of play throughout his 10-year career. He did have a down year in 2019 following an injury-riddled 2018 season, but Wright still ranked 36th in the league in PFF grade and bounced right back to form in 2020.
Wright was the sixth-most valuable off-ball linebacker in the NFL in 2020, according to PFF WAR. He actually generated three times as much WAR as fellow free agent linebackers Matt Milano and Jayon Brown, who are projected to receive a much, much bigger contract this offseason.
Obviously, age is a key reason for this, but Wright is showing no signs of decline and outplaying those in their prime.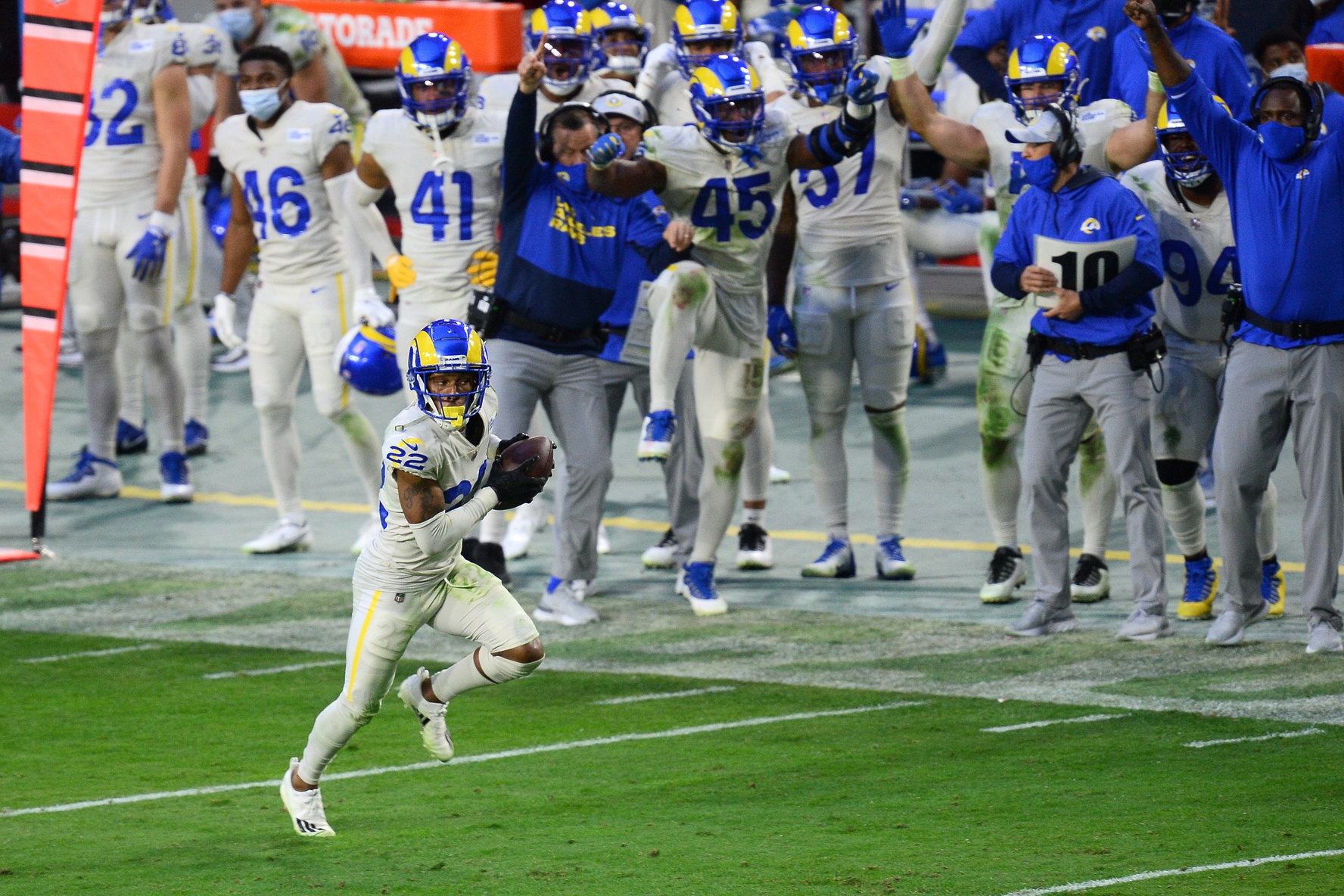 Slot corner is one of the most important positions in the game, and there are so many top-tier options available in this year's free agency class. Seven of the 11 highest-graded slot corners in coverage over the last two years are set to be free agents and are projected to have a cap hit of $6 million or less in 2021.
The cream of the crop is Troy Hill of the Los Angeles Rams. His two-year slot coverage grade of 89.8 is the best in the NFL, and he ranks 16th among all cornerbacks in WAR over that span. The latter mark is just ahead of starting outside corners Tre'Davious White and Kyle Fuller, who are being paid $17.25 million and $14 million per year on average, respectively. Yet, Hill is projected to receive $5.25 million per year with his next deal.
Nickel is the new base defense in this day and age, and defending the slot is one of the most difficult jobs on the field. In a class full of quality options at the cornerback position, Hill could very well be the biggest prize of them all.
---
For that kind of contract, any cash-strapped team in need of a single-high safety should absolutely be in on Malik Hooker.
The 2017 15th overall pick has had an issue with injuries throughout his career, most recently a torn Achilles in 2020. Still, Hooker can provide quality coverage over the middle of the field when he is healthy. He even managed to generate the 25th-most WAR among all safeties in the 2018 and 2019 seasons combined.