Free agency can make or break a team. It can be a vital step toward building a contender, just as the Tampa Bay Buccaneers proved this past year, or it can set a franchise back years because of the bad decisions made.
Whether that be due to handing out a massive contract to a player who never lives up to it or signing a free agent with a risky past to be a starter, there are instances every season of free agency burning a team.
Today, we are going to outline the riskiest 2021 free agency bets at every position with the help of our Free Agent Rankings page, which contains position rankings, projected contracts, PFF grades, PFF wins above replacement (WAR) and more.
Dalton is the choice here because he is a candidate to be signed by a team like the New England Patriots, who will want him to compete in 2021. The problem is that Dalton is just good enough to prevent a "tank" season that results in prime draft capital but not good enough to carry the team back to the postseason. That's what we call quarterback purgatory, and it can set franchises back for years.
Dalton did show the requisite accuracy and took care of the football for the Dallas Cowboys this past season, but the lack of big-time throws hindered the passing offense. He ranked 32nd in big-time throw rate and completed only 10 passes thrown over 20 yards downfield in 10 games. Dak Prescott completed 15 deep passes in just five games and had more big-time throws than Dalton on the year.
The veteran quarterback finished the 2020 NFL season ranked 23rd among quarterbacks in PFF grade, while the Cowboys' passing offense as a whole finished 23rd in expected points added (EPA) per pass play. And Dalton's inability to push the ball downfield with any consistency was a big reason why.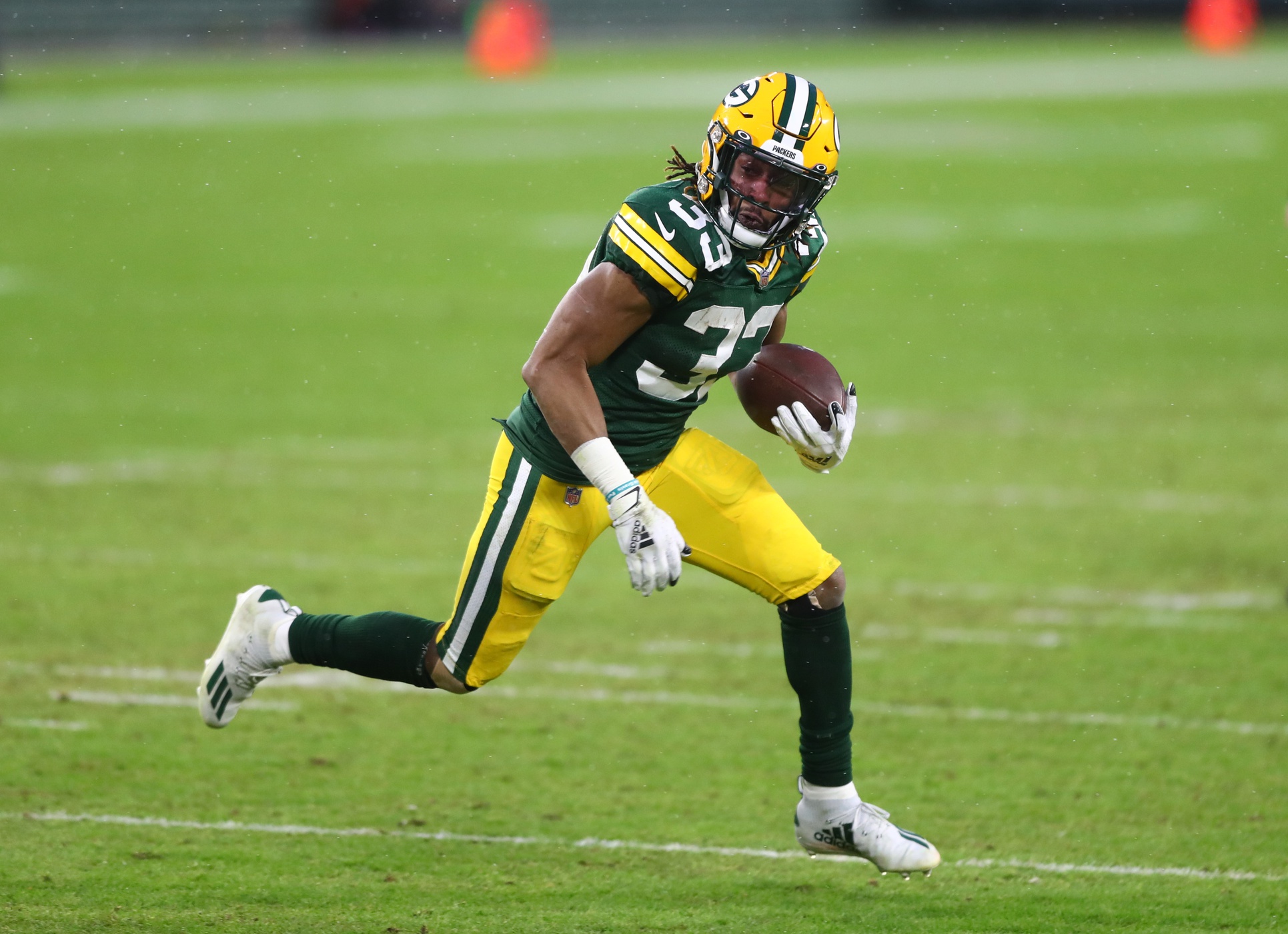 This is no slight to Jones; he is a remarkable athlete and a good NFL running back. The issue is that his position is not valuable in terms of wins and losses on the football field, yet we still expect him to receive a massive contract.
Jones was the 10th-most valuable running back of the 2020 season, coming in worth 0.13 WAR. Corey Davis, an impending free agent wide receiver whom the Packers could sign instead of Jones to give Aaron Rodgers more help, generated nearly four times more WAR in 2020.
---
After earning an impressive 73.0 PFF grade as a rookie in 2017, Smith-Schuster broke out as a sophomore playing in the slot alongside Antonio Brown, recording an 81.8 PFF grade that tied for 14th in the NFL.
Then, in 2019, when Smith-Schuster was supposed to become the focal point of the passing attack, injuries and poor quarterback play got in the way, and each played a big part in him earning a disappointing 63.1 PFF grade.
The 2020 season was hardly better from a grading perspective (70.0 PFF grade, 63rd among wide receivers), and he did that playing nearly exclusively in the slot.
Smith-Schuster doesn't have to be a primary outside receiver to become a team's WR1, but the fact that he has failed to be effective there in the post-AB era still does him no favors.
Our projections have Smith-Schuster receiving $17 million per season. As PFF's Kevin Cole outlined before, that'd be our ceiling for Smith-Schuster. This screams risky.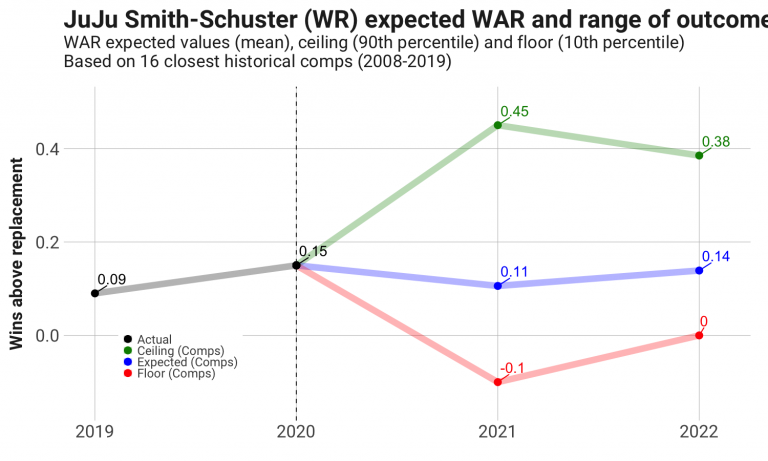 I'm as big a Hunter Henry stan as anyone, but his lengthy injury history makes him one of the riskiest bets in free agency this year.
Henry solidified himself as one of the best receivers at the position back in his first two seasons in the NFL — he trailed only Rob Gronkowski and Travis Kelce for the highest two-year receiving grade among all tight ends. But then the injuries began to bite; he missed all of 2018 and hasn't been nearly the same player ever since. Henry's receiving grade over the last two years ranks 12th at the position.
Henry's ceiling is more than deserving of a contract that makes him one of the three highest-paid tight ends in the NFL, as PFF's projected contract would make him. The only question is, can he remain healthy and reclaim that high-end play we once knew?
---
Okung has played just over 650 snaps over the last couple of years. He was average at best on those reps, earning a PFF grade that ranked 46th among 90 qualifying tackles, and he turns 34 years old in the middle of next season.
Still, the veteran tackle is projected to receive a deal that would make him one of the five highest-paid left tackles in the NFL on an annual basis. If that doesn't scream "risky," then I don't know what does.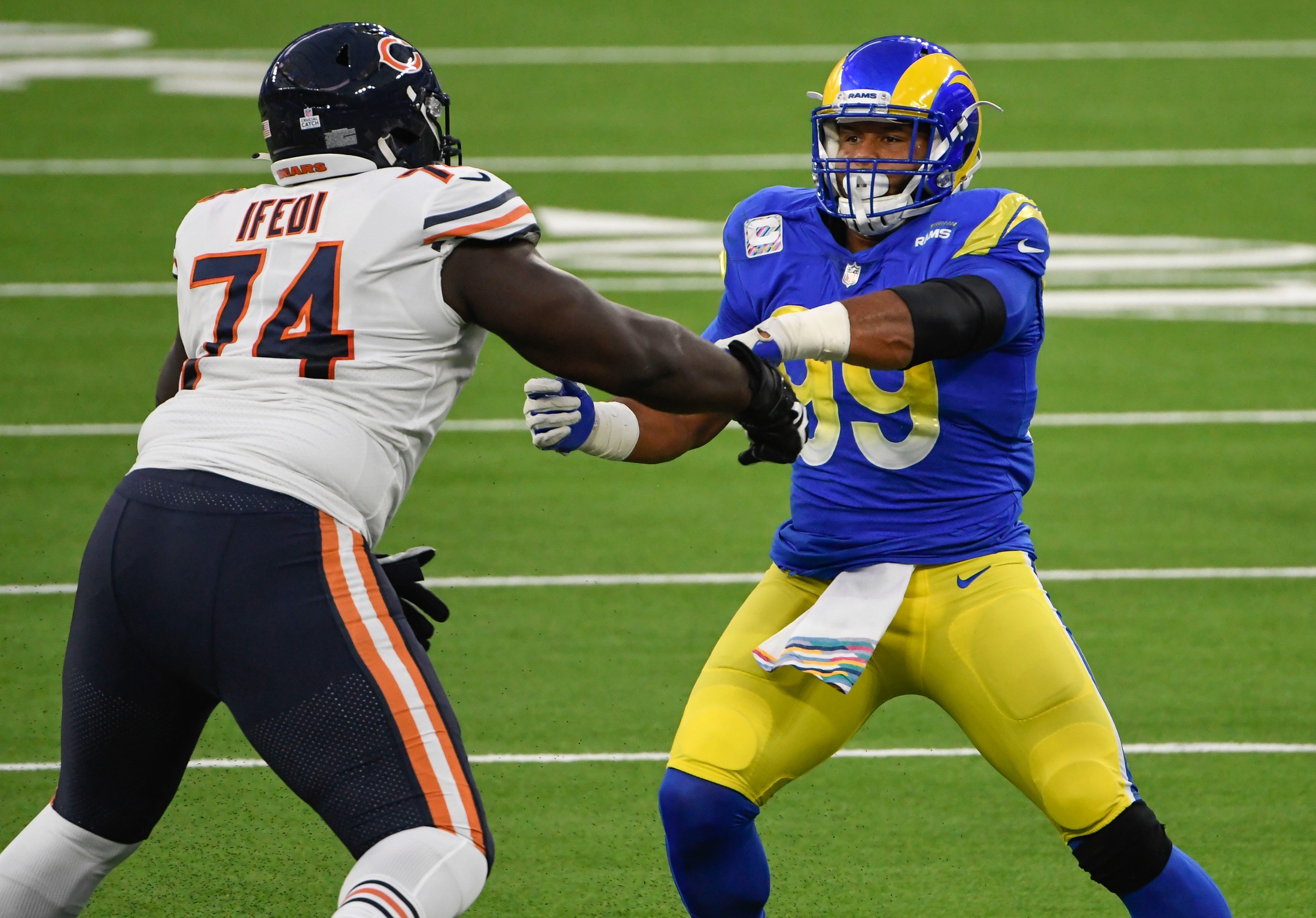 Projected contract: N/A
Outside of Brandon Scherff and Joe Thuney, this free agent guard class is extremely weak. And there is no guarantee either of those two players even end up on the open market.
As a result, Ifedi will be one of the several low-cost free agent guards who will end up being expected to handle a starting job in 2021. Ifedi started 10 games at guard for the Chicago Bears in 2020 before moving to tackle — the position he played from 2017-19 in Seattle — out of necessity.
Ifedi was wildly inconsistent in those 10 games on the interior; he didn't allow a single pressure against the Giants and Colts but got fried against the Falcons, Buccaneers and Rams, earning pass-block grades below 47.0 in each of those three contests.
Ifedi is perhaps the fourth-best guard in free agency behind Scherff, Thuney and Matt Feiler (if you want to call him a guard and not a tackle), but he is far from a long-term bet like the others. Whichever team brings in Ifedi must realize the roller coaster he is.
---
Mack has been thought of as one of the very best centers in the NFL ever since he entered the league in 2009 as a first-round pick with the Cleveland Browns. But things started to change in 2020.
After producing a pass-block grade above 75.0 in each of his first 11 seasons in the NFL, Mack posted a career-low mark — by nearly 20 grading points — of 55.9 this past season, 26th of 38 centers. And given that Mack will turn 36 years old next season, I wouldn't necessarily bank on him returning to form.
Teams on a budget and in need of a center would do well to consider Mack, but only on a low-cost deal. But they should be aware that the move may not guarantee quality play; it's just to keep from trotting out a liability at the position.
Rankins' projected contract doesn't look too egregious relative to his position average, but considering the number of teams that will be fighting to get under the cap this offseason, that money means a lot in 2021.
Injuries have derailed Rankins' last few years in the league, and the production has been far less impressive than expected after his strong 2018 season. The 2016 first-round pick posted a 78.8 PFF grade in his third season in 2018, 24th at the position. In the two years since, Rankins has logged just over 700 snaps, barely generated positive WAR and has earned a middling 61.4 PFF grade that ranks 67th of 87 interior defensive linemen.
All this being considered, Rankins is a true boom-or-bust free agent this offseason. And considering what we have seen from him as of late, it'd be wise to expect the latter.
Judon is set to remain as one of the 15 highest-paid edge rushers annually after playing 2020 on the franchise tag. And after looking at his sack and hit numbers with the Ravens throughout his career, one might think that it is well deserved — Judon has racked up 91 combined sacks and hits over the last four years, the fifth-most among all edge rushers.
However, it's important to put that total into context. While he has produced a top-five total in that category, 50.9% of his pressures have been charted either as a cleanup or an unblocked pressure, the fourth-highest rate in the league. And this is why Judon ranks 41st among 76 edge rushers in pass-rush grade over those last four years.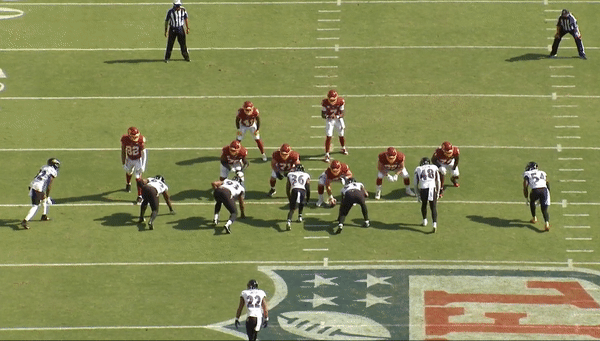 A lot of this production has come courtesy of Baltimore's extraordinarily high blitz rate. That lofty high sack and hit total will not be matched in another system. Teams should be cautious in handing Judon any major contract this March.
This projected contract would fall just outside of the 10 richest for off-ball linebackers.
Milano has been a quality coverage defender, but the run-defense and tackling has been poor. Over the last two years, Milano has racked up 27 missed tackles and produced sub-50.0 run-defense grades. His two-year PFF grade of 62.5 comes in at 30th among his position, while his total WAR generated is 28th.
While those are solid enough figures relative to his counterparts, it shouldn't attract the contract he is projected to get — even more so when considering the limited cap space most teams have. It's also worth noting that his total WAR since 2019 is nearly half that of any off-ball linebacker in the top 10 in the metric.
Milano is a fine player at his position, but there are more valuable positions to address with that money.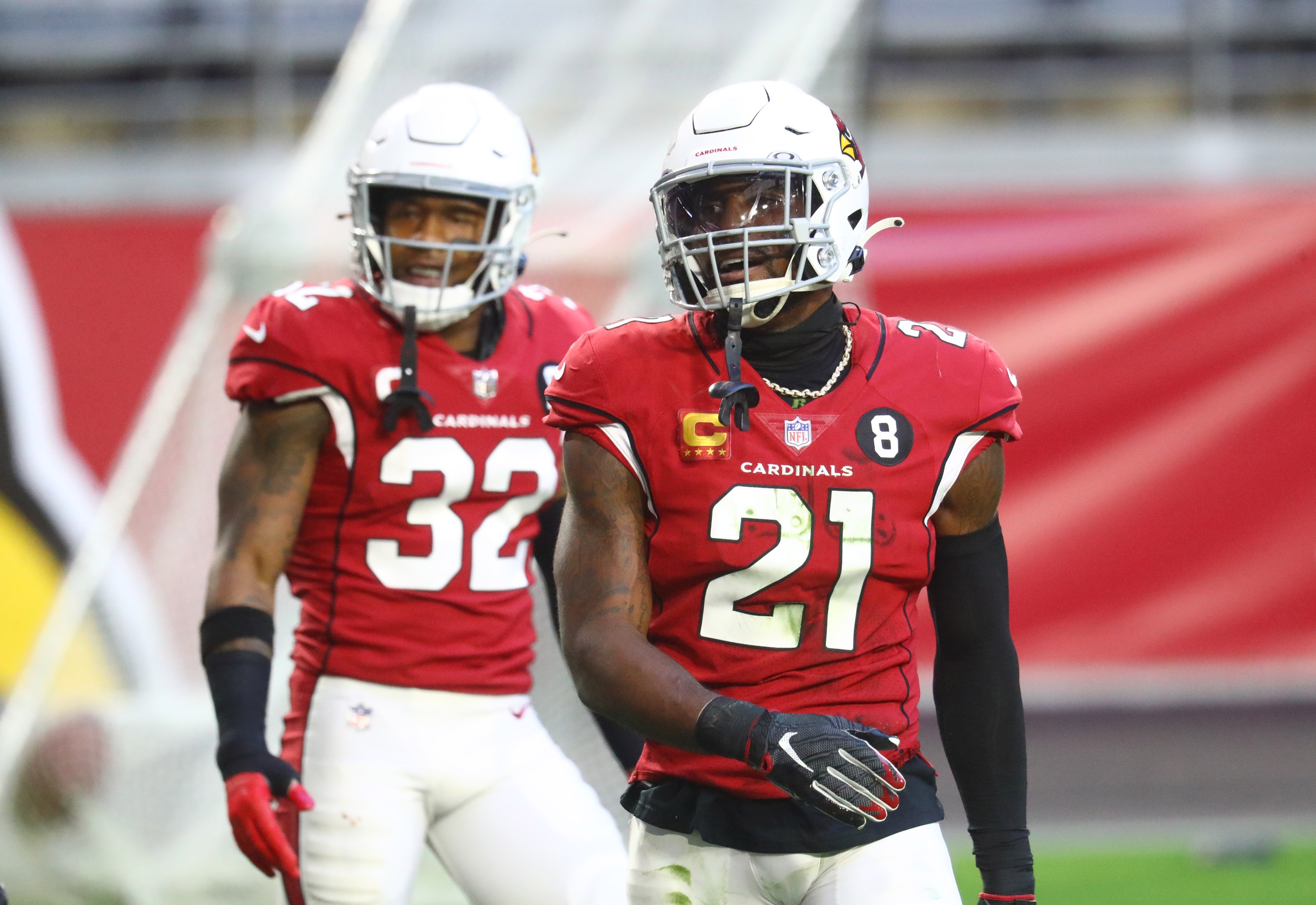 Peterson was once one of the league's best cornerbacks. From 2011 through 2018 — Peterson's first eight seasons in the NFL — he generated the fifth-most WAR among cornerbacks. But ever since returning from his six-game suspension to start 2019, he hasn't quite been the same guy.
Peterson comes in at No. 93 among cornerbacks in WAR over that span and has produced a poor coverage grade of 57.3. It's quite clear that the 31-year-old has lost a step and has struggled to stick to receivers in single coverage, evidenced by the fact that he ranked in the 16th percentile in grade on such plays in 2020. Back in 2018, he sat in the 79th percentile in grade in single coverage.
He and the Arizona Cardinals are likely to part ways this offseason when free agency opens, and Peterson will draw interest given the current shortage of outside cornerbacks in the NFL. Still, teams cannot get desperate and start handing over blank checks — he may have been among the best at the position years ago, but there is no indication of him reclaiming that title again with his recent play.
After a strong seven years in New England from 2013 to 2019 that saw him finish as the 14th-most valuable safety in the league, Harmon's performance dipped in 2020 in a full-time role with Detroit.
The veteran played over 400 more snaps than any other regular season of his career (1,102) and ended up earning a career-low coverage grade of 64.4. That was still good enough to tie for 36th, but it wasn't up to his standards relative to the rest of his career when he played far fewer snaps per game. It's worth asking the question of whether or not Harmon was a product of Bill Belichick's system.
Calling Harmon a "risky bet" is a bit unfair given the cost of his contract, but for teams in dire need of a free safety, they shouldn't opt to buy low on a guy like Harmon over paying up for one of the marquee free agents in this loaded safety class. Players like Marcus Williams and Anthony Harris have proven ceilings twice as high as Harmon's.