The Las Vegas Raiders took it to the Los Angeles Chargers in Week 9, beating up their division rivals to the tune of 161 rushing yards en route to a 31-26 victory. The Kansas City Chiefs are runaway favorites in the AFC West, but Raiders head coach Jon Gruden may have something to say about that in the second half of the season.
Quarterback Justin Herbert is an emerging star and Keenan Allen looks like one of the best wide receivers in the game, but the Chargers simply do not know how to finish football games. Each loss for Los Angeles this season has been from a one-score margin.
Editor's note: All of PFF's grades and advanced stats from this game will be finalized and made available to ELITE subscribers within 24 hours of the final whistle.
Story Of The Game
Quarterback Derek Carr finished the 2019 season as the league leader in checkdown percentage (11.1%), and he earned a reputation for being a game manager rather than a playmaker. He bucked that belief for this week, finishing the game with an aggressive average depth of target of 12.9 yards.
Chargers defensive coordinator Gus Bradley took away Carr's most productive pass-catcher in tight end Darren Waller, but the rushing attack led by Josh Jacobs opened up opportunities for easy completions off play action. The Raiders' offensive line mauled the Chargers' defensive front, paving the way for Jacobs and others to rack up 64.6% of their total rushing output on runs that went for 10 yards or more.
Herbert finished 28-for-45 for 327 yards and two touchdowns, but in the context of the game, he came up short when it mattered most to coincide with his team's second-half meltdown. Outscored 17-9 in the final 30 minutes, the Chargers failed to find the endzone on their last possession of the game. Herbert attempted back-to-back goal-line fades and completed neither. Carr, on the other hand, was opportunistic and made two big-time throws.
Of course, the Chargers' defense should be held responsible for its share of the blame, too. The pass rush missed Joey Bosa, generating six total pressures from start to finish. Casey Hayward Jr. allowed only two completions in coverage, but they went for 98 yards and a touchdown.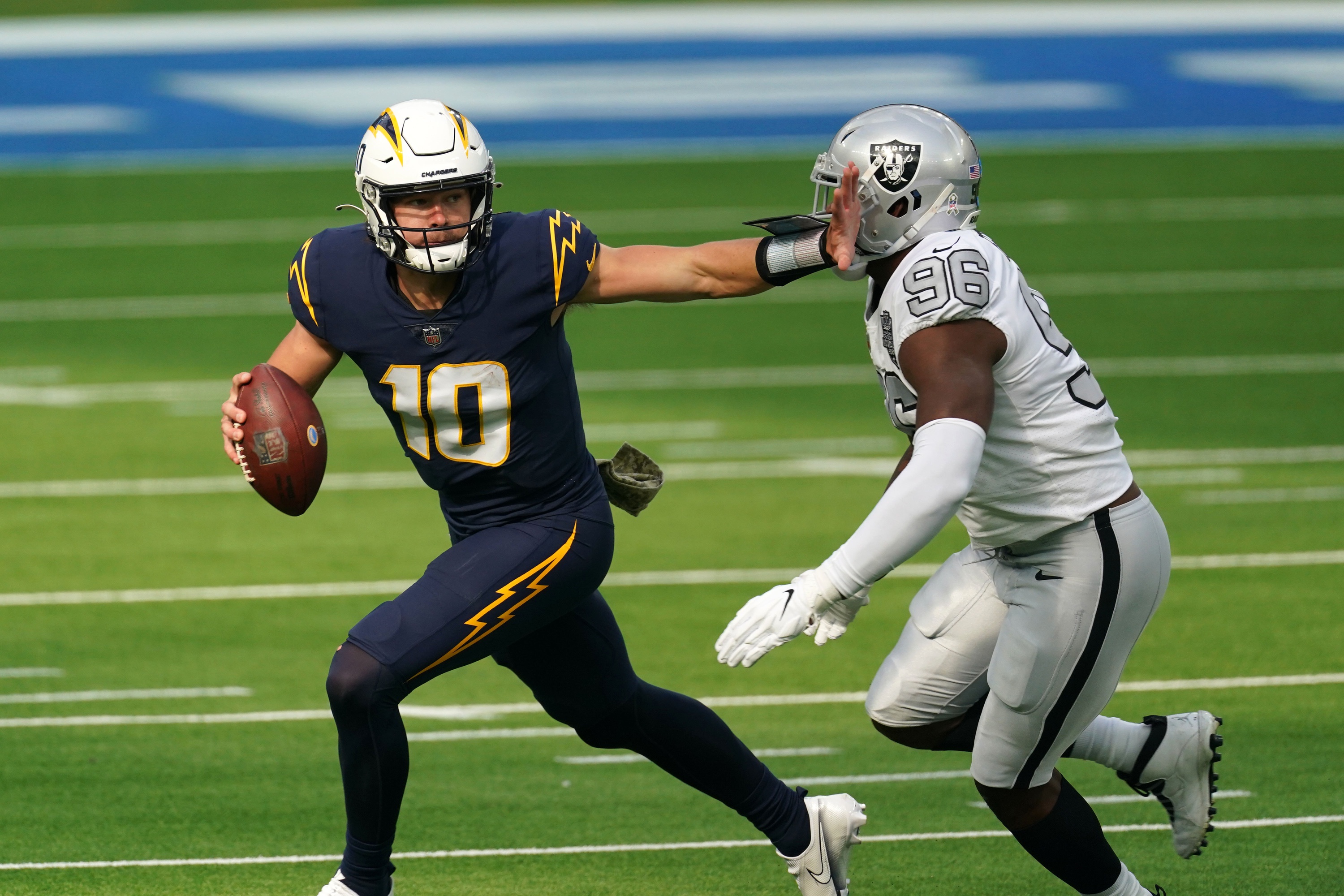 Rookie Watch
Linebacker Kenneth Murray struggled against the Denver Broncos last week with a 29.7 overall grade, and that poor performance affected his playing time this week. Murray saw the field for 26 of the Chargers' 50 defensive snaps.
No one popped on either side of the ball for the Raiders. First-round pick Henry Ruggs III played 39 of 50 snaps on offense, taking a handoff for 10 yards.
ELITE subscribers can view player grades, advanced statistics, positional snap counts and more in Premium Stats 2.0.