After having the worst offensive performance of any team in Week 2, the Minnesota Vikings bounced back early in Week 3 and actually put up some numbers in non-garbage time. But when it mattered most, the Vikings' offense reverted back to disaster status. 
Stephen Gostkowski, who is just two weeks removed from missing three field goals and an extra point in his Tennessee Titans debut, hit a 55-yarder to put Tennessee up by one with under two minutes to go. Kirk Cousins had time to operate and a shot at saving the game for Minnesota, but he instead had a sequence of incomplete pass, fumble for a loss of 14 yards, incomplete pass and Hail Mary interception to close out the game and seal Tennessee's 31-30 victory.
Editor's note: All of PFF's grades and advanced stats from this game will be finalized and made available to ELITE subscribers within 24 hours of the final whistle.
STORY OF THE GAME
Minnesota's passing attack was cooking out of the gate. Through the first two quarters of action, the Vikings produced positive expected points added on 60% of their pass plays — tying for the highest rate among those to play in the 1 p.m. slate. Cousins also produced 10.3 yards per attempt in that span, trailing only Deshaun Watson among the same group. And a big reason for that early success was the play of rookie wideout Justin Jefferson. In the first half, Jefferson hauled in six of seven targets for 104 yards (7.43 yards per route run), including a contested snag against Malcolm Butler.
Jefferson made a big play for Minnesota in the third quarter with a 71-yard score, but that's about all the Vikings had. Minnesota produced negative expected points added per pass play in the second half and had just one explosive passing play of 15 or more yards. They were the only team in the early slate to not have at least two. Instead of coming out slow and putting up numbers in garbage time, we got the opposite from Minnesota today.
As for Tennessee, its patented play-action offense saved the day. Arthur Smith dialed up play action on 30% of the Titans' pass plays in Minnesota, resulting in 0.77 expected points added per play. In addition, Ryan Tannehill averaged nearly 20 yards per play-action pass and had five plays result in at least a 20-yard gain (two more than any other offense). On non-play-action passes, Tennessee didn't have a single 20-plus yard play, Tannehill averaged 3.9 yards per attempt and the offense produced -0.38 expected points added per play. Play action was the backbone of Tennessee's passing success in 2019, and it's been a similar story thus far in 2020.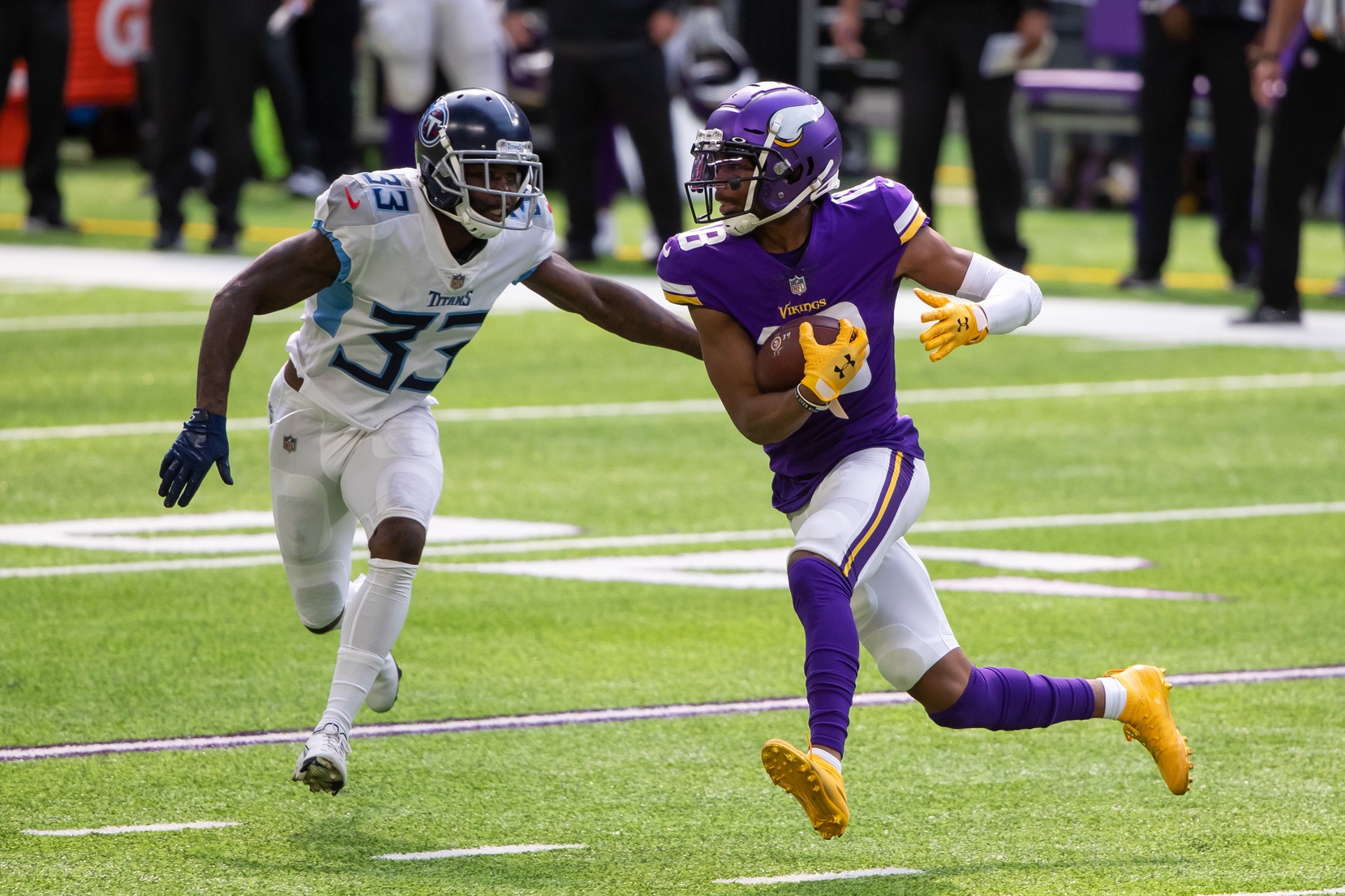 ROOKIE WATCH
Other than Jefferson, who had one of the most productive days we have ever recorded from a rookie wideout in the PFF era, Vikings corner Jeff Gladney was the only other rookie with substantial reps. And he had opposite results. Gladney split time between the slot (34 snaps) and on the outside (30 snaps), but he was exposed when playing the latter position.
He had 12 coverage snaps and three targets on the outside, all of which he allowed to be caught for 97 yards. Gladney played mostly on the outside last week after hardly seeing the field in Week 1 and had a poor game. Minnesota desperately needed the rookie corner to play at an average level — at least —given how bad their cornerback unit is, but the team hasn't gotten anything close to that from him thus far.
ELITE subscribers can view player grades, advanced statistics, positional snap counts and more in Premium Stats 2.0.