It looked like one of the more forgettable games on Sunday's slate through the first three quarters, but the Chicago Bears' road win over the Detroit Lions blossomed into one of the most exciting Week 1 matches in recent memory.
Editor's note: All of PFF's grades and advanced stats from this game will be finalized and made available to ELITE subscribers within 24 hours of the final whistle.
STORY OF THE GAME
The battle of NFC North rivals began with four straight field goals and plenty of three-and-outs, but both the Chicago Bears and Detroit Lions came alive in the second half. Detroit racked up 17 unanswered points heading into the fourth quarter, but the Bears were able to rattle off back-to-back-to-back touchdown drives to take a late lead and hold on. 
Whether it was rust or poor communication, neither quarterback was able to muster any semblance of an offensive attack to start the game, as both Mitchell Trubisky and Matthew Stafford posted completion rates under 45% in the first quarter. 
It didn't take long for Stafford to find his rhythm, however, with a stellar second and third quarter to help Detroit build a 23-6 lead. In spite of the three-score deficit, Trubisky flipped a switch in the final quarter, likely a result of the Lions secondary being decimated by injury. Detroit was without third-overall pick Jeffery Okudah to start the game, and Desmond Trufant and Justin Coleman both went down before the fourth quarter.
Trubisky took advantage and completed eight of 10 pass attempts for three touchdowns and just under 100 yards in the final period, while Stafford and company struggled to piece together late offensive drives. Stafford nearly completed a last-second comeback, but rookie running back D'Andre Swift dropped what would have been a game-winning touchdown at the goal line with seconds left. 
Adrian Peterson flashed his ability even at age 35, carrying the rock 14 times for 93 yards and reeling in three catches for an extra 21. Though the veteran had the most touches, the rookie Swift played a handful more snaps than Peterson. Kerryon Johnson saw the fewest snaps among the three-headed backfield.
In Chicago's running back room, Tarki Cohen and David Montgomery received nearly identical snaps, with Cohen maintaining his usual pass-down role and Montgomery handling the run game.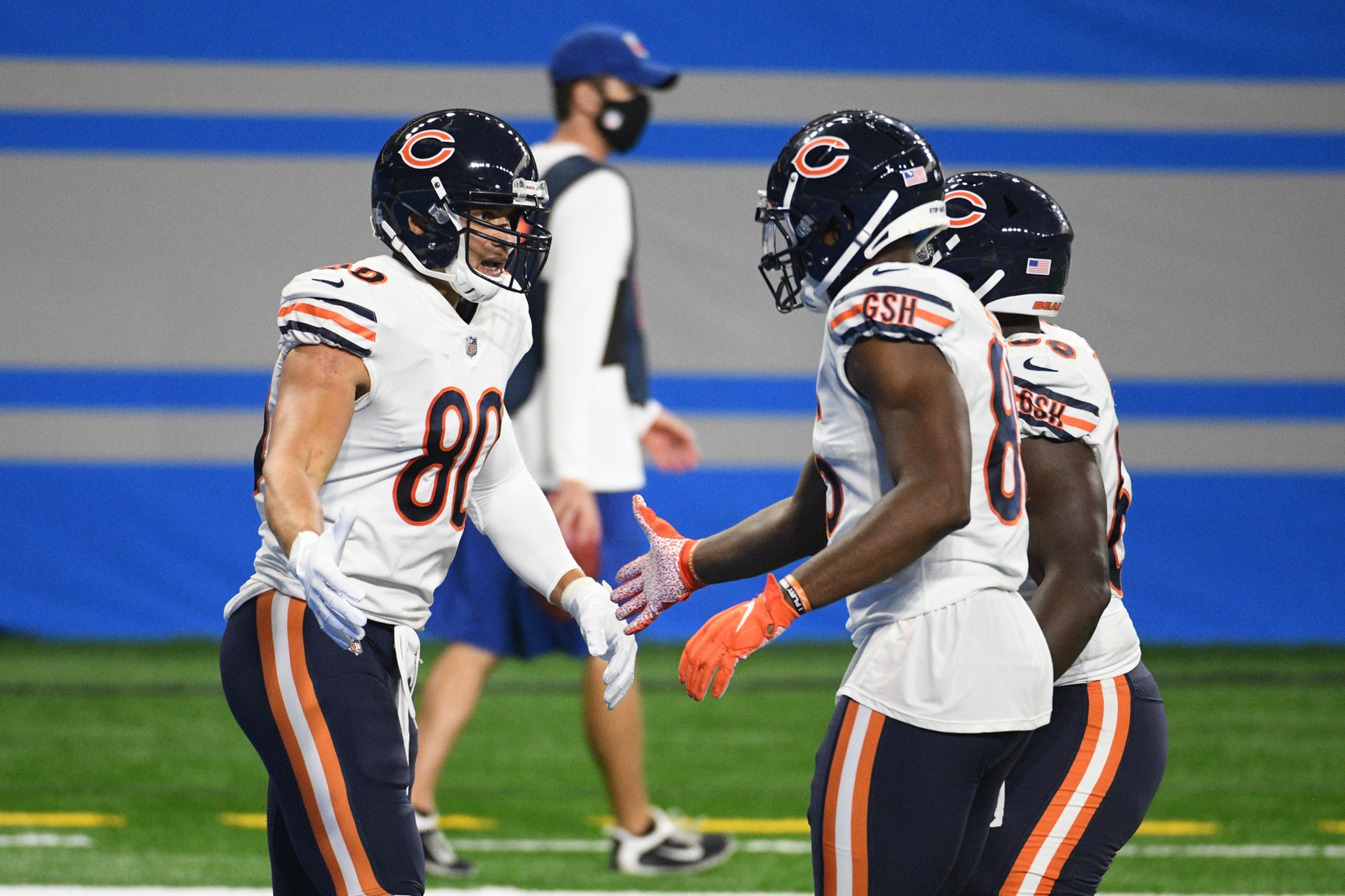 The passing game was diverse for the Lions, with Marvin Jones, Quintez Cephus, Danny Ammendola, Swift and T.J. Hockenson all seeing five or more targets. The Bears relied heavily on the trio of Jimmy Graham, Allen Robinson and Anthony Miller, as all three had six or more targets and each had defining moments in the fourth quarter. Robinson laid out for a deep bomb to keep a pivotal late drive alive, Graham secured a late touchdown to bring the Bears within three and Miller had the 27-yard game-winning TD.
ROOKIE WATCH
On Detroit's side of the ball, rookies Jonah Jackson and Swift proved to be valuable additions. Jackson didn't allow a single pressure all game — though he was beaten at least once — and was solid in the run game. Swift received the most snaps in the crowded Detroit backfield but garnered the fewest carries. He was the lone running back to score a touchdown on either team, rumbling into the end zone to end the first half.
Still, what most fans will remember from Swift's rookie debut is the dropped touchdown. With 11 seconds remaining in the fourth quarter, Stafford threw a dime to Swift who found himself wide open past the goal-line. As the pass hit his hands, he immediately turned his head toward the end zone, dropping the ball. 
The standout rookie performance from this game came from Chicago's second-round pick, cornerback Jaylon Johnson. Johnson had received praise all throughout training camp and had reporters and fans alike excited to see him in game action. He earned the starting spot across Kyle Fuller and did not disappoint. Johnson allowed just one reception into his coverage and made a game-saving pass breakup on the final play.
Lions fifth-round receiver Quintez Cephus saw nine targets, tying Allen Robinson for most in the game. He wasn't able to do much, hauling in three for 43 yards, but he seems to already have a rapport with his new QB. Bears second-round tight end Cole Kmet hardly saw the field because of Jimmy Graham, while fifth-round receiver Darnell Mooney caught all three of his targets on the night.
ELITE subscribers can view player grades, advanced statistics, positional snap counts and more in Premium Stats 2.0. Use promo code KICKOFF30 here to save 30% off your new PFF subscription today.