As of right now, the NFL is still on track to open training camps in late July, so we're continuing our series on the positional battles that will take place in those camps.
I've already looked at some of the upcoming competitions at wide receiver and running back, so it's time to turn our attention to the imminent TE1 competitions that figure to shape NFL offenses heading into the 2020 NFL season.
[Subscribe to PFF EDGE or ELITE to gain access to  our fantasy football rankings and projections, PFF Player Grades, premium content and more.]
Injuries have kept us from getting anything more than a glimpse of what Dissly can do when healthy, but what he has done over the past two years has been impressive. Among the 83 tight ends who have run at least 150 routes since 2018 ─ Dissly has run just 186 ─ his 87.3 receiving grade ranks third behind only George Kittle and Travis Kelce. And among the 79 players at the position to see at least 25 targets, his 152.1 passer rating when targeted leads the way. There are obvious sample size issues to worry about when running with those gaudy numbers, but Dissly has shown enough to get Seattle (and us) excited about what he can do in a full season of action.
Olsen, meanwhile, has no such sample size concerns because the 13-year NFL veteran has been doing it at a high level for a long time. Over the five years from 2012 to 2016, he was one of the most dominant tight ends in the league. In fact, his 91.5 overall grade over those five seasons fell behind only Rob Gronkowski at the position. Even though he has recently had to deal with several injuries that have kept him well below those heights, Olsen can still be a solid contributor in the passing game — he dropped just one of his 81 targets in 2019, and his 68.7 receiving grade ranked 16th among 45 qualifying players at his position.
Dissly and Olsen aren't the only two viable tight ends on the depth chart, either. Seattle still has Luke Willson, Jacob Hollister and rookies Colby Parkinson (who had offseason surgery on his foot) and Stephen Sullivan (who is listed at wide receiver despite playing tight end at LSU) on the roster.
The verdict: Will Dissly is TE1
PFF isn't in the business of predicting injuries. Dissly's body has been hit hard in his first two seasons in the NFL ─ a torn patellar tendon and Achilles in consecutive years is no joke ─ but the assumption has to be that he's on track to be ready to go at the start of next season, as has been reported. At this stage of Olsen's career, Dissly is simply more of a threat in the passing game. We've already seen him return from one major injury to grade out as one of the best tight ends in the NFL over the first six games of the 2019 season. The Seahawks will be hoping he can repeat that performance for a full season in 2020.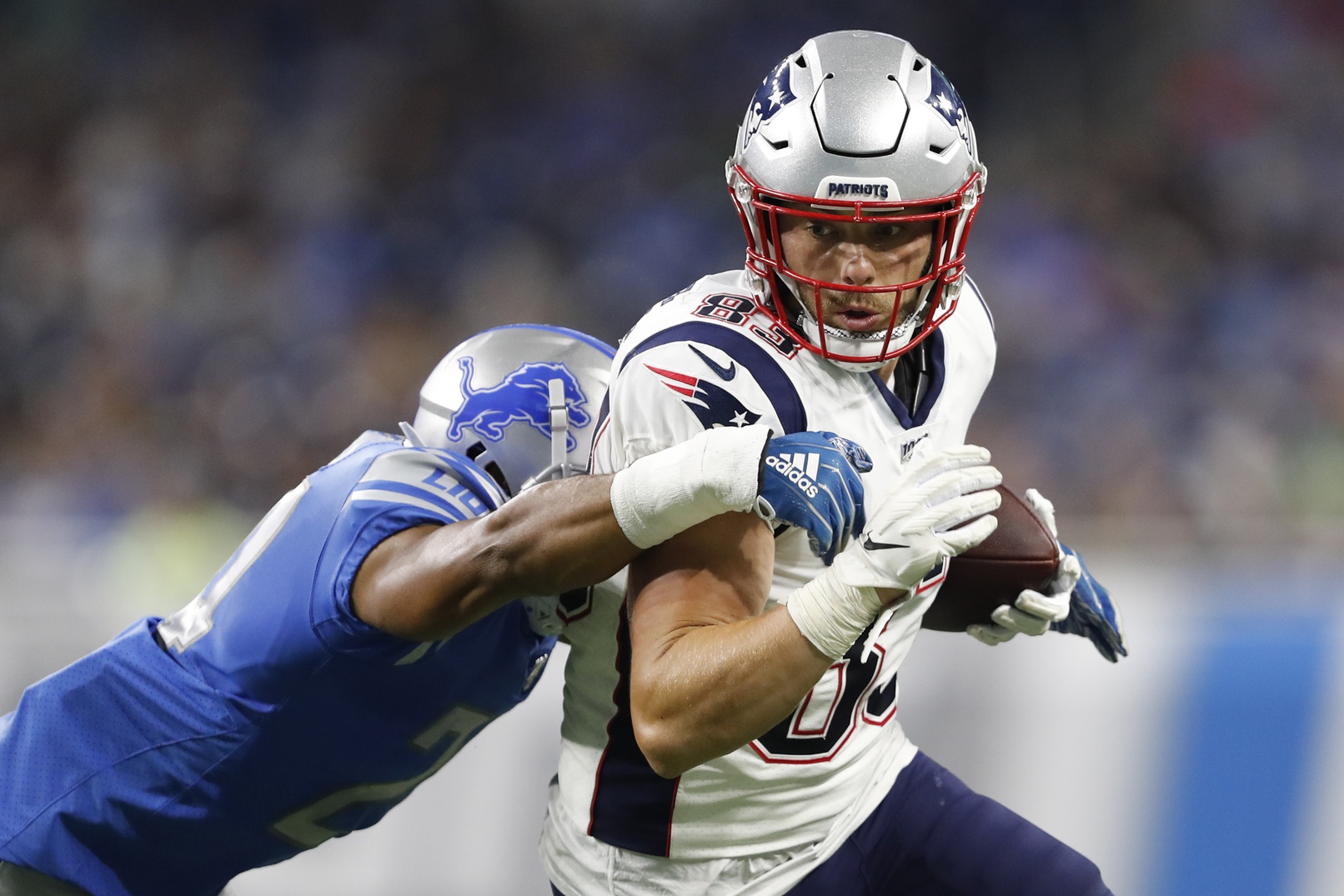 Once a definitive strength of the team, the tight end position has become a glaring weakness in New England. LaCosse is the only viable veteran on the roster, but there is little to get excited about heading into next season with him as the top option at the position.
A former undrafted free agent of the 2015 draft class, LaCosse had to wait until his 2018 season until he finally played more than 100 snaps, but he only managed a 57.1 overall grade that year. His PFF grade fell to 53.6 in his first year with the Patriots last season, and it was dragged down by a 48.6 receiving grade.
Seeing the need to inject some young talent at the position, the Patriots spent two third-round picks on tight ends in the 2020 NFL Draft. Both selections stood out as reaches in relation to the PFF Big Board, as Asiasi came in as our 165th-ranked player overall while Keene was 179th. They both have roadblocks to becoming true TE1-type players.
Asiasi has inline potential ─ not something to take for granted at the tight end position in today's NFL ─ thanks to his ability as a blocker. He also showed enough as a receiver to be considered a viable target in the passing game, but he didn't show the route-running chops or explosiveness that makes you think he'll ever develop into anything more than that. Keene, on the other hand, didn't see much action at all in the Virginia Tech offense. The athleticism and after-the-catch ability are enough to intrigue you, but he had next to no production across multiple years as a starter and wasn't asked to run a diverse route tree.
The verdict: Devin Asiasi plays the biggest role in 2020
This is an ugly situation all around. You don't want to be relying on mid-round rookie tight ends, but you also don't want to be relying on players such as LaCosse ─ a five-year veteran who has done little with the opportunity he's been given over the last two years. Asiasi might not be flashy, but he is the most complete option on the roster right now. He can hold his own as a blocker and give Cam Newton a reliable target with soft hands in the passing game, even if no one is going to mistake him for prime Greg Olsen.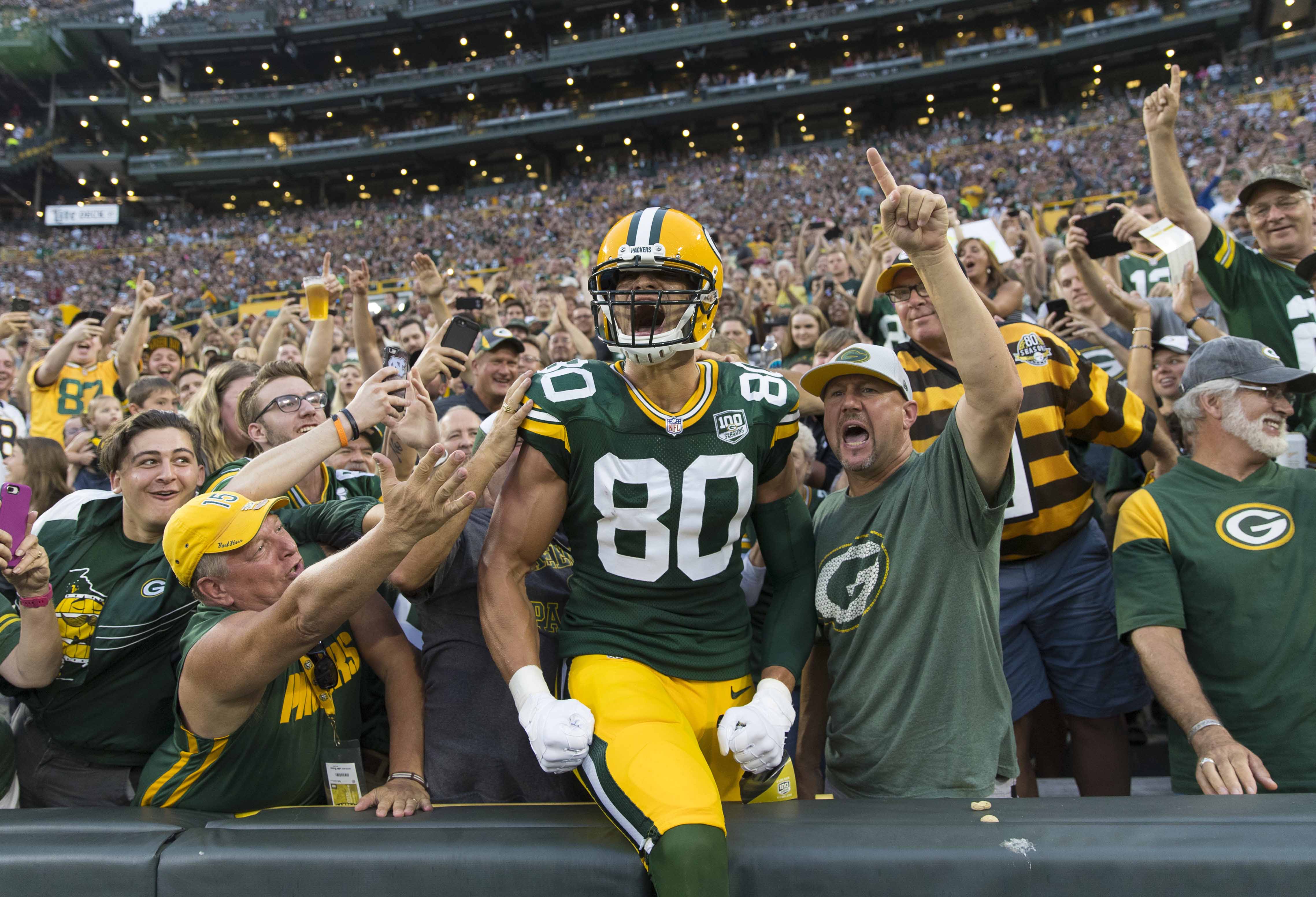 The bears have Adam Shaheen, J.P. Holtz, Ben Braunecker, Demetrius Harris and Jesper Horsted (among a few others) on their roster to battle it out for the spots at tight end, but I want to keep this piece somewhat concise. Graham and Kmet figure to be the top two players on the depth chart, so those are the two options we'll look at.
The Bears' decision to give Graham a two-year, $16 million contract this offseason qualifies as a head-scratcher. His name carries more value ─ thanks to a dominant stretch in New Orleans and solid play in Seattle ─ than his recent play does. Over the last two seasons, 28 tight ends have played at least 1,000 offensive snaps, and Graham's overall grade of 58.7 ranks 21st in that group. The former All-Pro has never been a particularly willing run blocker, and now, the mismatch problems he posed in the passing game have begun to disappear.
In a similar fashion to the Graham contract being on the expensive side, the selection of Kmet in the second round of the 2020 NFL Draft stood out as a need-based pick in a weak tight end class. As the PFF Draft Guide says, Kmet has a good all-around game with a big catch radius and solid testing numbers in the speed and explosiveness department. His change-of-direction numbers weren't nearly as impressive, though. He lacks the suddenness and dynamic athleticism needed to consistently produce big plays that aren't schemed and make people miss in the open field after the catch.
The verdict: Jimmy Graham is TE1
Kmet may be the better player in 2020, but the Bears didn't just pay Graham top-10 tight end money to play second fiddle. Graham will get the opportunity to show he can still create problems in the passing game, getting back closer to the player we saw in Seattle than the one in Green Bay. The fact that rookie tight ends generally struggle to make a significant impact ─ even with a normal offseason to acclimate to the NFL ─ is another factor working against Kmet.
Chicago ran 12 personnel (one running back, two tight ends, two wide receivers) on just 11.4% of their offensive snaps in 2019 (30th in NFL), but questionable wide receiver depth behind Allen Robinson and Anthony Miller could lead to more two-tight end sets in 2020. That could lead to a situation where both Graham and Kmet (or one of the dark horse candidates) earn the chance to separate themselves.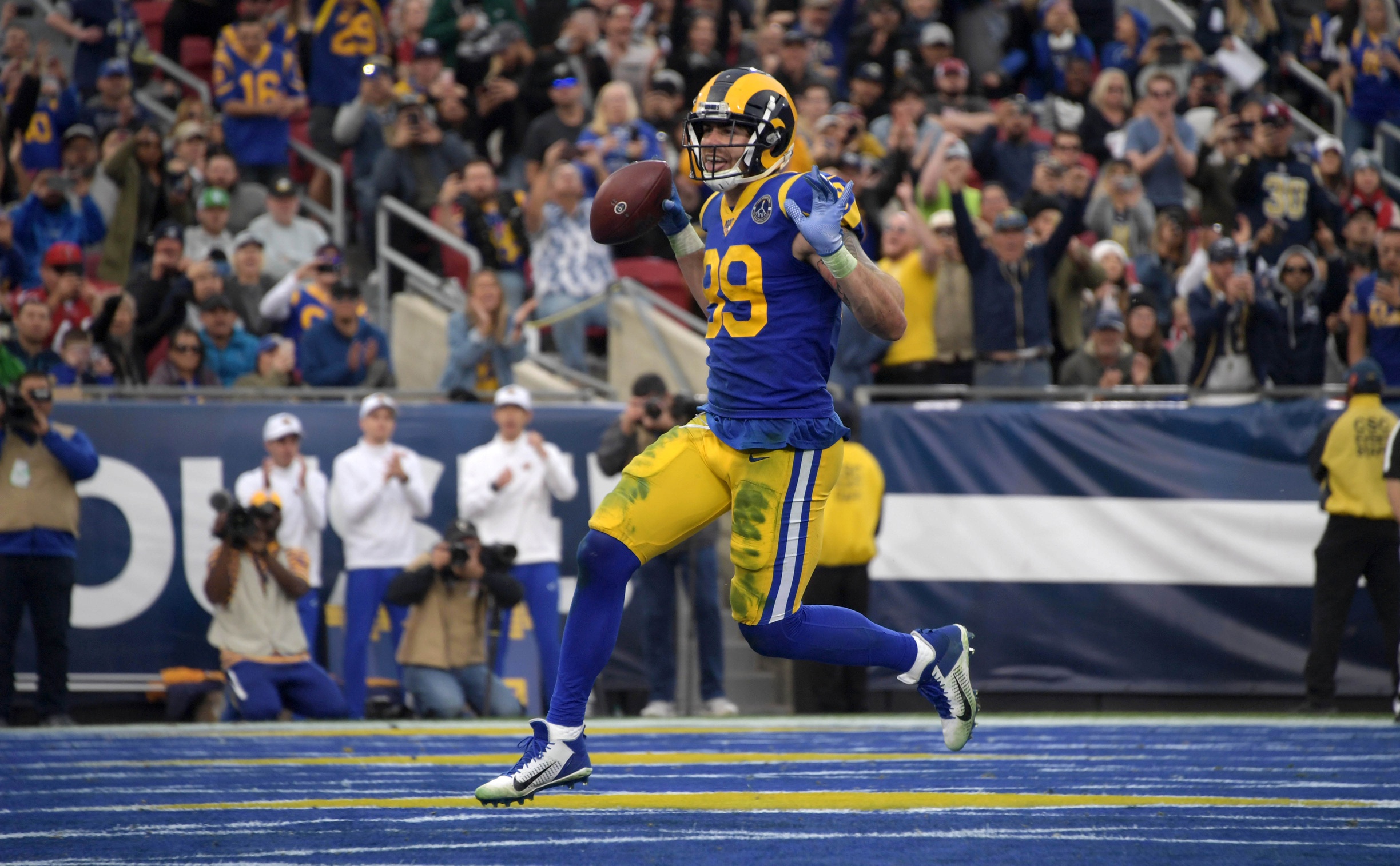 In terms of one-two punches at the tight end position, Everett and Higbee are probably second to only Zach Ertz and Dallas Goedert as one of the best the NFL has to offer. If the Rams continue to run as much 12 personnel as they did over the second half of the 2019 season (32%, fifth-most in the NFL), then both will have an opportunity. Still, there will be competition for the TE1 role.
Higbee figures to be the favorite in that race after his herculean close to the 2019 season. Over the last five weeks, Higbee led not just all tight ends in receiving yards (522), but he also led all players in the NFL. His 86.1 overall grade for the season ranked third among all tight ends, trailing only Kittle and Mark Andrews. That was buoyed significantly by that five-week stretch to close the season, though. His PFF grade over his first 10 games in 2019 (71.5) ranked 13th among qualifying tight ends. It's noteworthy that Everett played just four offensive snaps over those last five weeks as he battled injury.
Though he was drafted a year after Higbee, we have a longer track record of Everett being a legitimate receiving threat — he has posted receiving grades of 78.0 or higher in each of the past two seasons, and the only other tight ends to do so after seeing 40-plus targets are Kittle, Kelce and Jared Cook. Everett is a weapon in the passing game in his own right, and if he had finished out the 2019 season, we wouldn't be talking about Higbee the same way we are right now.
The verdict: The gap between Everett and Higbee isn't nearly as big as people expect it to be
The PFF consensus PPR rankings have Higbee as TE7 and Gerald Everett as TE27 heading into next season. Our fantasy projections also have Higbee significantly outpacing Everett when it comes to receiving production. That could certainly be the case if Higbee gets the first opportunity to be the guy and runs with it as he did at the end of last season. Everett is, after all, heading toward free agency and a potential change of scenery following next season, while Higbee is secured through 2023.
I'm having a hard time believing Everett just disappears, though. He has been one of the best receivers at the position from a PFF grade standpoint over the last two seasons when on the field, and if I had to make a call, I would say that he eats into Higbee's workload more than is expected in 2020.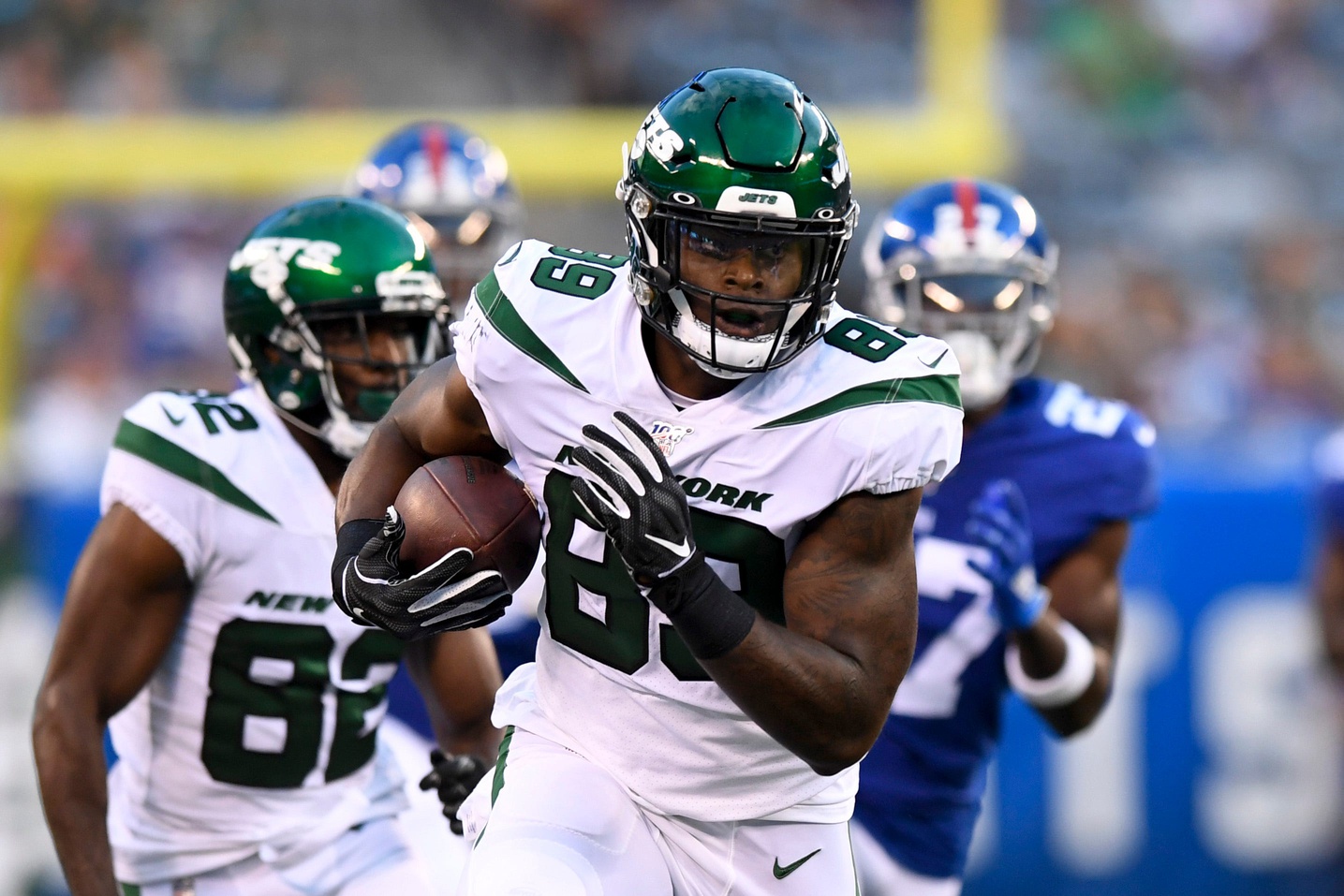 Things were looking up for Herndon following a rookie 2018 season in which he caught 39 passes for over 500 yards and recorded a PFF receiving grade of 78.7, sixth among qualifying tight ends. Those high expectations are now softened thanks to a four-game suspension and multiple injuries that limited him to just 18 total snaps in 2019, but he is primed to come back and make an impact on a Jets team that could use some dynamic weapons in the passing game.
The man standing in his way from jumping back into the TE1 role is Griffin, who received a three-year deal midway through last season while filling in for Herndon. Griffin's track record doesn't do much at all to excite you, as his PFF grade of 61.9 in 2019 was the best mark he has produced since his 2013 rookie season with the Houston Texans ─ a year that he came away with an overall grade of 67.0. In terms of volume as a receiver, his 34 receptions in 2019 were the second-most he's ever had over a season, with his 50-catch, 471-yard 2016 still standing as a career best. At this point in his career, it's hard to expect a sudden breakout.
The verdict: Chris Herndon is TE1
For me, this is the easiest decision of the five discussed here. Herndon showed promise as a rookie and is the more talented player; assuming full health, he should quickly prove that he deserves the lion's share of the snaps and targets at the position. Given the uncertainty surrounding new guys like Denzel Mims and Breshad Perriman at wide receiver, that could lead to a productive role for Herndon in the Jets offense.