While players such as Christian McCaffrey and Saquon Barkley are locked into three-down, workhorse roles on their respective teams, other NFL rushing units face uncertainty heading into the 2020 season. That's the case with several of the top rushing attacks from 2019 — Baltimore and San Francisco — along with teams such as Detroit, Denver and Buffalo. PFF's Jesse Reeves broke down the latter three from a fantasy perspective earlier this week, so I won't rehash those situations, but there are still plenty of other backfields around the NFL that lack clarity as of now. These are my thoughts on how some of those will shape up this upcoming season.
[Subscribe to PFF EDGE or ELITE to gain access to  our fantasy football rankings and projections, PFF Player Grades, premium content and more.]
The Ravens weren't lacking in the running back department in 2019, and things only got more crowded after they used a second-round pick on Ohio State running back J.K. Dobbins. Some of the "pros" for Dobbins in the 2020 PFF Draft Guide included ideal size and burst for an NFL back in conjunction with a one-cut, north-south running style that should fit well in the Ravens' offense. Obviously, his production at Ohio State speaks for itself. He can carry the load if asked to do so, but he likely won't be a true lead back given the other running backs Baltimore has at its disposal.
Mark Ingram isn't the flashiest of options, but the guy can run the ball. His 75.5 rushing grade in his first season with the Ravens ranked 16th among 45 running backs with 100 or more carries. Going back a few more years highlights one of Ingram's biggest strengths as a runner: He rarely takes negative plays. Since 2016, no running back has had a lower percentage of their carries go for no gain or a loss than Ingram (14%).
Fewest % of carries going for a loss or no gain since 2016
| | |
| --- | --- |
| Player | % of Carries for No Gain or Loss |
| 1. Mark Ingram | 13.9% |
| 2. Ezekiel Elliott | 14.3% |
| 3. Le'Veon Bell | 15.7% |
| 4. Christian McCaffrey | 16.2% |
With Lamar Jackson freezing defenders on all the read options that Baltimore runs, you want a running back who hits the hole and takes advantage of that hesitation. Ingram fills that need.
That brings us to the two options who likely fall behind Dobbins and Ingram. If we're talking about production, Gus Edwards is getting a raw deal coming in third or lower on any depth chart. Over the past two years, his 83.6 rushing grade ranks 13th among running backs, and no player at the position has had a higher percentage of their runs go for first downs or touchdowns than Edwards (31%). Hill, meanwhile, had just 58 rushing attempts in 2019, but it was only a year ago that the Ravens spent a fourth-round pick on the Oklahoma State product.
The verdict: There is no true starter with Ingram and Dobbins splitting the majority of the work
In an online interview this offseason, Ravens offensive coordinator Greg Roman said, "And the fact that we have a lot of guys in our running back stable, if you will, just makes me excited to no end. I don't think you can have enough really good running backs, and we certainly have a plethora of them. I'm really excited to see J.K., and I love the guys we already have — Mark, Gus and Justice. We'll find ways to make it work, for sure."
That doesn't sound like someone who dreads the decision to make one of them the lead back. Both the PFF fantasy projections and consensus rankings have Ingram as a favorite to lead the group, but I expect things will shake out pretty evenly between him and Dobbins.
---
Despite San Francisco handing out sizable contracts to Tevin Coleman and Jerick McKinnon, it was Mostert who figured to lead the 49ers' backfield this season. At least, until the lack of a sizable contract led him to publicly request a trade.
The display he put up in the postseason, forcing 17 missed tackles on 53 carries and averaging over 4 yards after contact per attempt, certainly helps his claim for a better deal. For his career, Mostert averages over 6 yards per carry. The problem is that there just isn't a big sample size to work from — he has only 231 carries over his five-year NFL career (190 of which came in 2019). He has played more special team snaps than offensive snaps over the past five years, and now, his 2020 season looks to be in flux.
That opens the door for Coleman to see an increased role. He dealt with some injuries last season — his first with San Francisco — but he still tied Mostert for the team lead in carries (137) over the course of the regular season. However, his role diminished as the campaign progressed. Coleman has been an effective outlet in the passing game at times during his career — namely, his 2016 season with the Atlanta Falcons. From 2016 to 2018, he was targeted 35 or more times each season and generated a passer rating above 115.0 on those targets. That wasn't exactly the case with the 49ers last season. He had just a 63.0 receiving grade and generated an 88.4 passer rating on his 28 targets. As a runner, however, his 71.3 grade was the highest of his career.
McKinnon is the wild card of the group. The carries were split evenly between Mostert, Coleman and the now-departed Matt Breida in 2019, but that doesn't necessarily mean McKinnon will fill Breida's role. The 49ers signed McKinnon prior to the 2018 season, but an ACL injury and ensuing complications have kept the former Minnesota Viking from playing a single regular-season snap with San Francisco. In 2017, the last time he saw action, his 79.6 PFF grade ranked sixth at the running back position and he stood out as one of the better receiving backs in the league.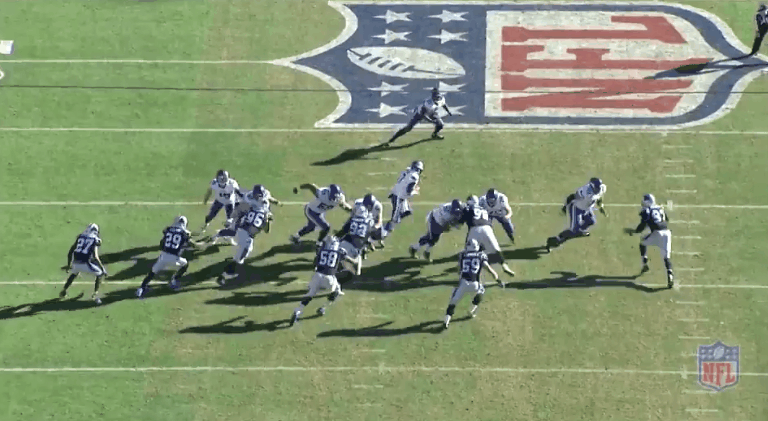 Mostert's looming absence turns a speculative opportunity at a significant role into a likely one. It will all come down to McKinnon's health, but the talent is there for him to make an impact.
The verdict: If still on the team, Mostert is the lead back. Coleman is next in line if Mostert is traded, but McKinnon will push him for snaps
The shift in workload toward Mostert at the end of the 2019 season and throughout the postseason should continue in 2020 if the sides work out their disagreements and he remains on the team. By PFF grade and numbers such as yards after contact and missed tackles forced, he was one of the better runners in the NFL last season. PFF's fantasy projections like him as one of the more undervalued running backs across the NFL. Obviously, that all goes out the window if he gets moved.
In that scenario, Coleman makes sense to fill in as the lead back for Mostert early, but I do think McKinnon plays a role in this backfield. The 49ers have kept him around despite his injuries offering them every reason to part ways, and the last time McKinnon was on the field in 2017, he was legitimately good. Mostert's situation will be one to monitor leading up to the 2020 season.
---
Ronald Jones' NFL career got off to a slow start after Tampa Bay selected him in the second round of the 2018 NFL Draft. Part of that was due to hamstring injuries, but it was also because Jones just wasn't all that good on the opportunities he had, particularly as a receiver. In the 2018 preseason, Jones dropped two of his three targets. He then proceeded to drop two of his nine regular-season targets. A mere 44 rushing yards on 23 carries didn't help his outlook, either. Jones did improve some as a runner last season (69.9 rushing grade compared to 52.4 as a rookie), but he still didn't look like the well-rounded lead back who the Buccaneers were hoping for when they used a second-round draft pick on him.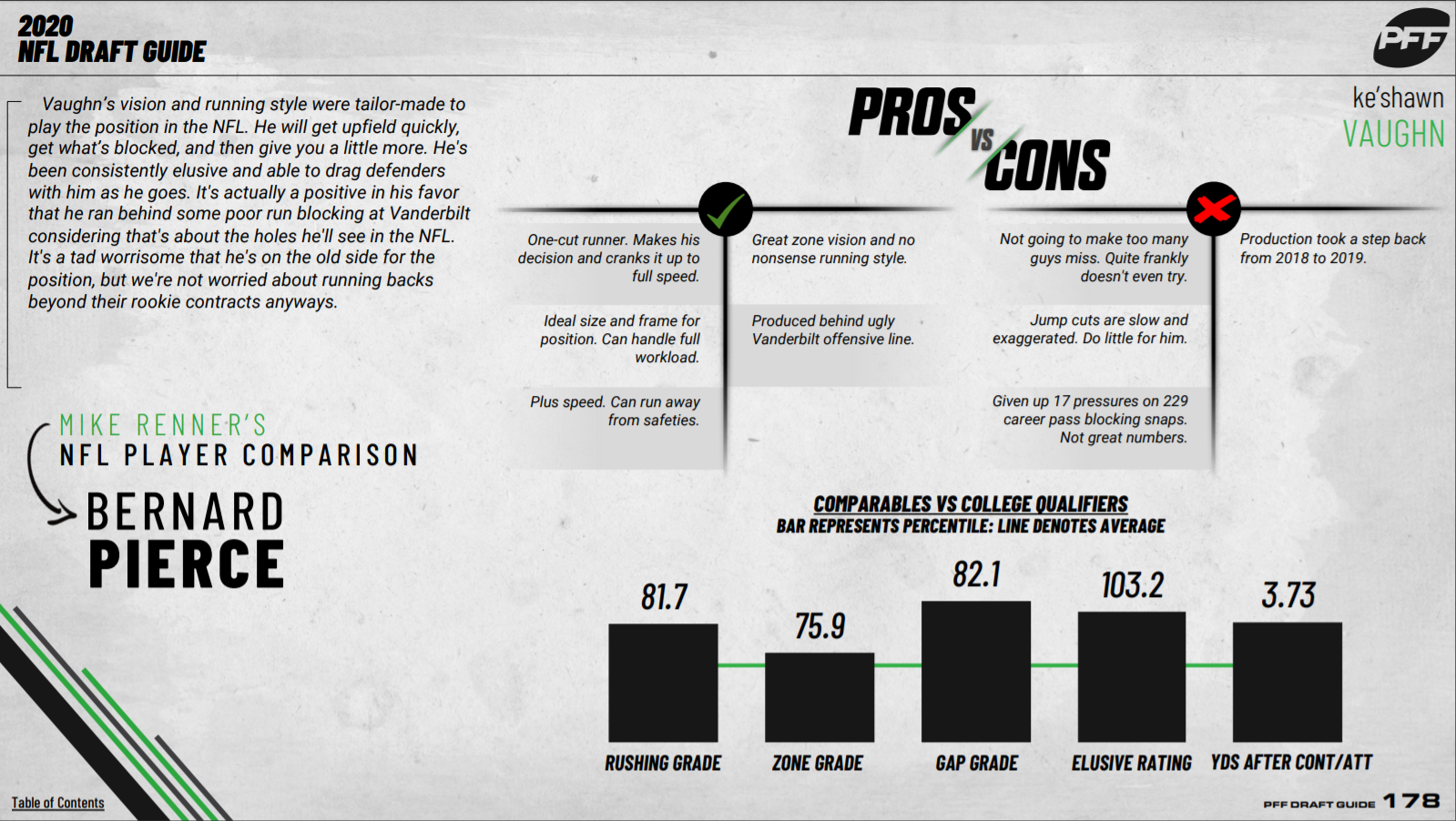 That led to the Buccaneers spending a relatively high draft pick on Ke'Shawn Vaughn in the 2020 NFL Draft. Vaughn's bottom line in the PFF Draft Guide reads, "Vaughn is a one-cut runner whose game was made to run in a zone scheme in the NFL. He may not 'wow' like the top of the class, but he can do a good impersonation for far less draft capital." He has what you're looking for in a running back from a size and speed perspective. He doesn't try all that hard to make defenders miss, but that didn't stop him from racking up yards after contact and broken tackles over the past two years at Vanderbilt.
The verdict: Vaughn sees more playing time in 2020 than Jones
This is one of the tighter starting running back competitions across the league. The PFF fantasy projections currently have Vaughn slotted for 162 carries and Jones for 155. Of the four PFF fantasy analysts who contributed to our consensus rankings, two have Vaughn higher and two have Jones higher.
Jones is the incumbent, and the expectation is that he'll be RB1 on the depth chart to open the season. The fact that the Buccaneers took Vaughn in the third round shows they're not super confident in Jones shouldering the load next season, though. Given what we've seen from Jones over the past two seasons, I think there's a good chance that Vaughn plays himself into a larger role. His projection as the better receiver of the two should certainly play well with Tom Brady.
---
It's easy to overlook Jordan Howard. He's certainly not flashy. He doesn't strike anyone as elusive, and he doesn't do much to speak of in the passing game. However, since being drafted in 2016, he ranks third in the NFL in rushing yards behind Ezekiel Elliott and Todd Gurley II. If you're looking for a workhorse running back who is going to get what is blocked for him, then Howard is your guy. Last season with the Philadelphia Eagles was by far the lowest volume season of Howard's career thanks to a stinger that sidelined him for several weeks, but he averaged a respectable 4.4 yards per carry on 119 attempts and nearly 3 yards after contact per attempt.
Breida, on the other hand, does most of his damage before contact. Here are the single-season leaders in yards before contact over the past three years among running backs with at least 100 attempts.
Single-season leaders in yards before contact; Among RBs since 2017 with 100-plus attempts
| | | |
| --- | --- | --- |
| Player | Year | Yards Before Contact Avg. |
| 1. Phillip Lindsay | 2018 | 3.1 |
| 2. Aaron Jones | 2018 | 2.5 |
| 3. Matt Breida | 2018 | 2.5 |
| 4. Matt Breida | 2019 | 2.4 |
| 5. Matt Breida | 2017 | 2.3 |
Part of that can be attributed to San Francisco's strong run-blocking unit, but Breida's speed and penchant for the big play also play a role. If Howard is the thunder, Breida is the lightning. One area where he hasn't seen extensive usage is as a receiver, but a 90.1 receiving grade in 2018 indicates he could be effective in the passing game for the Dolphins.
The verdict: Howard and Breida enjoy an even split in the backfield
This is another backfield that is tough to separate. Howard and Breida are within 0.5 points of each other in the 2020 PFF fantasy projections, and they're within eight spots of each other in our consensus PPR rankings heading into next season.
I tend to agree with the notion that neither player will take firm control of the backfield. The two should split opportunities next season (with a slight edge to Howard in the run game and an edge to Breida in the pass game). Breida has played hurt plenty over the past several seasons, so if he manages to stay healthy next year, he could begin to command more work late in the season.
---
Taylor was listed in the 2020 PFF Draft Guide as the best between-the-tackles runner in the class, and he landed in an ideal spot — running behind the best offensive line in the NFL heading into the 2020 NFL season. His combination of size, speed and vision behind that line should quickly lead to him becoming one of the most effective pure runners in the NFL. The biggest question with Taylor coming out of Wisconsin is how much he can contribute in the passing game. He dropped eight passes on 50 catchable passes in his collegiate career and didn't display much of a route tree out of the backfield prior to this past season.
Taylor will be looking to take things over from Marlon Mack who, like Taylor, qualifies as more of a runner than a receiver. Over the past three seasons, Mack's 81.8 rushing grade ranks 15th among 54 qualifying running backs, but his 35.0 receiving grade ranks dead last. It's a clear weakness in his game and the reason for Hines' inclusion in this conversation.
Hines' role on the team is built around his ability as a receiver. He wasn't quite as effective last season (44 catches and a 63.8 receiving grade) as he was during his rookie season in 2018 (63 receptions and a 75.2 receiving grade), but he still profiles as the best option for Philip Rivers out of the backfield as a receiver — a quarterback who has utilized receiving backs, such as Darren Sproles, Danny Woodhead and Austin Ekeler, throughout his career.
Most receptions by running backs lined up as receivers since 2018
| | |
| --- | --- |
| Player | Receptions |
| 1. Tarik Cohen | 62 |
| 2. Christian McCaffrey | 41 |
| 3. Nyheim Hines | 39 |
| 4. Austin Ekeler | 34 |
| 4. Alvin Kamara | 34 |
| 4. James White | 34 |
One interesting wrinkle with the competition for snaps at running back in Indianapolis is that Hines can line up either in the slot or out wide with Taylor or Mack in the backfield. Since 2018, only Tarik Cohen and Christian McCaffrey have more receptions when lined up at receiver.
The verdict: Taylor is the primary running back
Colts offensive coordinator Nick Sirianni referred to the Mack-Taylor duo as a "one-one punch" following the 2020 NFL Draft, but it's hard to imagine Taylor not earning a lion's share of the work. He's the more talented runner — one who has shown he can shoulder a heavy load — and his biggest weakness (receiving ability) is still likely an upgrade over what Mack brings to the table. That's not to say Mack won't get any work, but I expect the rushing output to be closer to a 2-to-1 split than the 1-to-1 split implied by Sirianni. Hines should remain the primary receiving target at the running back position for Indianapolis.