It's a new world in Tampa Bay, and the addition of quarterback Tom Brady gives the Buccaneers hope for a Super Bowl run in 2020. The roster has a plethora of playmakers on offense, and we saw their recent investment in the secondary start to pay off last year. If the Bucs continue that defensive progression, they will be a dangerous team this season. Of course, the biggest question is lies with the marriage of Brady with head coach Bruce Arians, as the future Hall of Fame quarterback must learn a new system and get familiar with his group of receivers. The pieces are in place to make a run, and this one will come down to the performance of Brady and the secondary.
Subscribe to PFF's EDGE or ELITE subscriptions to get access to the following tools, charts, etc. 
– All Premium Article Content
– Fantasy Football Rankings & Projections
– Fantasy Football Draft Guide, Cheat Sheets & Advanced Stats
– Fantasy Football Mock Draft Tool (DraftMaster)
– Fantasy Football Strength of Schedule Matrix
– NFL Player Grades
– NFL Premium Stats
ADDITIONS/SUBTRACTIONS
QB Tom Brady (signed for two years, $50 million)
EDGE Shaquil Barrett (franchise tag)
EDGE Jason Pierre-Paul (re-signed for two years, $27 million)
iOL Joe Haeg (signed for one year, $2.3 million)
LB Kevin Minter (signed)
Losses:
EDGE Carl Nassib
DI Beau Allen
QUARTERBACK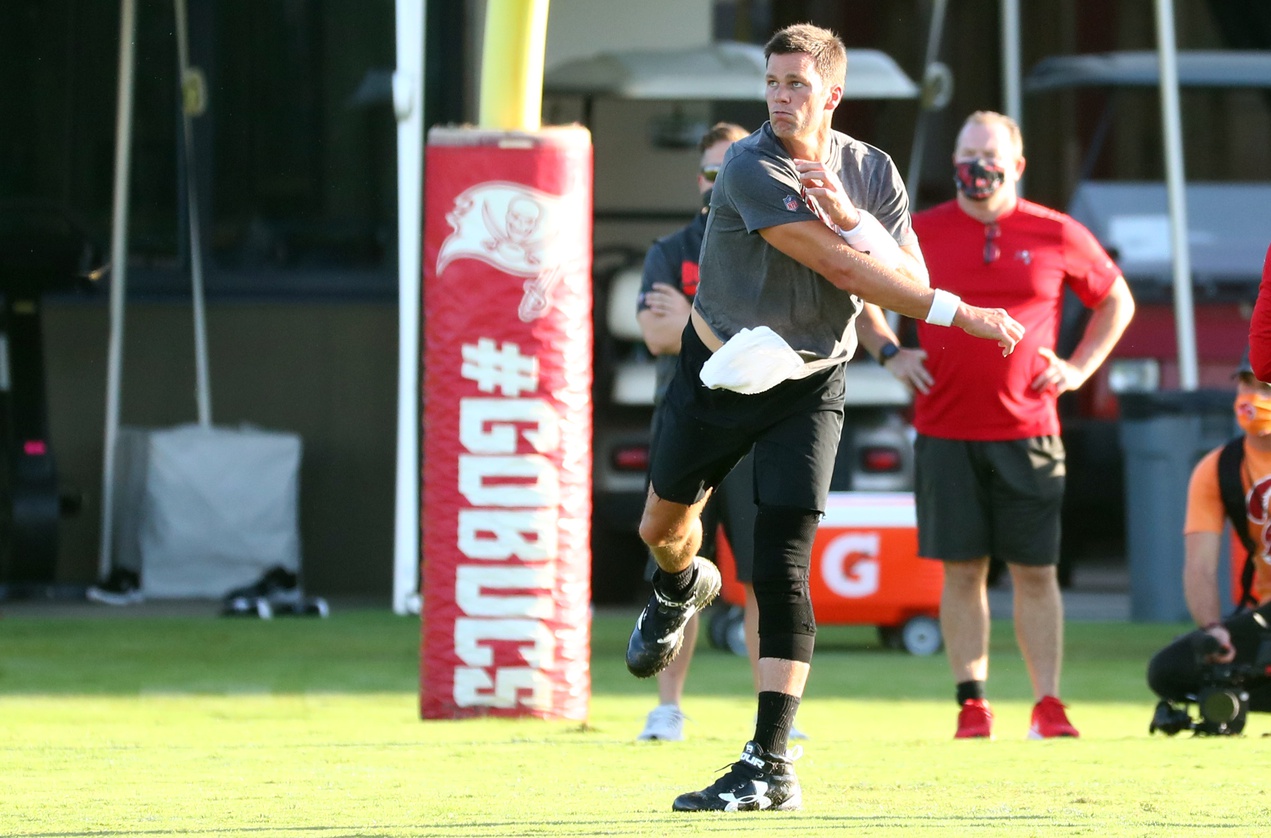 Here's what I said about Tom Brady after the 2019 season:
After playing perhaps the best football of his career from 2014-17, Brady took a slight step back in performance in 2018 and yet another step back in 2019. This season coincided with his worst group of playmakers in years, and the result was an uncharacteristically mediocre statistical performance for Brady. Heading into his age 43 season, Brady is less likely to be able to carry an offense as he has in the past, as we've seen an uptick in his negatively graded throws and turnover-worthy plays over the past two years. Last season, we saw a downtick in Brady's play under pressure and his outside-of-structure plays, but he is still capable of moving the chains with his signature good decision-making and accuracy — it's just a matter of creating more opportunities with a versatile group of playmakers.
There's no denying that Brady didn't look like himself last season, but when combined with a poor group of playmakers, the results were ugly. That's what makes this year so fascinating, as Brady is equipped with one of the NFL's best groups of receivers and tight ends. The challenge will be learning a new offensive system for the first time in 20 years. Brady's ability to mesh with head coach Bruce Arians is crucial, and if it's a quick learning curve, the production should be there. Brady has taken a step back in key metrics over the past two years, but even at age 43, he's still one of the league's most accurate passers and can be counted on to make good decisions while limiting turnovers.
RUNNING BACK
Ronald Jones took a step forward last year after a rough rookie season, ending the year with a 67.6 overall grade. Jones showed more of his college elusiveness than he had in years past, as he forced 0.20 missed tackles per attempt — 10th-best out of 47 qualifiers — though he fumbled three times on only 172 attempts.
Jones graded at only 59.8 as a receiver, though, so that put the Bucs in the market for a pass-catching back this offseason. They drafted Ke' Shawn Vaughn out of Vanderbilt in the third round, and he may be a solid option in that department after forcing 15 missed tackles on 66 career receptions. Vaughn gained an impressive 4.4 yards after contact per rush over his last two years in college while forcing 0.27 missed tackles per attempt. His receiving ability could give him the upper hand for early snaps if he takes to the offensive system.
The other player to watch is seventh-rounder Raymond Calais, an undersized breakaway threat with 4.42 speed. Calais averaged 7.9 yards per rush on his 232 career college carries, so the Bucs would love to get his athleticism on the field.
The Bucs have added LeSean McCoy, and given the question marks in the passing game, he could be the early favorite to see the field. McCoy was once one of the most dynamic ball carriers in the league, but he's posted grades in the 60.0s in limited time over the past two years. He can still contribute, but he won't be the big-play threat he once was. 
Dare Ogunbowale also returns after posting a 60.3 grade across 362 snaps last season. The Bucs need pass-game production from the rookies and another step in the right direction from Jones to rank in the top half of the league's running back units.
WIDE RECEIVER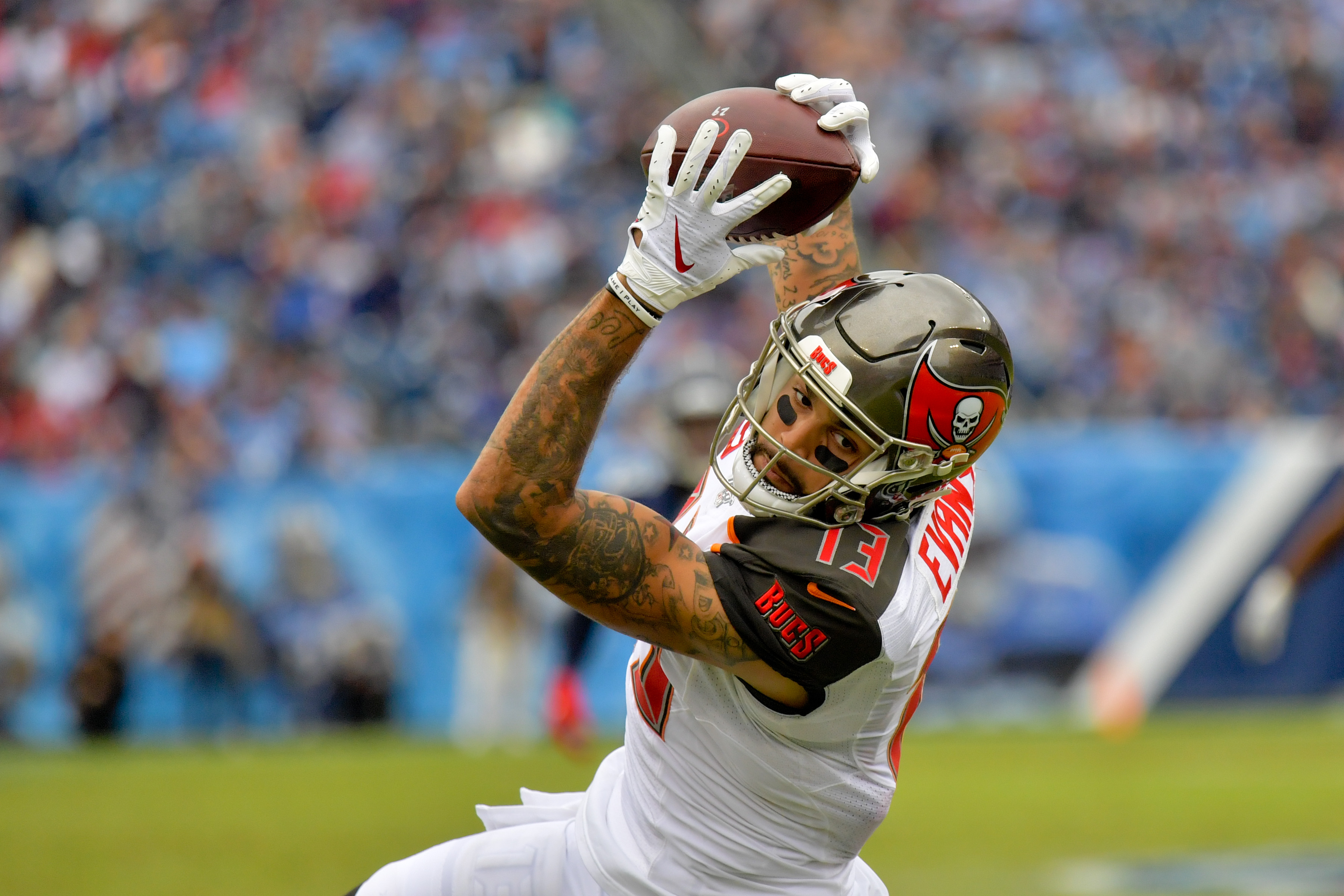 Last year saw the emergence of Chris Godwin, who posted the second-highest receiving grade in the league (90.4). Godwin wins at every level of the field, but he did the most damage at the intermediate (10-19 yards) range, ranking third in the league with 619 yards. He also ranked eighth with 6.7 yards after the catch per reception while ranking second in the league with 838 yards from the slot. Though Godwin is bigger than quarterback Tom Brady's traditional slot targets, they look like a good pairing for what Brady likes to do offensively.
On the other side, Mike Evans continued his strong play, finishing the 2019 season with the eighth-best receiving grade (85.2). He ranked eighth with 407 yards on deep (20-plus yards) passes while averaging over 17.0 yards per reception for the second straight year. Evans has graded at 84.0-plus as a receiver in all but one of his six NFL seasons, and he earned the No. 45 spot in the PFF 50 heading into 2020. Godwin and Evans match up with any other receiving duo in the league, but the big question is the No. 3 spot, where Breshad Perriman had a breakout season a year ago with 645 yards on 17.9 yards per reception. Perriman has moved on to the New York Jets via free agency, leaving a wide-open competition.
Scotty Miller, a 2019 sixth-rounder, will compete for snaps after gaining 200 yards as a rookie, while 2020 fifth-rounder Tyler Johnson looks like one of the steals of the draft and could compete right away. Johnson had the highest receiving grade in college football over the past two years. Also in the mix is 2018 fifth-round pick Justin Watson, who has 16 career catches. While Godwin and Evans will put the Bucs in a good position to rank among the league's best receiving groups, this unit must find a strong No. 3 option to maximize its potential.
TIGHT END
The Bucs already had one of the NFL's best one-two punches at the tight end position in O.J. Howard and Cameron Brate, but adding WWE superstar Rob Gronkowski just makes the team even more dangerous.
While Gronkowski sat out the 2019 season and wasn't even the same dominant player when he did play in 2018, his nine-year career was, perhaps, the best stretch of tight end play in NFL history. He has six seasons with 90.0-plus receiving grades and is an excellent blocker. Even if he's not the same Hall of Fame-caliber talent, just having his familiarity with quarterback Tom Brady is a huge win for the Bucs.
Howard has had a roller-coaster start to his career, grading at 61.4 as a rookie, 89.1 in his second year and 54.7 last season. He has the size, speed and long frame to win up the seam, and even with the ups and downs, Howard is still averaging an impressive 15.5 yards per reception over his career.
Meanwhile, Brate has seen his production decrease after two strong years in 2016 and 2017, but he's a solid backup receiving option, especially if Gronkowski and Howard return to form. The potential is through the roof for this tight end corps, but it will all depend on Gronkowski's condition and Howard looking like his 2018 self.
OFFENSIVE LINE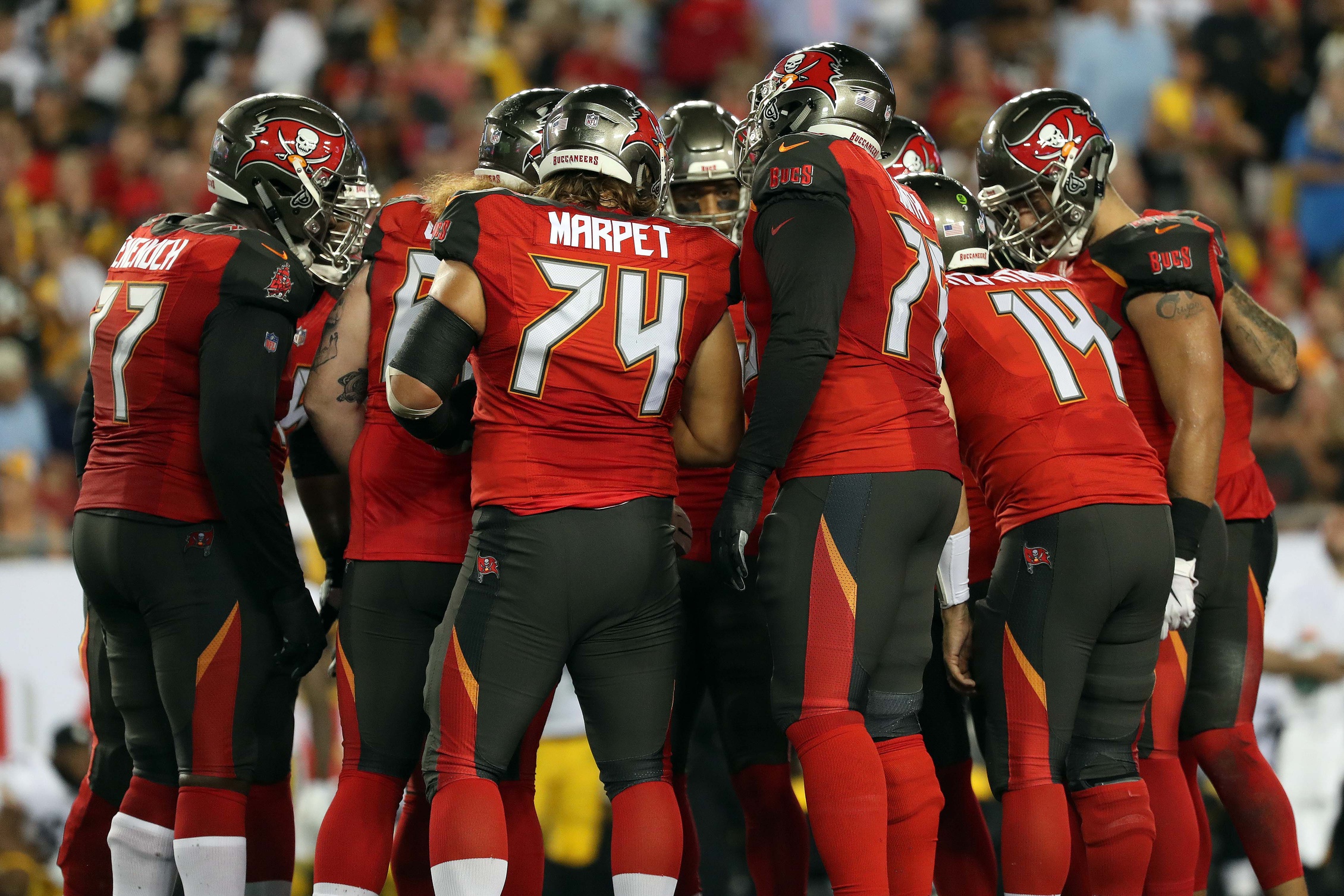 Tampa Bay improved up front last season, finishing seventh in our regular season rankings. Left tackle Donovan Smith has improved his grade in all five years of his career, peaking last year at 70.8 overall, good for 32nd among tackles. Most importantly, Smith allowed a career-low 34 pressures after giving up between 42 and 57 in each of his previous four seasons.
At right tackle, Demar Dotson departs after a stellar 10-year Bucs career during which he was one of the most underrated players in the league. Enter first-round pick Tristan Wirfs, the No. 2 tackle on the PFF draft board. Wirfs finished with the No. 3 grade among draft-class tackles last season at 92.3, allowing just seven pressures on 461 attempts while adding a powerful presence to the run game. Wirfs looks like an excellent long-term option at right tackle, though there are always question marks with how quickly rookies will acclimate to the NFL game.
On the inside, left guard Ali Marpet has been incredibly consistent in his five years in the league, posting the 14th-best grade during that time at 80.7 overall. Right guard Alex Cappa is hoping to follow a similar small-school trajectory, though his 62.7 overall grade ranked 42nd among guards in his first season as a starter. Center Ryan Jensen bounced back with a 79.3 overall grade that ranked third among centers last season. He's had two strong years sandwiched around a 55.7 grade in 2018. The interior trio has the potential to be one of the league's best, especially if Cappa takes a step forward in his third year in the league.
Overall, if Smith continues his development and Wirfs handles the transition to the NFL, the line has a chance to crack the top 10 once again, especially if Tom Brady is able to protect them with his quick release and decision-making.
DEFENSIVE LINE
The Buccaneers' defense as a whole is in on the rise, and the same should be true for the defensive line.
Vita Vea took a step forward in his second year, improving his PFF grade while playing significantly more snaps and more than doubling his pressure total from his rookie year. With another step, Vea could become one of the most disruptive interior linemen in the game. He'll have Ndamukong Suh playing alongside him this year again, and while Suh is coming off his worst PFF grade (69.6) since 2011, he still posted 39 pressures and graded well against the run. Suh's days as a dominant force may be gone, but he is still a very solid contributor.
Shaquil Barrett and Jason Pierre-Paul both return as the team's primary pass-rushers. Barrett isn't as good as the 20-sack season would suggest, but he has constantly been very good pass-rusher for his entire career and, more importantly, posted 82 total pressures. JPP — like Suh — may be in decline but will still bring a valuable presence against the run and chip in with pressure. He has topped 40 pressures for six straight seasons. William Gholston was solid last season but unspectacular, earning grades in the 60.0s across the board, while the departure of Carl Nassib opens up some snaps to be claimed. Second-year player Anthony Nelson graded extremely well against the run in limited snaps as a rookie and could be in line for an expanded role as the only option to have any significant snaps last season.
LINEBACKER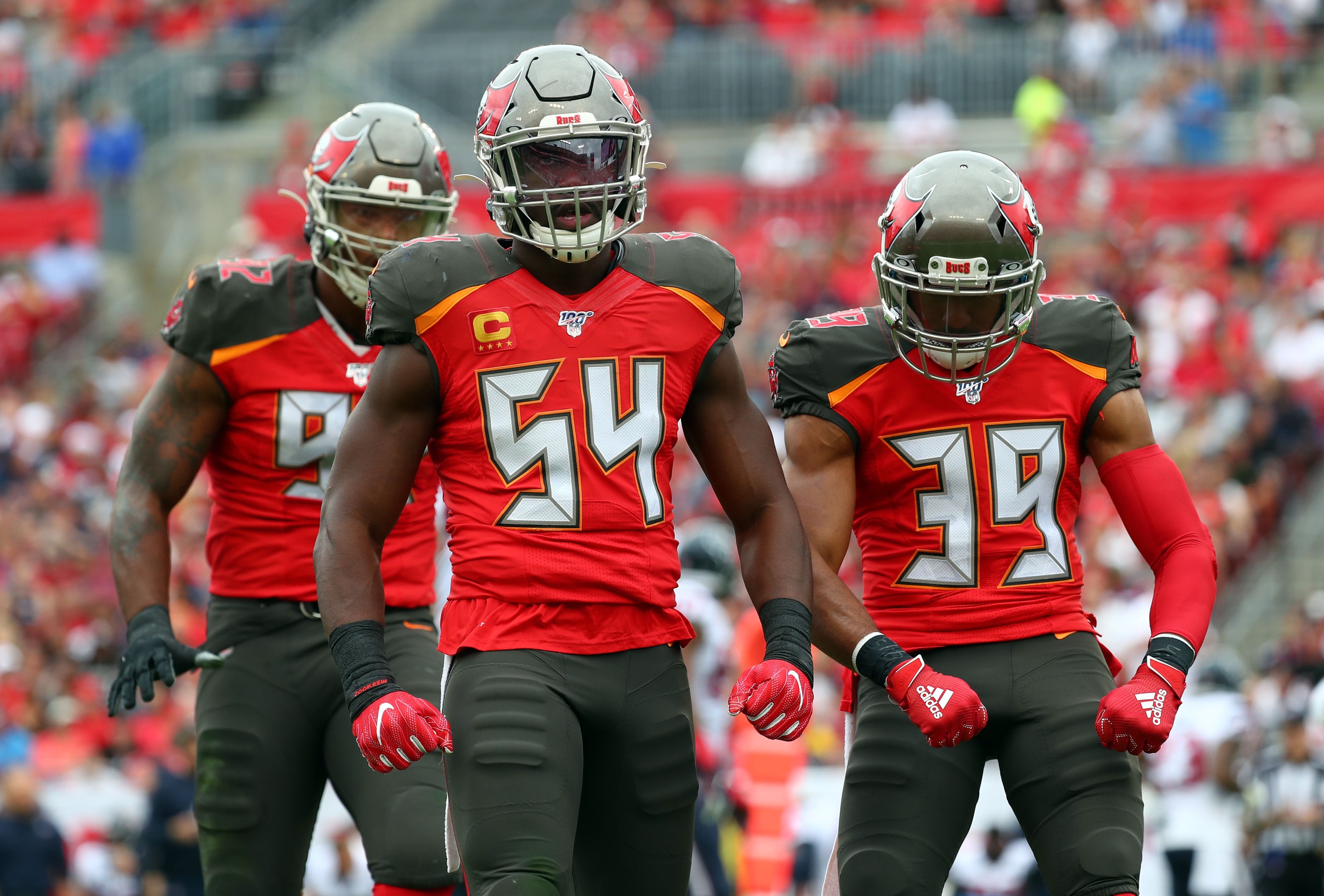 Only Luke Kuechly and Bobby Wagner have graded better than Lavonte David's 91.0 overall mark over the past three years, and that trio features the only linebackers to grade in the top 10 in both coverage and run defense over that span. David has been one of the few consistent pieces in the Buccaneers' defense since entering the league in 2012 and is capable of making plays all over the field.
The Buccaneers are hoping they found his clone in Devin White, a 2019 first-rounder who got off to a slow start with a 50.6 overall grade last season. An explosive athlete with 4.42 speed, White was an effective blitzer at LSU. Now, it's just a matter of Tampa Bay harnessing that athleticism within its defensive scheme. White missed 13.0% of his tackle attempts last season, ranking 56th out of 88 qualifiers.
Jack Cichy is the most intriguing backup in the group, but he's played just seven snaps in two years after seeing 725 snaps from 2015 to 2017. When on the field, Cichy is effective, but injuries have destroyed his career to this point. Kendell Beckwith also returns after missing each of the past two seasons. Beckwith graded at 53.0 on 847 snaps as a rookie in 2017. The Bucs' linebacker unit ranking depends on White's development — if he takes the next step, Tampa Bay features one of the most athletic, effective duos in the league.
SECONDARY
Tampa Bay's secondary will be incredibly fun to watch in 2020, given how they left the 2019 campaign. The young players in that secondary were on a tear by the end of the year, with Jamel Dean and Carlton Davis combining for 18 pass breakups over the final eight weeks of the season.
Davis, Dean and Sean Murphy-Bunting were all drafted in the first three rounds over the past two seasons. And of all the members of this secondary who are expected to see a significant workload, there isn't a single one who has been in the league longer than three years.
M.J. Stewart has yet to show much in two seasons in the league and was something of a tweener when he came into the NFL, but he will have a chance to prove he can still contribute. While at safety, Mike Edwards played 307 snaps for the team last year and was solid across the board. Meanwhile, Justin Evans missed the entire season after two solid years starting to open his career. Both players will have to fend off rookie Antoine Winfield Jr., one of the most intriguing playmakers in the draft. Much like his father, Winfield can be a game-changer from the secondary and will likely feature early for a team whose secondary is already stuffed with youth.
This group is one of the most fully dedicated commitment-to-youth movements the league has seen in recent years, and for that reason alone, it will be one of the most fascinating groups in the league to watch.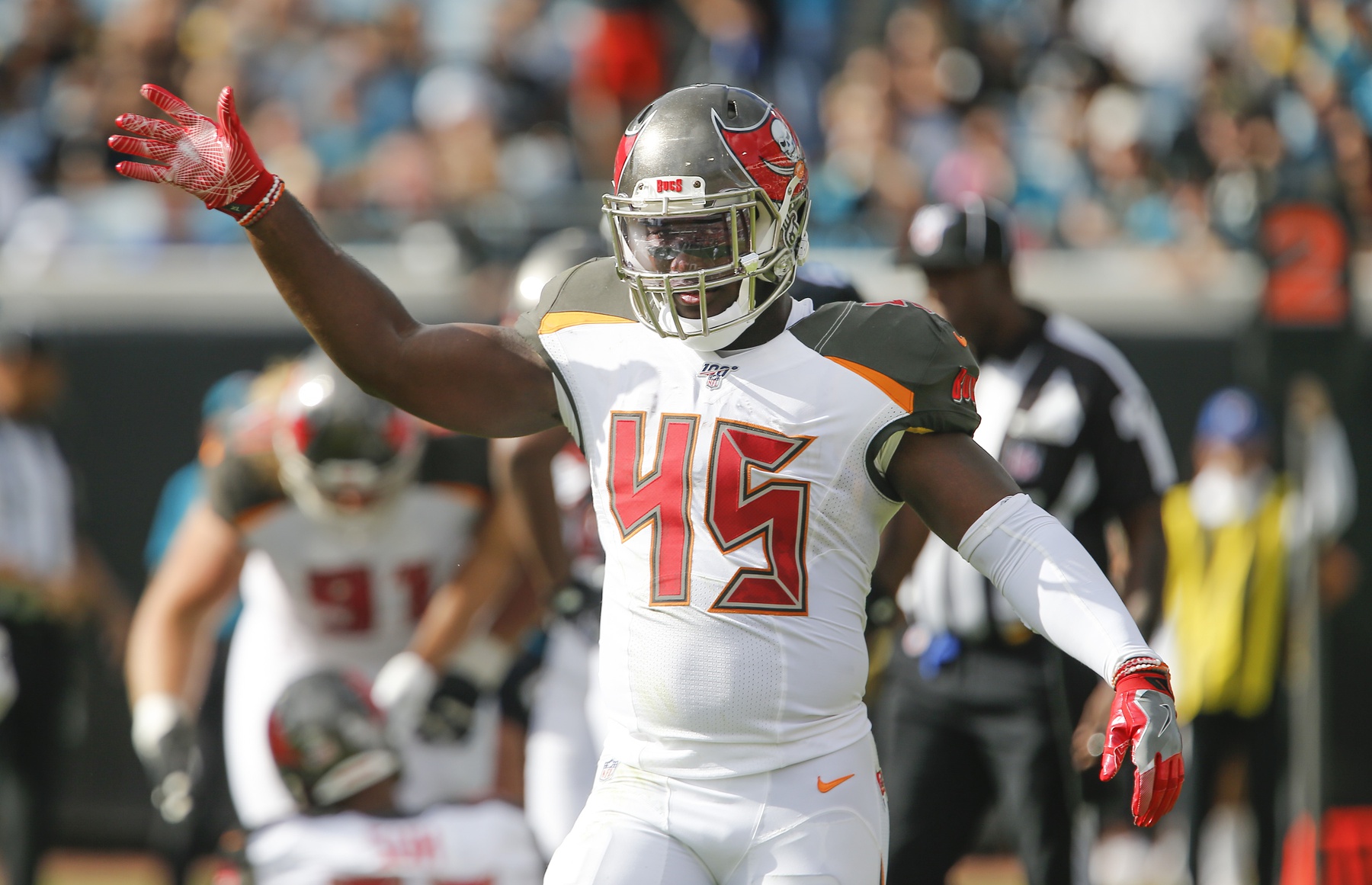 White's rookie year ranked him on the lower end of NFL linebackers, but he was a late bloomer at LSU and may have a similar transition in the NFL. He flies to the football, but tackling was an issue and his athleticism was mitigated by being out of position too often. He can improve in those areas in a hurry, though, and the Bucs need that to solidify their back seven. If White plays up to his potential, the Bucs have one of the best linebacking duos in the league, which would, in turn, cause major problems for opposing offenses.
DRAFT CLASS REVIEW
Drafting for need is risky business, but the Bucs are in a unique spot with Brady in the mix for two years. However, their needs meshed with the draft board well, and they got two likely starters in tackle Tristan Wirfs and safety Antoine Winfield Jr. They should get something out of at least one of the two running backs, Ke'Shawn Vaughn and Raymond Calais, while fifth-round wideout Tyler Johnson should compete for targets right away after posting back-to-back 90.0-plus receiving grades at Minnesota. The Bucs matched need and value extremely well in this draft.
BEST BET
The Buccaneers have seen the biggest positive increase in betting markets with the addition of Tom Brady this offseason. Unfortunately, this line movement makes them nearly unplayable at the given price. Using our market-implied probability, it appears there is significant disagreement between the futures market and game lines in the Bucs' first few matchups. If a wager on Tampa Bay is needed, then the Week 1 line against the Saints is an enticing play that should reflect how well the team performs in 2020.