The 2020 NFL Draft has come and gone, and as always, we saw a lot of reaches. But most importantly, we saw a lot of steals. Using PFF's advanced database, Big Board and 1,200-plus page Draft Guide, let's dive into which teams got the best bang for their buck and list out the biggest steals we saw occur throughout the 2020 NFL Draft:
[Editor's Note: PFF's instant analysis on EVERY pick of the 2020 NFL Draft can be found here. You can also find all of our pre-draft and up-to-the-minute analysis categorized and readily available here. Get your copy of the PFF 2020 NFL Draft Guide today by clicking here.]
You might be asking yourself, "How could the first overall pick be considered a draft steal?"
But when the first overall pick is the best prospect we have ever seen in the PFF College era, it fits the bill. We all know it at this point, but the season Joe Burrow had in 2019 shattered PFF records. His 95.0 PFF overall grade was the best we have ever seen by a quarterback, and he did it playing in the SEC and against some of the best defenses in the country. He does everything you want from a quarterback prospect at an elite level — he's the greatest thing to happen to the city of Cincinnati since Skyline Chili.
Not only was Jeudy the fifth-best prospect in this draft, but he was the second-best wide receiver prospect we have ever seen since Amari Cooper at Alabama. And the Broncos somehow managed to get him at the 15th overall pick. He's a separation-getter and a threat to house it anytime he gets the ball in his hands. Jeudy produced 53 explosive plays in which he had a step of separation over the past two years — eight more than any other wide receiver. With Jeudy, Courtland Sutton and K.J. Hamler who Denver grabbed in Round 2, Drew Lock has all the weapons he needs.
Jerry Jeudy just moves at a different speed than everyone else, man. pic.twitter.com/JbylzdzNC0

— Austin Gayle (@PFF_AustinGayle) September 15, 2019
Getting CeeDee Lamb at the 17th overall pick didn't even seem like a realistic option for the Cowboys prior to the draft. While Jeudy was the second-best wide receiver prospect we have ever evaluated, Lamb wasn't too far behind him. He's a refined route-runner and has fantastic ball skills, but his after-the-catch ability is just phenomenal. Lamb broke an unreal 26 tackles on 62 catches and averaged 11 yards after the catch per reception in 2019. Jerry Jones was already a winner entering Round 1 by making his picks from his yacht — having Lamb gifted to them at pick No. 17 was just the cherry on top.
Pittman not going in the first round as he should have and being available at pick No. 34 was a dream scenario for the Colts. In PFF Lead Draft Analyst Mike Renner's perfect team-prospect pairings article prior to the draft, Pittman to the Colts was among them. At 6-foot-4, Pittman has an enormous catch radius and owns great ball skills — he dropped only 2.8% of the catchable targets thrown his way in college. He's a great possession receiver and is going to be a great complement to Philip Rivers and T.Y. Hilton.
When you heard the word "versatile" all throughout this draft process, Isaiah Simmons was the first name to come to mind. But another should have, too: Xavier McKinney. There have been only five safeties to play over 450 snaps in the box, slot and at free safety over the past two years, and only one of those five produced 70.0-plus grades at all three of those alignments — Xavier McKinney. Whether he was playing in coverage, rushing the passer or trying to stop the run, McKinney performed at a high level and produced grades above 79.0 in all facets in each of the last two years.
We knew Shenault was going to slide in the draft because of his injury history, but he sure as heck shouldn't have slid this far. He's electric with the ball in hands and looks more like a running back than a wide receiver with his after-the-catch ability and the way he sheds tackles (44 broken tackles after the catch since 2018, tied for the most in college football). Mike Renner actually comped him to Saquon Barkley in the PFF Draft Guide. The Jags got great value here for PFF's WR4.
if Laviska Shenault falls to the end of Round 2 I will riot pic.twitter.com/PRdUJqolRs

— Anthony Treash (@PFF_Anthony) April 10, 2020
Yes, Delpit's tackling is cringey at times, but I could watch this guy make plays in coverage all day long — it's NFL-ready in every regard. He was a playmaker in coverage for LSU with his short-area quickness and massive wingspan, racking up 27 interceptions and forced incompletions over the past three seasons, which tied for the most in college football.
What a home run for the Chicago Bears. They desperately needed a cornerback opposite of Kyle Fuller on their defense after cutting Prince Amukamara for cap space, and they got one of the most instinctive cornerbacks in this draft class. Along with his instincts, Jaylon Johnson is a physical player and has tremendous ball-tracking ability. Mix all those together, and you get yourself a playmaker. On targets of 10 or more yards downfield the past two seasons, Johnson allowed just 14 catches on 58 targets with 16 plays made on the ball. And on those 58 targets, Johnson forced tight coverage on 48 — forming the second-highest rate in college football. They Bears didn't have a first-round pick due to the Khalil Mack trade, but they got a first-round talent at 50th overall, that's for sure.
"Jaylon Johnson joined @PFF_AustinGayle to break down some of his best plays at Utah" pic.twitter.com/wR2iBYn4Ol

— PFF (@PFF) April 9, 2020
Epenesa isn't a freak athlete and has no burst off the line, but he does have incredible hands, power and technique that he used at Iowa to rack up 138 pressures since 2017 (sixth most). Not to mention, he's versatile and can play at any alignment. Epenesa was a first-round talent in this class.
Not considering the off-the-field issues, Kristian Fulton's plummet in the 2020 NFL Draft is a head-scratcher given his flat-out dominant performance at LSU over the past two years. He's been one of college football's stickiest cornerbacks. Over the past two years, Fulton forced tight coverage on 65.5% of his targets (fifth) and a contested target on 34.5% (third), which are incredibly impressive rates for a guy playing in the SEC. On the 38 contested targets he forced, Fulton allowed only nine to be caught with 25 forced incompletions.
Again, not considering the off-the-field issues, the Chiefs got incredible value here with Willie Gay Jr. and his elite coverage ability. Various suspensions have limited him to only 294 coverage snaps in his career, but he was lethal on those reps. Gay earned a 93.9 coverage grade, made seven plays on the ball and was responsible for only seven first downs allowed over his career. Oh, and let's not forget he's a freak of nature athletically.
Although he suffered a season-ending injury in Week 11 this past year, there's no reason Okwara should have been available in the third round. With his explosiveness off the line, overall athleticism and long arms, Okwara was a first-round talent in this draft. Prior to getting hurt, Okwara was having one of the top seasons in college football at his position by owning an elite 90.4 pass-rush grade.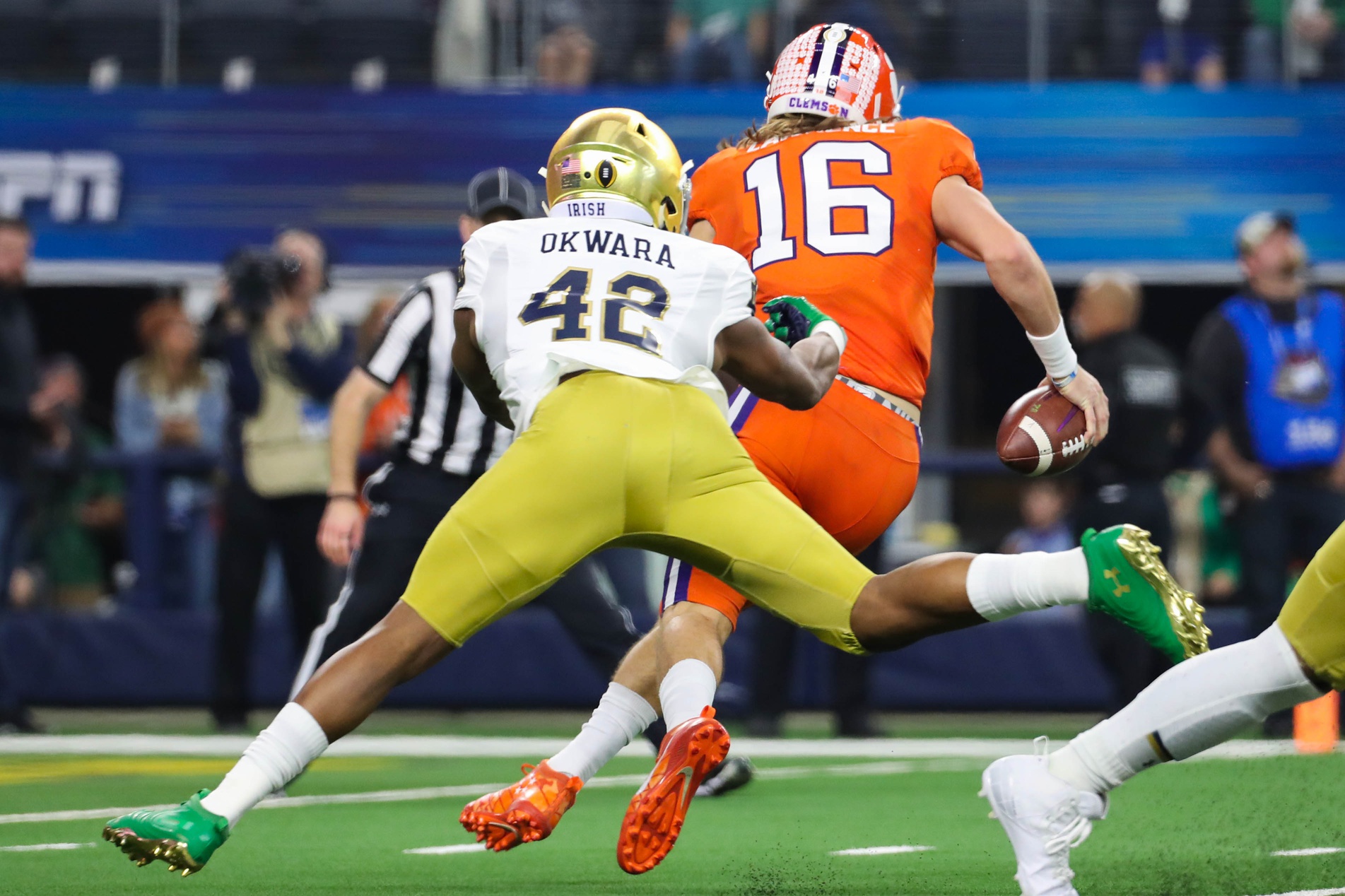 We had Josh Jones more than 30 spots higher on our Big Board than 11th overall pick Mekhi Becton if that gives you any indication of how big of a steal this is. Jones had the best season we have ever seen from a Group-of-5 tackle in 2019 by recording a 93.4 overall grade. He allowed only two hurries and not a single hit or sack on his 325 pass-block snaps. And he did this with poor technique — he was basically walking backward out of his stance. That level of dominance with that technique says a lot about what he can become.
No one in this draft class has better pass sets than Jonah Jackson. He gets on defensive linemen rapidly and can play anywhere along the interior. While playing for Rutgers and Ohio State the past few years, Jackson logged snaps at every interior position and performed incredibly well in pass protection, recording a pass-blocking grade on true pass sets above the 90th percentile. He's the best pass-protecting interior lineman in this class.
The analytically sound Cleveland Browns strike again. Jordan Elliott's pass-rush skill set is that of a first-round pick. He posted the highest pass-rushing grade of any interior defensive lineman last year (91.1) and posted the third-best win rate (18.3%). And he did this while playing in the SEC. His explosiveness off the line was a tough task for any offensive lineman to handle. With Myles Garrett, Olivier Vernon and now Jordan Elliott, the Browns have a ferocious defensive line.
Minnesota's cornerback situation was horrendous prior to the draft, and they certainly helped it by securing Jeff Gladney in Round 1 and stealing Cameron Dantzler at the 89th overall pick. He's not a speedster and is a tad slender, but you can't ignore his incredible production against elite SEC offenses. In his three years at Mississippi State, Dantzler allowed only 41 catches on 96 targets while combining for 20 pass breakups and interceptions and surrendering one score. And when he went up against 2019 Biletnikoff Award winner Ja'Marr Chase this past year, he limited him to only one catch on three targets for seven yards.
If you're a Jaguars fan and upset they took a D-III player, don't be — Ben Bartch is the real deal. He was legitimately a brick wall in pass protection at St. John's, putting up a 97.3 pass-block grade and allowing four pressures on 541 pass-block snaps. When he went to the Senior Bowl and faced real competition, he remained the same dominant player, posting one of the highest win rates of the week.
With his physicality, instincts and quicks, Wallace can play in the slot or box at an incredibly high level and should have been a second-round pick. Wallace was consistently solid in coverage at Clemson, but he took a huge step forward in 2019, logging an 89.7 coverage grade and combining for 10 pass breakups and interceptions (more than what he combined for in his last three years).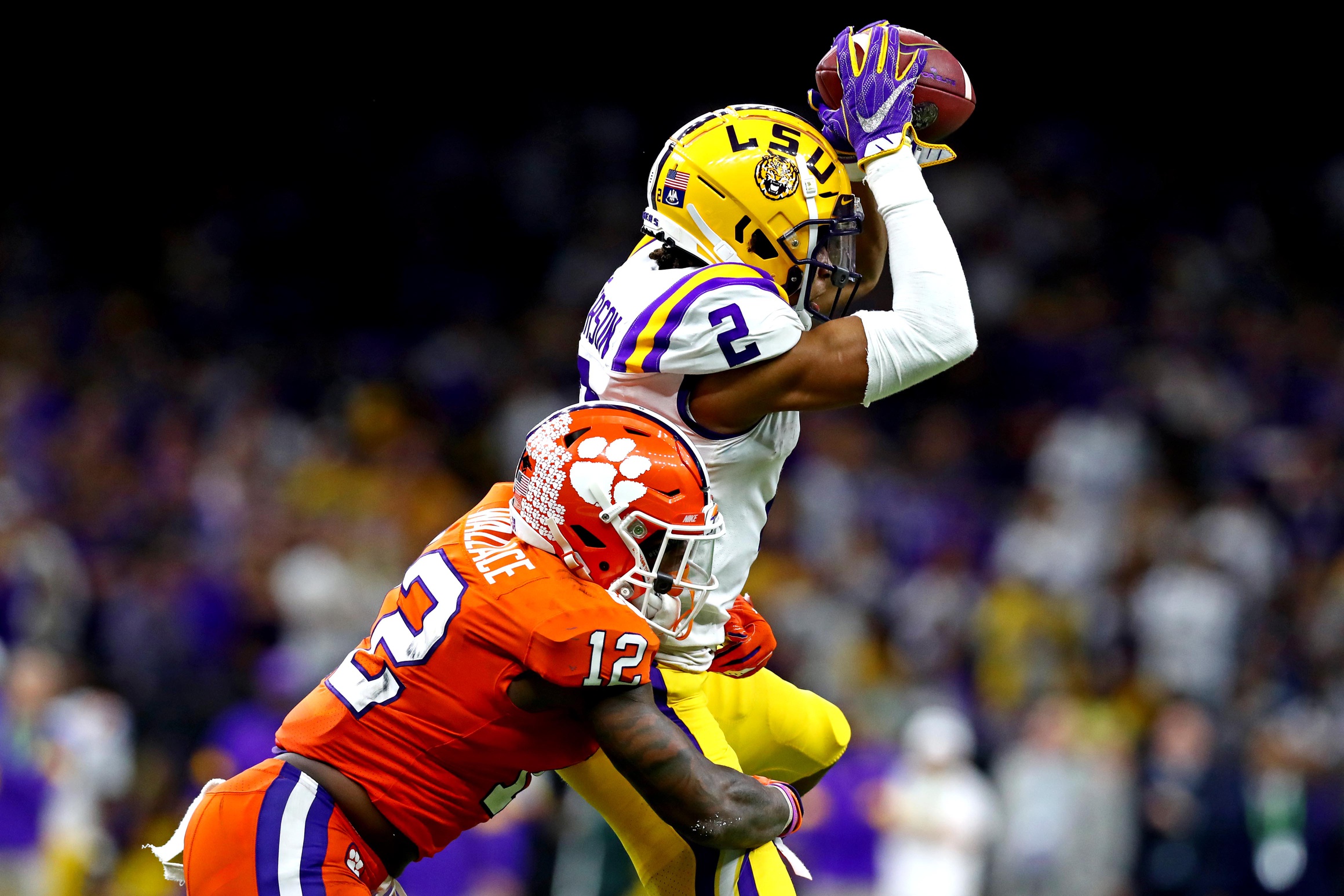 If we had to pick who the biggest "Gruden Grinder" was in this class, Amik Robertson would certainly be up there. He's incredibly feisty and plays like he's a lot bigger than his 5-foot-9 stature. Robertson posted the highest grade of any cornerback over the past two years, and the ball production he had at his size is almost unbelievable. There wasn't a higher-graded cornerback on contested balls than Robertson the past two seasons — he allowed only nine catches on 38 targets with 24 forced incompletions. He might be a slot-only player because of that size, but his physicality, instincts and short-area quickness are what you want in your secondary.
Zeke Elliott is going to really enjoy this guy opening up holes for him to run through. Tyler Biadasz was one of the best run-blockers we have seen here at PFF, as he has posted run-blocking grades above 82.0 in all three of his seasons starting at Wisconsin. He has room to grow as a pass protector, but you aren't supposed to be finding talents like this at the 146th overall pick. Dallas got incredible value for the possible heir to Travis Frederick.
While watching Kenny Robinson at West Virginia and in the XFL, one thing was apparent: he is a playmaker with sharp instincts. He made 14 plays on the ball at West Virginia and added two interceptions in the XFL. His range and angles playing deep safety are just beautiful.
Based on who the Panthers drafted I'm guessing you'll be seeing a lot more man coverage in Carolina. Can't wait to see if they have Kenny Robinson roaming the deep middle of the field ????

— Mike Renner (@PFF_Mike) April 26, 2020
Gipson's athleticism, size and length fit the mold of an NFL edge rusher, and the fact that he was able to produce an 89.7 pass-rush grade in an incredibly poor situation at Tulsa is impressive. Gipson saw the third-most pass-rushes in a three-man rush alignment this past year but still managed to own a 19.8% win rate, which ranked second-best on such pass-rushes. His bend is pretty filthy, and once he gets some NFL coaching to polish up his pass-rush moves, watch out.
If Bryce Hall had come out after his 2018 season, he likely would have been a first-round pick. He decided to come back, though, and a season-ending injury in Week 7 torpedoed his stock (clearly). But it shouldn't have hurt it this much. Hall stills has some of the best ball skills we have seen here at PFF. He owned the highest forced incompletion percentage in college football in his two seasons prior to getting hurt and was a nightmare to face in press with his 32-inch arms.
Tom Brady having Chris Godwin, Mike Evans, Rob Gronkowski and now Tyler Johnson to throw to is almost unfair. Johnson isn't a burner, but he is one of the craftiest route-runners you will find in this draft class. Johnson sets up defensive backs to get himself open, and if he's in a situation where he doesn't have separation, it's no problem at all for him — he will routinely win at the catch point. Opposing NFL teams are likely going to regret not taking Johnson, the highest-graded wide receiver in college football since 2018.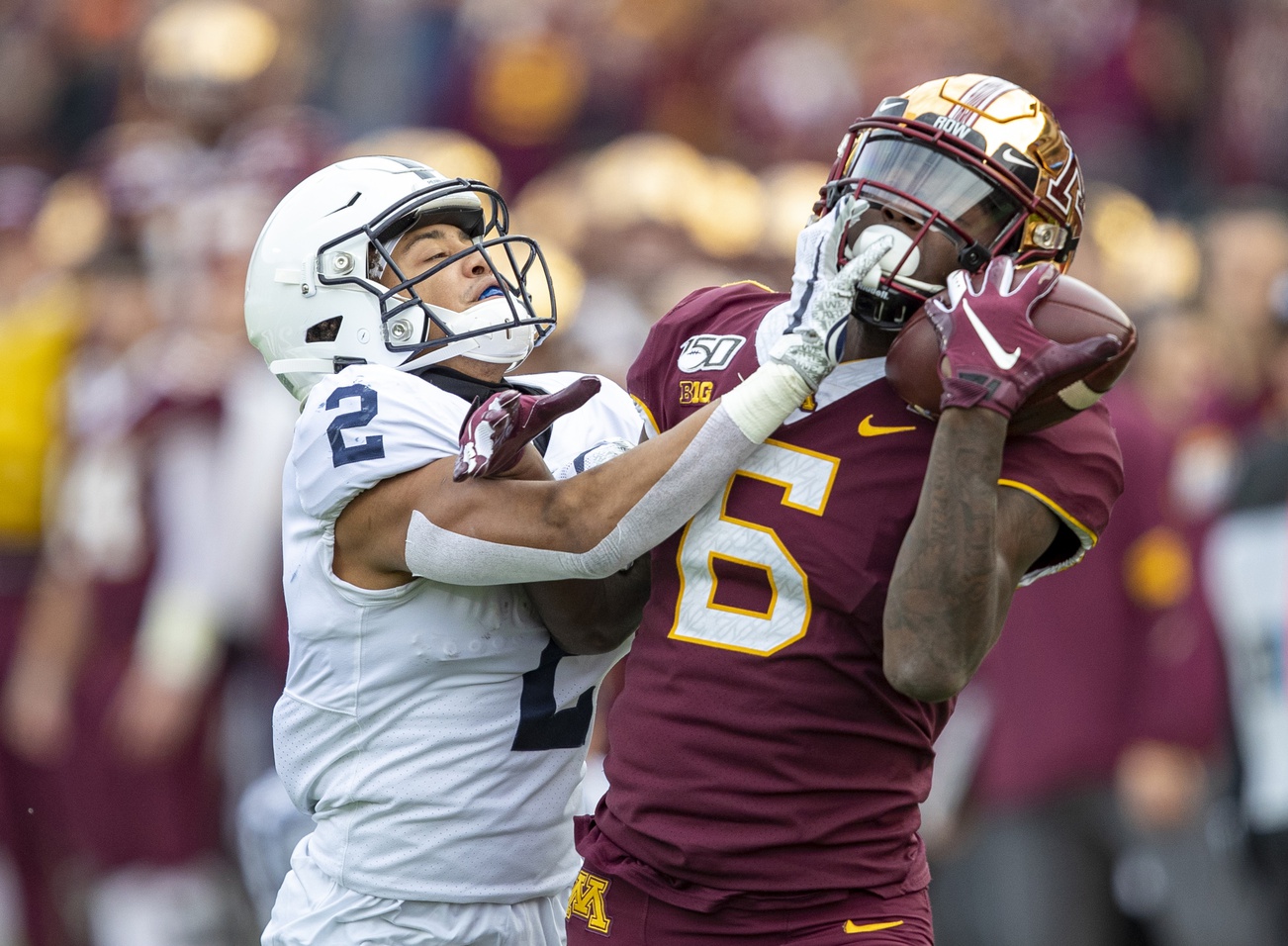 The fact that Weaver, a first-round product in our eyes, slipped this far in the draft is quite remarkable. He's not an explosive athlete off the edge, but he doesn't have to be with his elite power and bend. Over the last two years at Boise State, Weaver produced the highest win rate in college football by over three percentage points. His pass-rushing grade has eclipsed 92.0 in each of the last two seasons and ranked top-five in the country.
Denver got incredible value for our number one interior offensive lineman and the nastiest run-blocker in the class, Netane Muti. Sure, the injuries are something to be concerned about, but what he does on the field is special. He has incredible power and racks up pancakes like a chef. He was stout even in pass protection, producing an 86.8 pass-blocking grade for his career while allowing just a 1.9% pressure rate.
Bailey slid this far because of his injuries, but with a clean bill of health, he's one of the most productive and versatile off-ball linebackers in the class. He's been tested numerous times in coverage throughout his career and came out on top more often than not, recording a 91.9 coverage grade since 2016. He was one of the best blitzers in college football in 2017 and 2018, too, by gathering up 52 pressures. Cincinnati revamped its linebacker unit in the draft, and Bailey could end up the best of the bunch.
What Jauan Jennings does in an open field is a sight to see and makes us wonder how he fell this far into the draft, but Kyle Shanahan surely isn't mad he did. He lacks straight-line speed but was incredibly difficult to bring down at 6-foot-3, 215 pounds. This past year, Jennings broke 30 tackles on just 59 catches. Jennings' suddenness at his size is remarkable, too. He'll fit in quite nicely in Shanahan's offense.
We were far higher than anyone on Geno Stone and knew he wouldn't be an early pick — but a seventh-rounder!? His instincts are up there with the best of the best. Stone is a quick playmaker and isn't going to get caught off guard to be made responsible for any big play in coverage. He actually made more plays on the ball (11) than first downs allowed (9) while also giving up the fewest yards per coverage snap among safeties (0.25). And he did it at 19 and 20 years old. When looking at our Big Board rank compared to where prospects were actually taken, Stone was the biggest steal in the draft.
.@HawkeyeFootball S Geno Stone has some of the best instincts in this class. He's got such a big vision head start on so many plays and really trusts what he sees.

Stone creates big plays with his instincts.pic.twitter.com/mMd4ZvZblv

— Austin Gayle (@PFF_AustinGayle) March 3, 2020
Hill's below-average athleticism, lack of physicality and size don't do him any favors, but he was a proven weapon in the slot at Ohio State and can do damage on underneath routes, where he averaged 8.6 yards after the catch per reception the last two years. He has great body control and is a much better route-runner than his draft position suggests.
There's a lot of concern with how he projects to the NFL because of poor play strength, subpar athleticism and reliance on just a few moves (he does have a nice bull-rush), but the way Willekes plays with leverage and play recognition should have made him a much earlier choice. Willekes did have a great 2018 campaign as a pass-rusher, owning an 86.2 pass-rush grade, but he wasn't the same player after breaking his leg to close out the season, squeaking out just a 74.3 pass-rush grade in 2019. He's still a project, but you typically wouldn't find a player like this at the 225th overall pick.