The Seattle Seahawks are looking to take the next step after losing early in the playoffs in each of the past two years, and their recent trade for safety Jamal Adams suggests they believe in their prospects this season. Having Russell Wilson at quarterback is a great starting point, as he had the highest PFF WAR (wins above replacement) last season and has taken his game to a new level over the past two years. Defensively, the Seahawks have improved from back to front, and getting the secondary back on track may be just what they need to return to the Super Bowl.
As is the case for most teams, it'll come down to passing the ball and stopping the pass, and for Seattle fans, the biggest question is if Wilson will be asked to take over the game earlier than he has in the past.
Subscribe to PFF's EDGE or ELITE subscriptions to get access to the following tools, charts, etc. 
– All Premium Article Content
– Fantasy Football Rankings & Projections
– Fantasy Football Draft Guide, Cheat Sheets & Advanced Stats
– Fantasy Football Mock Draft Tool (DraftMaster)
– Fantasy Football Strength of Schedule Matrix
– NFL Player Grades
– NFL Premium Stats
ADDITIONS/SUBTRACTIONS
Additions/players brought back:
TE Greg Olsen (signed for one year, $7 million)
DI Jarran Reed (re-signed for two years, $23 million)
EDGE Bruce Irvin (signed)
TE Jacob Hollister (second-round tender)
C B.J. Finney (signed for two years, $8 million)
T Cedric Ogbuehi (signed)
T Brandon Shell (signed)
CB Quinton Dunbar (via trade)
S Jamal Adams (via trade)
Losses:
EDGE Ezekiel Ansah
WR Josh Gordon
QUARTERBACK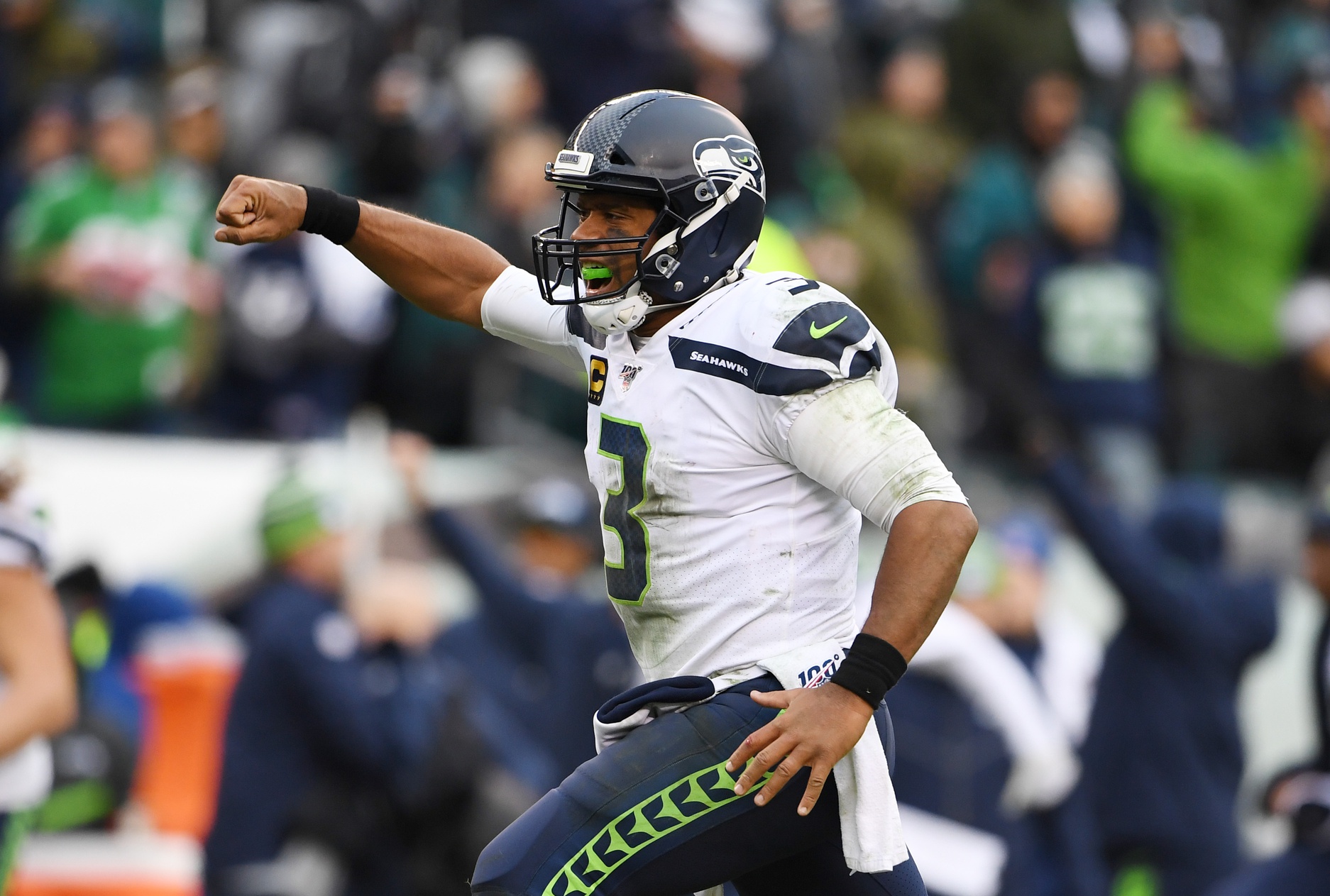 Here's what I said about Russell Wilson after the 2019 season:
The highest-graded passer with at least 300 attempts, Wilson had a spectacular season attacking down the field with his usual array of big-time throws while limiting turnover-worthy plays at the best rate of his career. As the season progressed, Wilson's raw stats took a hit, but it was more due to what was happening around him rather than his throw-for-throw performance. He still takes too many sacks, including 14 that we directly charged his way, but Wilson is the catalyst to the Seattle offense, despite their desire to build a run-first attack. Throughout his career, Wilson has had many games in which he looked like a top-three quarterback but also a bevy of outings in which he was way off his game. In 2019, he posted the highest grade of his career, and for the first time, posted just one game grade that came in under 60.0.
Until last season, Wilson had a handful of games in which he looked like one of the league's best, and also a handful in which he was completely off, but the 2019 season saw him eliminate those poor outings en route to the best grade of his career. Wilson has annually been a top-eight quarterback since entering the league in 2012, but he's taken his game to the next level over the past two years.
The question now is if the Seahawks are willing to put more on his plate rather than leaning on a run-first attack. While Wilson certainly benefits from heavy play action and downfield shots that play to his strengths as, perhaps, the best deep-ball thrower in the game, Seattle's offense could reap the benefits of having the ball in their best playmaker's hands more often.
RUNNING BACK
Few running backs have made defenders miss more often than Chris Carson, who has forced 0.20 missed tackles per rush in his three years in the league, 10th-best in the NFL during that time. Carson has made the most of subpar run blocking, averaging 3.4 yards after contact in his career and running equally well in both gap and zone schemes.
On the downside, Carson's eight fumbles tied for the worst single-season total by a running back this decade, though that high fumble rate should return to normal in 2020.
The backup job will be Carlos Hyde's, at least until Rashaad Penny is healthy after tearing an ACL late last season. Penny has averaged 5.3 yards per carry on just 154 rushes, though that has been aided in part by a few breakaway runs. Overall, he hasn't really contributed as much as Seattle would have likely hoped after being taken in the first round of the 2018 draft.
Hyde ran well last year for the Texans — his fourth team in three years — and earned the highest rushing grade of his career (77.2) as a result. He'll provide little in the passing game — he's earned a career's worth of below-average receiving grades — but he can spell Carson if he runs as he did last season.
Seattle also adds fourth-rounder DeeJay Dallas to the mix, a former receiver who can contribute in the passing game. The Seahawks have a solid group of running backs that is made even better if Penny is healthy and given more opportunities.
WIDE RECEIVER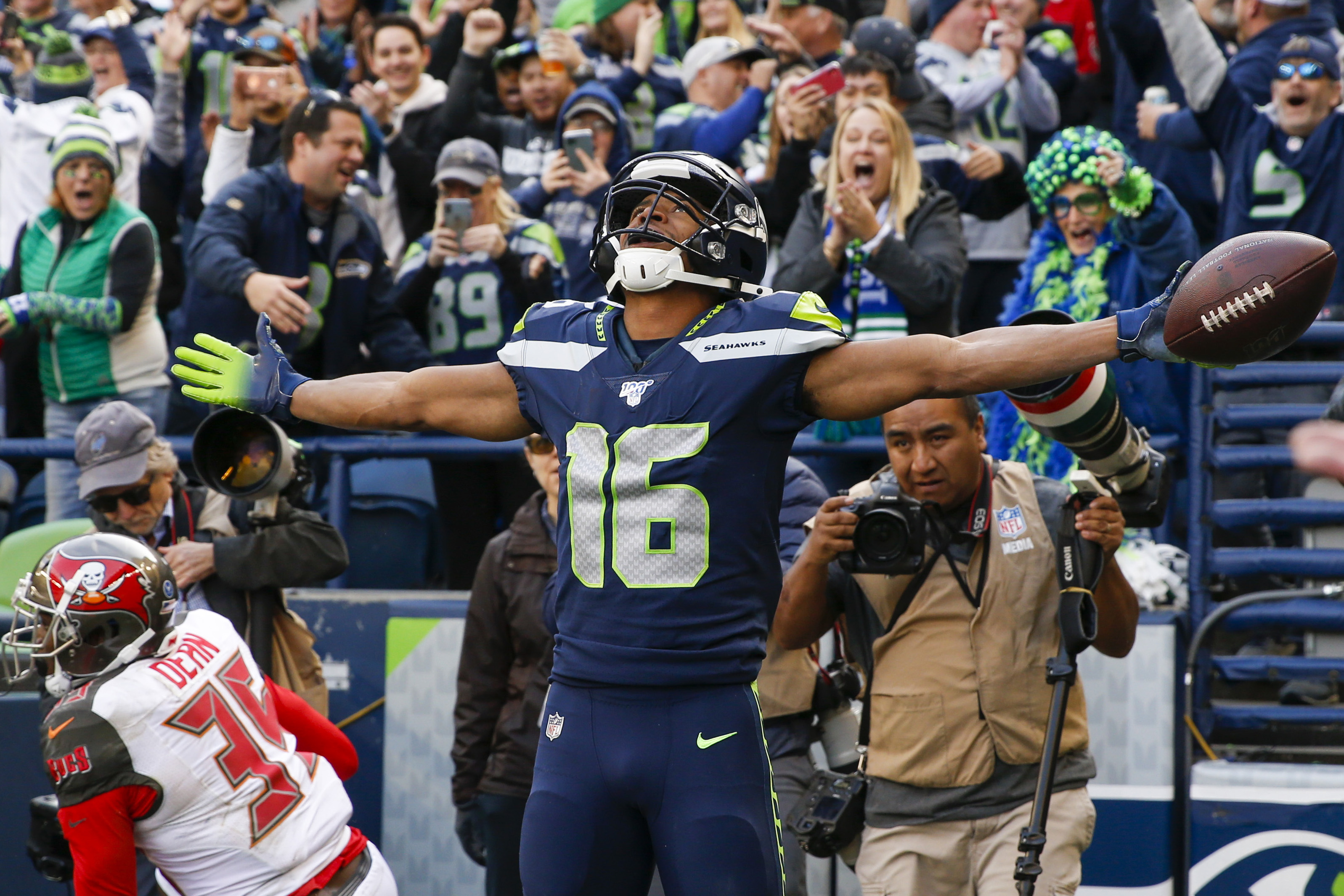 For the second straight season, Tyler Lockett posted the top receiving grade for Seattle, this time ranking 10th with an 83.2 grade — including the playoffs. Lockett looked like a third-round steal as a rookie in 2015, but he's taken his game to the next level over the past two years. In 2018, quarterbacks had a perfect 158.3 passer rating when targeting him, and he's been open on 62.2% of his targets in single coverage over the past two years, the 19th-best out of 101 qualifiers.
On the other side, D.K. Metcalf proved to be an excellent fit as a rookie, ranking 15th with 362 yards on deep passes. Metcalf has a freakish combination of size and speed, and Seattle used him down the field and on slants, playing to his skill set and making life difficult for opposing defenses. It was a revolving door beyond the top two last season, and we'll see a heated competition for the No. 3 role once again. David Moore has been an effective downfield threat, averaging 17.8 yards per reception on his 45 catches in his two years of playing time.
Phillip Dorsett comes in as a free agent, and while he hasn't lived up to the first-round hype, he uses his 4.33 speed to get behind the defense often enough for Russell Wilson to take advantage. Metcalf and Lockett are enough to keep defenses honest, but a No. 3 option emerging could really take this group to the next level.
TIGHT END
Seattle has attacked this position with volume, with veteran Greg Olsen being added to the mix this offseason. Olsen is three years removed from being one of the league's best receiving tight ends, but he's been banged up and his play has tapered off over the past three years. Still, he's an effective route-runner who can win one-on-one on the outside — it's worth seeing what he has to offer as he heads into his 14th season.
Will Dissly was incredibly productive last year with 262 yards and four touchdowns in just six games, good for an 87.1 receiving grade. It's difficult to project a similar return, but he took a big step forward after being drafted in the fourth round as a run-block specialist with 4.87 speed.
Then there is Jacob Hollister, who led this tight end group with 412 yards last season to go with a 64.5 receiving grade that ranked 38th out of 120 qualifiers. Veteran Luke Willson also returns to compete for snaps, and the Seahawks drafted Colby Parkinson, a big-bodied, contested-catch specialist out of Stanford, in the fourth round.
There are plenty of solid options at tight end for the Seahawks, but their best-case scenario is a rejuvenated Olsen combined with Dissly proving that his big plays have not been a fluke.
OFFENSIVE LINE
The Seahawks have ranked among the worst offensive lines in the league in recent years, and last season was no different, as they finished 27th in our final rankings.
Left tackle Duane Brown has brought some stability to the line since joining Seattle, as his 82.0 overall grade ranks 13th among offensive tackles since 2017. No other Seahawks offensive lineman graded above 63.2 during that time frame, which shows just how important Brown has been — he's allowed pressure on just 4.6% of dropbacks, 11th-best among tackles over the past three seasons.
Veterans Brandon Shell and Cedric Ogbuehi will compete to take over for Germain Ifedi at right tackle. Shell has been better over the past three seasons, grading at 64.9 overall — good for 47th among tackles — while Ogbuehi has played only 877 snaps over the same time span and graded at 58.0 overall.
At left guard, Mike Iupati is coming off the lowest grade of his career, at 60.3 overall, and his career is simply trending in the wrong direction. Iupati graded above 79.0 in five of the first six years of his career, but he's been in the 60.0s in each of the past four seasons, which have also been riddled with injuries.
The other guard spot is wide open, with 2019 fourth-rounder Phil Haynes competing with rookie third-rounder Damien Lewis. Haynes played just 42 snaps as a rookie, while Lewis is likely the preferred option here, as his power run-blocking style is coveted in Seattle. Former second-round pick Ethan Pocic adds depth, though he's struggled through three years at guard after finishing his college career at center.
There will be competition at center after Justin Britt was released after six years with the team. Joey Hunt took over for 733 snaps last season, earning a 52.2 overall grade that ranked 35th among centers. B.J. Finney comes over from Pittsburgh, where he wasn't much better last season, grading at 56.9 on 325 snaps, though his previous work was much better in a limited sample from 2016-18.
The Seahawks enter 2020 with plenty of question marks up front, and it will take unexpected development from multiple players to get them into the top half of the league.
DEFENSIVE LINE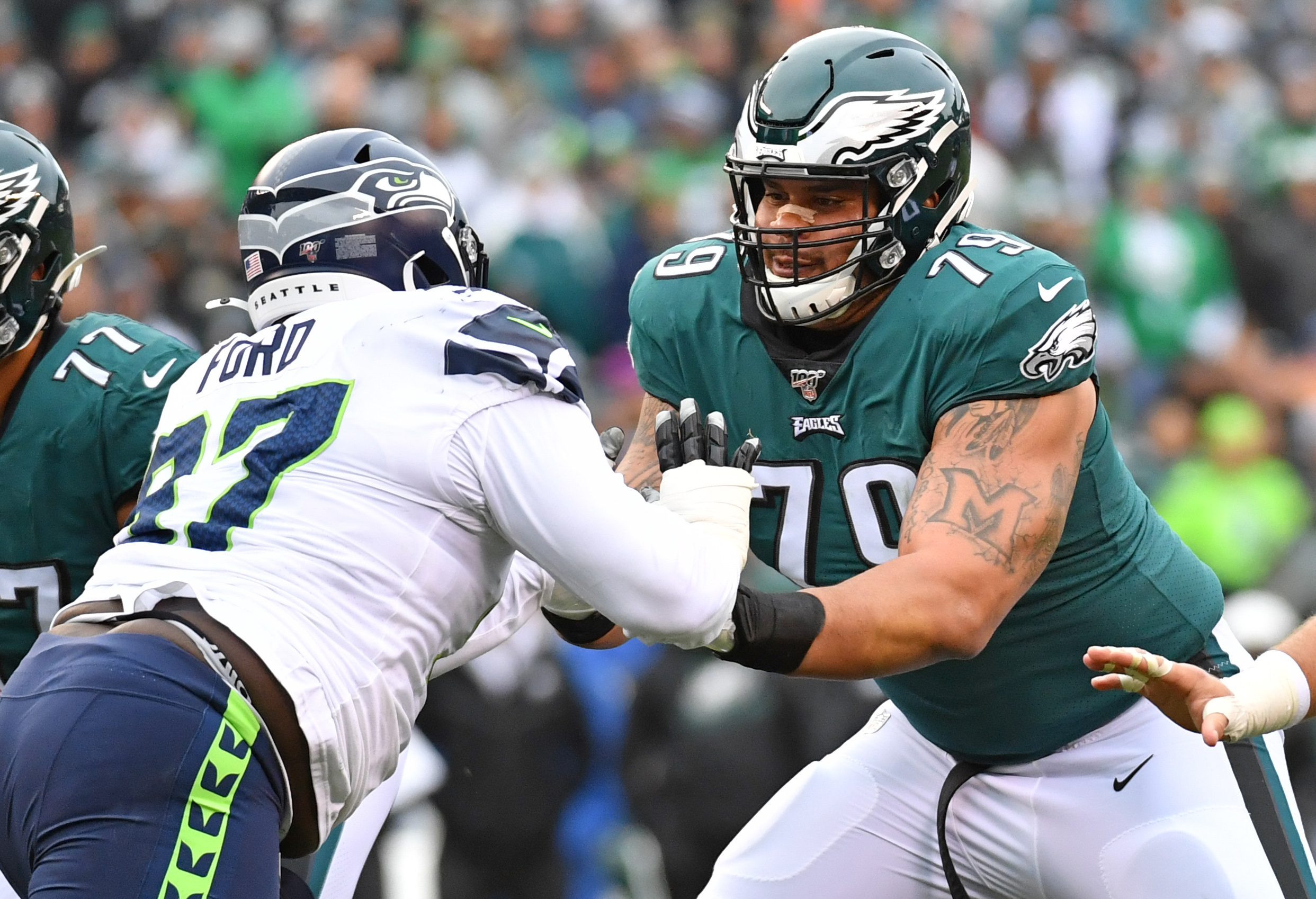 With Jadeveon Clowney still unsigned at the time of writing, Seattle's best defensive lineman from 2019 isn't on the roster anymore, and the gap between him and the next best player is not small.
Poona Ford has impressed in the NFL so far, but more as a run defender than as any kind of pass-rush force, and he has just 19 total pressures over two years. Jarran Reed looked like he might develop into an all-around force before legal issues sideswiped his career and he didn't look the same player. In 2018, he recorded 55 total pressures and earned solid grades across the board, but he was markedly worse in 2019.
Much will also be expected of L.J. Collier, the team's 2019 first-round pick. That draft selection was something of a surprise to most, and his 48.6 PFF grade on just 152 snaps won't have helped that impression. Collier had just one hurry from 86 pass-rushing snaps in an impressive lack of production. If he can't make a sizeable leap forward in 2020, it's difficult to see where the pressure will come from.
Tennessee's Darrell Taylor, the team's second-round pick this year, was a similarly underwhelming prospect but represents a significant investment they will likely expect to contribute. Bruce Irvin returns for a second stint with the team that drafted him in the first round back in 2012, but Irvin hasn't earned a pass-rush grade north of 70.0 since his second season in Seattle.
Rasheem Green saw north of 500 snaps a season ago but had below-average grades in all facets of play and just 30 total pressures from 376 rushes. Last season the team experimented with deploying Shaquem Griffin on the edge as a situational pass-rusher despite his weight (likely in the 215-220-pound range), in an attempt to generate some pressure. He flashed occasionally but ended up with just 10 pressures on 94 rushes.
The Seahawks' defensive line was hugely dependent on Jadeveon Clowney in 2019. If they don't have him for 2020, they need to find a new source of pass rush.
LINEBACKER
Even with Bobby Wagner taking a step back last season, the Seahawks have the best linebacking corps in the league. Wagner has the second-best overall grade in the league over the past two years (90.5), behind only the recently retired Luke Kuechly. Wagner is the only linebacker in the league to rank in the top five in coverage, as a run defender and as a pass rusher over the past two years, showing that he's the best all-around players at the position.
He's flanked by K. J. Wright, who is coming off the lowest grade of his career (59.9) but put up marks of at least 65.0 or better in each of the other eight years. Wright brings a long presence to the Seahawks' zone-heavy scheme and, like Wagner, he can play the run and blitz at a level among the league's best. When Wright is back to form, he and Wagner make one of the league's best duos.
Despite the strength at linebacker, the Seahawks took a forward-thinking approach in the draft with first-rounder Jordyn Brooks out of Texas Tech. Brooks had the fifth-best overall grade in the nation last year (90.5), and his 91.5 mark in the run game ranked fourth. He fits the Seahawks' brand of physicality and athleticism, with the only question being how many plays he makes in coverage; he had just one pass breakup on over 1,300 career coverage snaps in college.
Seattle has a solid group of backups, as well, starting with 2019 draft picks Cody Barton and Ben Burr-Kirven. Barton saw the field for 253 snaps last year, grading at just 56.6, while Burr-Kirven had the fifth-best grade in the nation among linebackers in 2018 at 91.2 but played just four snaps as a rookie. Shaquem Griffin also cycles back and forth between linebacker and edge rusher, though he struggled in coverage as a rookie. The Seahawks are loaded at linebacker and are in good shape for both the short and long term.
SECONDARY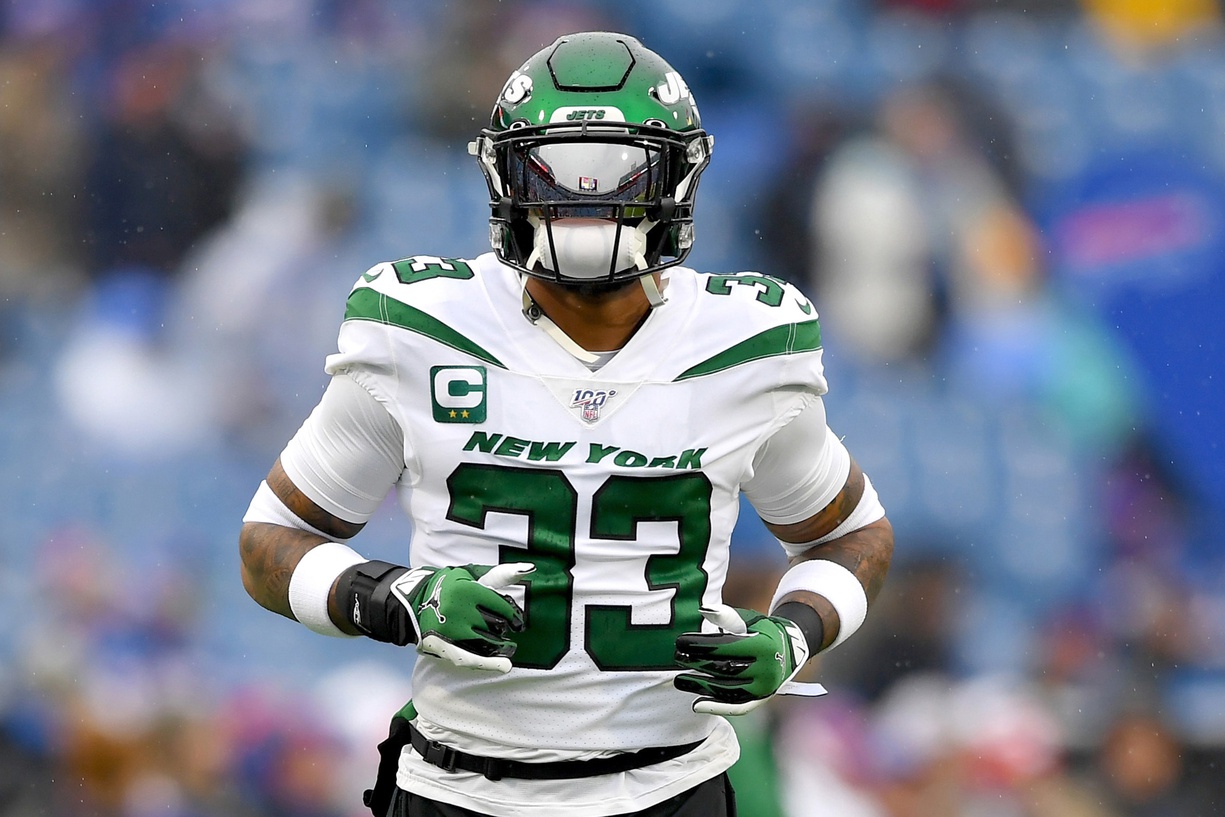 The so-called Legion of Boom is long gone, and Seattle is now trying to put together a unit worthy of succeeding it. Shaquill Griffin bounced back to have a career year after a tough sophomore campaign. And while he didn't come away with an interception, he tallied 14 pass breakups and was a tough player to beat each week.
Things have been far less positive opposite Griffin, though. Tre Flowers was the other starter last season, but he earned just a 53.9 PFF grade and gave up over 700 yards in the regular season. Quinton Dunbar was supposed to step in and solve that issue, but his role is now up in the air following an offseason arrest. Dunbar was a perfect fit for the Seahawks' scheme; without him, that second spot is once again a major concern.
The slot cornerback position was such an issue a season ago that the team ran base defense — with three linebackers — on 68.7% of its snaps, a full 30 percentage points higher than any other team. Ugo Amadi is supposed to address that this season, but his NFL career has spanned just 101 snaps and 16 targets, 14 of which ended up being caught by the intended receiver.
With the trade for Jamal Adams, the Seahawks add one of the league's most valuable safeties and the No. 20 player on the PFF 50. Adams is one of the few safeties who makes an impact in coverage, in the run game and as a pass-rusher, and he can be deployed several different ways to add value to the Seattle defense. If they want Adams to fulfill the traditional box-safety role in their defense, he's more than capable, but it also makes sense to tap into his ability to impact the game from all over the field.
Collier played just 152 snaps a year ago, and Seattle must find some semblance of a pass rush this season. The former first-rounder was solid in college at TCU, where he posted an above-average pass-rush win percentage (20.4) and was strong in the run game with an 83.6 grade over his last two years. The question is whether he has enough to win on the edge at 291 pounds and with below-average athleticism. Either way, Seattle needs a step in the right direction from Collier this season.
DRAFT CLASS REVIEW
The Seahawks got two solid players in linebacker Jordyn Brooks and edge defender Darrell Taylor with their first two picks, but both players were drafted higher than most expected. Guard Damien Lewis fits the Seahawks' style in the run game, and they doubled up at edge defender with Alton Robinson in the fifth round, another likely contributor. The Seahawks may end up with a solid class, but it was not one of our favorites given the other potential players on the board in the first two rounds. 
BEST BET
We saw no line movement after the Seahawks made their win-now trade for Jamal Adams. The Seahawks are a team we are higher on than betting market expectations, as we give them a better chance — almost 5 percentage points higher — of making the playoffs than their current implied probability. We do find agreement on their division odds, so the only real value is for the Seahawks to make the playoffs. One enticing player prop is D.K. Metcalf's over yardage total. Our fantasy projections have him beating his current line by over 150 yards.