The story of recent Philadelphia Eagles teams has been consistent strength in the trenches, but their annual fate has been decided by what happens with their passing attack. The 2017 Super Bowl team had the best top-eight PFF grades at quarterback, receiver and in coverage — and that's the championship formula. Philadelphia had a clear offseason goal of adding athleticism all over the roster, a strategy that was evident throughout their free agent signings and, most notably, their draft picks.
They also added a plethora of versatile, hybrid players to the defensive side of the ball, and they have more flexibility in the back seven in an attempt to improve a coverage unit that ranked just 23rd last season. Last season's injuries are behind a thing of the past, and the Eagles have the nucleus to compete for the NFC East title once again.
Subscribe to PFF's EDGE or ELITE subscriptions to get access to the following tools, charts, etc. 
– All Premium Article Content
– Fantasy Football Rankings & Projections
– Fantasy Football Draft Guide, Cheat Sheets & Advanced Stats
– Fantasy Football Mock Draft Tool (DraftMaster)
– Fantasy Football Strength of Schedule Matrix
– NFL Player Grades
– NFL Premium Stats
ADDITIONS/SUBTRACTIONS
Additions/players brought back:
DI Javon Hargrave (signed for three years, $39 million, $26 million guaranteed)
CB Darius Slay (via trade)
S Jalen Mills (re-signed for one year, $5 million)
S Rodney McLeod (re-signed for two years, $12 million)
QB Nate Sudfeld (re-signed for one year, $2 million)
S Will Parks (signed for one year)
Losses:
CB Ronald Darby
EDGE Vinny Curry
QUARTERBACK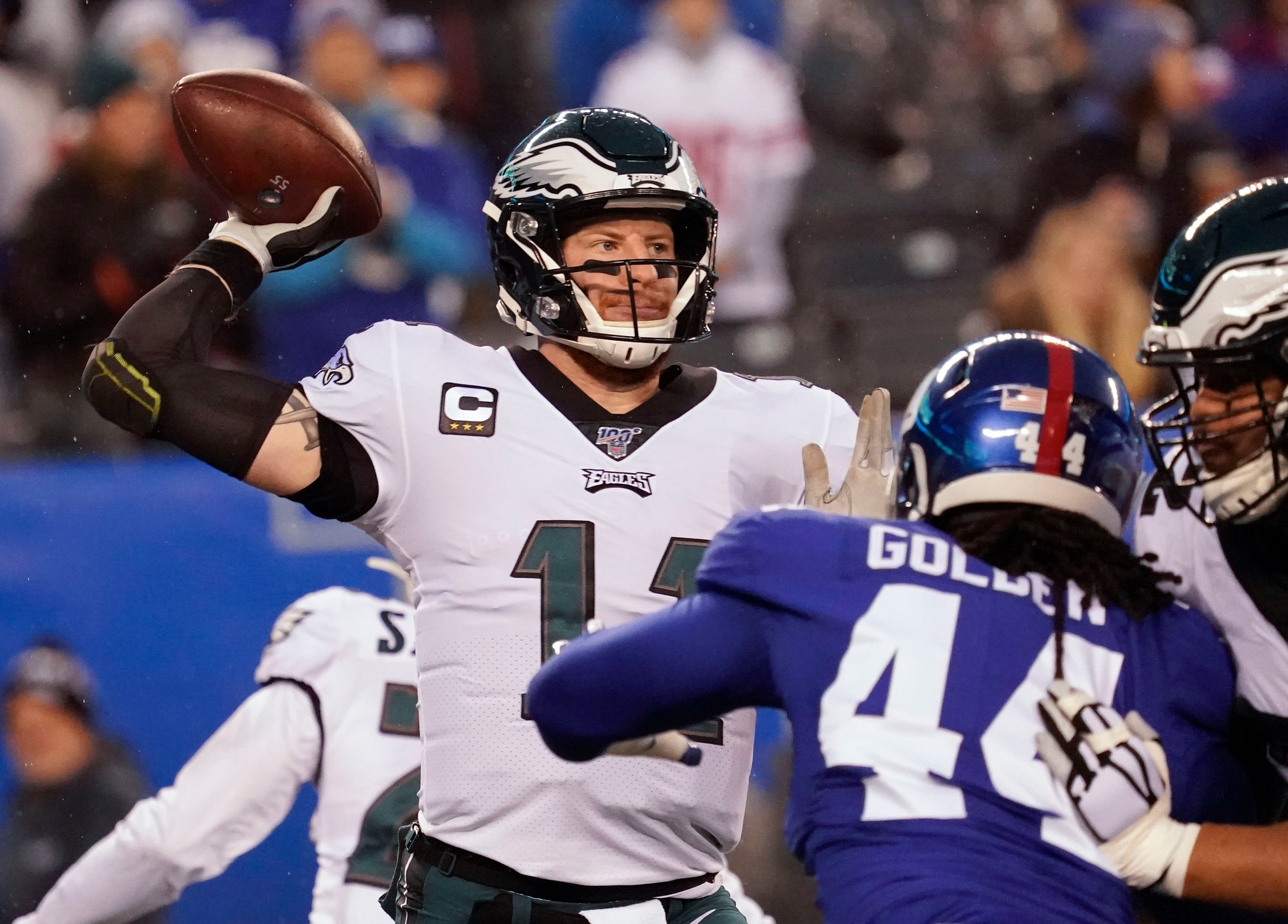 Here's what I said about Carson Wentz after the 2019 season:
"It was an odd season for Wentz, who was playing better than the stats showed during the first few weeks of the season before ranking near the bottom of the league in PFF grade over the second half of the season. He did have to deal with an incredible number of injuries to his supporting cast, and the end of the season saw multiple gutsy performances when throwing to a different group of receivers seemingly every week. On the positive side, Wentz was among the league's best in big-time throws, and he was excellent when playing under pressure and outside of structure, though those are all facets that are difficult to duplicate moving forward. On the other hand, Wentz was mediocre in stable situations and below average at hitting open throws but surrounding him with a full season of good playmakers should get him back on track."
Looking at Wentz's first four NFL seasons, we see a quarterback who ranks in the top half of the league, though his 2017 MVP hype was a sign of his ceiling, not his norm. Wentz's 2017 campaign was a classic case of a small sample of excellence in unstable areas, such as play under pressure, on third down and touchdown rate. Wentz has come back down to Earth since then and has settled in as a quarterback who can flip the field with his arm.
And when aided by a solid group of playmakers, he'll give them ample opportunities to make plays. The Eagles have made moves to put those playmakers in place, so this could be another big statistical season for Wentz.
RUNNING BACK
Eagles running backs have been playing behind one of the best run-blocking lines in the league over the past few years, and last season was no different. Rookie second-rounder Miles Sanders took advantage to the tune of 4.5 yards per carry, though two fumbles and two botched mesh-point handoffs hurt his overall grade. Sanders adds a strong receiving element, too, as he graded at 74.7 while averaging 10.2 yards per reception last season.
Backup Boston Scott finally had a chance to show off the skills that made him so difficult to tackle when coming out of Louisiana Tech in 2018. Scott picked up the slack down the stretch of the 2019 campaign and did his best work in the pass game, where he earned an 85.3 receiving grade and forced eight missed tackles on 27 catches. Expect more from Scott catching the ball out of the backfield this season.
Corey Clement is a depth piece who played just three snaps last season. He did his best work as a rookie in 2017 with a 74.1 overall grade. The Eagles have a solid group of backs, including multiple options who can help in the pass game.
WIDE RECEIVER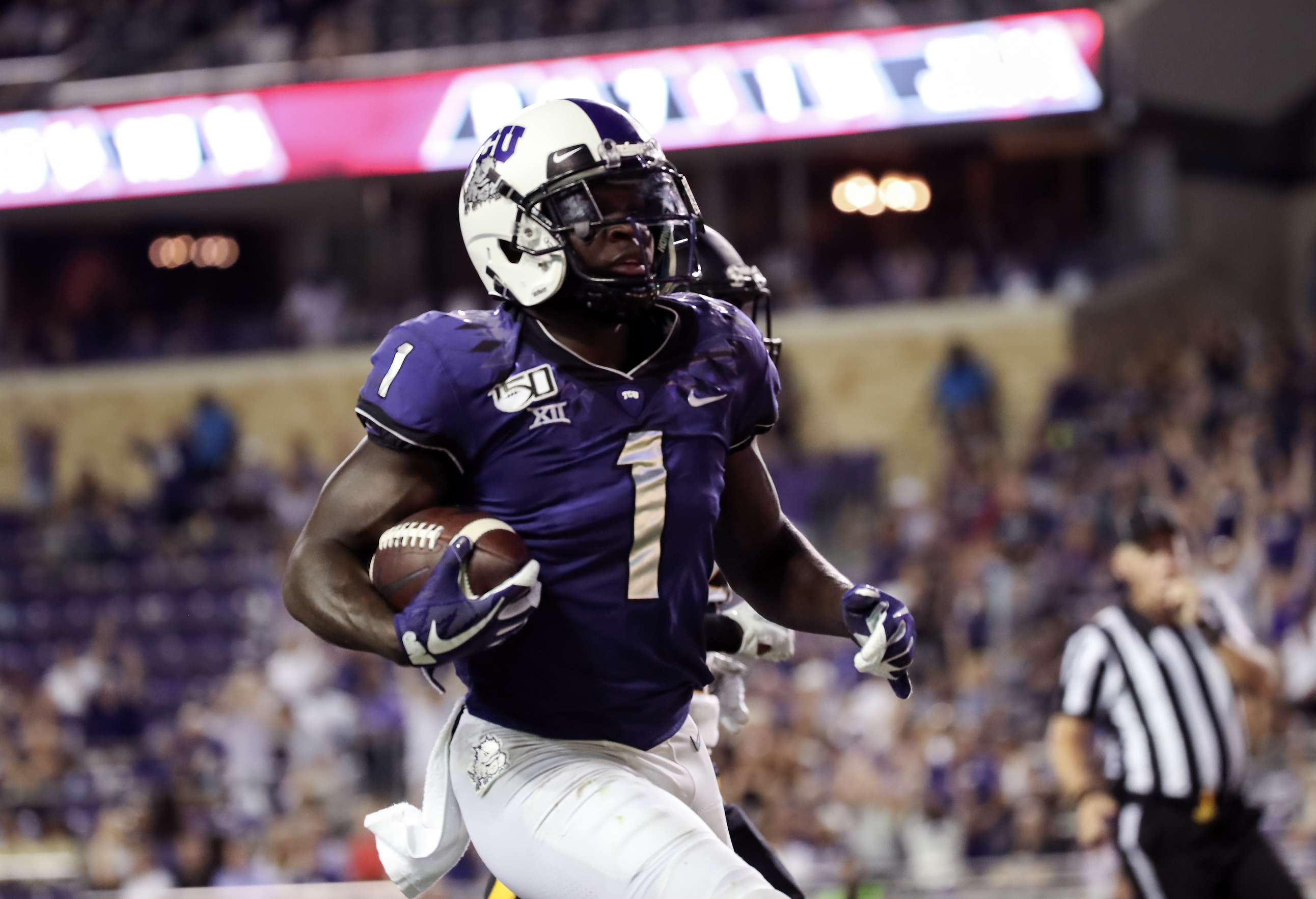 Heading into last season, the on-paper version of the Eagles' receivers looked like a perfect blend of big bodies, slot production and deep speed. Then, the injury bug struck, and the Eagles had the lowest-graded receiving corps in the league (61.7). They had a clear offseason goal of getting faster, and that should immediately be evident, starting with the additions of Marquise Goodwin from the 49ers and Jalen Reagor in the first round of the 2020 NFL Draft.
Goodwin has averaged 16.6 yards per reception over his seven-year career, though his best work came in 2017, when he produced a 77.0 grade and 962 yards. Since then, he's played just 706 combined snaps. Reagor ran a 4.47-second 40-yard dash as the scouting combine, but he plays even faster and gets to top speed in a hurry. He should add a much-needed vertical component to Philadelphia's offense.
And don't forget about DeSean Jackson, who caught nine passes for 159 yards and two scores in Week 1 before playing just 14 snaps the rest of the way. If he's still with the team at the start of the season, Jackson has plenty to offer as a deep threat, even in his 13th NFL season. Alshon Jeffery also returns after playing only 10 games last season, earning a 75.0 receiving grade that ranked first among Eagles receivers. He's one of the league's best at the catch point, and he adds a nice contrast to the influx of speed everywhere else.
J.J. Arcega-Whiteside is similar in that regard, as he was a contested-catch monster in college. As a rookie in the NFL, though, he got off to a slow start with just a 53.3 receiving grade and 169 yards. Rounding out the depth chart is Greg Ward, who stepped in and did a fine job with a 71.3 receiving grade last season, and even more speedsters in fifth-round pick John Hightower (4.43 40) and sixth-round pick Quez Watkins (4.36). The Eagles have a plethora of options heading into the season with a good mix of speed and size.
TIGHT END
Zach Ertz and Dallas Goedert form one of the best tight end duos in the league, and they helped keep the offense afloat despite numerous injuries to the team's wide receivers a year ago. Ertz is a difficult cover for any linebacker or safety, and he was open on 73.1% of his targets against single coverage last season, the best rate among tight ends. He's extremely effective in the passing game, grading at 75.0-plus as a receiver in all but one of his seven years in the league.
Goedert was a first-round-caliber prospect in 2018, yet the Eagles were able to snag him at 49th overall. He had a strong rookie season and followed it up with an 82.7 overall grade in 2019 that ranked 10th in the league when including the playoffs. Goedert has a good combination of downfield speed and ball skills. His blocking is strong, too — he earned a 78.9 run-blocking grade in 2019 that ranked second in the NFL. We may see Goedert steal more of Ertz's production in Year 3. The Eagles have two legitimate top-15-caliber tight ends, giving them one of the best duos in the league.
OFFENSIVE LINE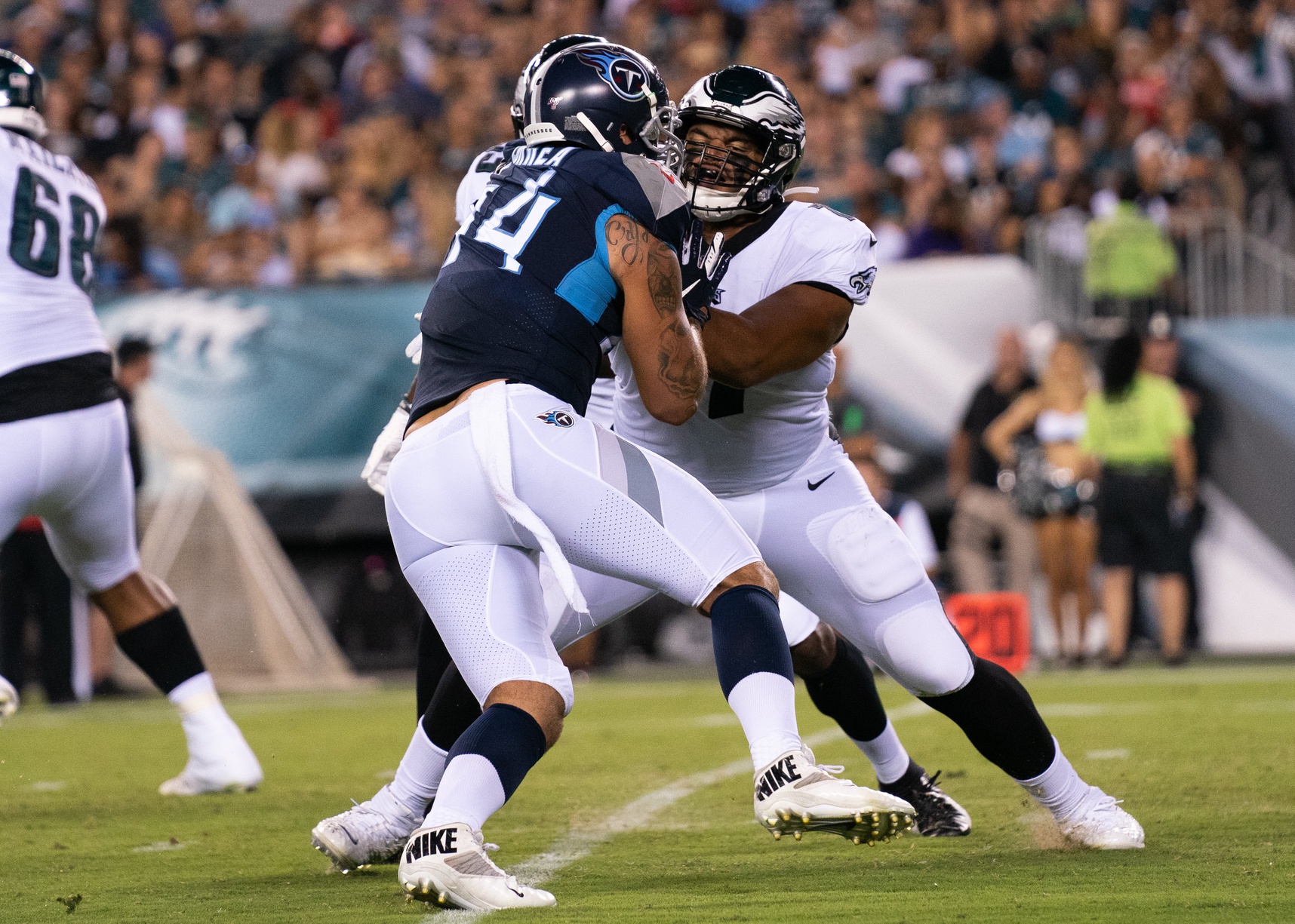 The Eagles annually boast one of the best offensive lines in the league, and they finished No. 1 at the conclusion of the 2019 regular season. It will be difficult to repeat that feat without star left tackle Jason Peters and PFF All-Pro guard Brandon Brooks.  However, Peters now moves to guard, where it will be a guessing game as to how seamless the transition is. The Eagles anticipated the Peters move by drafting Andre Dillard in the first round in 2019, and he's locked in as the starter after grading out at 59.7 on 337 snaps as a rookie. For perspective, Peters allowed just 25 pressures on 602 pass-blocking attempts, while Dillard allowed 25 on 183 attempts — so it could be an adjustment for Philadelphia at left tackle. The good news is Dillard's track record at Washington State, where his pass-blocking grade on true pass sets is the fifth-best we've seen from any college player moving to the NFL.
At right tackle, Lane Johnson finished with an 88.8 overall grade last season, good for fourth in the league. He's one of the NFL's best run-blocking tackles, and his 87.6 overall grade ranks fourth at the position since 2017. Center Jason Kelce is the class of the position, leading the way with a 92.8 grade over the past three years. Kelce does his best work in the run game, where his athleticism allows him to execute a wide array of blocks. Plus, he is also one of the better pass protectors in the league.
At left guard, Isaac Seumalo took a step forward in his development last season, posting a career-high 70.6 overall grade. He did allow 42 pressures, the fourth-most among guards — but that was on 763 pass-blocking snaps, the second-most in the league when including the playoffs.
Replacing Brooks at right guard will be a big task, as he's among the top two or three guards in the league. 2018 sixth-round pick Matt Pryor will be in the mix, in addition to rookie fourth-rounder Jack Driscoll. Pryor graded out at 60.9 on 143 snaps as a rookie, while Driscoll was one of our favorite developmental tackle options in the draft — though he's a much better pass protector than run blocker. The Eagles should be strong again up front, but with Peters and Brooks out of the equation, it will be difficult to achieve another top-five ranking.
DEFENSIVE LINE
he Philadelphia Eagles have had one of the strongest defensive lines in football for years — not just blessed with top-end talent, but also incredible depth. That doesn't look likely to change any time soon, and they have added multiple pieces over this past offseason.
Fletcher Cox and Brandon Graham remain and are likely still the unit's best two players, though Graham's 2019 PFF grade and pressure total were each the lowest he's had in a season since 2015; he may be starting to show signs of slowing down at 32 years old. Graham still notched an impressive 67 total pressures and graded well against both the run and pass, so he will likely be a strong starter in 2020. Cox continues to be the best power-rusher in the NFL, generating more pressures over the past two seasons than any interior player not named Aaron Donald.
Derek Barnett's playing time increased last season, even with some time missed due to injuries, but he didn't take a corresponding step forward as a player. Alongside Cox inside, the team added former Steeler Javon Hargrave, giving them an incredibly powerful interior duo. Hargrave proved last season that he could step into an expanded role when Stephon Tuitt went down, generating career-bests in PFF grade (83.4), pass-rushing grade (76.9) and total pressures (49).
Malik Jackson barely featured last season but will hope to prove he can be a significant addition and a situational pass-rusher, while the door remains open for Josh Sweat to continue to earn himself a larger role, particularly if Barnett isn't able to make strides in his development. Sweat notched 27 total pressures last season on 274 pass-rush snaps.
LINEBACKER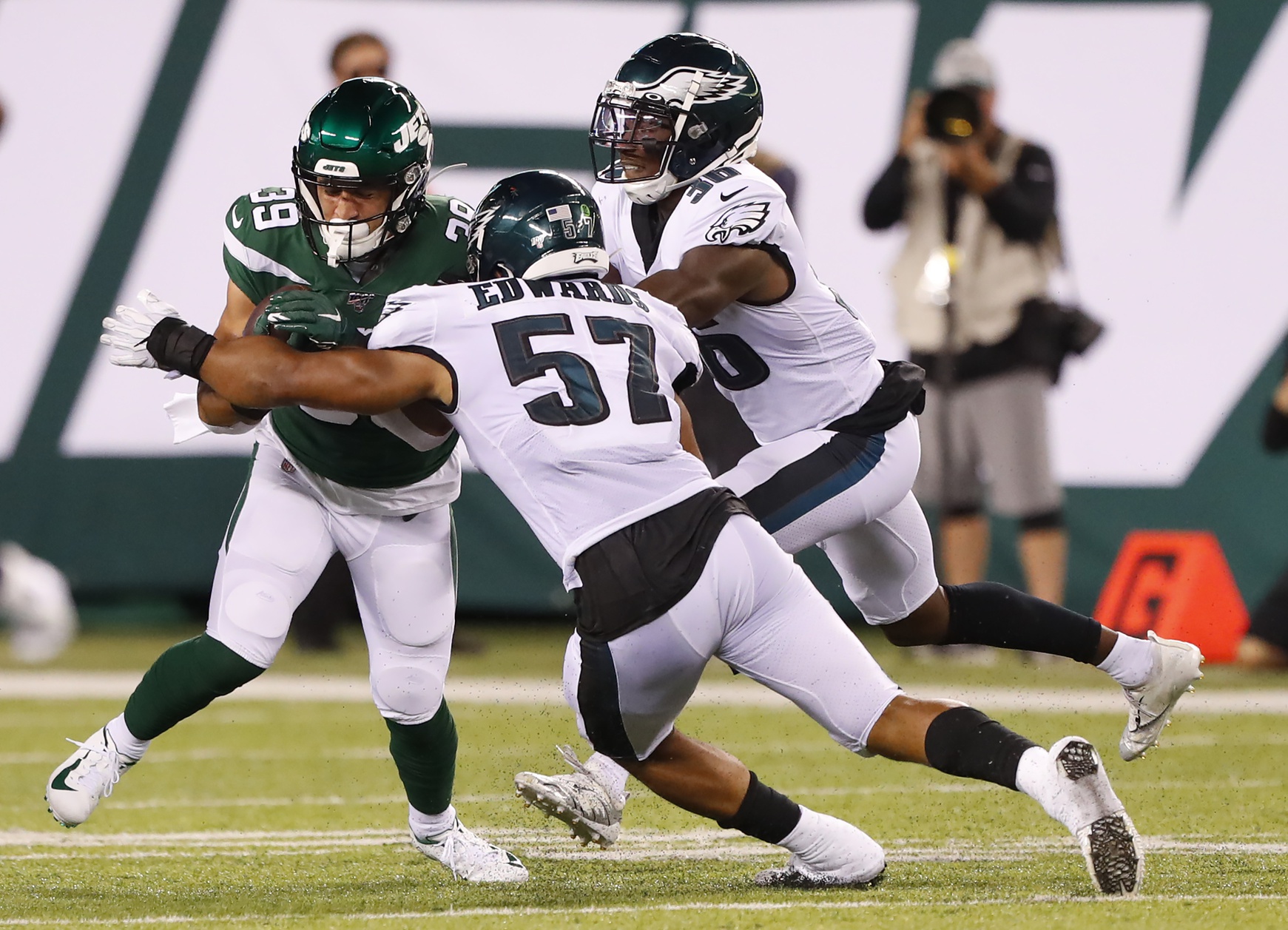 There's a new look to the Eagles' linebacking unit, as they added speed this offseason and will have a few new faces competing for playing time.
Nathan Gerry returns after playing 669 snaps last season — including the playoffs — and posting a career-high 62.2 overall grade. Gerry hasn't been as effective in coverage as you'd expect from a college safety, and tackling has also been an issue given that he's missed 17.8% of his attempts, ninth-worst in the league.
T.J. Edwards is the name to watch in this group, as the former undrafted free agent has played well when called upon — he earned a 77.6 overall grade in the preseason and an 83.4 overall mark on 122 regular-season and postseason snaps. Edwards is below average athletically, and there may be some coverage limitations, but he's been a productive player since his freshman year at Wisconsin.
Duke Riley came over from the Falcons last season to play 37 snaps, but he now has a 47.0 career grade across 688 snaps. Jatavis Brown is another new addition who did his best work as a rookie in 2016 when he graded at 77.6 overall. He's slowly regressed since then, bottoming out with a 29.4 grade on just 94 snaps last season, but he's an explosive blitzer who is worth a second look as a sub-package player.
The Eagles added more athleticism in the draft with Davion Taylor in the third round and Shaun Bradley in the sixth. Taylor is still developing as a player, but he has 4.39 speed and played a challenging role in Colorado's defense. Bradley has man-coverage skills and can add value covering running backs out of the backfield.
The Eagles' linebacking corps has plenty of question marks but also plenty of potential answers, and it'll be worth watching how they deploy some of their new weapons.
SECONDARY
Trading for Darius Slay will go a long way to finally answering the Eagles' problems at cornerback. Ronald Darby was meant to be that player, but his time in Philadelphia never quite worked out. Slay is coming off his worst coverage grade since his rookie season, but his tape shows a player who played in tight coverage consistently but continued to come out on the wrong side of the play against some elite receivers in the NFC North. Slay is still a high-end, man-to-man corner, and he has more pass breakups than anybody over the past five seasons.
Avonte Maddox, Sidney Jones and Rasul Douglas will battle it out to start opposite Slay, while Nickell Robey-Coleman will cover the slot after coming over from the Los Angeles Rams. Robey-Coleman has been consistently one of the best slot defenders in the league, so snagging him — as well as Slay —represents something of a coup for the Eagles. He may have just one interception in two years, but he has limited opposing quarterbacks to a below-average passer rating for four straight seasons.
Jalen Mills has been moved to safety but is still likely to start, despite having earned PFF grades under 60.0 in three of his four NFL seasons. Mills will likely start next to Rodney McLeod, though Will Parks will also push for playing time and has a better case to start than Mills, given what we've seen from each so far in the NFL. K'Von Wallace was a fourth-round rookie and could also easily get in that mix for playing time.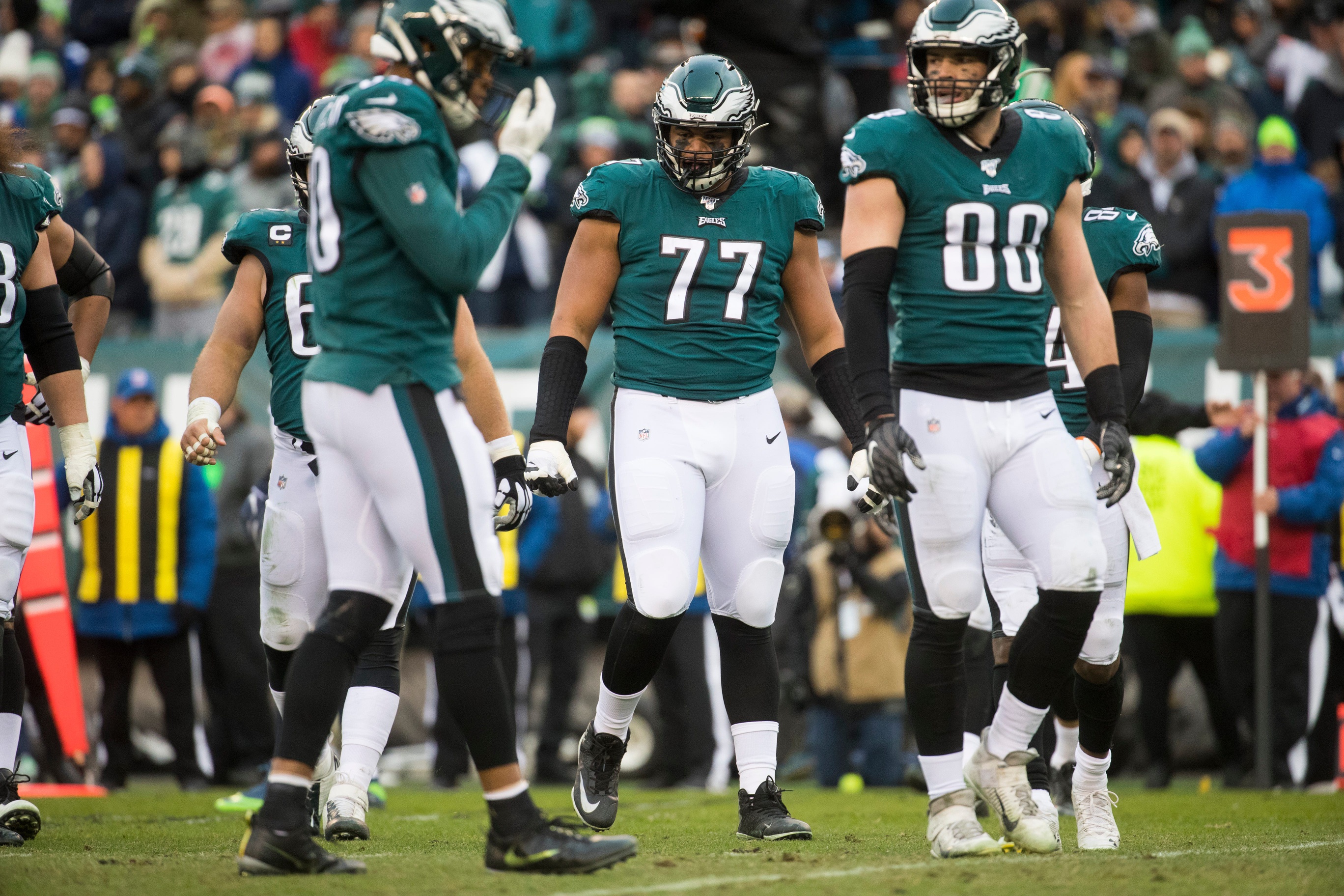 Philadelphia's offensive line has a high standard to live up to, and with Jason Peters moving to guard, it'll be up to Dillard to hold down the left side. He was an excellent pass protector in Washington State's high-volume offense in college, but his NFL transition got off to a slow start with a 59.7 grade as a rookie. Not only is the pass game an adjustment, but Dillard has work to do in the run game, as well. The Eagles drafted Dillard with an eye toward the future, knowing that Peters is near the end of his career, and the future is now for Philadelphia's left tackle spot.
DRAFT CLASS REVIEW
Certain draft classes have clear themes attached to them, and there may not be a clearer theme than the Eagles drafting speed in this class. From three wide receivers who run 4.4 or better to a sub-4.4 linebacker to the most athletic quarterback in the draft, the Eagles added plenty of athleticism on both sides of the ball.
While many questioned the second-round selection of Jalen Hurts as a backup quarterback, there are numerous benefits to the move, including the possibility that Hurts' strong college production will translate to the NFL. That could lead to a future as a starter, even if it's not in Philadelphia. Overall, the Eagles found immediate and long-term contributors at valuable positions, all while transforming their speed dynamic more than any team in the league. 
BEST BET
The Eagles have traded places with the Cowboys for favorites in the NFC East all offseason. They have taken a step back post-draft with their current implied probability of 41.7%. This is much higher than our current simulation, as we give them roughly a 33.2% chance of securing a playoff berth. The betting market has the Eagles' odds to not make the playoffs priced at a 40.2% probability, making this a bet with significant wiggle room, according to our current simulation.
The wide receiver room is filled with question marks, and with the ability of Carson Wentz still in question, the Eagles are a high-priced team, according to the betting market. Things don't seem to add up for the Eagles this year, and despite a soft division schedule, they could struggle to live up to preseason expectations.