The rumor mill is churning as the NFL Scouting Combine approaches, and it's starting to get clearer as to which free agents will re-sign as well as those who will leave and their likely landing spot(s). PFF recently debuted our free agency rankings page, featuring advanced analysis, PFF grades, wins above replacement (WAR), contract projections, team needs and much more. Using that one-of-a-kind database that includes data used by every single NFL team, we predict where every single free agent in PFF's top 50 rankings lands this offseason:
[Editor's Note: All EDGE and ELITE subscribers have full access to our free agency database, including rankings, grades, PFF WAR, contract projections and more! Subscribe today!] 
The 41-year-old signal-caller announced on social media that he isn't retiring just yet and said to "Who Dat Nation" that they were going to make another run at it. In other words, he isn't going anywhere. In the 14 years of PFF's existence, Brees has far and away been the most valuable player in the NFL by total WAR. On top of that, Brees has never produced an overall single-season grade lower than 81.0 nor a single-season grade rank among quarterbacks that was below the 75th percentile. He was second to only Russell Wilson in PFF overall grade this past season and was the most accurate quarterback on a throw-for-throw basis via PFF's ball-charting process. Brees isn't washed up, and with him under center, the Saints are contenders.
Dallas is in a brutal spot with its 2020 free agency class — they paid Ezekiel Elliott, Jaylon Smith and Demarcus Lawrence prior to the 2019 season, and now the team's three most valuable players from the season have an expiring contract in Prescott, Amari Cooper and Byron Jones. It'll be hard to bring all three back, but it's a given that Prescott will be returning. Believe it or not, but Prescott was actually one of the three most valuable quarterbacks in the NFL last season. There's certainly cause for concern with handing him this type of contract considering he ranked 19th and 20th among quarterbacks in PFF grade in 2017 and 2018, respectively, but Prescott's high-end is too good to ignore. He might be in that tier of quarterbacks that can be average or elite in any given year, but that's better than a lot of other team's signal-caller situations now.
Everyone is enthralled with the possibility of soon-to-be 43-year-old Tom Brady leaving the team he started his career with. However, let's be sensible here and consider that this is likely just a hell of a marketing ploy and an attempt to scare Bill Belichick into getting Brady some receiving weapons. His time has passed from elevating a group of no-name receivers, but he's still a top quarterback in this league. Brady was still the 12th highest-graded quarterback of 2019 and is just a year removed from being a top-five quarterback in grade and WAR.
Jacoby Brissett produced just a 59.3 PFF grade in 2019 that ranked 29th of 32 quarterbacks — a mark that was actually worse than his 62.4 PFF grade in 2017 when he had to step in for an injured Andrew Luck. The short-lived Brissett era that featured a few weeks of MVP talk from other national media outlets (you know who you are) is over. There have been rumors about a potential reunion in Indianapolis between Philip Rivers and Frank Reich, who was his quarterbacks coach and offensive coordinator in San Diego from 2015-17. For anyone who thinks this is a bad idea, it's really not. Brissett was a poor deep passer, and while Rivers has taken a step back in this category, the overall accuracy between the two is night and day. Looking at passes that were beyond the line of scrimmage, Brissett ranked second to last in uncatchable pass rate while Rivers ranked in the top 10.
In just one year, Ryan Tannehill went from posting the third-worst passing grade PFF has ever seen in a single season with Miami in 2018 to posting the third-highest passing of the 2019 season with Tennessee. In Weeks 1 through 6 with Marcus Mariota starting, the Titans were 27th in EPA per pass play. From Week 7 and on with Tannehill starting, the Titans were second in EPA per pass play. He helped elevate the offense, and it'd be a shock to see Tennessee part ways with that.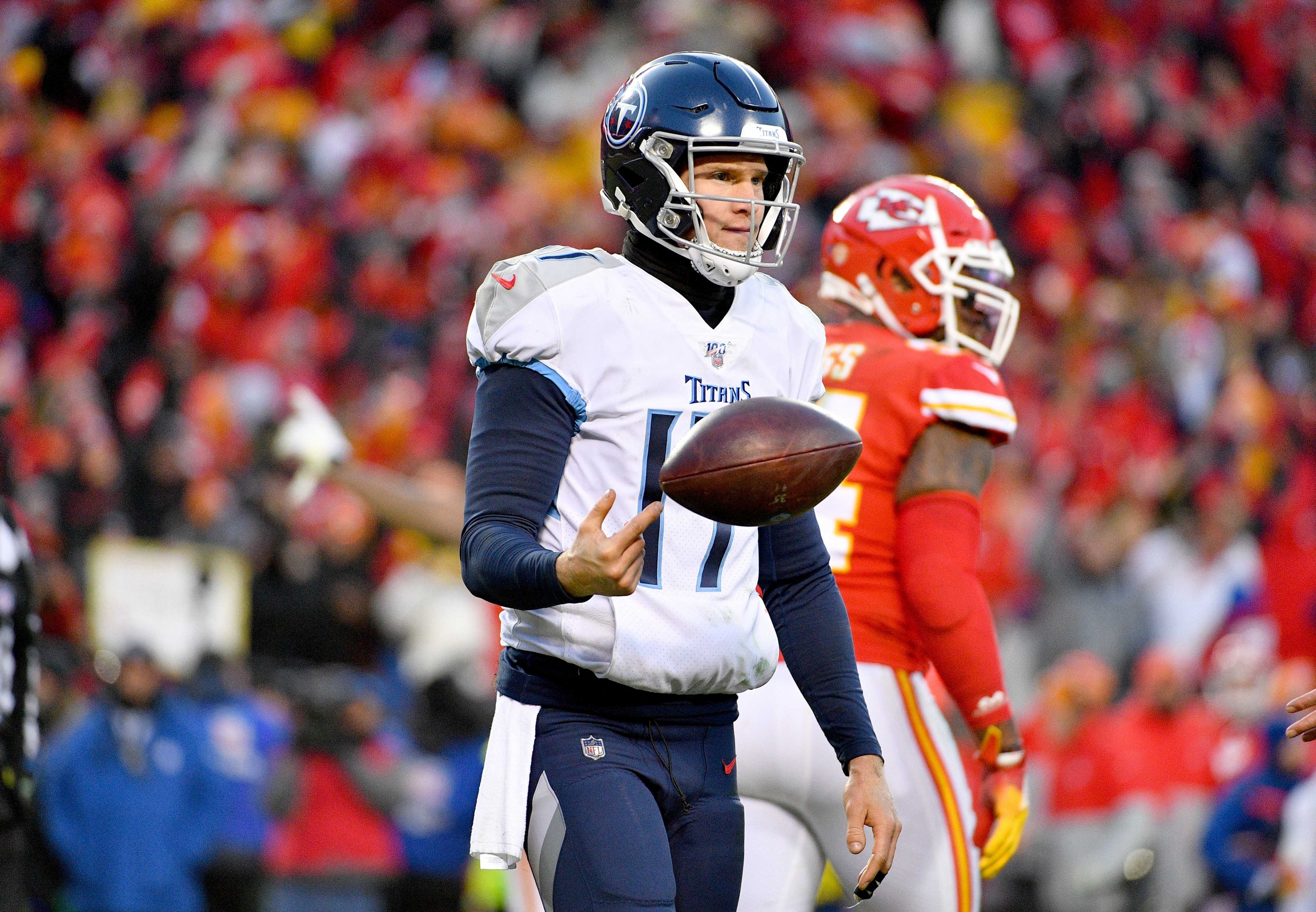 As said, one of the three Cowboys (Prescott, Cooper and Jones) will likely be leaving Jerry's World, as bringing back all three would break the bank. With Prescott being a lock, it'd be hard to imagine Dallas not bringing back his number one receiver in Cooper, who has been a top-15 receiver in PFF grade since he was traded to the team in the middle of 2018. Dallas' offense this past season netted 122.0 expected points added on Cooper's 907 plays on the field and just 2.95 on 425 plays when he was on the sideline. Cooper's route-running is widely known as one of the best in the NFL, and with a rather poor receiving unit outside of him, Cooper doesn't seem to be going anywhere.
With just $13.7 million in cap space and Super Bowl MVP Patrick Mahomes still needing an extension, the Chiefs have to be careful with who they sign this offseason to sustain long-term success. Chris Jones is one of the best 3-techniques in the entire NFL. If it weren't for Aaron Donald's dominance, Jones would own the highest pass-rush grade at 3-tech over the past four years. As our own Eric Eager broke down earlier this week, a likely scenario for the Chiefs is to apply the franchise tag to Jones and trade him for draft compensation. Indianapolis is a candidate for this type of deal, as they own two second-round picks and are desperate for pass-rush help, particularly on the interior where they ranked 29th of 32 teams in pressure rate generated.
Bruce Arians was adamant that Tampa Bay's primary goal is to improve its defense this offseason. And with $80 million in cap space to play with, the Buccaneers can make some big plays. One of Tampa Bay's deep safeties from last season, Andrew Adams, is set to hit free agency, and he was below average in that role by producing a PFF grade at the alignment that failed to crack the 50th percentile. Anthony Harris, on the other hand, owns the highest two-year grade at the alignment. He can slide into the same role as Adams and be an immediate upgrade. Over the past two seasons, Harris has been responsible for 17 combined pass breakups and interceptions and not a single touchdown. That's pretty good and is exactly what Arians is alluding to when he said he was going to improve the defense.
In 2018, the Raiders ranked dead last in EPA per pass allowed. In 2019, the Raiders ranked dead last in EPA per pass allowed. If I had to guess what Jon Gruden says to that, it's "something's gotta give, man." The good news is, they have money in the bank to pay for one of the top defensive backs hitting the open market — and there isn't a cornerback better in this free agency pool than Byron Jones. After bouncing around at various alignments in the secondary for three years, Jones found his home at outside corner in 2018 and has since been one of the five best in the NFL. In that role, he's been a shutdown corner in press-man coverage — he allowed just 0.39 yards per coverage snap on those reps in 2019, the second-lowest figure at the position and over eight-tenths of a yard lower than the average. Daryl Worley was dead last in that stat, in case you were wondering.
It seems likely that Chris Harris Jr.'s time in Denver is coming to an end. Harris moved to outside corner from the slot in 2019 and had the worst season of his career from a grading standpoint. Still, we cannot forget that he was the third highest-graded slot corner in 2018. The Houston Texans are a team in need of cornerback help in the slot and potentially willing to pay for the veteran's services to contend. Among all 32 teams in 2019, the Texans were 32nd in slot coverage grade, where they surrendered a 122.4 passer rating. That is no bueno.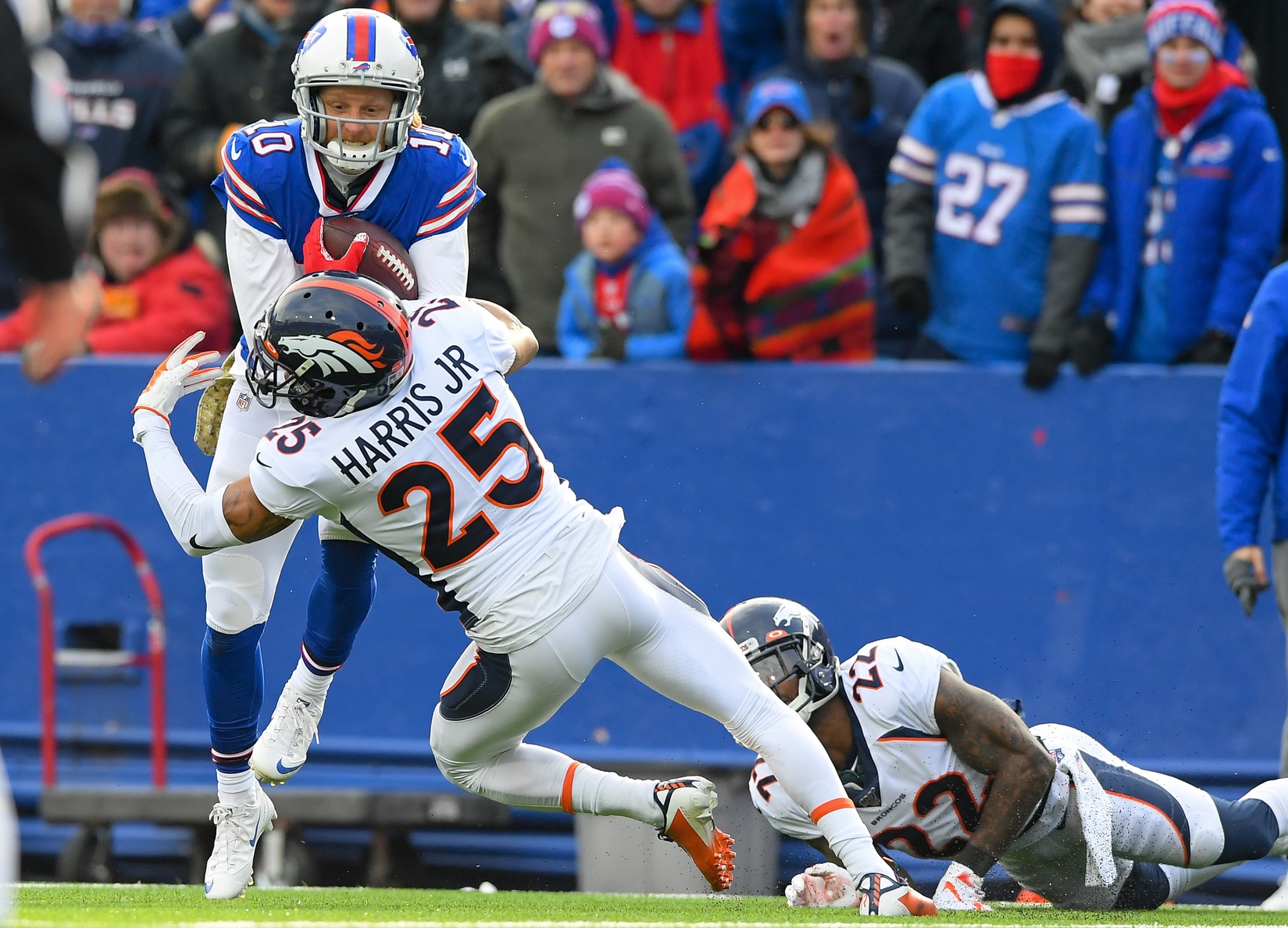 Since Cincinnati didn't trade wide receiver A.J. Green at the in-season deadline, it'd be hard to imagine them letting him walk in free agency. Sure, a franchise tag and trade scenario is on the table with a team like the Patriots, but the most likely scenario is Green returning to give Joe Burrow a legit number one receiver. In his eight seasons, Green produced a grade higher than 80.0 in seven (all of which ranked in the top 20), with the one season he didn't being his rookie year. Even with not playing the past year and a half, Green still ranks fourth in deep receiving yards (20-plus yard targets) and tied for first in deep touchdowns since coming into the league in 2011. He's exactly who Burrow needs, and with all the drama surrounding whether or not Burrow can trust Cincinnati's desire to win, bringing back Green would help weather that storm.
I'll be the first to say that I cannot wait to watch 20-20, fresh-off-LASIK Jameis this upcoming season. We all know how wild and unexpected his play is, with some throws being head-scratchers and others astonishingly great. He's generated positively graded throws and negatively graded throws at a high rate in every season of play and has at times been in the top half of quarterbacks in WAR. Just back in 2017, Winston was the 11th most valuable quarterback to step on the field. He has the arm to make the deep throws and thrive when Bruce Arians is calling plays, as he was 13th in deep passing grade last year. The eye surgery and a one-year deal seem to be the agreement between the Buccaneers' brass and Winston, giving him one more chance.
The Seahawks got Jadeveon Clowney via trade with the Texans for practically peanuts prior to the 2019 season. However, the time has come for them to cough up some cheddar to pay the man — Russell Wilson has been vocal about wanting Clowney back.  He's projected to receive the largest contract for a non-quarterback, which is incredibly generous given he was just the 18th most valuable edge defender in 2019. He's always been a stout run-defender, producing multiple top-five graded seasons in that facet, but has yet to take that step forward as a pass-rusher. He produced a below-average pressure rate in 2019. He's a good player — we aren't debating that — but the price has to be right. Regardless, it seems like the Seahawks will do whatever is needed to bring him back since their defensive line is already subpar (23rd in overall grade and 31st in pass-rush grade).
Projected contract: N/A
The once second overall pick's time with the Titans has come to an end with Tannehill lighting up the Music City. Marcus Mariota likely won't be looked at as a long-term situation, but rather a bridge quarterback or back-up to a bridge quarterback who could create a small competition — kind of like a situation the Los Angeles Chargers are in. Chargers head coach Anthony Lynn worked closely with Tyrod Taylor in Buffalo during his career seasons and brought him to Los Angeles this past season to be Philip Rivers' backup. Mariota can be used in the same manner Lynn used Taylor in Buffalo (designed carries, play-action passes, etc.). Mariota's two most successful seasons came in 2017 and 2018 when he produced high rushing grades for a quarterback at 79.6 and 83.0, respectively.
The first domino of getting TB12 back to New England might just be bringing in one of the league's most underrated tight ends, Hunter Henry. In his first two seasons in the NFL back in 2016 and 2017, Henry produced a two-year receiving grade that trailed only Rob Gronkowski and Travis Kelce. After missing 2018 and Weeks 2 through 5 of 2019 due to injury, Henry came and finished the remainder of the year ranking 13th in receiving grade. He isn't Gronk, but he can line up inline, in the slot or out wide and dominate his opponent better than most tight ends.
Cory Littleton has turned into one of the league's best off-ball linebackers in coverage the past couple of seasons, producing a two-year coverage grade that ranks as the third best — behind only Lavonte Davis and Luke Kuechly. Littleton could very well sign elsewhere given the departure of Wade Phillips and the limited cap space ($14.7 million). That doesn't entirely mean that new defensive coordinator Brandon Staley can't use Littleton in the same role, but the lack of assets is more so the problem. It would probably be in the Rams' best interest to move on from Littleton since he was just the 12tth most valuable player on the team, but for now, it looks like a return is most probable.
There were murmurs of Anthony Castonzo considering retirement, but for now, we are operating under the assumption he comes back. And if he does, the Colts will be all over bringing him back and making him a Colt for life. General Manager Chris Ballard has said as much — and understandably so. Since 2012, Castonzo has never graded lower than 76.9 in a single season, and his lowest grade rank among offensive tackles was 27th. He was one of the three highest-graded left tackles of 2019 and one of the most valuable in the NFL.
Robby Anderson is the breakout player we have all been waiting for over the last few seasons. He's a high-risk, high-reward free agent, never producing a PFF grade that cracked the top 40 at his position. As a result, it's hard telling as of now which team is going to risk it for the Robby biscuit in free agency. That being said, the Raiders are an intriguing team that has been linked to Anderson, though the fit is questionable. Jon Gruden runs a West Coast attack that takes few shots downfield and doesn't integrate as many vertical routes as other offenses, which has been Anderson's nourishment throughout most of his career. My colleague Ben Linsey recently wrote a fantastic article breaking down how the Jets failed to take advantage of Robby Anderson's greatest asset. I recently wrote about how Derek Carr should be the starting quarterback for the Raiders in Las Vegas and mentioned that Gruden should consider swerving from his West Coast philosophies and incorporate more shots downfield. If Gruden listens, this somewhat likely signing might pay off.
With Drew Brees returning, Teddy Bridgewater is leaving, and the reports are that multiple teams are interested in his services as a bridge quarterback. Carolina would be among these teams. While they should consider tanking 2020 for Trevor Lawrence in the 2021 NFL Draft, they'll probably not want to make it known they are holding out hope for Lawrence or Justin Fields in the next draft and use a safe quarterback such as Teddy Bridgewater instead. Bridgewater didn't perform terribly for an injured Brees earlier this season, producing the NFL's fifth-highest grade when starting from Weeks 3-7.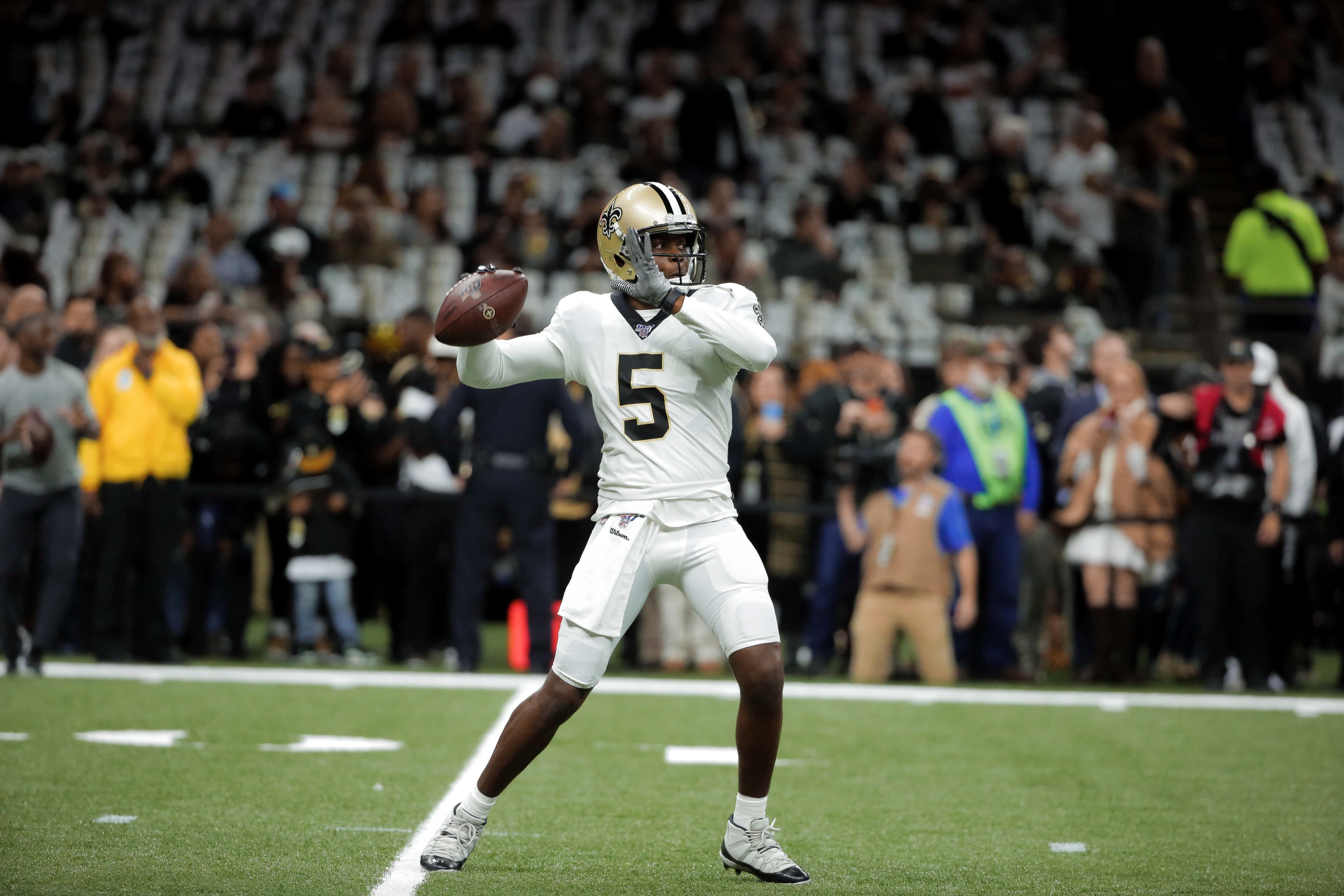 Both Justin Simmons and the Broncos brass have made it known that they want to strike a deal to bring the safety back to Denver. Based on his 2019 season under Vic Fangio, you can understand why Denver likely won't let Simmons slip away. With the new regime, Simmons made one of the biggest improvements in play from 2018 to 2019, improving his coverage grade from 51.2 to 91.1. In coverage, Simmons allowed just a 32.1 passer rating on targets thrown his way while racking up 15 combined interceptions and pass breakups. He was the most valuable safety of 2019 and is going to cost a significant amount because of it.
Jack Conklin has had a roller-coaster few seasons, featuring multiple injuries that led Tennessee to decline his fifth-year option for this season. He then responded by putting together the fourth most valuable season by an offensive tackle in 2019 and was a big piece to opening up holes in the run game for the tank Derrick Henry. His 83.7 run-blocking grade was the sixth best among tackles in 2019, and while his pass-protection wasn't up to par with his run-blocking (still good, but ranking 32nd in pass-blocking grade among tackles), Tennessee is going to want to bring Conklin back in a package deal with Henry.
He's been injured the past few seasons, but that hasn't hindered his success when on the field. Brandon Scherff has ranked among the top 20 highest-graded guards in each of his five seasons in the NFL. Even with playing in just 11 games, Scherff managed to be the fifth most valuable player on Washington's 2019 squad. The new regime is likely going to want that back in 2020 (though this also says a lot about the many holes at other positions, too).
New head coach Joe Judge reportedly isn't afraid to poach free agents from his previous team in the New England Patriots, and given their need for receiving weapons, the Giants might be in the hands of the guys they aren't able to pay, such as Devin McCourty. He'll turn 33 this year and is on the last leg of his football career, but he can be temporary help for a Giants team hindered by their secondary. McCourty has been one of the 10 most valuable safeties in each of the past two seasons, rarely allowing explosive plays and exemplifying great tackling.
Like Judge, former New England assistant and now Dolphins head coach Brian Flores is primed to snatch some Patriots talent this March. They are in a rebuilding effort and are coming off a season in which their front office tried to make them tank. Now, they own the six picks within the top 70 in this upcoming draft and own the most cap space among all 32 teams — it's time to start constructing the roster with young talent. Adding left guard Joe Thuney, who has been one of the 10 most valuable guards in each of the past three seasons, would be a big-time replacement over Michael Deiter, who produced just a 42.5 overall grade in his rookie season.
As said before, Bruce Arians emphasized improving the defense, and the organization seems ready to give Shaquil Barrett a nice payday to return. Barrett's career has been an interesting one — he was always a top-25 edge defender in PFF grade in all of his four seasons with Denver, and he still was with Tampa Bay in 2019, but perhaps went from underrated to overrated with his sack total being in the spotlight. Barrett is still a great player, but Tampa Bay has to be cautious of the price. Luckily for them, Barrett has noted that he's paying attention to state tax information in his contract negotiations and is willing to take less to stay with the Buccaneers (Florida doesn't have income tax), which opens up cap space for other big free agents.
[Editor's Note: All EDGE and ELITE subscribers have full access to our free agency database, including rankings, grades, PFF WAR, contract projections and more! Subscribe today!] 
Considering the Jaguars are currently over the cap, seeing Yannick Ngakoue on another squad in 2020 seems likely. Things could change with cuts, but for now, Buffalo, which owns the third-most cap space, would be the likeliest landing spot for Ngakoue. With Shaq Lawson set to hit free agency and Lorenzo Alexander retiring, Buffalo has nearly half of its total edge pressures to replace this offseason. Ngakoue has produced top-20 pass-rush grades in each of the past three seasons and could play the 6/7-tech role Lawson played.
With Amari Cooper and A.J. Green likely to return to their respective teams, domino number two to woo Brady back to New England is signing veteran receiver Emmanuel Sanders. With San Francisco's cap situation, a Sanders departure is likely and would be one of the few weapons Brady needs in New England to succeed. He's been one of the 25 most valuable wideouts in each of the past two seasons. Adding him in with Julian Edelman, Hunter Henry and perhaps another receiver with their first-round pick (possibly Henry Ruggs III, Tee Higgins, Jalen Reagor) could help spark one last title run for Brady and Belichick.
It's been reported that the 49ers want to resign Arik Armstead and that he is willing to work with them and their limited cap space. With his skyrocketing improvement in PFF grade in a contract year, the 49ers have to be careful not to overpay for Armstead. His PFF overall grade went from 74.8 to 89.6, and while his pass-rush production improved, there's a lot to be concerned with there. He had 13 sacks on the year, which tied for the 10th most. But he also tied for just 37th in pressure rate. Like Barrett, Armstead is a good player — but for the right price.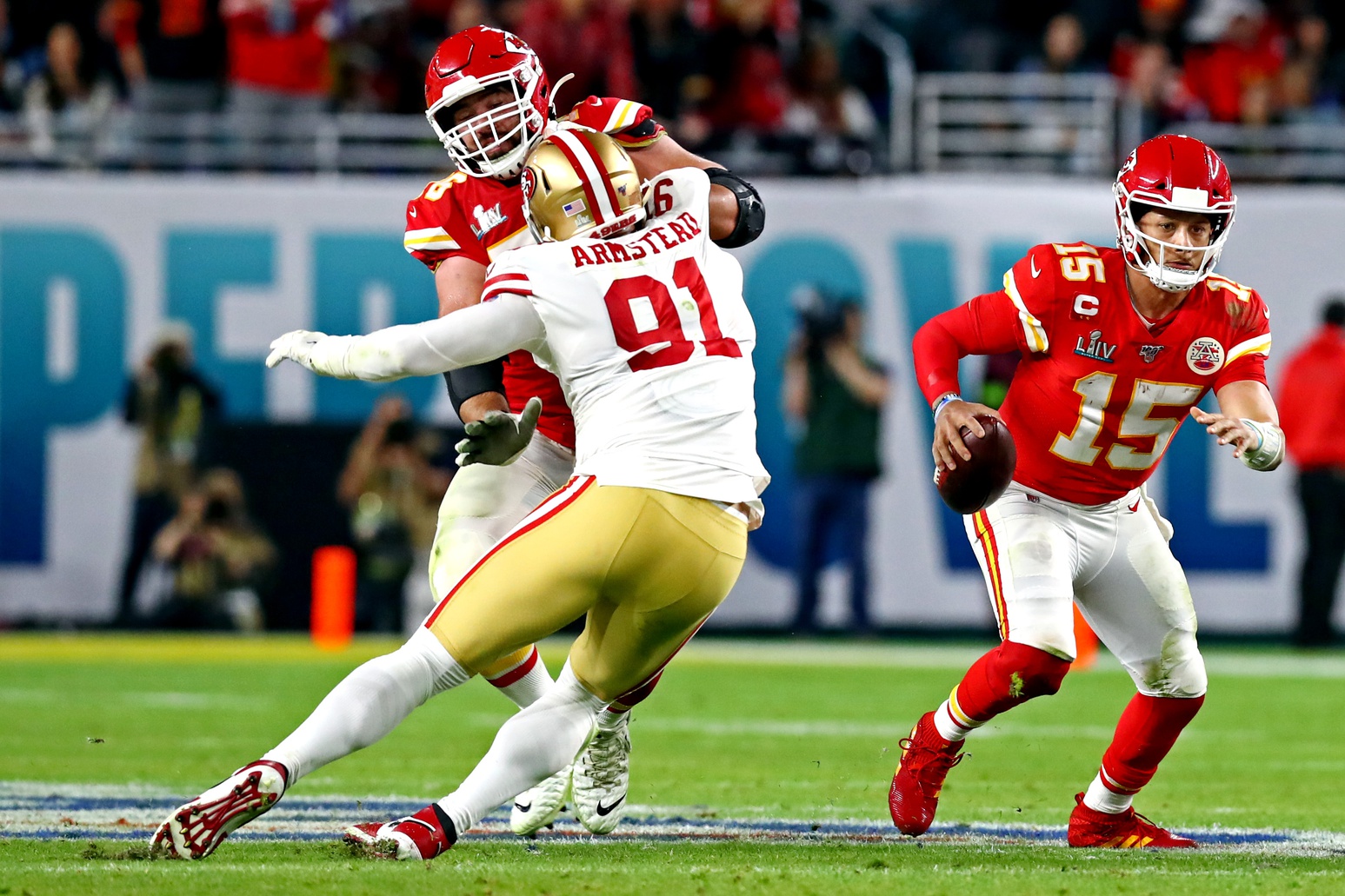 With playing alongside Eddie Jackson and a majority of the focus being on the Bears' anemic offense, most didn't really give recognition to Ha Ha Clinton-Dix's 2019 season that ended with him producing a PFF grade among the 20 best safeties in the NFL. Clinton-Dix has great range and can play the single-high role better than anyone, allowing just one first down while picking off two passes when playing that role in 2019 — something Philly could upgrade at with Rodney McLeod hitting the market.
Chicago desperately needs a reliable tight end — Trey Burton didn't play too well in his first year with the Bears in 2018, producing a 64.4 receiving grade.  And he responded in 2019 by lowering his grade to 48.2 in limited action. The Bears' second-round pick from 2017, Adam Shaheen out of Ashland, has never seen more than 14 targets in a single season. There's a pretty steep drop-off among free agent tight ends after Hunter Henry, so it wouldn't be shocking to see Chicago get themselves in a situation where they are reaching for an Eric Ebron. He's been consistent as a receiver by posting receiving grades between 69.4 and 71.4 in each of the past four years, but he might be someone to be cautious investing in — especially considering the Bears have minimal cap space.
If there was an award for most underrated player in the NFL over the past three years, Boston would be the runaway favorite. Playing for the Chargers in 2017, Cardinals in 2018 and Panthers in 2019, Boston has produced a combined PFF coverage grade at free safety that's the best in the NFL. He's been responsible for only 13 catches at that alignment in that stretch while intercepting 10 and forcing 14 incompletions. The analytical Cleveland front office might be intrigued by the fact that Boston was the fifth most valuable safety in the NFL in 2019 and their free agent safety Damarious Randall was 34th.
After posting two above-average seasons by PFF grade in 2017 and 2018 when he ranked among the 35 best at his position, D.J. Reader jumped to seventh in 2019 and earned himself a massive payday. The near 350-pound interior defensive lineman proved he could play anywhere on the interior — and at a high level. Russell Wilson was adamant about wanting the Seahawks to bring in big-name players, and they did it with Jadeveon Clowney and Greg Olsen. Adding Clowney's former teammate D.J. Reader to replace Jarran Reed would be another step toward that.
Baltimore has only two real major flaws: their receiving unit and their pass-rush unit. The loaded wide receiver class in the 2020 NFL Draft can lead them to get decent value at Pick No. 28 or No. 60, and a healthy Marquise Brown will help them next season. The Ravens' interior defensive line last season was among the bottom five in PFF pass-rush grade, and that might just be the position they target in March. The Steelers don't have the money to pay Javon Hargrave, which is great news for their division rival. Hargrave finished the 2019 season as one of the 15 highest-graded pass-rushers at his position.
The Giants don't have to pay Leonard Williams, but with the way some double down on their mistakes, it seems likely that they'll continue riding the investment made on him. They gave up a third- and fifth-round pick for him midseason, and he finished off the year just 36th in PFF grade among those at his position. He's always been a strong run-defender and a below-average pass-rusher. Williams had just a 66.2 pass-rush grade in 2019, which ranked 33rd among those at his position.
It seems like every PFF analyst at some point has had their chance to preach about how signing Derrick Henry to a deal over $10 million per year is an incredibly bad idea. The offensive line Henry had the pleasure of running behind was sixth in run-blocking grade, and while he was difficult to bring down with over four yards after contact per attempt, he brought little to no value on the receiving end — which is the most important facet for a running back. He saw only 28 targets this year and dropped three while producing just one yard per route run, which ranks 37th of 48 qualifying running backs. Because of his 182-yard and 195-yard performances in the Wild Card and Divisional round, respectively, Henry seems to have locked up a return to Nashville.
Along with Arik Armstead, it's been said the 49ers' front office would like to bring back Jimmie Ward, but only if they can make it work with their allotted cap space. Prior to 2019, it was unlikely Ward would be with the 49ers long-term, as he missed over half of his career games due to injury and never had a coverage grade above 70.0 in a single season, bouncing around at various alignments. When healthy in 2019, Ward was used as their primary deep safety, and he had one of the best seasons of the year at the position. His 84.5 coverage grade was the ninth best, and he forced the fourth-most pass breakups (8).
Despite what the box score says, Austin Hooper is more a result of Atlanta's scheme as opposed to a tight end who can single-handily win in single coverage. Over three-fourths of his total receiving yardage since 2016 has come on targets that were underneath coverages or from finding a hole in a zone. In other words, the majority of his yards are being handed to him. It's worked out for him and Atlanta, as he was the fifth most valuable tight in 2019 and, as long as guys such as Julio Jones and Calvin Ridley are on the field, the Falcons can expect this to continue.
After leaving Baltimore following the 2017 season, former first-round pick Breshad Perriman finally found some success. He posted a 76.0 receiving grade in 2018 with Cleveland and a 72.3 receiving grade with Tampa Bay in 2019. Over that stretch, he dropped just one of his 90 targets — something we all know the Eagles' receiving unit had troubles with last season. The free agency market at receiver is top-heavy, but Philadelphia — which owned the worst wide receiver unit grade of 2019 — would get great value in Perriman.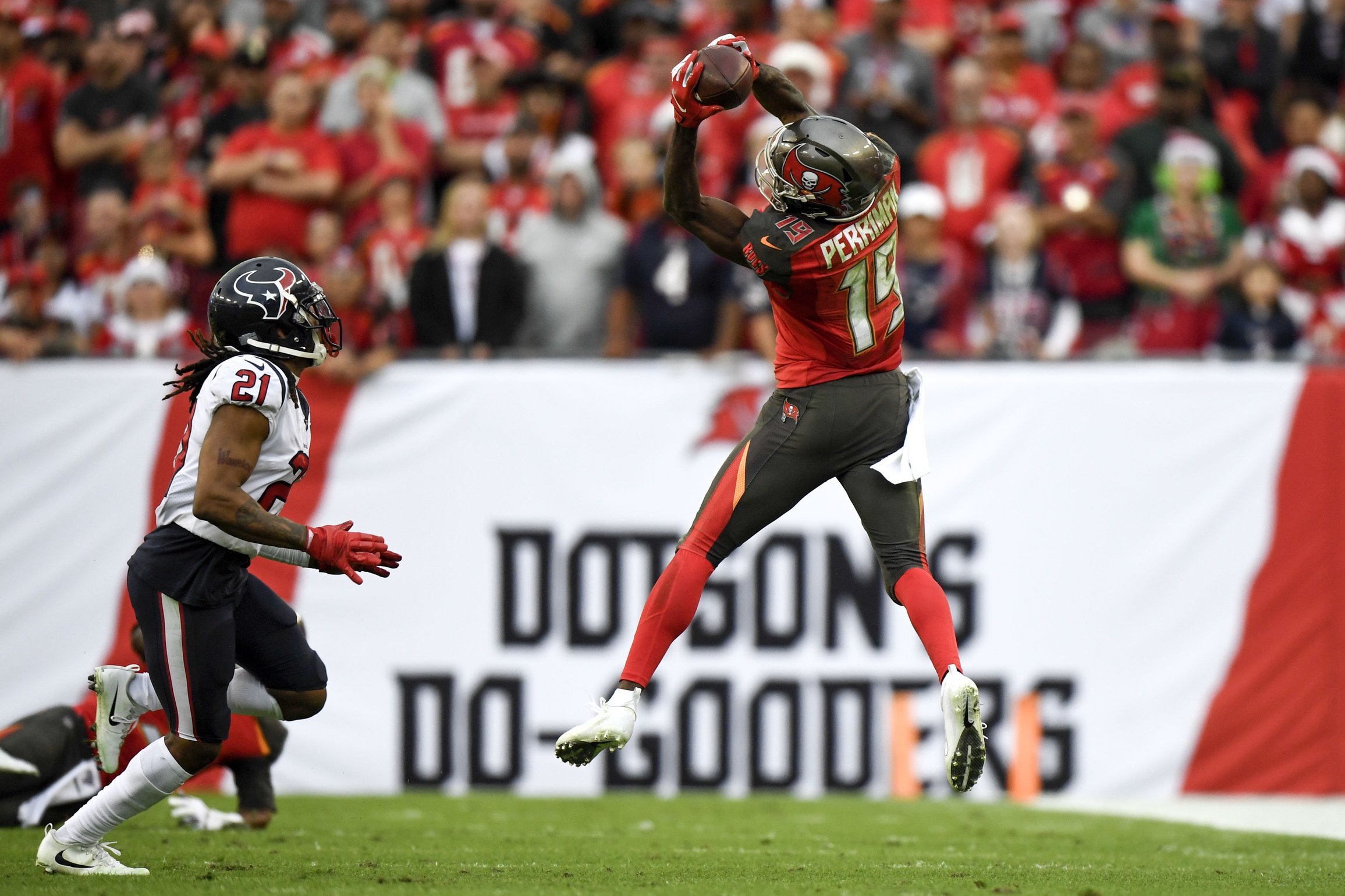 Melvin Gordon III killed his value by holding out for a new contract and won't fetch many bones on the open market because of it. He posted a career-high 89.1 rushing grade in 2018 and averaged 2.1 yards before contact. In 2019, his rushing grade dipped down to 71.7 and his average yards before contact fell to 1.3, which led to a far lower rate of explosive runs generated. Someone will end up paying him, though, and Detroit seems to be a prime candidate to do that. They had a top-10 run-blocking unit but failed to surpass the 25th percentile in team rushing grade as they cycled through multiple backs all season long.
Like Judge and Flores, Matt Patricia won't be afraid to pull free agents away from New England, and bringing in Kyle Van Noy is the likeliest route they'd take if they were to snag a player familiar with their scheme. Detroit would cut Devon Kennard to do that since Van Noy plays that exact role (would save then $5.6 million in 2020). Van Noy has played mostly off-ball linebacker in his career but transferred to the edge and recorded a career-high PFF grade that was 16th at his position. Considering Van Noy ranked 50 spots ahead of Kennard in pass-rush grade in 2019, this isn't a bad move to make.
Joe Schobert took a pretty big step back in 2019 compared to the two seasons prior, dropping his overall grade ranks from 26th and 11th to 48th. He was one of the top coverage linebackers of the 2018 season by allowing 0.40 yards per coverage snap and recording an 87.7 coverage grade, but Schobert dropped down to average in that category in 2019 by raising his yards per coverage snap by half a yard allowing five more touchdowns. The new regime is reportedly high on Schobert and likely to re-sign him considering he was a pick from the Sashi Brown era.
Michael Pierce had a down year in his pivotal contract year. After posting PFF grades of 79.7, 86.9 and 91.0 in his first three seasons, Pierce lowered that mark to 69.1 in 2019. The Broncos might be able to get a bargain for Pierce if he's able to get back to form, and they can play him in a near-identical role to what Shelby Harris played.
Bringing back Logan Ryan with Tannehill, Conklin and Henry seems to be a pipe dream. Ryan is by no means an elite slot corner — in fact, he surrendered over 1,000 yards in coverage in 2019 and was constantly picked on. That being said, he's still an average player at the position — he was the 48th most valuable corner in 2019. His projected contact might be a bit steep, but Ryan could be a big improvement for a team that had a liability defending the slot for them in 2019, such as the Giants. Ryan spent the first four years of his career on the same team as Giants coach Joe Judge and could reunite in New York.
Mike Daniels' peak years seem to be over. These past couple ofseasons, he wasn't able to sniff his three-year stretch from 2015-17 when he produced PFF overall grades of 90.3, 77.3 and 81.5. That being said, he's still capable of being an average to slightly above average interior defensive lineman. He's not one to break the bank for, but the Cowboys won't be in the market to do with  Cooper and Prescott desiring hefty contracts.
Trae Waynes is likely going to get a one-year, prove-it deal this free agency. He's barely cracked the top 50 in grade among those at his position in each of the past two seasons. Waynes really wasn't a terrible man-corner in 2019, allowing just 71 yards on 134-man coverage snaps. The Giants' outside corners were the third-lowest graded among the 32 units and are going to need all the help they can get in the new scheme.
[Editor's Note: All EDGE and ELITE subscribers have full access to our free agency database, including rankings, grades, PFF WAR, contract projections and more! Subscribe today!] 
The 38-year-old Andrew Whitworth has said he is returning for one more season and is eyeing a one-year deal with the Rams, who are in dire need of offensive line help across the board. Yes, he's getting up there in age, and it showed some in 2019, but he was still one of the 10 best pass-blocking tackles in the NFL last year in PFF grade. The Rams are going to have to start building up this line with young talent sooner rather than later, but Whitworth provides a solid short-term solution.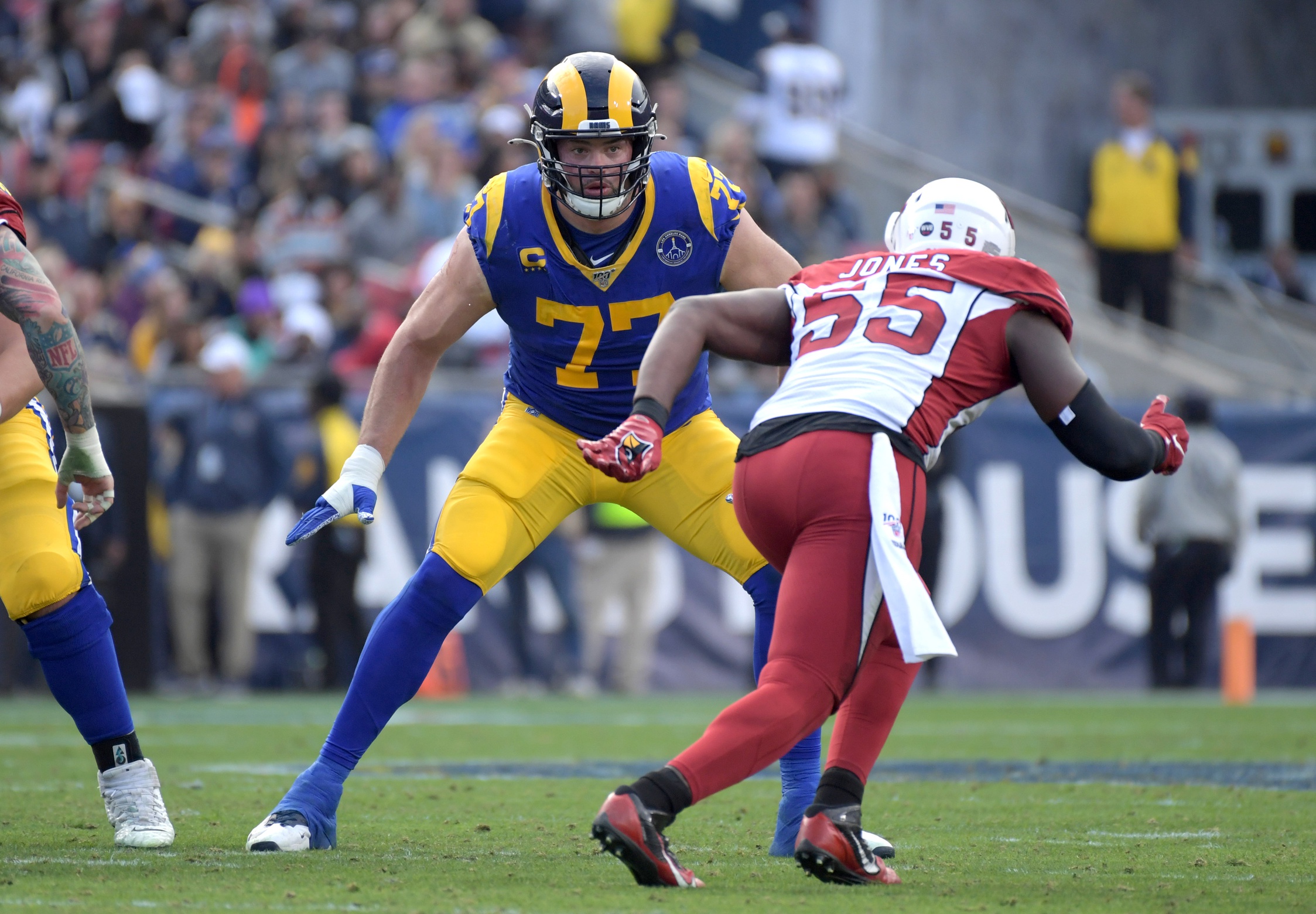 After spending the first three seasons of his career in Atlanta and being relatively average (at best) in all three years, Brian Poole came to New York and had a career year in the slot by ranking among the 10 highest graded players in coverage at the alignment. They signed Poole last March largely because defensive coordinator Gregg Williams thought he would be a great fit in his defense and clearly, he was and likely isn't going anywhere.
Jason Peters' injury history and age is only going to garner him a one-year deal this March, but he was still the sixth highest-graded tackle in the NFL this past season. In pass-protection, specifically, Peters was fourth in PFF grade. The Eagles took Andre Dillard in the first round of the NFL Draft last season, but it might be best to give him another year to develop and sub in when needed considering Peters is still blocking at a high level.
The Lions went from stacked on the interior defensive line to in dire need of help in just one-year's time. They'll be hunting for talent there this free agency, and Shelby Harris is the low-risk, high-reward type player who fits the bill. After spending two years with the Raiders in a minimal role back in 2014-15, Harris spent the past three seasons with the Broncos as a solid role player. He recorded an elite 90.4 overall grade in 2018 on limited reps but saw that dip back down 76.8 with an increased workload in 2019. Assuming his projected contract is what he gets, the risk in investing him will be relatively low and worth pursuing.
After playing fairly well with the Patriots in the first three and a half years of his career from 2013 to mid-2016, Jamie Collins went to Cleveland where his career went down into a spiral a bit. He spent the first eight weeks of 2016 in New England and had an 82.9 overall grade before being traded to Cleveland for the remainder of the season. There, he dropped his grade to 54.2 and subsequently posted the worst marks of his career in his two full seasons with the Browns in 2017-18. Collins then returned to New England in 2019 and got back to form, being the 12th most valuable linebacker in the league. Needless to say, Collins might want to find a way to stay with Belichick, who has brought the most out of him.