• Geno Smith continues to shine: Seattle's starting quarterback helped the team put up 48 points in a Week 4 win over the Detroit Lions.
• Dexter Lawrence dominates: Lawrence racked up a career-high eight pressures and posted a 31.4% pass-rush win rate in Week 4.
• Joe Schobert quickly latches on with Titans: After jumping around the league the past few years, Schobert was Tennessee's highest-graded defender in Week 4.
Estimated Reading Time: 8 mins
---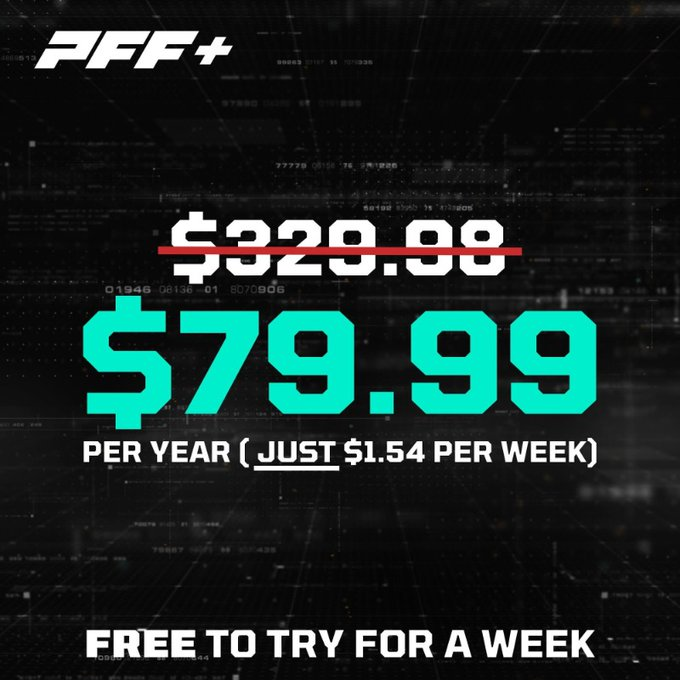 Earlier in the season, Joyner was the lowest-graded safety in the NFL. That wasn't a surprise, as his play has dramatically dropped off in each of the past five seasons. But Joyner just had one of the best games of his career in Week 4 against the Steelers in Pittsburgh. 
Joyner was the team's highest-graded player in Week 4, finishing with an 89.8 mark after racking up two interceptions and allowing just 26 yards on three targets in coverage
Jets safeties coming up big today! Lamarcus Joyner sets up Jordan Whitehead for the interception! pic.twitter.com/RWWFAsKUh4

— Fireside Jets (@FiresideJets) October 2, 2022
He also added two pass breakups, providing the Jets with enough big plays on defense in the second half to upset the Steelers. This was the best performance by Joyner that we've seen over the past several years.
---
Pro Bowl left tackle Rashawn Slater was placed on injured reserve with a torn bicep last week and is expected to miss most, if not all, of the 2022 season. That put the Chargers in a bind, as they seemingly didn't have the tackle depth to overcome such an injury. 
Rookie Jamaree Salyer proved otherwise, though, and stepped up in a big way in Week 4. He was the team's highest-graded offensive player (78.6). The 2022 sixth-round pick started at left tackle for the Chargers and did not allow a single pressure or quarterback hit against the Texans on 41 pass-blocking snaps. As a result, he ended up being one of the league's top-rated pass blockers in Week 4, earning a 90.4 mark. 
Salyer allowed just four pressures during his 2021 season at Georgia but still managed to fall late in the draft. Time will tell if he can stick at tackle in the NFL, but the Chargers have to be very encouraged with the play of their young offensive lineman after Week 4. 
---
How can you not be impressed with Geno Smith? After competing for his job during training camp, he and the Seahawks just scored 48 points in Week 4 and now sit at 2-2 after four games. 
Smith recorded the highest game grade of his career (92.4) as he threw for 320 yards and two touchdowns. He also added in 49 rushing yards and a touchdown on the ground, showing he is in complete control of the Seahawks' offense.
Geno Smith connects with Will Dissly for the Seahawks TOUCHDOWN!! pic.twitter.com/K2QvIiA9Gk

— Brian Y (@byysports) October 2, 2022
He finished the game averaging 10.7 yards per passing attempt with an adjusted completion percentage of 83.9%. His average depth of target was 10.8 yards, which is his highest figure in a start since Week 14 of the 2014 season. Smith probably isn't the long-term answer for Seattle, but he is playing outstanding football this season.
---
Another impressive Seahawk in Week 4, rookie cornerback Tariq Woolen was targeted six times and allowed three receptions for 47 yards. The highlight was an incredible pick-six where he undercut a Jared Goff throw and took it to the house. 
IF YOU DIDN'T KNOW, TARIQ WOOLEN IS VERY FAST!

HIS FIRST TOUCHDOWN OF HIS CAREER!

????: #SEAvsDET on FOX pic.twitter.com/e4IFG4IP06

— Seattle Seahawks (@Seahawks) October 2, 2022
When targeting Woolen in Week 4, Goff posted a 36.8 passer rating. That is quite impressive for a rookie still learning to play the cornerback position. He finished the game with a 69.5 overall grade and has now improved every week for the Seahawks. 
While Woolen has played only a handful of games in the NFL so far, it seems like head coach Pete Carroll has found the next freakishly long, athletic cornerback for his defense.
---
The Dolphins selected Phillips in the first round of the 2021 NFL Draft, but he had a subpar rookie season. There were three games during that campaign in which he posted a pass-rush win rate over 20%, but he was a liability against the run, forcing the Dolphins to limit his snaps. 
Flash forward to Week 4 of 2022, and Phillips is coming off the best overall game of his career. He finished with an 89.8 overall grade, the second-best on the team, behind Christian Wilkins. But the reason he made this list is how he did it. 
Phillips recorded five pressures — three hurries, a hit and a sack — against the Bengals while posting a 17.4% pass-rush win rate. He also graded out well against the run (74.2), totaling two stops and setting the edge well for Miami. 
Things are starting to come together for Phillips. He is finally becoming a more consistent and well-rounded player, and if he continues to make strides as a run defender, he'll be one of the NFL's top edge rushers in no time.
---
If there is one position that Bill Belichick knows better than any other coach in NFL history, it's cornerbacks. After letting J.C. Jackson walk in free agency, the Patriots have gotten some outstanding play from Jonathan Jones and the rest of the secondary. 
This week, fourth-round rookie Jack Jones stepped up in a big way. While he did allow 60 yards on seven targets, Jones made the play of the day when he intercepted Aaron Rodgers right before halftime and returned it for a score. 
Going to the ????@presidentjacc | #ForeverNE

???? #NEvsGB on @NFLonCBS pic.twitter.com/Dp5JAEMX7s

— New England Patriots (@Patriots) October 2, 2022
Jones finished the game as the Patriots' highest-graded player (93.5) and was one of the highest-graded defenders of the week. He has seen his role increase in each of the past four weeks and appears to be one of the next great New England cornerbacks under Belichick.
---
Allen could have made this list in Week 2 after a fantastic second-half performance against the Raiders. And he had another incredible game in Week 4, helping the Cardinals defeat the Panthers. 
While he tallied only two pressures, Allen greatly impacted this game. He recorded three batted passes, including one on fourth down, to seal the game. He also added in three run stops and recorded a sack that helped the Cardinals get off the field on third down. 
Zach Allen : 6 tackles, a sack, 3 passes batted down & 2 QB hits pic.twitter.com/p6zGrRpjAs

— Lee Harvey (@MusikFan4Life) October 3, 2022
He was the team's highest-graded defender (82.2) and has been a big part of the Cardinals' defensive turnaround over the past two weeks. As long as he and J.J. Watt can stay healthy, Arizona's interior defensive line will be in great shape.
---
It's been quite the ride for Joe Schobert over the past few years. He was a Pro Bowl linebacker for the Browns during the 2017 season, and the Jaguars rewarded him with a big contract in 2020. Since then, he's played with the Steelers (2021) for a year and was signed and cut by the Broncos within eight days this past August. 
The Titans then signed Schobert on Sept. 27 and activated him to play in Week 4. He played 24 snaps against the Colts, finishing as the team's highest-graded defender. He made two impressive stops to help get the Titans off the field. 
While Tennessee can't expect Schobert to play like that every week, maybe he's finally found the right situation since leaving Cleveland. 
---
The incredible combine performance by Philadelphia Eagles rookie Jordan Davis set a standard that will never be broken for 340-plus-pound defensive tackles. But don't forget about Dexter Lawrence, who ran a 5.05-second 40-yard dash at 342 pounds before the 2019 NFL Draft.
Much like Davis, Lawrence was drafted to primarily be a run-stopping defensive tackle with the athleticism to play sideline to sideline. However, Lawrence is starting to show the ability to rush the passer. 
In the Giants' Week 4 game against the Bears, Lawrence racked up a career-high eight pressures, including five quarterback hurries and two sacks. In addition, he recorded an incredible 31.4% pass-rush win rate, which was easily the highest of his career. 
Dexter Lawrence chops w/ the outside hand, long-arms w/ the inside arm, and then just bull-rushes through the OL for a sack pic.twitter.com/v5suTql0cj

— Nick Falato (@nickfalato) October 2, 2022
After three good seasons, Lawrence appears to have taken the next step. If he can continue to rush the passer at an above-average rate, there is no reason why he can't be a Pro Bowl defensive tackle as soon as this season. 
---
At this point in the season, it should no longer be surprising that Terence Steele is capable of a solid outing. He's been the Cowboys' most consistent offensive lineman (even over Zack Martin) this season. 
Steele had another strong performance in Week 4, allowing just one pressure and no sacks against the Washington Commanders. He was Dallas' highest-graded offensive lineman in Week 4 (72.0) and is the team's second-highest-graded player on offense this season, behind only wide receiver Noah Brown. 
Through the first month of the season, Steele has allowed four pressures and one quarterback hit this year. Not only has he made significant strides as a pass-blocker, but he has also consistently improved as a run-blocker. 
After four games, you can make a strong case that Steele is one of the NFL's best right tackles. And that is certainly impressive, considering how much he struggled during the 2020 and 2021 seasons.