Last year wasn't supposed to go the way it did for the Indianapolis Colts. The franchise saw one of the league's premier signal-callers in Andrew Luck surprisingly retire, and that move had a massive ripple effect for fantasy football purposes. While the team doesn't currently have Luck's long-term replacement on the roster, they did bring in veteran Philip Rivers in free agency. Let's break down our initial 2020 fantasy football projections for the Colts.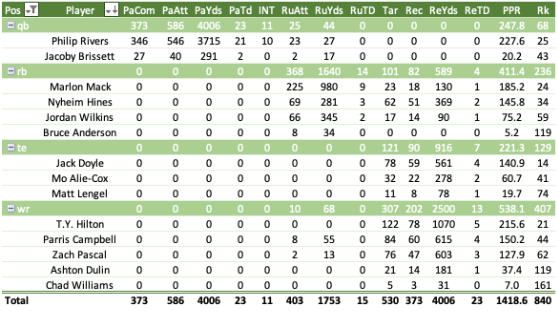 While Rivers may just be a bridge to the future for the Colts, his presence will provide some stability at quarterback for this roster. With that being said, our numbers paint a very conservative picture for Rivers and the Indy passing game. After throwing for 4,615 yards last year, we only have him barely cracking 3,700 in our initial projections. To be fair, I don't think anyone expected Rivers to project as a top-10 fantasy quarterback, but the numbers are still disappointing. He's shaping up to be a low-ceiling option in 2QB leagues.
T.Y. Hilton has certainly been one of the higher-ceiling wideouts over the last half-decade plus, but he's now north of 30 and injuries have cost him six games over the last two seasons. Even with Rivers in-house, it's tough to view Hilton as anything more than a WR2 option in fantasy. Still, the projections are actually more bullish on Hilton than our 2020 fantasy football rankings, where he comes it at WR27.
We know from his time with the Chargers that Rivers loves his tight ends, and that's good news for Jack Doyle. Better yet, with Eric Ebron out of the way, Doyle projects to see the 14th-most targets among tight ends, which is also exactly where he projects. Doyle doesn't come with the highest fantasy ceiling, but he's a safe high-floor option worth consideration in the late rounds of drafts.
At first glance, the numbers don't necessarily impress for Marlon Mack, as the running back ranks just 24th at the position. However, Mack does rank fifth among running backs in touchdowns and eighth in rushing yards. The challenge with him is his limited usage in the passing game due to the presence of Nyheim Hines. We saw similar numbers out of Mack last season, as he ranked 23rd in fantasy points for the year despite topping 1,000 rushing yards and scoring eight times as a runner. Unfortunately, his role in the offense puts a major cap on his fantasy value, and he simply doesn't see enough touches to deserve anything more than back-end RB2 consideration.
[Find the full collection of analysis and insights on PFF's 2020 fantasy football projections for all 32 NFL teams. Check back as more articles will be added each day.]