• Bet Cardinals alt lines (-2.5/-5.5) against Raiders: QB, pass-rush edges create more betting angles favoring Arizona.
• Kyler Murray, not Derek Carr, will be game changer: Kyler Murray led the NFL in EPA (expected points added) on non-perfectly-blocked plays in 2021.
• Raiders O-line more vulnerable: And unlike Murray, Carr's play drops off drastically when blocking isn't perfect (.01 EPA/Play).
• New users who bet $10 or more at BetMGM will receive a free year's subscription to PFF+ — a $79.99 value.
At their current junctures, the Arizona Cardinals and Las Vegas Raiders are built remarkably similar with thin defenses and explosive offenses. In Week 2, we prefer Arizona — as the team with more upside — to pull away from the Raiders. 
Bet: Cardinals alt lines at Raiders (-2.5 / -5.5, +245 / +390)
BOTTOM LINE
Fundamentally, these teams are on about the same level, which alone creates value in a game with a 5.5-point spread. In what should be a back-and-forth, high-scoring affair – where spread points matter less — we like Arizona on the alternate line. Between Kyler Murray's propensity to take over games, and with the pass rush impacting Vegas more than Arizona, there are more angles for Arizona to pull away, and we can get this outcome at extremely juicy odds.
Defensive Outlook
• Raiders pass rushers Maxx Crosby and Chandler Jones finished No. 2 and No. 50, respectively, in PFF positional grading last season. Arizona's JJ Watt, who missed Week 1 with a calf strain, finished 10th, and fellow Cardinals ER Markus Golden was 23rd. Both defenses are weak on the interior and have middling linebackers. In the secondary, Vegas and Arizona each have one good corner, one good safety and otherwise coverage units full of weak links.
· Last season, Raiders CB Nate Hobbs had a 4% successful coverage over expected grade (SCOE), and Cardinals CB Byron Murphy had 3% SCOE. Raiders S Tre'von Moehrig and Cardinals S Budda Baker, respectively, both graded at above average. At least personnel-wise, these defenses are built strikingly similar — and it would be hard to make the case that one is definitely better than the other. 
Offensive Outlook
• Cardinals QB Kyler Murray and Raiders QB Derek Carr have produced at roughly similar rates over the past couple of years with below-average O-lines and good pass-catching groups.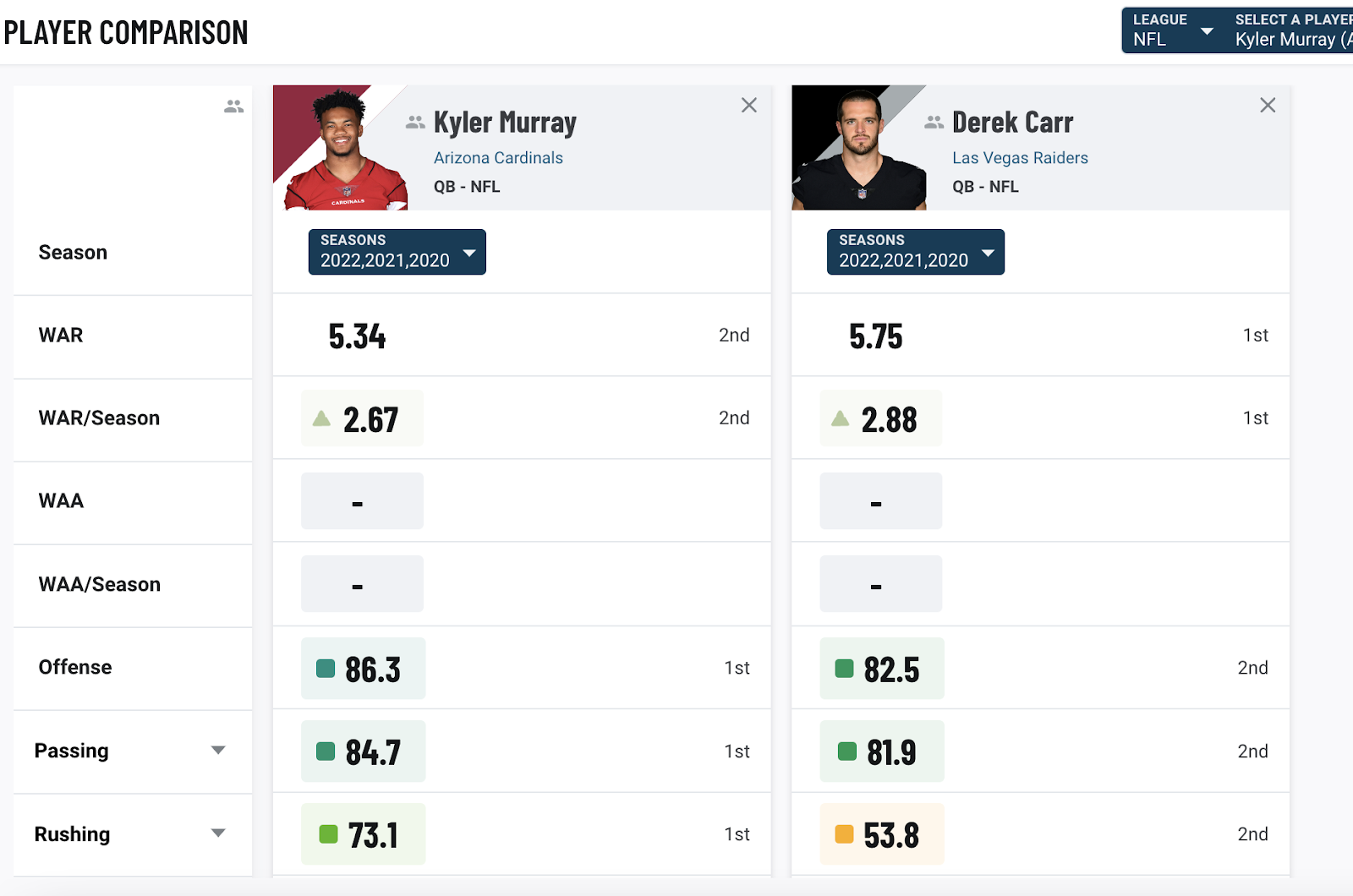 Angle 1:
If either pass rush influences this game, it will be Arizona overwhelming Las Vegas.
• Kyler Murray led the NFL in EPA (expected points added) on non-perfectly-blocked plays in 2021: Essentially this means that even when the blocking failed and/or pass rush won, Murray did not see a dip in his play. In fact, he was better at mitigating the effects of the pass rush than any other player (.20 EPA/Play). This mitigates the best asset on the Raiders defense — which is the pressure Maxx Crosby and Chandler Jones can create. 
• Derek Carr's inferior O-line has 4 negative successful blocking players, or put simply, 4 weak links in pass protection: Unlike Murray, Carr sees a huge drop-off when a play is not perfectly blocked (.01 EPA/Play). Watt and Golden could feast against the porous Raiders offensive line, with Carr unable to mitigate the damage. 
• Arizona better equipped than Vegas to exploit bad O-line: We think the Cardinals can get to Carr a few more times than the Raiders can get to Murray. And in a game with such a high total, Las Vegas stalling out on a couple more drives means more than it would in a lower-scoring game. But in this game script and with these offenses, a couple sacks stalling drives or creating a turnover can be all the difference in altering the script.
Angle 2:
Bet on Kyler's deep ball 
• Deep-ball disparity: Kyler Murray was by far the best quarterback in the NFL throwing deep last year, with a 8.1% Big Time Throw rate (BTT). It is no coincidence he also led the NFL with a 99.9 PFF Deep Grade. Murray is one of, if not the best, deep-ball throwers in the NFL. Meanwhile, Carr had a 5.9% BTT and 83.3 PFF Deep Grade. 
• Murray, not Carr, is a game changer: In what we suspect will be a back-and-forth battle, in a game script that will lean on the quarterbacks, we like betting on the passer who can make the difference themselves. Murray has a unique ability — expressed in these 2 stats and his rushing prowess — of putting the team on his back and being the difference.
Angle 3:
Fade the Week 1 overaction. 
• Push back against market overcorrection: The Cardinals' loss to the Chiefs was about as ugly as it gets. But if the market is pricing regression from last season on offense on account of Week 1 — this line moved from Arizona +3.5-to-Arizona+5.5 — we're taking the other side. Here's why: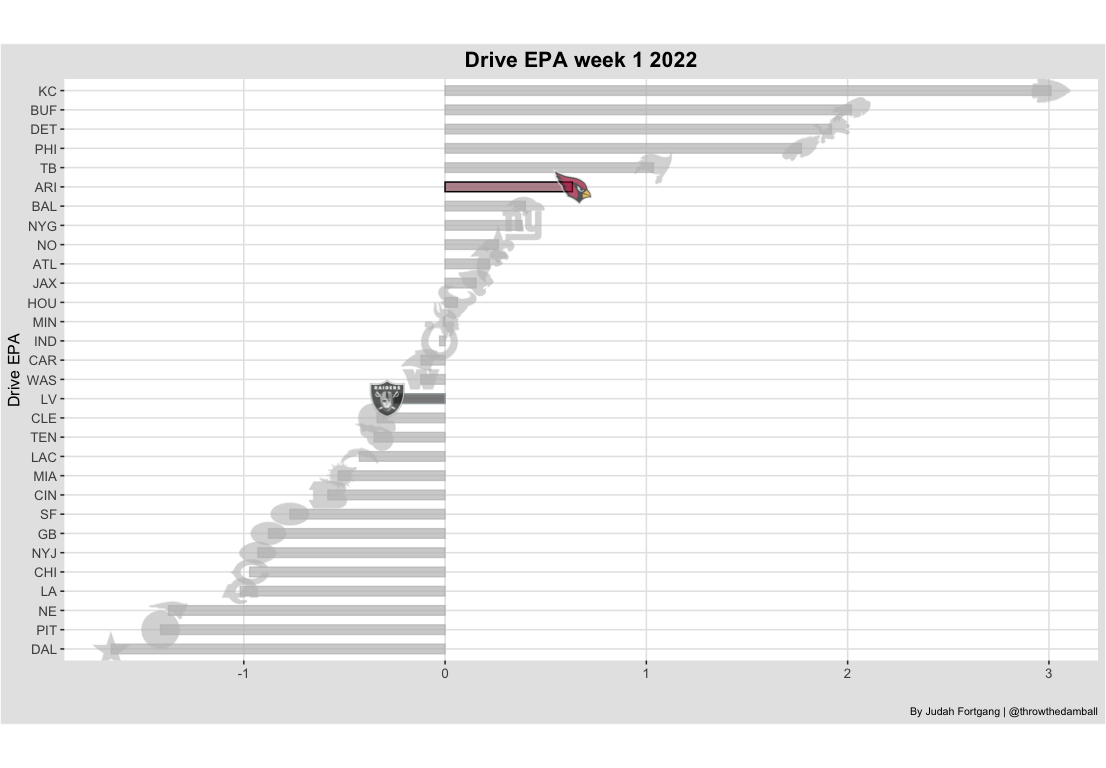 • Cardinals offense actually wasn't bad in Week 1: If we include the context for the drives — as Drive EPA does — we see that Arizona's play wasn't so bad in Week 1. Adjusted for context, the Cardinals actually were one of the best teams moving the ball. This is in line with where we saw this team in 2021, and we will gladly buy the other side of the market's bet on Arizona's offensive regression. (If anything, the Raiders' bottom spot on this graph is telling, but we're not putting too much stock into Week 1, only reacting to price movements. )