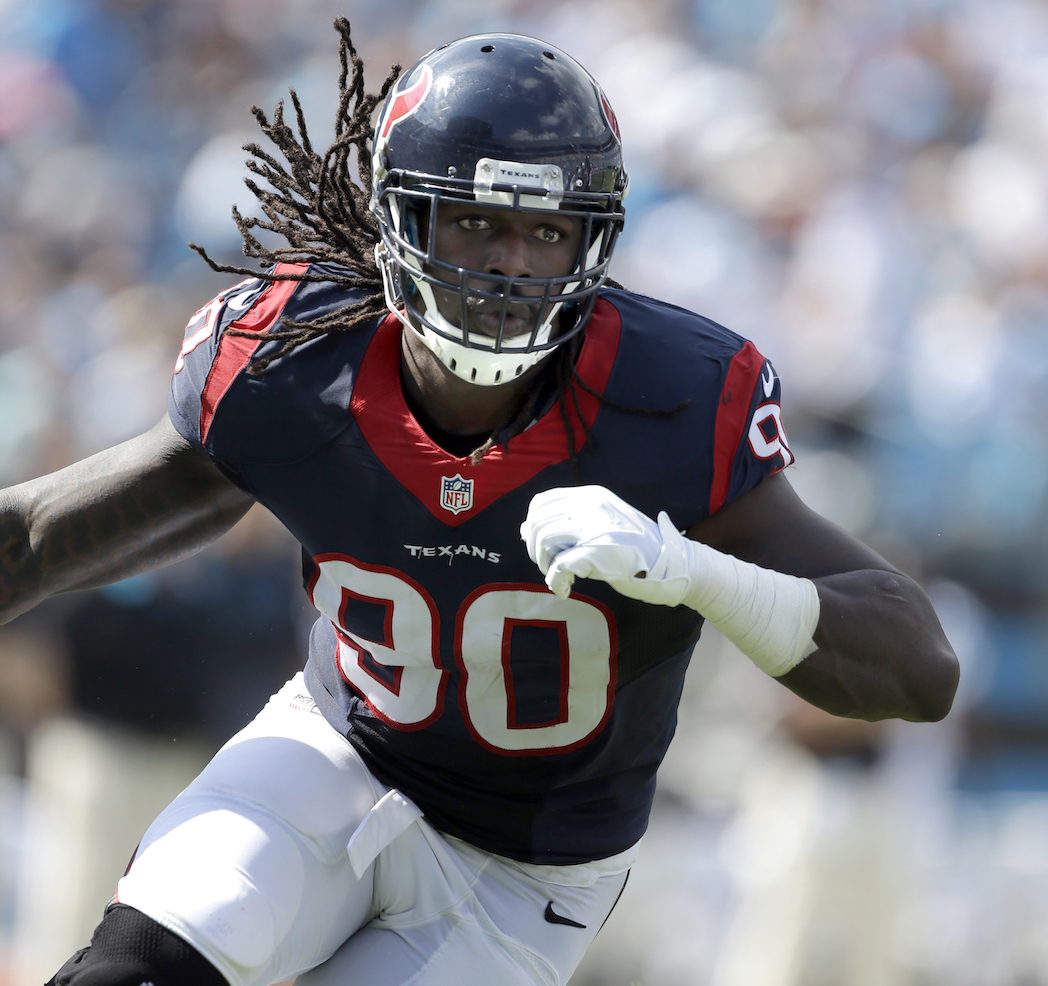 Houston Texans' Jadeveon Clowney (90) rushes the Carolina Panthers' offense during the first half of an NFL football game in Charlotte, N.C., Sunday, Sept. 20, 2015. The Panthers won 24-17. (AP Photo/Bob Leverone)
In the Texans' game against the Colts, J.J. Watt was largely invisible. One reason is because Indianapolis rarely ran to Watt's side. Only six of the Colts 26 carries went to the right of the RG, and Indy only averaged 3.5 yards on those carries. This meant a lot more runs to the left, but they weren't much more successful there. When running outside of the left guard, the Colts only averaged 3.5 yards per carry. A big reason for that was Jadeveon Clowney. When he was on the field and the Colts ran outside of the left guard, they only averaged 2.9 yards per carry.
For being the first overall pick of the 2014 NFL draft, it seems to many people that Clowney hasn't lived up to expectations. He's only played 380 snaps in his career to this point, and has yet to record his first NFL sack.
In reality, however, he has been playing very well in the NFL, especially against the run.
In all nine of his NFL games, he's posted a minimum PFF run defense grade of +0.4. His cumulative run defense grade of +9.8 this year is tied for the best among all edge defenders. His run stop percentage of 10.0 percent is the fourth-best for all 3-4 outside linebackers. Last night, he had his best game yet in the pros.
| | | |
| --- | --- | --- |
| | 3-4 OLB | PFF cumulative run defense grade |
| T-1. | Jadeveon Clowney, HOU | +9.8 |
| T-1. | Pernell McPhee, CHI | +9.8 |
| 3. | Justin Houston, KC | +6.7 |
| 4. | Khalil Mack, OAK | +4.4 |
| 5. | Ryan Kerrigan, WAS | +4.3 |
When the Colts ran to the left, Clowney had one tackle for a loss and two for no gain, although one was called back due to someone else's penalty. Twice the Colts tried to do a cut block with a pulling tight end, but neither worked well, and RB Frank Gore was forced to make a cut to avoid Clowney. On another run to the left, Clowney was able to push the tight end back to squeeze the running lane. On those five runs where Clowney was involved (outside of the one called back by penalty), the Colts averaged 1 yard per play. All of this came on just 17 snaps against the run. This led to a +4.2 run defense grade for Clowney, the second-best for an edge defender in a game this season.
As a pass rusher this season, although Clowney doesn't have a sack, he does have two hits and 12 hurries. His pass rushing productivity of 9.4 is average for a 3-4 outside linebacker, and a big step up from his 2.4 pass rushing productivity last year.
Teams can't run to the right against the Texans, and thanks to Clowney's play, they can't run to the left, either. With a little better play from the inside linebackers, the Texans could have the best run defense in the league, and Clowney is a big reason why. If he can continue his stellar run-game performance and become a more consistent pass rusher, he could become the player we all thought he would be coming out of college.