Just like Week 1, my bold predictions for Week 2 didn't come to fruition, but we're getting closer. Here is a rundown of my three predictions from last week and how they fared.
Jamal Adams leaves this game with more QB pressures than anyone on Seattle or New England through the first two weeks of the season
Result: Loss (Chase Winovich has one more pressure than Adams through two weeks)
After securing four pressures in Week 1, Adams added another three to bring his season total to seven pressures. That is comfortably first on his own team, as the second-place Bruce Irvin (at four) will miss the remainder of the season with an injury. 
On the other side, a six-pressure game from Winovich kept this prediction from pulling through, as he now has eight pressures total — one more than Adams. I was banking on a more even distribution of pressure on the New England side, but Winovich had himself a game. Russell Wilson certainly wasn't bothered by the pressure, as several of his touchdowns came on plays where he was hit. 
Seattle's running backs combine for 150 yards on the ground
Result: Loss (Seahawks running backs combined for 115 yards on the ground)
The Seahawks did ultimately gain over 150 yards on the ground in the game, but the running backs contributed only 115 yards to that total. They got the ball nine more times on rushing attempts than they did in Week 1 and upped their yards per carry mark from 2.7 to 4.6, but it wasn't quite enough for the big game on the ground that I predicted. Even with Wilson playing at an MVP level, I would expect Seattle continues to try to get Chris Carson and Carlos Hyde rushing attempts whenever possible. Old habits die hard. 
Damiere Byrd has multiple 20-plus yard receptions
Result: Loss (Byrd only had one reception of 20-plus yards)
This is the one that I thought had the best chance to happen during the game. The Patriots came out and threw Byrd's way multiple times early in the game, but he ended up with just one reception of 20 or more yards. Here were the yardage totals on each of his six receptions in the game:
20 yards

16 yards

15 yards

14 yards

9 yards

-2 yards
He had multiple opportunities in that intermediate, 10-to-20-yard range but wasn't able to turn those opportunities into multiple 20-plus yard gains. As I said, though, these are labeled as bold for a reason, and we're getting closer. Week 3 and an NFC heavyweight bout between the Green Bay Packers and New Orleans Saints awaits.
Bold Prediction #1: Taysom Hill attempts multiple passes in the game
Drew Brees is not the same player right now that the NFL has grown accustomed to seeing throughout his career. His 58.6 passing grade on throws 5 or more yards downfield ranks 30th among 32 qualifying quarterbacks, and his 60.6 passing grade overall beats out only Carson Wentz and Dwayne Haskins through the first two weeks of the season. The man who has been a big part of the Saints' success for all these years is holding them back right now, and there's no certainty at this point that he will be able to turn things around at 41 years old. 
Now, I'm not saying that Brees is going to get pulled out of this game or anytime soon, for that matter, but I do think the Saints will try to incorporate their do-it-all "quarterback" Hill in the passing game against Green Bay, given how Brees' arm has looked early this season.
A small sample size disclaimer is needed any time you're discussing Hill's passing numbers, but his passes have traveled 19.2 yards downfield on average. The Saints like to take deep shots with him, and I think they could opt to do that a few times in this game. The fact that he played only five special teams snaps in Week 2 — his fewest since when Brees was out with an injury last season — could be an indicator that the Saints are preparing for the potential scenario where he needs to take on a bigger role at quarterback. 
Games where Taysom Hill attempted multiple passes
| | | | |
| --- | --- | --- | --- |
| Season | Week | Opponent | Attempts |
| 2018 | 4 | Giants | 2 |
| 2018 | 11 | Eagles | 2 |
| 2019 | 16 | Titans | 2 |
He's attempted multiple passes in the same game only three times in his career. Let's make it four. 
Bold Prediction #2: Aaron Jones has more receiving yards than Alvin Kamara has rushing yards
PFF's fantasy projections currently have Kamara slated for 50.2 rushing yards and Jones projected for 33.5 receiving yards this week, but I think there is a good chance Jones comes out ahead in that competition based on how the Packers have been using him in the passing game. 
Across the 2017 and 2018 seasons, Jones had five receiving yards total when lined up as a wide receiver — whether that be in the slot or out wide. Last year, he had 194 yards (fourth-highest at the running back position), and he currently leads the NFL with 56 through the first two weeks of this season. The Packers are finding ways to get him the ball downfield in the passing game, and Jones is making plays when the ball does come his way.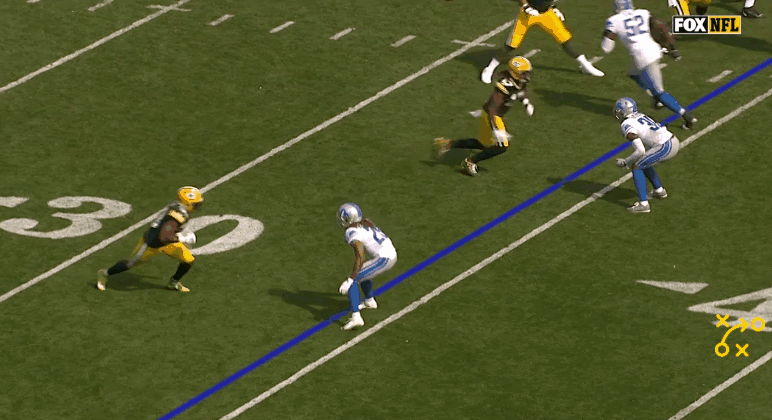 This play from Week 2 is a contested target on a pass 20 yards downfield against a cornerback. That is not something you see every day from a running back. Jones has shown over the past year that he's one of the better receivers at the position, as well as one of the league's best runners. I expect him to make some plays in the passing game against the Saints' defense. 
The other component to this is Kamara's rushing total. The fourth-year back certainly had more success on the ground in Week 2 than he did in Week 1 against the Tampa Bay Buccaneers, but it was just two weeks ago when Latavius Murray saw more carries than Kamara. Murray is going to eat up some of the production on the ground, especially if the Saints are able to get a lead and opt to attack a very questionable Packers run defense with inside runs from Murray. 
Bold Prediction #3: Rashan Gary records more pressures than any other player in this game
Considering that the Saints have been arguably the best team in the NFL at limiting pressure over the past several years and players such as Za'Darius Smith and Cameron Jordan are involved in this game, this prediction is probably the boldest of the three. Let me explain my rationale. 
While a lot of attention goes to the two Smiths on the edge after both recorded double-digit sack totals in 2019, Gary has actually rushed the passer seven more times than Preston Smith through the first two weeks of the season. Gary's seven pressures also lead the Packers over that time frame — beating out Za'Darius Smith by two. It looks like Gary has earned himself a much larger role on this defense than the one that he had in his rookie season last year. 
The other big contributing factor is just how little Rodgers has been pressured early this season. An offensive line that is playing as well as any group in the league and more of a focus on getting the ball out in rhythm has led to a situation where Rodgers has had a clean pocket on 83.1% of his dropbacks (highest in the NFL). A look at his average time to throw gives a look into part of the reason why that is the case. 
Rodgers' average time to throw by season since 2016
| | |
| --- | --- |
| Season | Average time to throw (in seconds) |
| 2020 | 2.51 |
| 2019 | 2.92 |
| 2018 | 2.94 |
| 2017 | 2.77 |
| 2016 | 3.01 |
He has consistently had one of the higher average time to throw marks in the NFL, but that has changed this year. That's relevant here because it makes it more difficult for Jordan and company to get pressure on Rodgers, giving Gary a better shot at recording the most pressures in the game. There's no better time to make a name for yourself than primetime.