We're back for Week 2 after a rough way to kick off the season, missing on all three predictions in the season opener between the Kansas City Chiefs and the Houston Texans. For a refresher, here were my bold predictions for that contest:
Deshaun Watson

is sacked at least six times

David Johnson

goes for 80-plus receiving yards

Kansas City's offense scores two touchdowns of 50-plus yards
The Watson sack prediction had the most legs to it. There was a realistic path to six sacks with the number of times he was able to escape a defender bearing down on him in the pocket. Even with those near misses, Watson was still sacked four times — tied for the second-most of any quarterback in Week 1. 
Subscribe to
The other two predictions weren't as close. Johnson had a solid showing overall, but most of his production came on the ground — he finished with just 32 receiving yards on three catches. The process wasn't necessarily bad, considering he lined up at wide receiver on 14 snaps (more than any other running back), but the targets didn't come his way. 
Meanwhile, the Chiefs ended up putting 34 points on the scoreboard, but the offense moved methodically down the field rather than picking up big chunks. Patrick Mahomes attempted just two passes 20 or more yards downfield and didn't complete either of them. They had just one play of 20 or more yards, let alone two touchdowns of 50-plus yards. 
We move forward with three more predictions for the Week 2 Sunday Night Football matchup between the New England Patriots and Seattle Seahawks, hopefully hitting on a few to make up for the goose egg in Week 1.  
Bold Prediction #1: Jamal Adams leaves this game with more QB pressures than anyone on Seattle or New England through the first two weeks of the season
Adams — a safety — currently leads both the Seahawks' and Patriots' defenses in total pressures through one week of the 2020 NFL season. 
Most pressures through Week 1 on New England and Seattle defenses
The crazy thing is that I think that's sustainable for at least one more week. From a talent standpoint, these are two of the worst pass-rushing units in the NFL. Seattle ranked 29th in team pressure rate last season and lost its best pass rusher (Jadeveon Clowney). On the other side, New England was able to generate pressure at an above-average clip in 2019, but it was largely scheme-based through blitzes and stunts rather than through individual pass-rushing talent. The Patriots also lost their most effective pass-rusher (Kyle Van Noy) in free agency. 
That means there isn't any one player who I'm worried about putting up an eight- or nine-pressure game. Adams isn't going to get nearly the same pass-rushing opportunity that some of these other guys will — which puts the bold in this bold prediction — but Seattle may give him another 8 to 12 pass-rushing snaps, given their lack of other options to generate pressure. That could be all he needs. New England's running backs better get ready to pass protect because Adams can ruin some days on the blitz.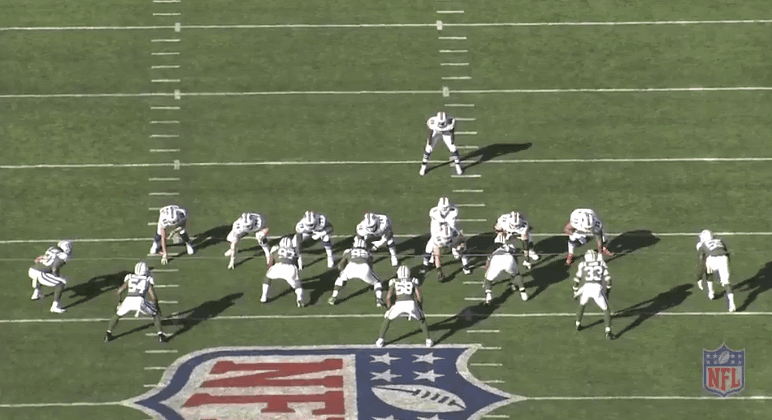 His 91.0 pass-rushing grade since the start of the 2018 season on nearly 200 pass-rushing snaps shows that he can legitimately get after the quarterback. I'm hoping that's enough to produce another three to five pressures, which should hopefully keep him out in front of the pack.
Bold Prediction #2: Seattle's running backs combine for 150 yards on the ground
The Seahawks let Russell Wilson cook in Week 1, and it was beautiful. No team had a higher pass rate through the first three quarters than the Seahawks on first and second down (69%) after consistently ranking toward the back of the pack in that number in recent seasons. Over the course of the entire game, Wilson went 24-for-26 for 229 yards and three touchdowns on those early downs. It was an example of what can happen when the Seahawks allow Wilson to throw early to build the lead rather than relying on him to bail them out when trailing or in less-than-ideal third-down situations. 
This is a spot where I could see Seattle looking to put an emphasis on the ground, though. Per Bob Condotta of the Seattle Times, Carroll said of the limited work for Chris Carson and Carlos Hyde, "Seven and six carries wasn't enough for our guys. We need to get more. We were at 20. We want to get more than that in general. But when Russ was completing every pass we weren't discouraged about moving the football. But we love running the ball, we always have, and those guys will get more carries as we move down through the schedule."
That sounds an awful lot like a coach who is itching to get back to establishing the run despite sterling results when Wilson took the reins of the offense. In this matchup, specifically, Carroll could opt to turn back to the run. New England's secondary is still very good, but the defense has lost multiple pieces up front between Danny Shelton, Dont'a Hightower and Jamie Collins. Secondly, Bill Belichick is no fool. A game plan in which he invites Seattle to run the ball rather than letting Wilson go to work on his defense is certainly not out of the question.
Seattle running backs — which came down primarily to Carson in 2019 — combined for 150 rushing yards on just three occasions despite their run-heavy approach. Carson and Hyde are both capable runners who can pile up yardage on the ground, though. Carson, specifically, is one of the more underrated rushers in the NFL. Since the start of the 2018 season, his 112 missed tackles forced are fewer than only Nick Chubb and Derrick Henry. As much as I hate to say it, the Let Russ Cook movement may not carry over from Week 1 to Week 2 as Carroll and offensive coordinator Brian Schottenheimer look to get back to the ground game. 
Bold Prediction #3: Damiere Byrd has multiple 20-plus yard receptions
You wouldn't know it by the stat line, but Byrd led the Patriots in routes run in Week 1, with 21. Despite that, he wasn't targeted once by his former quarterback in Carolina, Cam Newton. 
Most routes without a target in Week 1 | All positions
It was clear that the Patriots were putting an emphasis on the short, quick passing game in Week 1. Newton's 5.6-yard average depth of target and 2.3-second time to throw on average were both bottom-five marks in the NFL this past week. 
That doesn't exactly lend itself to the kind of downfield routes Byrd was running. Per ESPN's Mike Clay, Byrd had one of the highest average depth of routes in the league last week. That's going to lead to some duds, like in Week 1, but it also points to the idea that he is the Patriots' big-play, downfield option. 
Newton's downfield passing has taken a hit in recent years, but it's important to point out he's also been playing through injuries, including a shoulder injury that clearly impacted his ability to push the ball downfield in 2018. In Week 1, he attempted just one pass 20 or more yards downfield — it went exactly 20 yards to Julian Edelman in the middle of the field and fell incomplete. I don't think that's an indictment on Newton's health, however. It speaks more to what the Patriots were doing in the quick passing game and designed running game, not needing to mix in shots downfield. 
I doubt New England comes out and shows Seattle the exact same offense. I can see the Patriots taking several shots against Quinton Dunbar and Shaquill Griffin, who combined to allow 217 receiving yards against the Atlanta Falcons. And if that's what they do, Byrd is most likely the guy they will look for. Despite their Week 1 struggles, both Dunbar and Griffin were top-10 cornerbacks by PFF grade in 2019. They should have the upper hand in the matchup, but I'm going to go bold by backing Byrd's Week 1 usage translating to some production in Week 2. 
2020 bold predictions record to date: 0-3