Both D.J. Moore and Calvin Ridley are short of 6-foot-2 but had the athleticism and advanced route-running to be considered likely first-round picks. Now, both players have been drafted in the first round, and both will join teams in the NFC South. They aren't exactly the same kind of receiver, but their many similarities will no doubt link them in the eyes of fans, analysts, and fantasy players. Like the Panthers, fantasy players will have to choose which prospect they prefer. And while it may be unclear which receiver is more talented, Moore landed with the better team for the realization of his fantasy potential.
Cam Newton is a relatively inaccurate passer, but the perception of that inaccuracy is exaggerated by his tendency to throw down the field and his receiver's historical inability to convert on those attempts. Since 2015, Newton is one of just five quarterbacks with at least 600 attempts who have thrown at least 40 percent of their passes 10 or more yards in the air. With Carson Palmer now retired and Ryan Fitzpatrick out of a starting job, Jameis Winston is the only presumed 2018 starter who has been more aggressive.
That approach makes sense for Newton because of his excellent arm strength and relative accuracy on medium and deep passes versus short passes. On the former, Newton is better than average, with a 76 percent accuracy percentage that is in-line with passers with better reputations like Philip Rivers (76 percent), Matthew Stafford (76 percent), Russell Wilson (78 percent), and Matt Ryan (78 percent) himself. But that combination of aggressiveness and relative accuracy hasn't translated into proportionate success because the Panthers have not had the right receivers to take advantage of those medium and deep throws. In fact, Panthers' receivers have caught just 47 percent of Newton's medium and deep targets the last three seasons, which subtracted from Newton's adjusted completion percentage on those throws is a 29 percent failed catch rate, second-highest in football.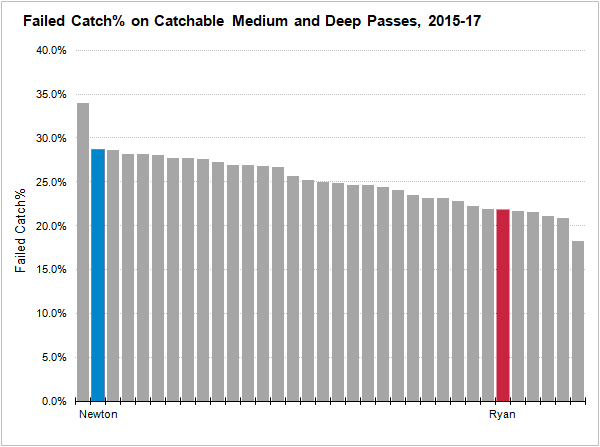 By rate, Newton hasn't been victimized to the same extreme extent as Derek Carr, whose 34 percent failed catch rate on those medium and deep throws is an outlier. But since Newton throws down the field so much more often, the impact is about the same.
His teammates' shortcomings have not held Newton back from fantasy success since so much of that value comes from his rushing yards and touchdowns, but those shortcomings provide an opportunity for the right kind of receiver. Moore fits the bill. He was top-two in the class with a 4.07-second shuttle time, 39.5-inch vertical leap, and 132-inch broad jump and top-five with a 4.42-second 40-time. He has the talent to get open in a variety of ways and while lined up in a variety places on the field.
Even though he was less impressive at the combine, Ridley can make a similar claim. But he can't boast a situation that is so clearly desperate for his skill set. In recent seasons, Ryan has been more conservative than Newton, choosing to rely more heavily on his team's skill talent to produce after the catch on shorter targets, in particular with running backs Devonta Freeman and Tevin Coleman. When Ryan has decided to stretch the field, his incumbent talent has capitalized on those throws. All three of the Falcons' returning deep targets has caught a higher percentage of their medium and deep targets than the corresponding player on the Panthers. Meanwhile, Devin Funchess, Torrey Smith, and Greg Olsen are set to become unrestricted free agents in 2019, 2020, and 2021, respectively. The stars are aligned to push targets to Moore more quickly than to Ridley.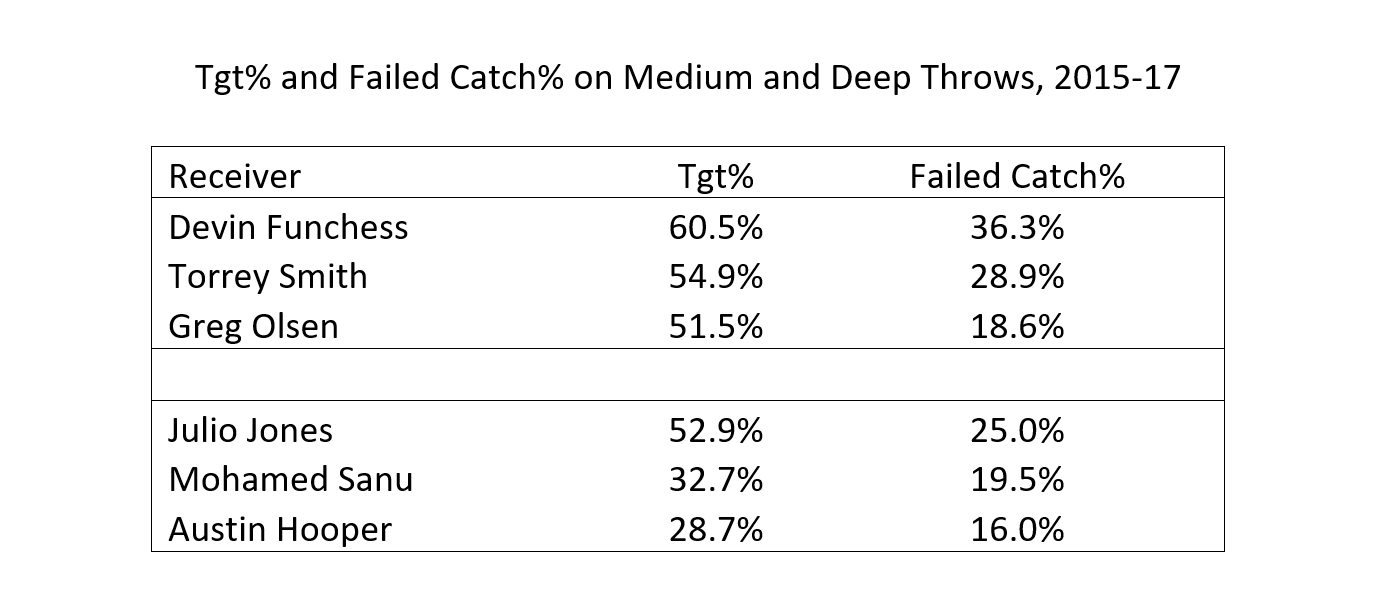 In the end, either Moore or Ridley will earn the fantasy advantage because of his own development. But because their talent levels and team investments are so similar, Moore becomes the clear fantasy choice because the strengths and weaknesses of the players on his new team should conspire to more quickly get him the ball.