The WR/CB matchup chart is one of the most popular fantasy football tools we have here at PFF. It's invaluable in allowing you to see matchups at a more granular level. In the past, we've only offered this tool for the NFL, but we've rolled it out for the XFL this year.
If you're new to the XFL fantasy football WR/CB matchup chart, there are a few things to keep in mind.
First and foremost, the chart displays primary coverage and not all coverage. We are not suggesting Receiver X will be covered by Corner Y all game. Receivers move around the formation, and the percentage of routes they run from each spot is displayed on the chart. The only exception here is if we expect shadow coverage. In that case, the receiver's name would appear in ALL CAPS. However, we have not seen any shadow coverage in the XFL thus far, so there are no shadow situations projected for this week.
You may also be asking what data we're using here. Since the goal is to compare these players on an even playing field, the data below comes from a combination PFF NFL preseason data and Week 1 and 2 XFL data. That gives us a slightly larger sample size and thus a better picture of the matchups than had we just used XFL data.
The most important column is the matchup advantage column in the middle. The higher the number, the better. Green is good. Red is bad. This column takes a few things into account, but the major piece of data here is PFF grades. We also show targets per route (T/R), fantasy points per route (F/R), catch rate (C%) and yards per route run/covered (YPRR/YPRC).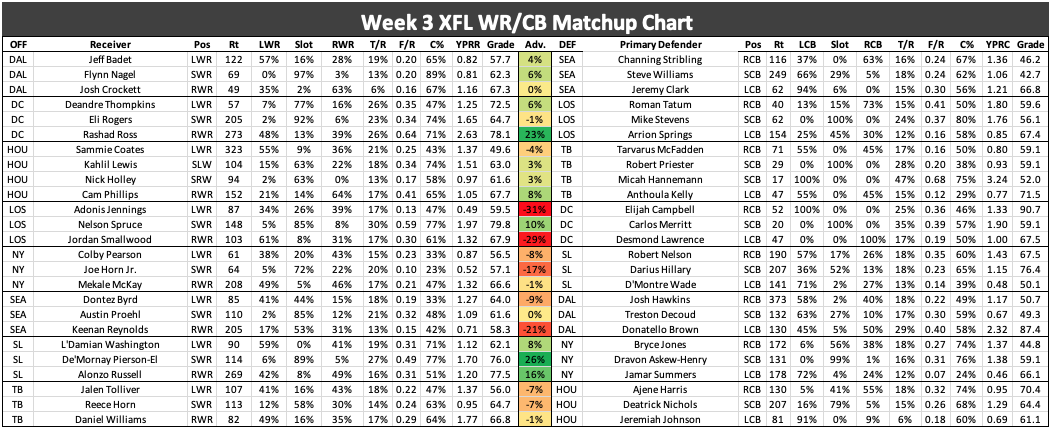 Upgrades
Rashad Ross may not have played any games for Los Angeles, but the DC receiver stated publicly that he wasn't keen on being traded before the season started. In addition to his #revengegame motivation, Ross also has one of the most favorable matchups on the board. L.A. has allowed five passing scores on the season. De'Mornay Pierson-El led all wideouts with 11 targets last week. He should see another heavy workload out of the slot against Dravon Askew-Henry. On the season, Askew-Henry has allowed a 76% catch rate and 0.31 fantasy points per route covered.
Downgrades
We saw a big performance out of Keenan Reynolds last week, as the Seattle receiver racked up 87 receiving yards and a score against Tampa. While Reynolds does have the benefit of facing our lowest-graded defense in coverage, we can't get too carried away with his matchup. Dallas relied more on Dontello Brown in coverage last week, and the Valdosta State product responded well. So far on the season, Brown grades out as the No. 2 cornerback in coverage.