What are some of the top things we learned for fantasy football in Week 10 of the 2018 NFL season? Fantasy football is an ever-changing game, and what we thought was a sure thing a few weeks among might not ring true anymore.
Below are seven things we learned from Week 10 of the 2018 fantasy football season.
Russell Wilson running again means he's going to win people fantasy championships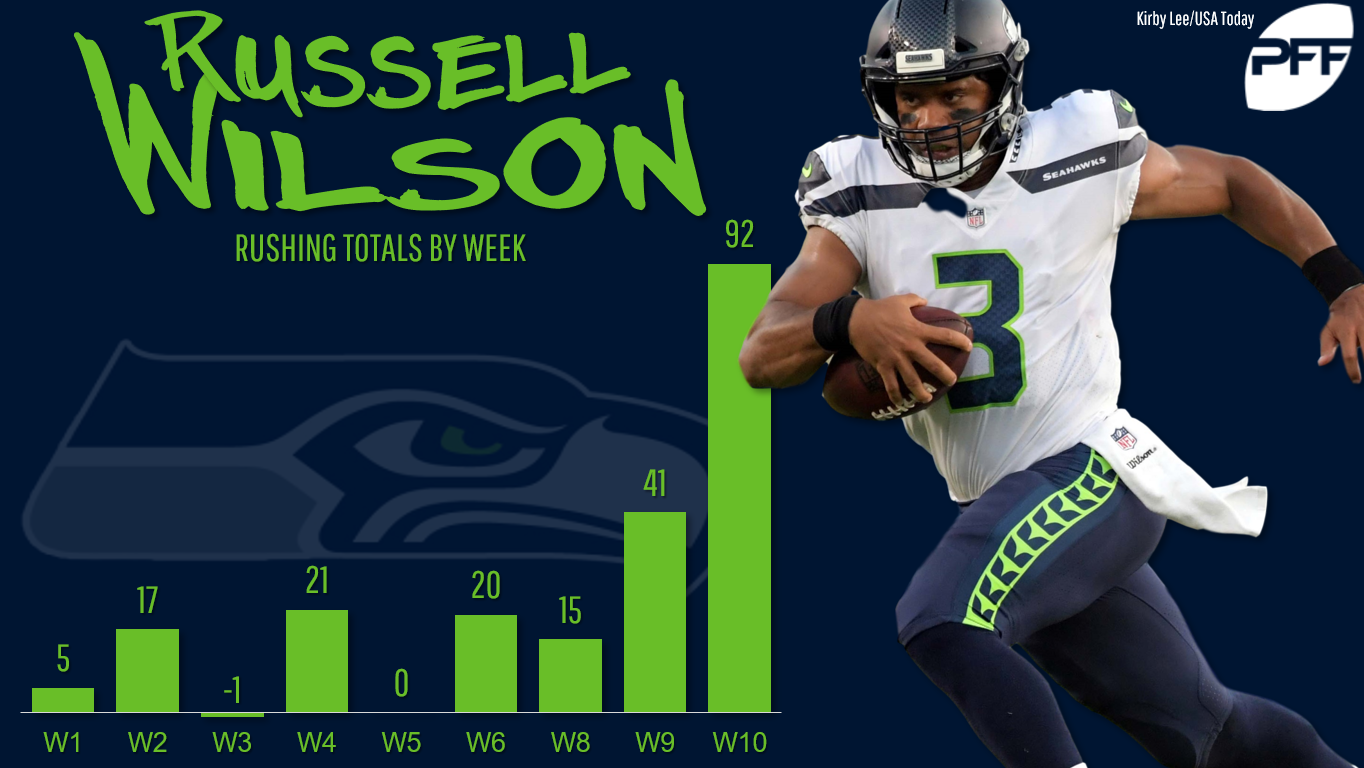 Wilson Weeks 1-9: 3 attempts, 13 rushing yards per game – QB14 in fantasy
Wilson Week 10: 9 attempts, 92 yards – overall QB4 finish
Runnin' Russ means big things for his fantasy outlook down the stretch. He's going to be a top-five fantasy quarterback nearly every week if he continues to run the ball 8-10 times per game.
Touchdown regression is real, and Julio Jones is reaping the benefits
After going touchdown-less in Weeks 1-8, Jones has now hit pay dirt in two straight games. End-zone and red-zone targets bear fruit eventually, and Jones is finally getting on the right sight of touchdown regression. Jones still ranks second in targets (98) and first in yards (1,040) and more touchdowns are coming soon as math tips in his favor — just time for the fantasy playoffs.
Corey Davis can still be the next big thing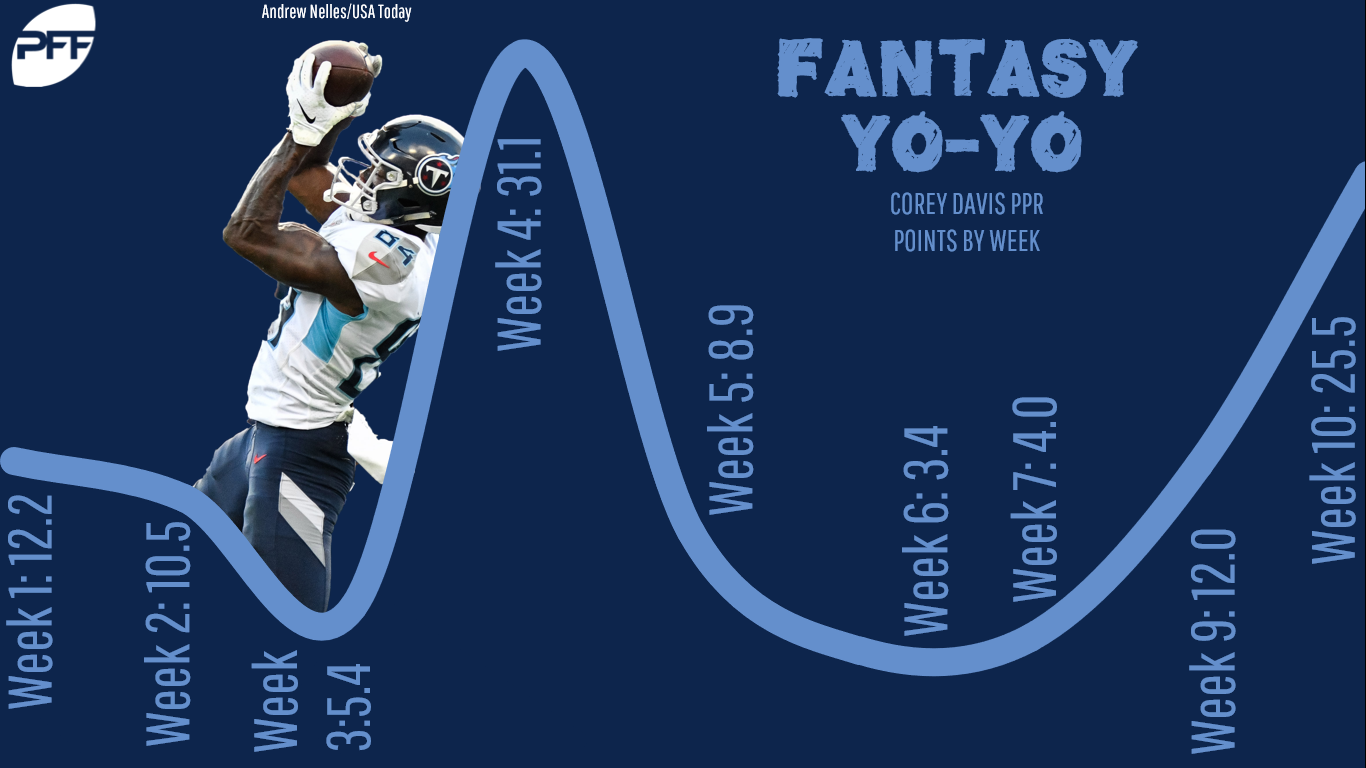 Davis had one of the toughest individual WR/CB matchups of the week against New England shutdown corner Stephon Gilmore. He brushed it off and dropped 7-125-1 (10) against the Patriots en route to the overall WR5 finish on the week. Davis has now exploded for two huge games this year (he went 9-161-1 back in Week 4), showing that it's far too early to give up on him as a game-changing talent. He ranks 15th among receivers with 75 targets this year, so his volume isn't going away, either.
Chubb's 92-yard score was the obvious highlight of Week 10, as he piled up 176 rushing yards and a score on 20 carries. But he added three catches for 33 yards and a touchdown as well. On the year, Chubb's 6.2 YPC average is second-best among running backs with at least 50 attempts. His 5.2 average yards after contact is first … by more than 1.5 yards (!).
New coaching regime means David Johnson is back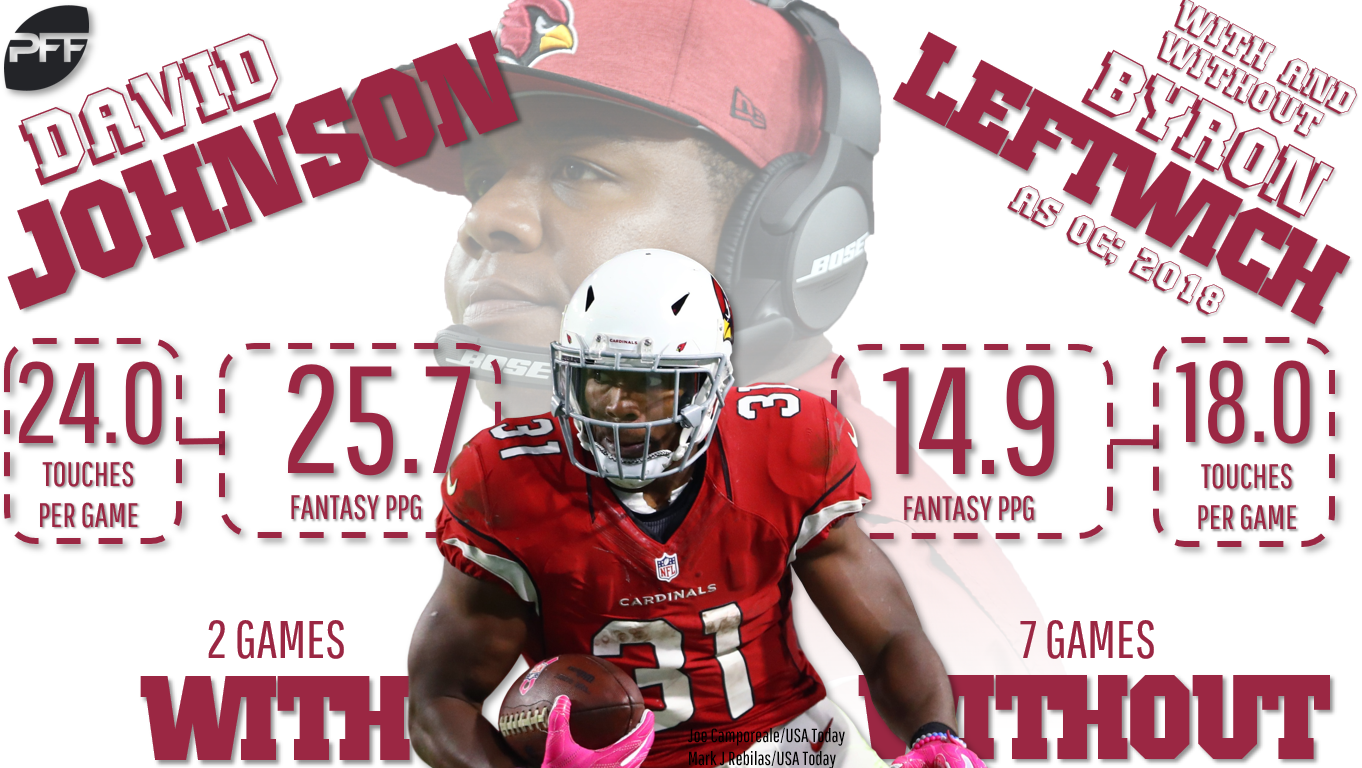 We finally saw a big Johnson week, and it's no coincidence it came shortly after an offensive coaching change. Johnson dropped 37 PPR points on the Chiefs after compiling 21-98-1 on the ground and 7-85-1 through the air on 8 targets. Oh, how sweet it was to see designed passing plays for Johnson in the red zone. That's not going to chance. He's an elite RB1 again.
We mentioned earlier that Chubb ranks second among running backs with at least 50 carries in terms of YPC. Jones is first (6.8). Jones went for 145 yards and two scores on 15 carries in Week 10 and added 3 receptions (on a season-high 5 targets) for 27 yards as well. His efficient running, goal-line work, and respectable passing game usage makes him a tail-end RB1 and every-week starter.
Zach Ertz is the best tight end in PPR leagues. Period
Ertz erupted to 40 PPR points after dropping 14-145-2 on the Cowboys Sunday night. Ertz's 98 targets are 22 more than Travis Kelce (76) — and Ertz has played one fewer game. Golden Tate will work toward a more prominent role in Philly's offense, but Ertz is so far ahead of the tight end pack in terms of volume that even a minimal hit to his role (which is to be expected) wouldn't be enough to knock him from the top of the tight end perch.