With the 2019 fantasy football season freshly in the rearview mirror, it's a great time to take stock of the season that was. This year brought us some record-breaking performances, but more importantly, it showed us that the NFL is evolving. As the league changes, so does fantasy football. Looking at the big picture, here are six things we learned for fantasy football in 2019.
1. Now, more than ever, the NFL is a passing game …
Sure, I'm stating the obvious with that one, but the top fantasy performances at running back and wide receiver really need to be put in their proper historic context. Not only did Michael Thomas set the single-season receptions record, but he also broke it in just 15 games. All those catches packed into the fantasy season propelled him to the highest PPR total from a wideout we've ever seen. Thomas amassed 366.9 fantasy points, which is essentially a full game's worth of production more than the previous high through 16 weeks of 347.2 from Julio Jones in 2015.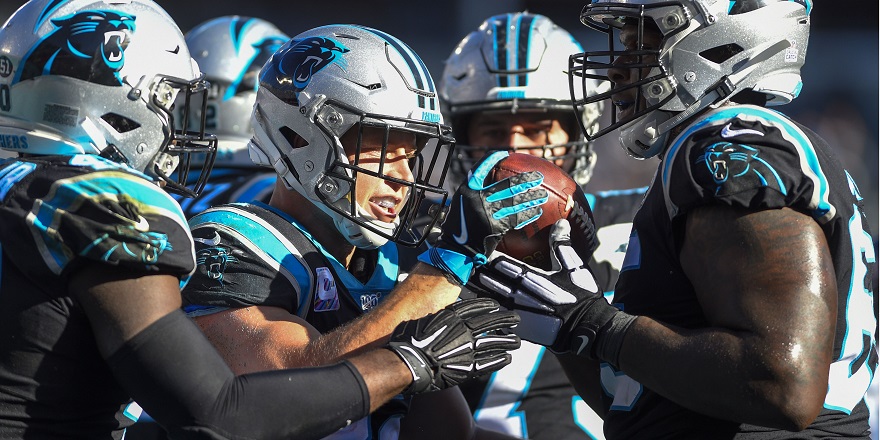 © Bob Donnan-USA TODAY Sports
But it wasn't just Thomas who got in the record books. Christian McCaffrey broke the single-season receptions record for running backs for the second straight season. He also accomplished this feat with another game still on the schedule. And like Thomas, McCaffrey posted an enormous fantasy point total. His 446.4 PPR points is the most we've seen in nearly two decade and is just the second time we've seen a running back top 400 PPR points through the first 16 weeks of the season (the other was David Johnson with 404.8 in 2016).
2. … But running quarterbacks are more important than ever
Let's be clear. This isn't just about Lamar Jackson. He certainly had a season for the ages with his 1,206 rushing yards, but it wasn't just Jackson who produced with his legs. Of the top-10 fantasy performers at quarterback, only two of them don't also rank in the top 10 among quarterbacks in rushing yards. The first of those players is Patrick Mahomes, who was 13th in rushing yards despite missing two games with injury, and the other is Matt Ryan, who ranked 10th at the position in fantasy scoring and 19th in rushing yards.
2019 Quarterback Scoring

Player
Team
Fantasy Points Rank
Rushing Yards Rank
Lamar Jackson
BLT
1
1
Deshaun Watson
HST
2
4
Jameis Winston
TB
3
8
Dak Prescott
DAL
4
9
Russell Wilson
SEA
5
6
Josh Allen
BUF
6
3
Patrick Mahomes
KC
7
13
Kyler Murray
ARZ
8
2
Carson Wentz
PHI
9
10
Matt Ryan
ATL
10
19
While the league is certainly becoming more pass-happy, mobile quarterbacks have never been more important for fantasy football. A decade ago, quarterback scoring looked very different. In 2009, only one of the top 10 fantasy quarterbacks also ranked in the top 10 at the position in rushing yards (Aaron Rodgers). The No. 1 rushing quarterback, David Garrard, finished the season 14th in fantasy scoring, and Peyton Manning managed to finish fourth despite having -13 rushing yards.
2009 Quarterback Scoring

Player
Team
Fantasy Points Rank
Rushing Yards Rank
Aaron Rodgers
GB
1
2
Drew Brees
NO
2
37
Matt Schaub
HST
3
29
Peyton Manning
IND
4
79
Brett Favre
MIN
5
50
Tony Romo
DAL
6
17
Tom Brady
NE
7
35
Ben Roethlisberger
PIT
8
23
Philip Rivers
SD
9
32
Eli Manning
NYG
10
27
Moving into the 2020s, expect this explosion in quarterback production to continue to reshape the fantasy football landscape. Let's not forget that in most fantasy scoring systems, 40 rushing yards is the same amount of fantasy points as a passing touchdown. So in most fantasy scoring systems, Jackson's 1,206 rushing yards is roughly the same amount of fantasy points as 30 touchdown passes. Of course, that's on the extreme end of the spectrum, but a quarterback who puts up 400 rushing yards is adding 40 more fantasy points than the immobile quarterbacks of the previous generation. Like Kyler Murray showed us this season, it's now very possible to be a top-10 fantasy quarterback without topping 20 touchdown passes.
3. Late-round QB is alive and well
It's no secret that folks in the fantasy industry like to wait at quarterback in fantasy drafts. The fantasy masses seem to have come around to this idea more in recent seasons with quarterbacks now going later in home leagues. But every year, there are players like Mahomes who go way too early in drafts. Let's be clear: That isn't a knock on Mahomes. He's phenomenal, but he was widely picked in the second round. While you certainly can't predict injuries, we did see a regression to the mean for Mahomes' production from last year's historic numbers.
But it wasn't just Mahomes who failed to produce a positive return on your draft day investment. Based on ADP, there were 11 quarterbacks selected in the first eight rounds of 2019 fantasy drafts. Of that group, just five finished as top-10 fantasy quarterbacks. Jackson was widely taken in the 10th round, as was Jameis Winston. Dak Prescott was a 12th-round pick, and Josh Allen was likely still on the board in the 15th. That's four of your top six fantasy quarterbacks who were available in the laterounds of your drafts.
4. Beware of aging running backs
Age isn't as big of a factor in redraft as it is in dynasty, but 2019 certainly taught us to not invest heavily in older running backs. Sure, there are exceptions, most notably Mark Ingram, but one running backs really stands out as cautionary tales: David Johnson.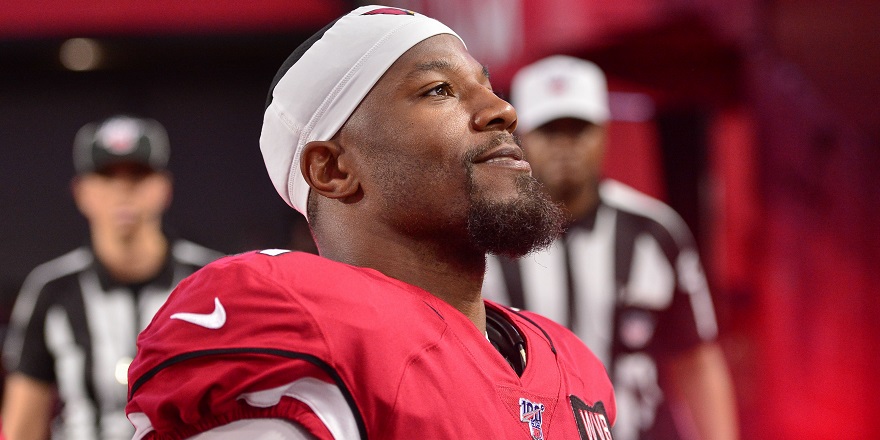 © Matt Kartozian-USA TODAY Sports
The Johnson debacle might be one of the most head-scratching turn of events we've seen in recent fantasy memory. He was one of the most hyped running backs in August with mouth-watering upside in Kliff Kingsbury's offense. He ended up being selected widely as the fifth running back in drafts and got off to a decent start with the sixth-most points at the position through the first six weeks of the season. But an injury and the surprise acquisition of Kenyan Drake relegated Johnson to a backup role and he was essentially unstartable down the stretch.
While Johnson's downfall came as a surprise for many in fantasy circles, perhaps it shouldn't have. Sure, he put up fantasy points over the first six weeks of the season, but that was largely due to his ability as a receiver. As a runner, Johnson was generally ineffective, producing just 298 rushing yards on 76 carries (3.92 yards per carry) with an abysmal 1.99 yards after contact per attempt. By comparison, Drake averaged 5.29 yards per carry with 2.88 yards after contact per attempt since joining the Cards.
Sure, it's an extreme example, but the writing was on the wall for Johnson. The 27-year-old running back was declining in efficiency and just simply didn't have the explosion he possessed earlier in his career. And it wasn't just Johnson. Le'Veon Bell and Devonta Freeman were also widely selected as top-12 running backs, and neither finished in that range. While age isn't the only factor we should consider at running back during fantasy draft season, it certainly should be part of the equation.
5. The instability at tight end is maddening
To be fair, the top three tight ends in fantasy drafts – Travis Kelce, Zach Ertz, and George Kittle – were worth every bit of what you paid for them. But like quarterback, only five of the top 10 options in fantasy drafts actually finished that way. And three of the top-10 finishers were likely undrafted in your league: Darren Waller (4th), Dallas Goedert (8th), and Tyler Higbee (9th).
Higbee is especially interesting. He was one of the hottest players in fantasy over the final month of the season and that hot streak moved him all the way up from the No. 35 tight end into the top-10. It's highly unlikely we such a significant movement at other positions. Even Drake only managed to move up to the No. 16 fantasy running back following his frantic finish to the season.
But it's more than just Higbee. Most weeks, a good fantasy performance was essentially determined by whether the tight end found the end zone. Sure, in a given week the top half-dozen or so performers saw reasonable volume, but outside of them, you essentially had tight ends putting up three catches for 32 yards. That amounts to just over six fantasy points, which isn't going to win you your week. However, if that tight end scored on one of those catches, he essentially doubled his fantasy point total and put up a reasonably good week.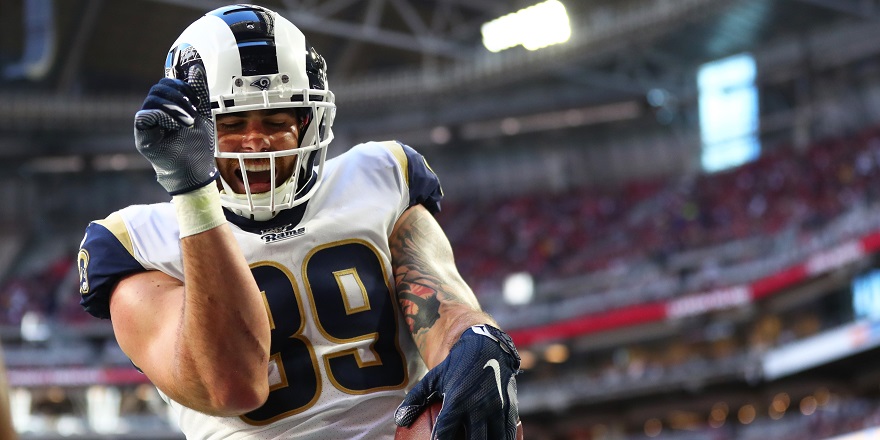 © Mark J Rebilas-USA TODAY Sports
Given the challenge of predicting touchdowns, tight end has by far the most week-to-week variance, which certainly acts to negate skill. While it's tough to argue for a change in how we score tight ends, perhaps we should be asking whether we really want to reward one play with so many points? Is the "3-for-32 and a touchdown" player really twice as good as the "3-for-32 and no touchdown" player?
6. Team defense scoring is antiquated
Speaking of scoring issues, we really have to do something about how we score team defense. The position just isn't in line with how we score the rest of fantasy football. Think about it. With any other position you earn points for accumulating stats and may have some minor penalties for turnovers.
But with defense, you start the game with points, and then proceed to lose those points as the opposing team scores. You do accumulate a small amount of points for sacks and takeaways, but a majority of fantasy scoring comes from touchdowns. The Buccaneers scored five defensive touchdowns finished as the No. 4 fantasy defense this season. They also allowed the third-most points per game.
So what we're largely rewarding here isn't the best defensive play, but rather the defenses who are able to find the end zone the most. While defensive play can be relatively stable year over year, defensive and special teams scores have high variance. The fantasy industry needs to come up with a better way to score defenses that is more reflective of what's happening on the field as less influenced by touchdowns. That's not to say that touchdowns should be eliminated from the equation, but team defense scoring is stuck in the stone ages and needs to be modernized.