Week 1 hasn't even kicked off yet and players have likely already been traded, cut, injured or signed with new teams since our fantasy football drafts were completed, which means it's time to look into the players who will be in new situations with an opportunity to step up, as well as the players on new teams with a new fantasy outlook.
Until the games kick off this weekend, we won't know for sure how each of these players gets utilized but it's always best to try and get ahead of the curve if we want to gain an advantage in our leagues. Here are six IDP options who may still be available on your waiver wire and can make an impact for your squad to start the 2019 season. For those with room on their rosters, these guys might make sense to snap up before Week 1 so you can get in on the ground floor.
Burfict has been the type of player fantasy owners have always been wary of because of a long injury history and a tendency to get suspended, but when healthy and active he has been a top-tier performer at the LB position — but because of his baggage, there's a chance that Burfict is still out there floating around on some waiver wires depending on the size of your league. With the Raiders cutting ties with Brandon Marshall and Jason Cabinda, that takes out two major pieces of competition for Burfict's snaps, clearing the road for significant playing time (as long as he's healthy and out of trouble). Burfict has the chance to return to his old LB1 ways in Oakland and has even looked the part in his 17 preseason snaps with the team earning a 90.2 overall grade.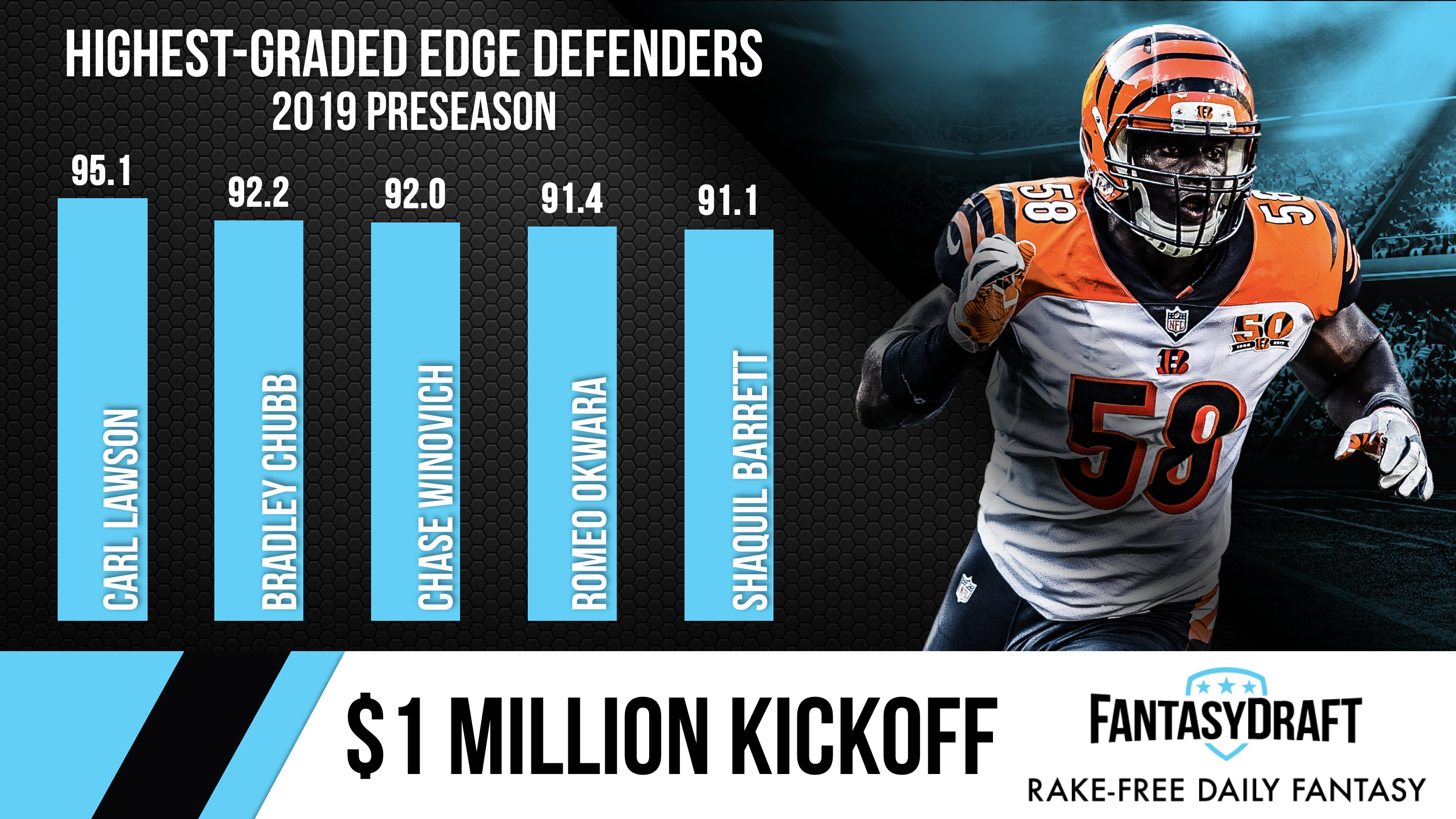 Lawson has gone under the radar this offseason, coming off an ACL tear that derailed his 2018 season, but now back at full health it appears that he is fully ready to pick up right where he left off as a PFF darling from the past two seasons when he's been on the field. In only 11 snaps this preseason, Lawson looked back to peak form on a small sample, managing a 95.1 overall grade by landing one sack on two pressures. Lawson is a pass-rushing specialist who can earn himself some decent playing time this season with a Bengals team that can utilize his skill set.
It may have seemed like a stretch for the Lions to grab this middle linebacker out of Hawaii in the second round of this year's draft, but now with an injury to their regular starter in Jarrad Davis, perhaps Tavai can prove his worth working in relief of Davis. He started in all three preseason games that he played this year, managing 5 solos and 2 assists on 39 total snaps. As a rookie he'll likely be thrown into the fire right away to start the season and as we know when it comes to fantasy, sometimes it's not always about being the best option but being the only one that is the key to fantasy success.
Perhaps the biggest trade to occur this preseason was the one that sent former first overall pick Jadeveon Clowney from Houston to Seattle, which leaves a bit of a hole to fill now for the Texans — current depth charts have Angelo Blackson as the starting edge across from J.J. Watt, but Blackson was used more as a DT last season so it's hard to see him playing significant snaps on the edge. That's where former Longhorn Omenihu comes in — after four years as Texas, Omenihu was able to get better every season while looking like he still has some of his best football ahead of him. Registering 8 sacks last season in college and a 80.8 overall grade last year, Omenihu may be the best option to replace Clowney and put up some solid IDP numbers this season, with a chance to raise his ceiling if he's able to build his arsenal from what Watt could teach him.
Reports from the Dolphins training camp regarding Baker were all very positive. He clearly impressed enough entering into his second season that the Dolphins felt they could move on from Kiko Alonso, who has been the team's starting MLB for the last three years. This, coupled with the fact that early offseason favorite to breakout for the Dolphins, Raekwon McMillan, has been hurt and missed the entire pre-season clears a huge path for Baker to be the guy to step up for the Dolphins' defense. Baker has already looked much more impressive this preseason than he did his rookie year, as he's earned a 91.1 overall grade from the three games that he played and started in this August.
IDP defensive backs already suffered a massive blow, as Derwin James has been lost for a large chunk of the season, ultimately removing one of the top-tier safeties in all formats off the board. So who on the Chargers will be the one to step up and attempt to fill James' shoes? Phillips was a big IDP contributor late last season, starting at SS for the Chargers Weeks 13-17 and getting more snaps in the box than James, which led to him being the better IDP option through the fantasy playoffs, out-tackling James 39-29 during that span. The Chargers have someone they have relied on in the past with Phillips and all signs look like they're pointing to Phillips being that man once again.