The first linebacker drafted in 2023's NFL Draft moves to the front of the line:

Alex Anzalone

gets the boot as the Detroit Lions' starting linebacker.
Year 3 breakout unlocked: The Washington Commanders' 2021 first-round pick finally gets the reigns to start the season.
A brief window closed in Cincinnati:

Nick Scott

looked ready to start with the Cincinnati Bengals' previous starters departing in free agency, but a third-round pick emerges as a better option.
Estimated reading time: 11 minutes
---
With the excitement and optimism around the NFL draft prospects, there are bound to be NFL veterans who are affected by the incoming young talent looking to make their mark in the league. There are sure to be several NFL veterans who will lose snaps to these rookies, hurting their fantasy value as a result. In a similar vein, there are plenty of NFL veterans who may not be viewed as ideal NFL starters that dodged their respective teams taking a player to replace them in this year's draft, helping their fantasy stock. 
This list takes a look at 10 defensive players that won and lost fantasy value after the NFL draft so fantasy managers can adjust expectations accordingly.

---
Winners
The Bears needed significant help along their defensive line heading into the draft, both on the interior and the edge, but only addressed the interior with three selections through 10 picks. This is great news for IDP dynasty managers who took a low-cost flier on Gipson early this offseason or last, as he sits undisturbed atop Chicago's depth chart.
Gispon flashed on limited snaps in 2021, posting an 87.0 pass-rush grade that led to seven sacks. He followed that up by underperforming in 2022 on a larger sample size, only coming away with three sacks and a 59.1 pass-rush grade. If Gipson can get another 600-plus defensive snaps, his pass-rush production should even out in 2023, and with no true threats to push him for snaps, his EDGE3 upside remains relatively safe.
Terrell Lewis and Rasheem Green are the other edge defenders likely to see relevant snaps for the Bears in 2023, but both players have been unremarkable as pass-rushers during their NFL careers, with just one seasonal pass-rush grade above 60.0 between them over the past five seasons.
With seven picks within the first five rounds of the draft, the Raiders could have easily addressed the linebacker position if they felt there was a better option than Deablo, or even Robert Spillane, out there, but that was not the case. With Daiyan Henley and Trenton Simpson still on the board in the third round when the Raiders drafted interior defender Byron Young, both Deablo and Spillane's jobs remained safe. 
Deablo, specifically, should lead the Raiders' linebacker room, just as he did in 2022 before his injury. The top linebacker role in the Raiders' defense averaged over 95% of defensive snaps in 2022 while the LB2 role averaged just 66.5%, making Deablo's primary spot much more valuable for IDP purposes. Deablo really started to look more comfortable in a starting role last season, especially defending the run, and the production followed on the 463 defensive snaps that he was on the field last season. As a former safety-turned-third-round linebacker, the team is likely to depend on Deablo once again this season, as he should be back healthy to start the year.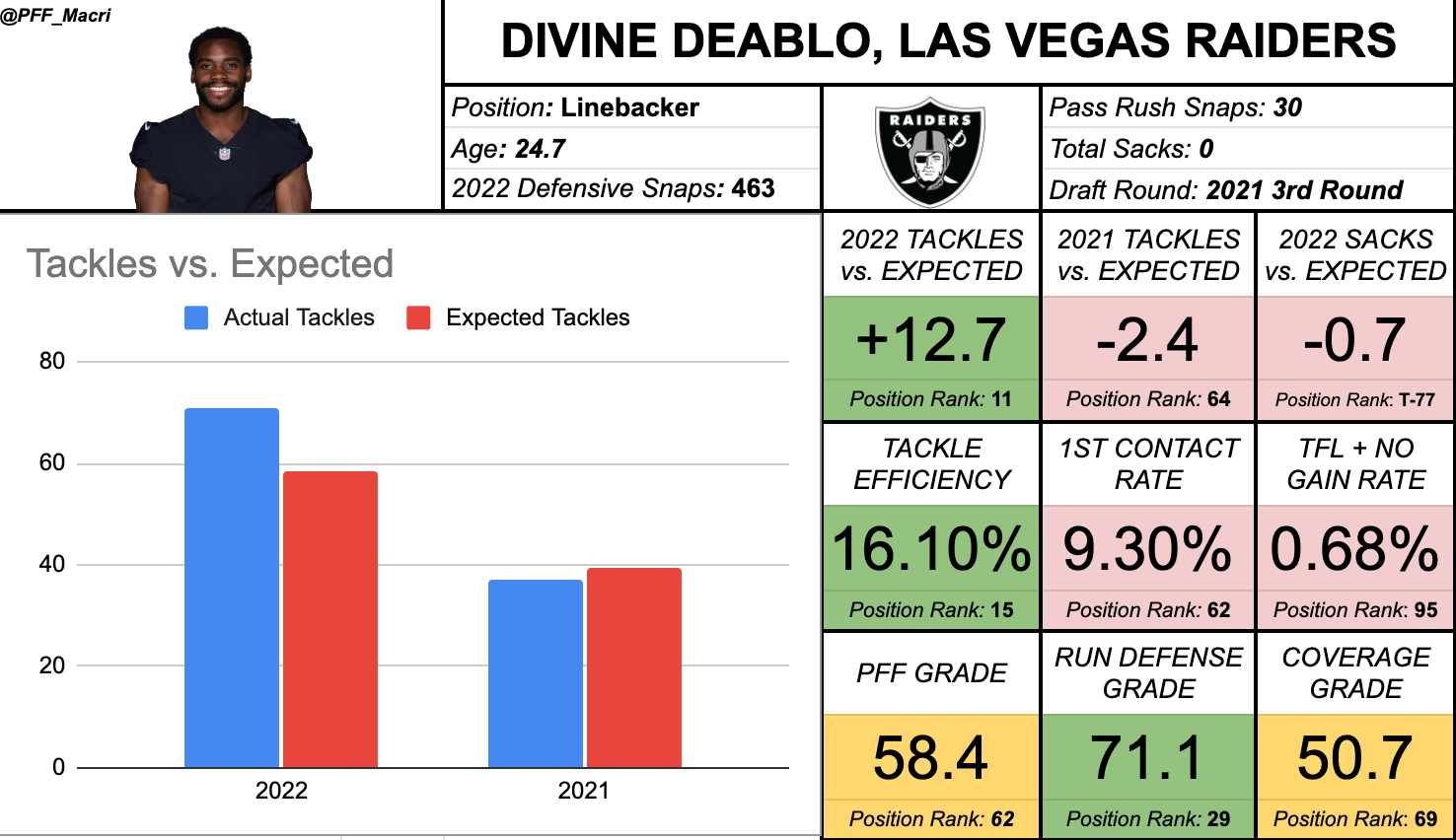 Seattle is expected to be without 2020 first-round pick Jordyn Brooks for most of the year, and even after bringing back Bobby Wagner this offseason, there is room for a second linebacker to play IDP-relevant snaps, and it appears that Bush will be that guy.
The average LB2 snaps for Seattle in 2022 was just 71%, but that started much higher in the year before Cody Barton lost snaps due to poor performance and then got back up closer to 80% later in the year once the team needed him again; however, 70-75% of defensive snaps still feel about right for Bus. As the team had more success playing three safeties versus two full-time linebackers last year and after bringing in Julian Love this offseason, they may want to go back to that deployment in 2023. That being said, there isn't any other competition for Bush to stop him from playing the LB2 role in Seattle, which was among the top-five most tackle-friendly schemes for linebackers in 2022.
Key has been a quietly effective pass-rusher over the past two seasons in both San Francisco and Jacksonville, posting 80 total pressures and 11 sacks in addition to a 78.3 pass-rush grade on 583 pass-rush snaps. Now, he joins his third team in as many seasons with a shot to play a decent snap share on a Titans defensive line in need of edge talent.
The Titans had just six picks in this year's draft, and after losing Harold Landry III to a torn ACL last season and having to rely on Rashad Weaver for over 600 defensive snaps, they appear content to roll with the group they currently have for 2023. With Landry expected back healthy and Weaver likely to return to a rotational role, there is a significant opportunity for Key to win the EDGE2 role in Tennessee along with Denico Autry, who has a tendency to play inside the stand-up edge rushers on passing downs. 
Key projects more as a pass-rush specialist but proved he could be an asset in the run game last season as well, posting the best run defense grade of his career (74.2) on his largest share of run snaps (131) since his rookie season. The Titans are a great spot for Key to come in and get more work on early and pass downs and be a low-cost flier with enough upside to be worth a roster spot in medium to deep IDP leagues.
Year 3 may finally be the year when Washington fully embraces Davis as its top linebacker after selecting him in the first round in 2021. Davis spent the last two seasons behind Cole Holcomb, who is now off to Pittsburgh, and after his injury last season allowed Davis to see a more optimal deployment, and he excelled in his new role. His strong performance potentially earned the coaching staff's trust enough to the point where they didn't feel a need to address the position in the top 200 picks of the draft, leaving Davis locked in as the LB1 for at least 2023.
The team did sign Cody Barton in free agency, but given Barton's lack of starting experience, and even more, his lack of quality play in the NFL, Davis' job shouldn't be at risk. Barton lost his starting job in Seattle last season and only as injuries and a lack of viable replacements began to pile up did he get more involved. He proved to be a capable rotational option in the latter half of last season, but it's unlikely the Commanders see him as a full-time player in comparison to Davis. 
| | | | | |
| --- | --- | --- | --- | --- |
| Weeks | Snap share | PFF grade | Coverage grade | Tackle rate |
| 1-7 | 71.0% | 54.6 | 39.5 | 10.3% |
| 8-17 | 97.7% | 68.1  | 70.3 | 13.9% |
---
Losers
With the 18th overall pick, the Lions took the first off-ball linebacker in the draft, Jack Campbell, who ended up being the only linebacker taken within the first two rounds. This does not bode well for HBO's Hard Knocks star Malcolm Rodriguez or the two-year thorn in the side of IDP managers, Alex Anzalone. The Lions are set to receive a significant upgrade at the position with Campbell coming in, who, even as a rookie, should provide the boost and play-making ability that the team has sorely lacked at the linebacker position under Dan Campbell.
Neither Anzalone nor Rodriguez skewed positively in the tackles versus expected model, with Anzalone being a significant disappointment two years in a row. Campbell was among the best linebackers in the country last year for Iowa, earning a 91.9 overall grade (second), which included a 92.9 coverage grade (first) and should have no problem supplanting Anzalone as the team's LB1 assuming he continues to play at that same level. Campbell also had no problem tackling at a high rate, posting a 14.1% tackle rate in 2022, which Anzalone has never come close to in a season dating back to his college days when playing at least 50 defensive snaps in a season.
With Detroit only deploying one true full-time linebacker last season, with the LB2 playing closer to just two-thirds of the snaps, Campbell should be expected to be the only Lions linebacker of value in most IDP leagues this season.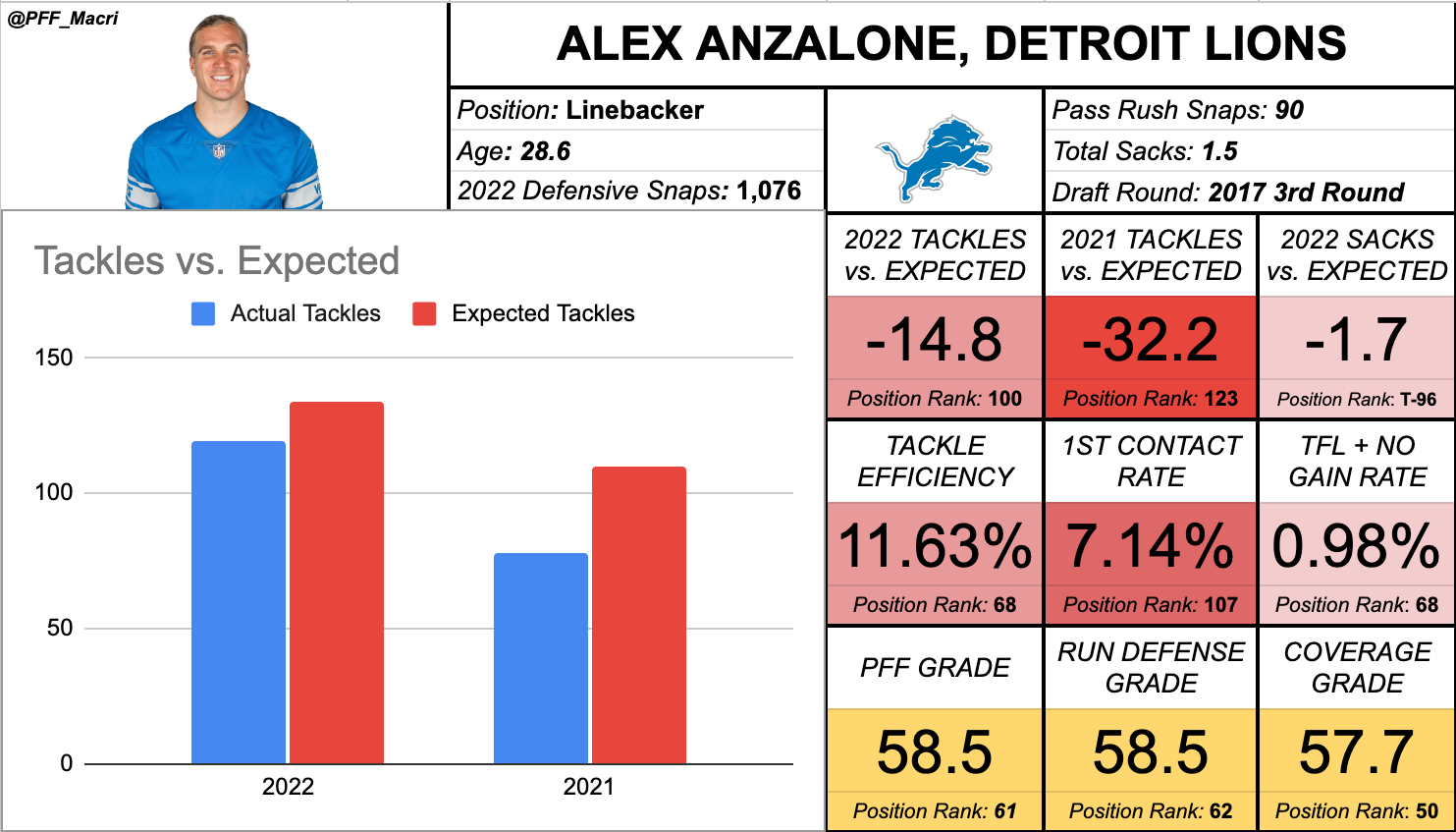 After losing their two starting safeties to free agency this offseason, it seemed like the Bengals' addition of Nick Scott, who earned a full-time role with the Los Angeles Rams last season, could have walked into another thin depth chart to do it again in 2023. However, the Bengals spent a Day 2 pick on one of the better and more experienced safeties in this class by selecting Jordan Battle out of Alabama with the 96th overall pick.
Battle should make a serious push to start in 2023, and assuming that 2022 first-round pick, Daxton Hill, also starts, Scott, as a former seventh-round pick, is the likely odd man out in this safety corps. Even though Scott has one full year of starting NFL experience, Battle has over 3,000 defensive snaps through four seasons as a starter at the highest level in college football and earned some of the best safety grades in doing so.
Battle's experience, draft capital and versatility playing all over the defense should make him the favorite to start right away as a rookie alongside another high draft pick, Hill, push Scott down the depth chart.
Uche emerged as a pass-rushing star in 2022, posting 11.5 sacks on just 373 defensive snaps, which had many IDP managers excited about what he could become on a larger workload, especially if he can start to earn more early-down snaps and increase his floor for production. Unfortunately, that isn't really how Bill Belichick operates, and after playing just 12.6% of his defensive snaps on run downs in 2022, Uche feels destined for a similar role in 2023 after the team spent a second-round pick on Georgia Tech's Keion White.
White is far from a polished pass-rusher but has the size and run-defense ability to start his career in New England on early downs, which will hurt any chance that Uche can get more work in that area. Uche should still have a good amount of upside as a pass-rush specialist for the Patriots, but banking on 11.5 sacks again with a very low weekly floor is not going to be ideal for IDP managers hoping to deploy him as a DE2/flex option in 2023.
The Eagles lost a lot of defensive pieces to free agency this offseason but mostly replenished the bigger holes in the draft, and safety was perhaps the most glaring need that got addressed in the third round. Sydney Brown became the second safety drafted in 2023 and should step right into a starting role next to Terrell Edmunds.
With Blankenship, a 2022 undrafted free agent, and Wallace, a 2020 fourth-round pick, not even posting 1,000 defensive snaps between them in their careers, it shouldn't be difficult for Brown to surpass them on the depth chart. Brown not only has over 3,100 defensive snaps worth of experience during his time at Illinois but earned one of the best coverage grades in the country this past season (89.4) for his position. With most of his college experience coming from playing in the box (43%), he has the potential to even be the safety to rotate down towards the line of scrimmage when called for and be the better IDP option between him and Edmunds in 2023.
Murray has been nothing short of a disappointment since becoming a first-round pick in 2020, posting below-average grades for his position in the past three seasons and failing to earn a full-time job under Brandon Staley. Enter Daiyan Henley, who comes in as the third linebacker off the board in this year's draft, and offers a versatile skillset better suited for the modern NFL and in Staley's defense.
Henley, a former wide receiver, excelled in coverage with his ability to stick with tight ends up the field, running backs out of the backfield and occasionally even on wide receivers out of the slot. When trying to defend the pass, this is the kind of skillset that NFL defenses require out of their linebackers on top of not being a liability in run defense. While Henley is a smaller linebacker, he also did a great job in wrapping up ball carriers with just a 5.2% missed tackle rate in 2022, which was fifth in the country among linebackers who played at least 50% of defensive snaps.
Murray also, unsurprisingly, saw his fifth-year option declined after the draft just adding more to the potential of Henley emerging as a starter next to Eric Kendricks sooner rather than later.
Kenneth Murray's linebacker ranks since 2020 (121 qualifiers – min. 500 defensive snaps):
| | | |
| --- | --- | --- |
| Metric | Value | Rank |
| Overall grade | 43.5 | 106th |
| Run defense grade | 35.6 | 105th |
| Coverage grade | 53.9 | T-71st |