This is our weekly look at fantasy adjustments you should make based on venue and/or weather. Entering the weekend action for Week 16 of the NFL season, knowing which players should see an improvement or decline in their projection can be a key to victory.
Forecasts are calling for a mild, cloudless day across the northeast Sunday, which will shield the majority of the outdoor games that would normally be concerned with cold and snow this time of the year. However, there are two northern games outside of the northeast that may well have weather elements to contend with, and even the southern and dome games create major fantasy advantages and disadvantages because of home vs. road tendencies. Elite subscribers can peruse my projected venue and weather adjustments for every fantasy-relevant player, and I'll touch on the ones that I find more interesting and important.
Sunday, 1 p.m. ET
Baker Mayfield (+0.5) seems like a popular fantasy choice for players trying to replace the injured Cam Newton or avoid normally elite quarterbacks Tom Brady and Philip Rivers against excellent defenses in Buffalo and Baltimore. I think that may be over-thinking things. Temperatures in the mid-30s for this game could mean snow given the moderate chance of precipitation. Snow is the weather element most damaging to passing production of everything I've studied. But even if it doesn't snow, the context of this game will likely prove less favorable than a typical home game for Mayfield. Rain and dry-but-cold temperatures both reduce teams' pass plays and per-play success, and the Bengals defense is a better matchup for the run than the pass. Those factors should swing some of the home-field fantasy game from Mayfield to Nick Chubb (+1.1), who I expect the team to rely on heavily, especially if they can build a lead.
Dak Prescott's (+1.3) 206-yard, 0-touchdown, 1-interception letdown in a shutout in Indianapolis last Sunday erased the tenuous confidence fantasy owners had built up for him since the Amari Cooper (+0.7) trade. But that result really wasn't that surprising. Prescott has shown some of the most extreme home/road splits in football this season, and previous road starts in the domes in Houston and Atlanta hadn't gone much better.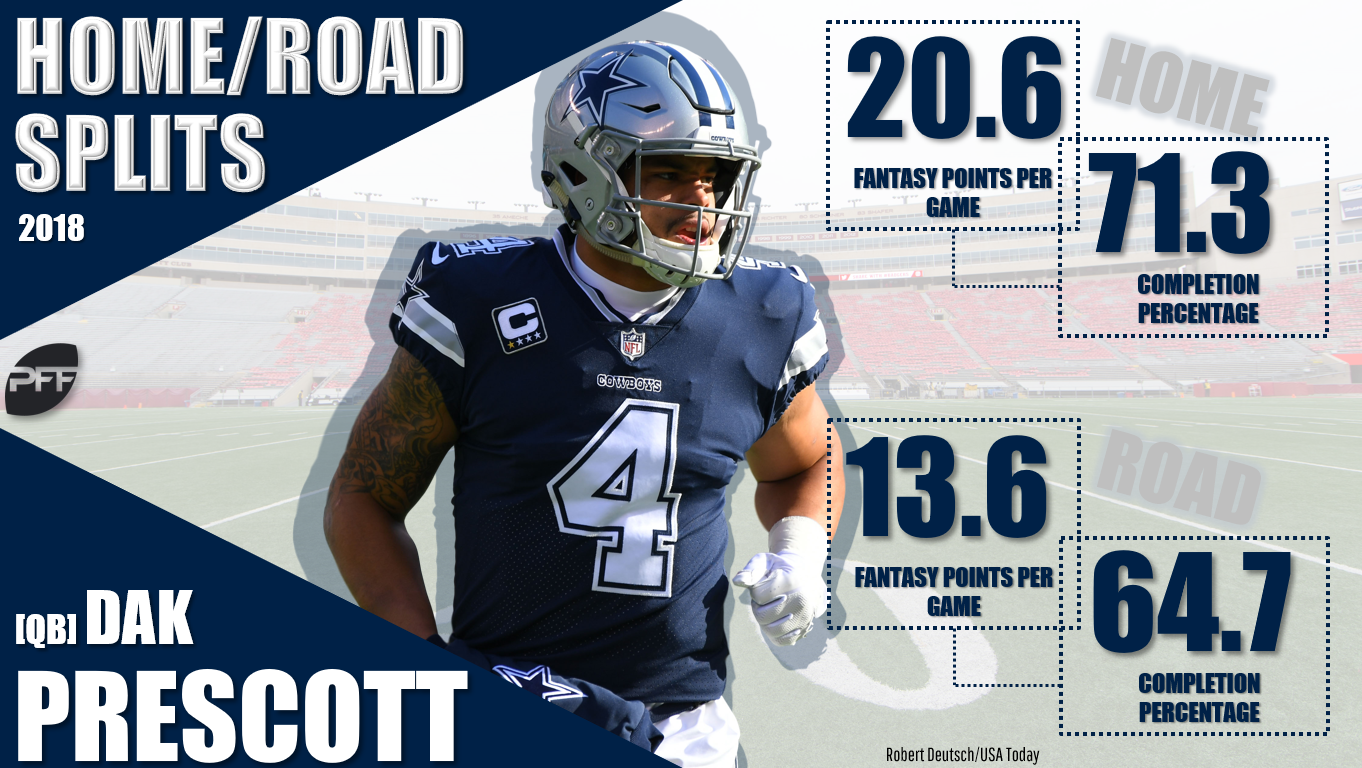 I am confident enough in those trends to fully trust Prescott as a QB1 this week with fantasy championships on the line. It also helps that the Buccaneers are extremely passer-friendly, boosting yards per attempt by 13% and touchdowns per attempt by 23% relative to an average defense.
You may be more willing to forgive one bad outing from the overall better fantasy quarterback this season, Jameis Winston (-0.3), but I would recommend against it. Prior to his 157-yard, 0-touchdown, and 1-pick effort on the road in Baltimore last Sunday, Winston was coming off of four straight games with at least 2 touchdowns. But keep in mind that three of those games were on the road, and Winston has his own strong home-field fantasy advantage. He's a bench for me again against a Cowboys defense that isn't far short of the Ravens from last week.
Sunday, 4:25 p.m. ET
The prevailing narrative is that Drew Brees' (+3.0) recent struggles have cost him the MVP his early-season numbers had him on track to win, but I see all of his ups and downs as schedule-driven. Even before his current three-game funk, Brees had performed consistently poorly on the road. He just hadn't performed poorly in three straight road games because he hadn't played three straight road games before December.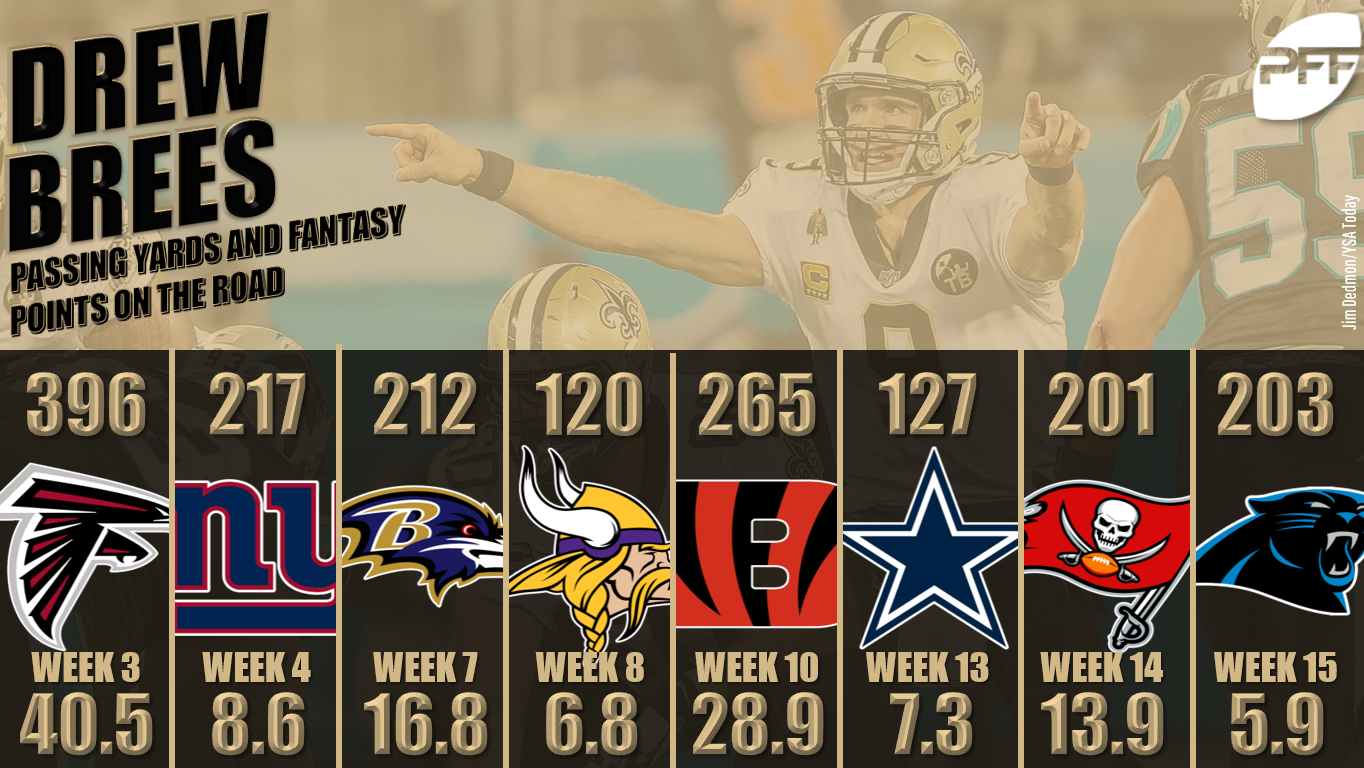 Your confidence in Brees may be shaken, but a return to New Orleans is the only panacea he needs. With that and a matchup against the pass-promoting Steelers, he's vaulted back to second for me at the position his week. Only Russell Wilson is ranked higher for me. Alvin Kamara (+0.7), Mark Ingram (+0.6), and Michael Thomas (+1.7) should all also benefit.
For whatever reason, fantasy owners are more attuned to the fact that Ben Roethlisberger (-3.1) shows extreme home/road splits than they are for Brees. Still, let this be a reminder to you that Roethlisberger is a poor option this week, even though he is playing in a dome. The Saints are a sneaky-bad fantasy matchup for quarterbacks, limiting passing touchdowns per play 11% and promoting passing interceptions per play by 42 percent. Antonio Brown (-1.5) and JuJu Smith-Schuster (-1.4) should suffer the most from Roethlisberger's split tendencies. But Jaylen Samuels (-0.5) should be relatively immune to that sort of context since he is the team's primary ball-carrier and pass-catcher out of the backfield with James Conner poised to miss this third straight game.
Sunday, 8:20 p.m. ET
I doubt I could talk anyone into playing Russell Wilson (+0.8) ahead of Patrick Mahomes (-0.7) in their fantasy title games this weekend. I'm not even sure I should since Mahomes has bucked the typical home/road trends and scored more fantasy points per game away from Arrowhead this year. That said, Wilson has traditionally done better in fantasy in Seattle, he is more experienced at playing in elements like the possible rain this game could see, and he is facing the better defense for fantasy production. The Chiefs encourage both passing and rushing production while the Seahawks are close to neutral across the board.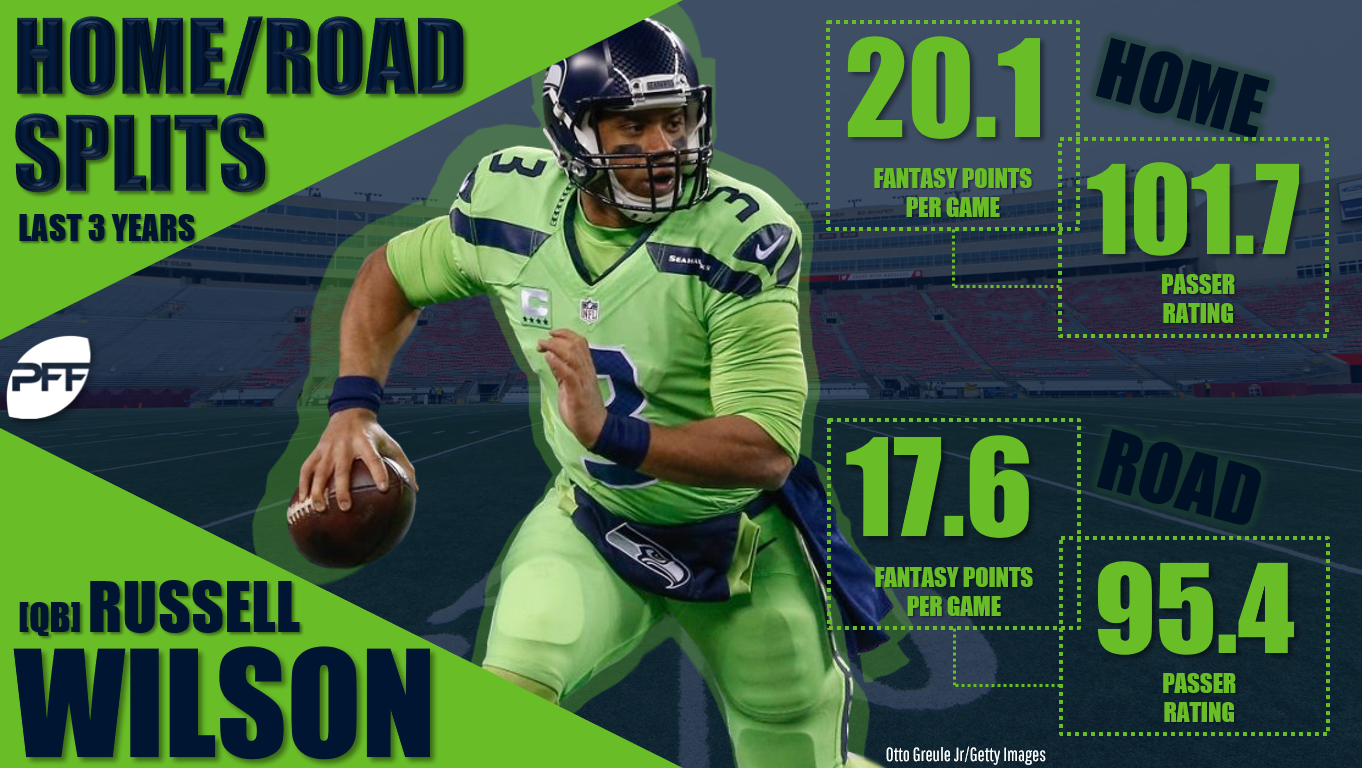 You just can't drop Mahomes that far down your quarterback rankings because he's had just two games this season with fewer than 2 touchdowns and just four games with fewer than 300 yards passing. That said, I am low on his running backs Damien Williams (+0.5) and Spencer Ware (+0.2) because both have looked effective and both are expected to play. I'm projecting a fairly even timeshare that would likely hold both backs to fewer than 15 total touches. That said, rain could really change the team's strategy. I have a feeling that at least one of Mahomes, Williams, Ware, and Tyreek Hill (-1.1) will really let down his fantasy owners this weekend, but you probably have to put most of them in your lineups and hope for the best.