This is our weekly look at fantasy adjustments you should make based on venue and/or weather. Entering Week 10 of the NFL season, knowing which players should see an improvement or decline in their projection can be a key to victory.
It is shaping up to be a rain-free Sunday across the states, which should help many Americans enjoy the beautiful fall foliage. Personally, I'll be watching football. November has brought the colder weather that should start to impact team's passing games, and I have projected that impact and the impact of playing at home and on the road for every fantasy-relevant player in Week 10 for Elite subscribers. Here are the ones I find most interesting.
Sunday, 1 p.m. ET
With no precipitation in the forecast this weekend, the most weather-influenced affair should be the Lions/Bears game in Chicago. Both temperatures in the mid-30s and moderate winds pushing into double-digit miles per hour will likely hurt the success of each team's passing games and push their play-calling a bit toward running the ball.
From a fantasy perspective, those factors shouldn't impact quarterbacks Mitchell Trubisky (+0.8) and Matthew Stafford (-1.1) equally. Trubisky's athleticism and willingness to run makes him less sensitive to changing conditions, and his being at home more than counterbalances the 0.2 fantasy points he is projected to lose for the weather. The pocket-passer Stafford should suffer twice that fantasy loss for the weather and even more playing on the road.
In shallow and medium formats, Stafford will be an easy quarterback to avoid this week. The bigger question is how you should handle his top two receivers, Marvin Jones (-0.7) and Kenny Golladay (-0.8). With Golden Tate traded to the Eagles, Jones and Golladay will have bigger pieces of the team's target share to help counterbalance their projected losses for the bad passing weather. From there, it comes down to defense.
The Bears' defense with a returning Khalil Mack is one of the stingiest in football against the pass, but their best qualities should damage Stafford's fantasy production more than that of his receivers. Over the first six weeks when Mack was healthy, the Bears defense transformed from forcing 20% fewer interceptions and 50% fewer passer fumbles in 2017 to 20% more interceptions and 30% more passer fumbles than a typical team. I've highlighted those weeks with Mack in the chart.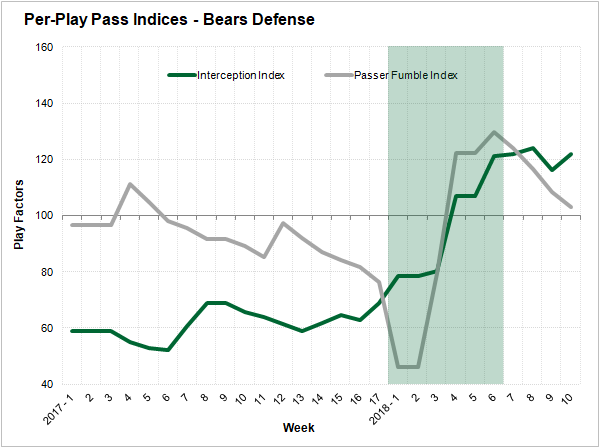 Those interceptions and lost fumbles cost the quarterback points, but not his receivers. Meanwhile, the Bears defense has had a far subtler impact on passing yards and touchdowns per attempt, which factors have both plateaued at about 5% below the league average.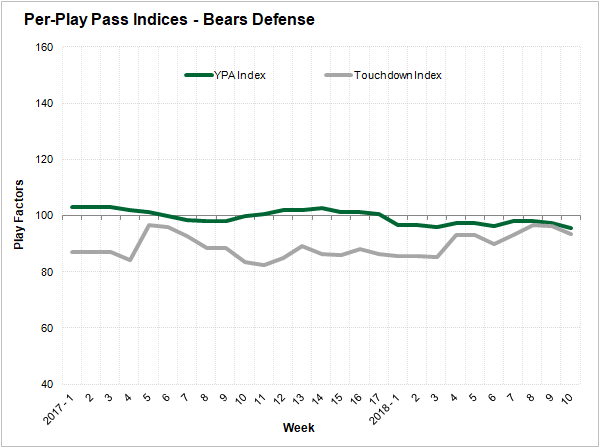 That isn't enough to turn Jones and Golladay into clear bench candidates for the week, especially when other factors like home field and turnover trends suggest a potential for some garbage time passing production for the Lions. You just should look elsewhere for your DFS lineups.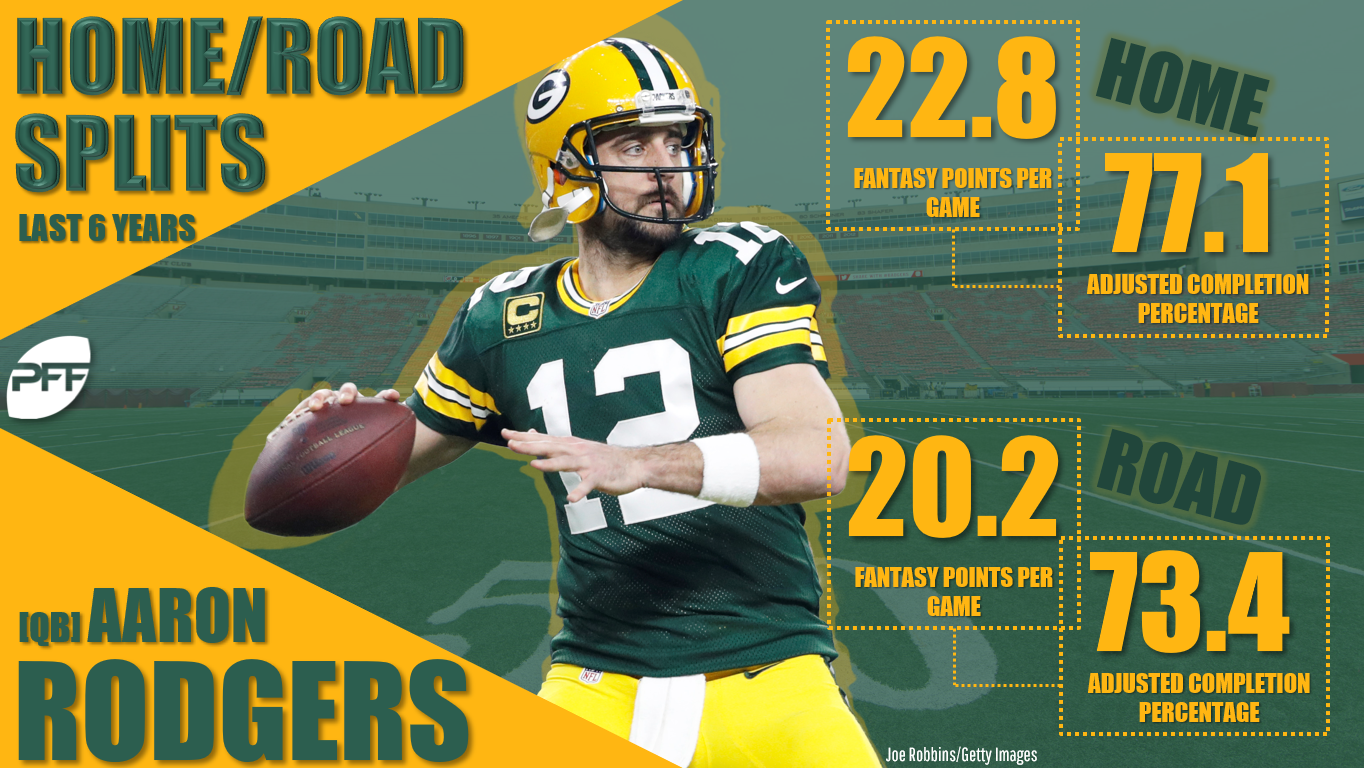 I showed last week that Aaron Rodgers (+1.7) is impervious to cold weather, so the borderline-freezing temperatures forecast for his game in Lambeau against the Dolphins should be of little concern. But Rodgers does show the typical home/road splits of mere mortals. Since 2012, he has scored 2.6 more fantasy points per game at home than on the road. Between that and a Dolphins defense that promotes passing touchdowns per play by 30 percent, third-highest in football, Rodgers should be primed for a big fantasy day. Ditto for Davante Adams (+0.3), Marquez Valdes-Scantling (+0.2), and Aaron Jones (+0.7), the latter two of whom you can now start every week with confidence with Geronimo Allison landing on injured reserve and Ty Montgomery being traded to the Ravens.
Those latest roster moves make the Packers pretty easy to decode for fantasy. For me, the more interesting questions for this game come from the Dolphins. The Packers defense is one of the two that encourages passing touchdowns even more than the Dolphins do, and linebacker Blake Martinez's ankle injury could help turn this game into a shootout. Danny Amendola (-0.7) has seen at least 6 targets and made at least 5 catches in four straight games thanks in part to Albert Wilson's season-ending injury. I think he's a usable flex option even with Kenny Stills (-0.6) and DeVante Parker (-0.5) both playing again. I'd also be fine starting either running back Frank Gore (+0.3) or Kenyan Drake (+0.3). The former should see a small bump because of the cold weather and the latter should see a small bump because of the road start.
Drew Brees (-2.9) is having the best season of his career. His Saints are 7-1 and just vanquished the previously undefeated Rams to seize control of home field in the NFC. He's completing a career-best 76.3% of his passes, and he has 18 touchdowns against 1 interception. He sounds like an every-week must-start in fantasy. But he is not. Brees has always shown pretty extreme home/road splits, no doubt in part due to the Superdome and a team built to play half of their games there. This year, those splits have been even more extreme, and his 236-1.5-0.3 average road line has netted him 17.9 fantasy points per game, just between the overall averages of Blake Bortles and Dak Prescott.
Drew Brees' Home/Road Splits, 2018
At Home
On the Road
Gms
4
4
Comp%
80.0%
72.4%
Yards / Gm
348
236
TD / Gm
3.0
1.5
INT / Gm
0.0
0.3
FanPts / Gm
26.3
17.9
In shallower formats, it may not be worth it to you to play matchups with Brees as your normal starter, but this isn't the week to reach further than Michael Thomas (-1.6) for Saints' receivers in fantasy, especially since the Bengals defense is stronger against the pass than the run. Feel free to pick up Dez Bryant, but leave him on your benches until at earliest the team returns home in Week 11 to face the relatively pass-friendly Eagles.