With the 2022 NFL Draft concluded, dynasty league rookie drafts are going to be in full swing over the next few months. Landing spots typically play a big part in how our IDPs will perform for fantasy football purposes, but dynasty leagues also depend on the cream rising to the top over time, as well. With that being said, let's value the new crop of rookie IDPs in dynasty rookie drafts.
NOTE: These rankings are based on true position IDP leagues, meaning edge rushers will be categorized as such, not as linebackers, even if they're playing in a 3-4 defense. This allows edge rushers to hold their NFL value regardless of the scheme they're drafted into. I'll also exclude cornerbacks from these rankings.
Be sure to check the rankings page throughout the offseason as updates are made.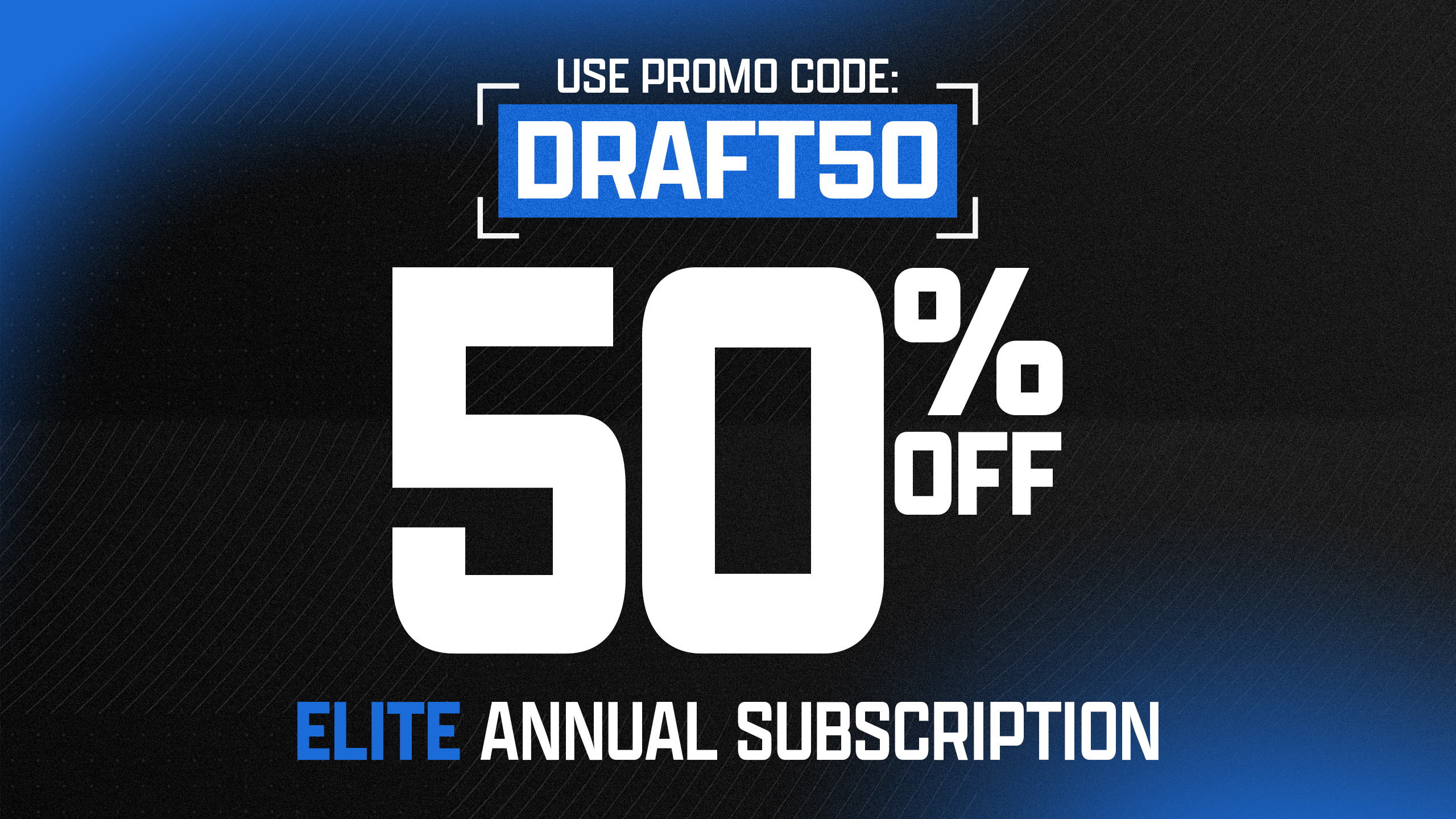 The following rankings are based on the scoring laid out below:
| | | | | | |
| --- | --- | --- | --- | --- | --- |
| Position | Solos | Assists | Sacks | Pass Breakups | Interceptions |
| Linebacker | 1.5 | 0.75 | 4 | 2 | 6 |
| Defensive line (EDGE/DI) | 2.5 | 1.75 | 6 | 2 | 6 |
| Defensive back (CB/S) | 2 | 1 | 6 | 2 | 6 |
While so many like to get caught up in the hype of the next exciting IDP linebacker, Hutchinson the clear choice as the IDP 1.01 for dynasty rookie drafts because he will be an elite full-time defensive end for years to come. The scarcity and lack of consistency at the edge position in IDP leagues create a need for a new star(s) who can play every down.
While defensive line talent doesn't often hit the ground running in the NFL, this year's No. 2 overall pick looks about as pro-ready as we've seen in the past few years. Hutchinson should step into an every-down role in Detroit, serving as an asset against both the run and the pass after dominating the FBS in both categories this past season.
There isn't a better bet to make for long-term IDP value in terms of box score impact at a premium position that relies on talent more than anything to get the job done.
Aidan Hutchinson's PFF metrics and edge ranks in 2021
| | | |
| --- | --- | --- |
| Category | Value | Rank |
| Overall grade | 94.5 | 1st |
| Pass-rush grade | 93.4 | T-1st |
| Run defense grade | 90.8 | 2nd |
| Total pressures | 74 | T-3rd |
| Pass-rush win-rate | 25.0% | 10th |
---
Building off the conversation about taking long-term high floor/high ceiling edge prospects in dynasty rookie drafts, Thibodeaux lands in a great spot for immediate IDP production. Perhaps the most explosive edge defender in this year's draft class, the former No. 1 overall recruit in the country lived up to the hype during his time at Oregon. Thibodeaux's 90.9 pass-rush grade and 87.4 overall grade for his college career makes for an impressive resume to bet on in IDP leagues.
Thibodeaux will pair with last year's second-round edge, Azeez Ojulari, to create a formidable pass-rush duo in New York. A concern for Thibodeaux in non-true position leagues is that he may be designated as a linebacker, as Ojulari is currently designated on a number of platforms, hurting his value slightly. These rankings are formed around true position designations, which enables Thibodeaux to remain a high-value, every-down talent to lock up in IDP dynasty leagues.
Kayvon Thibodeaux since 2020:

???? 85.6 PFF Grade (1st among Pac-12 Edges)
???? 90.6 Pass Rush Grade (1st)
???? 20.3% Pass Rush Win Rate (1st) pic.twitter.com/RjXLjBqgKE

— PFF Draft (@PFF_College) April 26, 2022
---
Lloyd was the top rookie linebacker on PFF's big board and is now the top rookie linebacker for IDP leagues. Even though Lloyd wasn't the first linebacker selected in the 2022 NFL Draft, he should play every down in Jacksonville and produce the kind of numbers that will make him highly coveted in IDP leagues, regardless of format.
Jaguars' new defensive coordinator Mike Caldwell – previously the Tampa Bay Buccaneers linebacker coach – who essentially played two linebackers (Lavonte David and Devin White) on every down, can now feel comfortable in doing so again. Alongside Foyesade Oluokun, Lloyd should play a ton as a rookie while being utilized in a way that also plays to his strengths as a blitzer. Caldwell's Bucs rushed their linebackers at a top-five rate last season — led by White (162 pass-rush attempts). Lloyd should be an asset as a blitzer after posting an 88.4 pass-rush grade, 31 pressures and eight sacks in 2021 — all of which were top-12 among college linebackers. All of this to say that if IDP rosters need immediate production in 2021, IDP managers would be hard-pressed to find a better option than Lloyd, who will fill the stat sheet as the rookie LB1.
---
As the best pick from the first round of the 2022 NFL Draft, Hamilton is arguably a top-five talent in this draft class. Baltimore's scheme will allow him to move around the secondary and produce as a defensive weapon.
The Ravens could look to trade last year's starter, Chuck Clark, with Hamilton now locked into that role for the foreseeable future. Hamilton should play snaps all over the defense, including the highly-coveted box snaps, which fantasy managers love for IDP safeties. Hamilton should be a much better option than Clark for tackle production as well, as Clark produced just a 7.8% tackle efficiency rate in 2021, which is well below average for his position.
It's not surprising that Hamilton's career tackle efficiency (9.6%) would be a full point better than average among NFL safeties given his range, instincts, and consistent tackling ability — evidenced by an 81.4 tackling and just 6.5% missed tackle rate in 2021.
#FFIDP – New Ravens Safety, Kyle Hamilton's numbers since 2019, per @PFF:

????89.7 overall grade
????91.5 coverage grade
????18.3% forced incompletion percentage
????25.9 NFL passer rating allowed when targeted
????84.2 overall grade when lined up in the box

— Jon Macri (@PFF_Macri) April 29, 2022
---
As an IDP who should rise in fantasy rookie drafts, Karlaftis' opportunity for playing time is potentially greater than any other edge drafted in the first round. The Chiefs' depth chart at the position consists of just Frank Clark, Michael Danna…and that's about it. Even with defensive coordinator Steve Spagnuolo's hesitancy to play rookies, the depth chart leaves him with no choice but to play Karlaftis.
Karlaftis earned a 90.6 pass-rush grade and 23.6% win-rate to go along with 54 total pressures and five sacks in 2021 at Purdue. He also proved his worth as a run defender, posting 23 defensive stops against the run (tied for sixth among Big 10 edge defenders) and a 72.8 career run defense grade since 2019. Opportunity, draft capital, and ability add up to Karlaftis being one of the best IDP rookies in the 2022 draft.
---
One of the biggest surprises from the first two days of the draft was Dean's fall all the way to the end of the third round. This, apparently, had to do with medical issues because it certainly couldn't be due to a lack of talent. Dean earned the highest linebacker grade in the entire country in 2021 (91.8) to go along with an elite coverage grade (90.4, third among the nation's linebackers).
Even if Dean is limited or doesn't play at all in 2022, the talent is too great to ignore in dynasty leagues, where the sky is the limit once he gets that full-time role. As long as his medicals check out, the reward greatly outweighs the risk here so take a shot on an elite talent at the position.
Per source, Georgia LB Nakobe Dean declined surgery on his shoulder, and it's now a major concern/medical red flag.

— Austin Gayle (@PFF_AustinGayle) April 30, 2022
---
Ebiketie was drafted early in the second round and steps onto a roster that is desperate for his help.
Ebiketie earned elite grades at Penn State in 2021, including a 90.5 mark on the back of 52 pressures, eight sacks and a 22.9% pass-rush win rate. After earning the lowest pass-rush grade (52.3) as a team in 2021, the Falcons are going to welcome Ebiketie with open arms and likely make him their highest-volume edge defender this coming season.
---
The player with the lowest draft capital inside this ranking's top 10, Tindall could be a steals in 2022 IDP rookie drafts. While his limited experience as a starter probably contributed to his late third-round draft capital, he has the talent to be a starting NFL linebacker.
Tindall was solid all-around for Georgia in 2021, earning an 85.4 overall grade. He wasn't a liability in coverage, and he also earned the best sideline-to-sideline linebacker superlative for this class.
Tindall's lack of starting experience will likely keep him behind Jerome Baker, at least in 2022, but there is an easy path to be Miami's LB2. If you can afford to be patient, there are available outs in Baker's contract as early as 2023, helping build a stronger case for Tindall's future IDP success.
Channing Tindall's 2021 grades and ranks among the 2022 rookie LB class (21 qualifiers)
| | | |
| --- | --- | --- |
| Metric | Value (2021) | Rookie LB rank (out of 21) |
| Overall grade | 84.4 | 6th |
| Run defense grade | 71.5 | 12th |
| Pass-rush grade | 81.5 | 8th |
| Coverage grade | 81.9 | 5th |
---
The Jaguars bet on elite athletic traits and size with the No. 1 overall pick, landing what figures to be more of a project along the defensive line. Walker didn't have the college production that you would hope for when spending a first overall pick on a pass-rusher, as he posted just five sacks and an 8.9% pressure rate from 381 pass-rush snaps in 2021. Walker's grades and tape explain his lack of production this past year, as he posted just a 64.5 pass-rush grade and a 10.1% win rate — both of which rank outside of the top-200 FBS edge defenders.
Knowing that Walker is likely to take a couple seasons to develop into a relevant NFL edge, the best route may be to not draft him at all in fantasy rookie drafts. Let someone else take him in this range, and when they get frustrated by his lack of production after a year or two, offer a trade at a lower cost to acquire him. Hopefully, Walker's pass-rush repertoire will start to catch up to his athleticism by then, turning him into an IDP star. The player we saw on tape in 2021 probably won't hit the ground running in the NFL, so patience should be preached for this potential boom/bust prospect.
---
One of the league's worst defenses in 2021 gets much better (on paper at least) by adding a talented pass-rusher who is also one of the better run defenders at his position in this class. Johnson earned a 78.9 run defense grade in 2021. While this is a good indicator that Johnson can play an every-down role, it doesn't necessarily mean he will, which is how things might shake out in Year 1.
The Jets extended versatile defensive lineman John Franklin-Myers just last year while also signing highly-coveted free agent edge Carl Lawson that same offseason. Lawson is coming off an Achilles tear that kept him off the field in 2021, so there are concerns about his recovery and ability to regain his explosiveness, but nonetheless, Franklin-Myers and Lawson both present barriers to Johnson's playing time. Expect the Jets to allow Lawson (if healthy) and Franklin-Myers to start and play on early downs while Johnson gets more work on obvious passing downs. Not to say that Johnson can't be a relevant IDP, but fantasy managers should be wary of his rookie usage.
---
Cine has been rising up draft boards since late February, rising from the mid-40s to the early 30s, according to PFF's mock draft simulator. Ultimately, that's where he was drafted and in my estimation, he should be a Day 1 starter next to Harrison Smith in Minnesota.
Cine heads to a system with defensive coordinator Ed Donatell, who figures to run closer to the league average single-high coverage (Cover-1 and Cover-3) rate than what the Vikings deployed last season (31st in the NFL). That should mean we see one of — or an alternation of — Smith and Cine come down to play in the box and soak up tackles. Cine earned an 83.4 run defense grade and an 84.9 tackling grade in 2021 — both of which were top-three for SEC safeties — as he's proven to be an asset in run support on top of being a strong coverage safety.
---
The first linebacker selected in the NFL Draft should not be the first linebacker taken in IDP drafts this offseason. Walker lands on a roster that used dime personnel at a top-five rate last season (24%), utilizing just one true off-ball linebacker on those snaps. That linebacker figures to be 2021 All-Pro De'Vondre Campbell, who just signed a five-year contract with Green Bay and was PFF's second-highest graded linebacker in coverage (81.5) last year. While the Packers actually increased their two-linebacker looks by about 250 snaps from 2020, which is certainly more promising for Walker, it's still not enough to warrant taking high in rookie drafts.
All this being said, the Packers obviously valued Walker above all other linebackers in this class, so he should see the field enough to be an LB3 for IDP purposes. He's just more than likely going to also be coming off the field at a higher rate than what is ideal for IDP linebackers.
---
The Bears spent a second-round pick on Brisker, which is ideal draft capital, but also — outside of Eddie Jackson — there's no real competition for Chicago's second safety spot. Brisker should slide right in next to Jackson as Matt Eberflus' next relevant IDP safety, similarly to Khari Willis in Indianapolis. Eberflus' Colts ran single-high coverages at the 11th highest rate in the league last season, allowing one safety — Willis, or Brisker in Chicago's case — to play in the box.
Jackson makes the most sense to play that deep role while Brisker, who has experience playing in the box with 55% of his career snaps at Penn State coming from there, is rotated into the box, making him a solid IDP asset.
2022 #FFIDP PROSPECT:

JAQUAN BRISKER, SAFETY, PENN STATE

2021 FBS Safety ranks, per @PFF:

Overall grade: 82.4 (T-16th)
Coverage grade: 89.5 (6th)
Tackling grade: 66.7 (185th)
Missed tackle rate: 13.5% (T-150th)
NFL passer rating allowed when targeted: 46.8 (23rd) pic.twitter.com/jMznUn1u1d

— Jon Macri (@PFF_Macri) February 10, 2022
---
After being the only off-ball linebacker taken in the second round, Andersen comes into a situation great situation for playing time, but he'll need some work to get there. He's a quarterback turned linebacker, and while his coverage ability still leaves a lot to be desired, he has the speed and athleticism to improve there. Deion Jones, Mykal Walker and Rashaan Evans are ahead of Andersen (for now) on Atlanta's linebacker depth chart, but they also shouldn't be considered elite competition to beat out, eventually. Andersen is a project linebacker who has a short path to on-field IDP relevance, so scooping him up in the mid-to-late rounds would be wise.
Troy Andersen is a LB prospect in the 2022 draft class. He scored an unofficial 9.98 RAS at the Combine out of a possible 10.00. This ranked 5 out of 2188 LB from 1987 to 2022. https://t.co/Fv81WZG6dE #RAS via @Mathbomb pic.twitter.com/s6g8AHkT4J

— Kent Lee Platte (@MathBomb) March 6, 2022
---
The Jaguars suddenly have a crowded linebacker room after taking Lloyd in the first round and Muma in the third round after giving Oluokun a three-year, $45 million contract. Muma appeared to be an IDP darling in the right landing spot thanks to his elite run defense grades (91.1) and tackling ability. He posted 148 tackles in 2021 at Wyoming while missing just 8.1% of his attempts, but because he's likely the odd man out in a typical two-linebacker system, it may be a while before Muma can put up IDP relevant production.
If drafting Muma, patience is going to be key because he'll have to sit behind Oluokun and Lloyd in, at least, 2022. He figures to be a rookie who can hang out on taxi squads until his time comes, which hopefully isn't too long.
---
Ravens defensive coordinator Mike MacDonald reunites with one of his top pass-rushers at Michigan in Ojabo, who tore his Achilles tendon earlier this offseason, which will likely put him out of commission for his rookie year. The hope is that he will fully recover and be back on the field in 2023, and he's a talented player who has a ton of upside when healthy.
Ojabo's burst and athleticism were some of his greatest traits, so if he can get back to full health, the Ravens got themselves another steal in this year's draft. Ojabo should develop into the long-term starter next to last year's first-round edge Odafe Oweh, giving the Ravens two athletic freaks on the edge who can pin their ears back and rack up sacks for IDP managers.
---
Since these rankings skew toward defensive tackle-required leagues, Wyatt should be the first one taken given his ability to contribute as both a run defender and pass-rusher. Not only is he capable of being an every-down defensive tackle, but he has proven to be a well-rounded talent.
The Packers' current starters figure to be Kenny Clark and Jarran Reed, but considering Reed's age (29), contract (one year) and lack of pass-rush upside (he's never had a year above a 67.2 pass-rushing grade), it stands to reason that Wyatt should see the field a decent amount as a rookie.
2022 #FFIDP PROSPECT:

DEVONTE WYATT, DEFENSIVE INTERIOR, GEORGIA

2021 FBS DI ranks, per @PFF:

Overall grade: 89.8 (2nd)
Pass-rush grade: 84.0 (T-12th)
Total pressures: 26 (T-39th)
Sacks: 4 (T-52nd)
Pass-rush win-rate: 13.1% (T-50th)
Run defense grade: 81.9 (T-11th) pic.twitter.com/lHxX56CSqo

— Jon Macri (@PFF_Macri) February 24, 2022
---
The 49ers spent a second-round pick on Jackson, who could be in a sneaky good spot for an eventual starting role across from Nick Bosa. Currently, Dee Ford, who has been unable to crack even 200 pass-rush snaps since joining the 49ers, sits ahead of Jackson on the depth chart. Arik Armstead transitioned to an interior defensive line role in the back half of last season, so Jackson's path to relevance isn't that far off in San Francisco.
In 2021, Jackson earned an 88.3 pass-rush grade on the back of 26 pressures and six sacks. He just turned 21 years old a couple weeks before the draft and has already shown great get-off, hands and speed off the edge. It might not be immediate, but he will have an opportunity to develop into a starting-caliber defensive end in the 49ers system.
---
Similar to Muma, Chenal was shaping up to be a potential IDP star in the right landing spot, but ultimately, he ends up in linebacker purgatory as far as IDP is concerned. While Nick Bolton made out fine last year with his 112 tackles, he did so on just 56% of the Chiefs' total defensive snaps, meaning he was an unsustainably efficient tackler, which shouldn't be relied on for another season, let alone week to week.
Bolton's low 56% snap share led all Chiefs linebackers in 2021, and fantasy managers should expect more of the same from Spagnuolo's linebacker rotation with Chenal in the mix. Even though Chenal was the best run defending linebacker in college football, earning a 94.1 run defense grade in 2021 at Wisconsin, the Chiefs just aren't a great destination for linebackers in IDP. Take a flier on him late in drafts, but spending early capital on him over those listed above him here will lead to agony and disappointment.
---
One of the better landing spots for a rookie linebacker in this year's draft class goes to Harris, who has high upside and, with the right coaching, should be able to develop into a solid NFL starter. Harri's issue is that he had great coaching but never even earned a 70.0-plus overall grade for a season. The lack of quality at the linebacker position for the Texans should get Harris on the field, so he's an intriguing potential IDP rookie sleeper.
---
Second-round draft capital on an elite athlete could garner plenty of IDP excitement, but Seattle's defensive line rotation could be an issue. Seattle typically deployed its top edge defender on around 70% of the team's defensive snaps per week, which isn't bad but not ideal. If all their edge defenders are available, then Seahawks will likely deploy a  heavy rotation between Darrell Taylor, Uchenna Nwosu, Alton Robinson and now Mafe.
Not to say that Mafe can't emerge as the group's best edge rusher but the path to do so would require a great rookie season from a position that typically takes a bit longer to develop in the NFL.
---
Cook figures to contribute to the Chiefs in a similar way that Daniel Sorensen has the past few years, which can allow for some IDP value in medium-to-small doses. The Chiefs have run the second-highest dime personnel rate (31.5%) since Spagnuolo took over as the defensive coordinator in 2019, which accounts for about 300 snaps per season. This is what put Sorensen on the field — combined with injuries to starters and other personnel needs — allowed him to average around 715 defensive snaps over that span.
Cook figures to be a better version of Sorensen after posting 25 defensive stops against the run last year, which was tied for eighth among all college safeties. He also earned an 87.6 overall grade with an 88.8 coverage grade, proving that he can do it all, which should allow him to play a fair bit in Kansas City.
---
Sanders is the only edge defender in this class who posted three straight seasons with an 80-plus pass-rush grade and if he can put on some bulk, he is in an excellent position to contribute to a thin group of edge rushers in Arizona. J.J. Watt and fellow 2022 third-round pick Cameron Thomas are likely to play the 3-4 defensive end role, which should enable Sanders to contribute on the edge. This essentially leaves 30-plus-year-olds Markus Golden and Devon Kennard as the most established edges on the team. Sanders has a path to IDP relevance here and figures to be a decent sleeper late in drafts. After all, this is the same player who posted a very impressive 10 pressures against a strong Alabama offensive line in the College Football Playoff last year.
---
In IDP leagues, Davis is going to be in contention for the first defensive tackle off the board in rookie drafts that require defensive tackles in lineups. However, knowing how nose tackles generally perform for IDP purposes, fantasy managers should be wary of Davis' ceiling for production. Davis has not been a pass-rush threat thus far in his football career, fitting the mold of an early-down run stopper — albeit a very good one. With better pass-rushing interior players already in the lineup (Fletcher Cox, Javon Hargrave), Davis probably won't be anything more than an early down player, limiting his usefulness for IDP.
2022 #FFIDP PROSPECT:

JORDAN DAVIS, DEFENSIVE INTERIOR, GEORGIA

2021 FBS DI ranks, per @PFF:

Overall grade: 79.8 (29th)
Pass-rush grade: 69.0 (T-126th)
Total pressures: 14 (T-156th)
Sacks: 3 (T-88th)
Pass-rush win-rate: 8.3% (T-211th)
Run defense grade: 81.8 (13th) pic.twitter.com/ROAq6aMLGU

— Jon Macri (@PFF_Macri) February 9, 2022
---
The Cowboys used a second-round pick on Williams, who has looked dominant as a pass rusher, at times. Williams earned an elite 90.2 pass-rush grade, posting 61 pressures and 13 sacks at Ole Miss in 2021. He has great burst and can win quickly off the edge; however, he still figures to be more of a work in progress compared to some of the other edge defenders listed above. That being said, the Cowboys need someone to emerge across from Demarcus Lawrence and considering what we've seen from Dante Fowler Jr. over the past couple years, it's not out of the realm of possibilities that Williams is a significant contributor as a rookie before developing into a future starter for the Cowboys.
#Cowboys EDGE Sam Williams is a dip-n-rip pass-rusher who possesses elite speed (4.43 40) and an outstanding get-off. He needs significant work, but he checks the most important boxes for foundational traits of an effective NFL pass-rusher. pic.twitter.com/VCjf7ppiaI

— John Owning (@JohnOwning) April 30, 2022
---
---
---
---
---
In a similar vein to Andersen landing with the Falcons, Smith also figures to be more of an athletic project in an off-ball linebacker room that's fairly thin on talent outside of Shaq Thompson. Fourth-round draft capital isn't ideal, but he's still young and has shown an ability to make plays in coverage during his time at Penn State, recently earning an 80.0 coverage grade in 2021.
---
---
---
---
---
Don't let the second-round draft capital fool you, Pitre should play slot corner for the Texans instead of safety, which is what he'll be listed as on a lot of fantasy platforms. Pitre was almost exclusively a slot corner during his final two seasons at Baylor, and he was really effective from that position. He was utilized as a blitzer on nearly 150 snaps over the past two seasons, posting 37 pressures and seven sacks. Fantasy managers may just have to wait for him to get a starting spot in Houston in the slot with Desmond King slated to get the nod for 2022.
---
---
---
---
It appears that Blake Martinez is going to be healthy and remain the Giants' starter for another season. There is an opening for the Giants' second linebacker spot though, and McFadden could be in line to take it over former seventh-round pick Tae Crowder and sixth-round pick Darrian Beavers. McFadden earned back-to-back 90-plus pass-rush grades his last two seasons at Indiana as well as a 74.8 overall grade in 2021. This could help McFadden get on the field more and make an impact in Don Martindale's blitz-heavy defense.
---
---
---
---
---
---
---
---
---
An athletic and versatile safety out of Toledo, Anderson could be in the mix as a sleeper to take over for Vonn Bell after his contract expires at the end of 2022. Anderson played everywhere in Toledo's defense, but the majority of his snaps came in the slot and the box. Anderson earned a 78.8 overall grade, 72.9 run defense grade, 80.1 pass-rush grade and a 79.0 coverage grade since 2020.
---
---