The Atlanta Falcons are no stranger to fantasy football production, as the team has been one of the most proficient offensive units over the last half-decade. They also made a power move at running back in the offseason, signing Todd Gurley after deciding to move on from veteran Devonta Freeman. Gurley is no doubt a polarizing fantasy option, but how will this landing spot impact him in 2020? Let's take a look at the initial 2020 fantasy football projections for the Atlanta Falcons offense.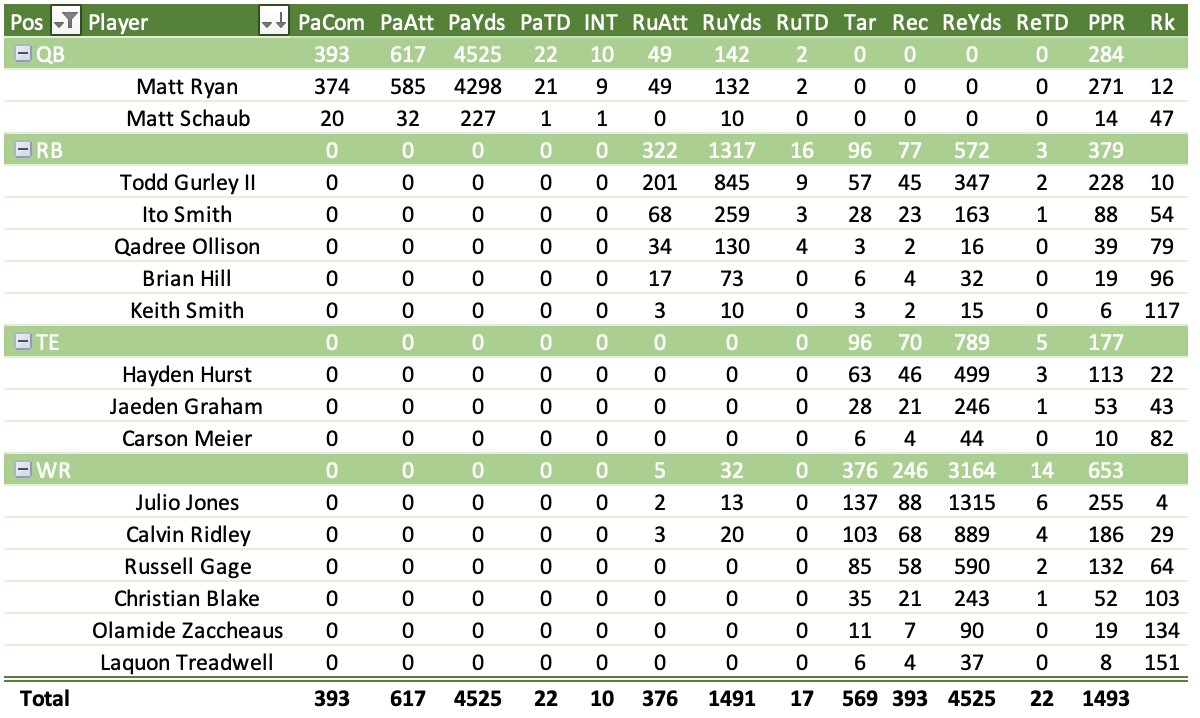 Starting with anyone other than Gurley would be burying the lead, especially given how favorably he projects out. Some are going to automatically respond to those numbers with, "but his knees are shot." But that narrative seems a bit overblown. Sure, his fantasy production fell off last year, but the Rams' run blocking is likely more to blame than Gurley's knees.
In Atlanta, Gurley steps into a potent offense that projects second in the league in total yards (6,016) and ninth in total touchdowns (39). He also has the benefit of having minimal competition for touches. Yes, Ito Smith is there, but he hasn't shown the ability to be anything more than a backup. So, it really comes down to whether or not you buy the Gurley knees narrative. As of now, Gurley is looking like he could be a modest, albeit risky, value at his current ADP as the 15th running back off the board.
Matt Ryan's numbers last season weren't quite what we saw out of him in 2018, but the Falcons' signal caller still finished as a back-end QB1 in the No. 10 spot. Our projections aren't overly bullish on Ryan but do have him right in that same range again. The problem with Ryan for fantasy purposes is that his overall ceiling simply isn't as high as other quarterbacks in this same range due to his lack of mobility. Ryan's career best of 147 rushing yards just doesn't move the needle in the modern era of fantasy football. 
Say what you will about Julio Jones, but the veteran wideout has been one of the top receivers of his generation. Jones has topped 1,000 yards in each of his last six seasons with triple-digit receptions in three of those seasons (he also had 99 last year). But, as many fantasy players will be quick to point out, Jones has had trouble finding the end zone. He has only posted one double-digit touchdown season in his nine-year career, and that came way back in 2012. Our numbers don't anticipate that changing this year with just six projected scores, but Jones still figures to see ample volume with the fifth-most projected catches in the league and third-most receiving yards.
The numbers aren't quite as favorable for Calvin Ridley, though the young wideout still projects inside the top 30. To be fair, Ridley is a player who has already received fantasy buzz as a breakout candidate. While there's a lot to like about his game, the challenge for Ridley comes from playing on the same team with a true target monster in Jones. Ridley still offers some weekly pop for fantasy lineups thanks to a high ceiling, but the numbers suggest we shouldn't view him as anything more than a mid-range WR3 option.
With Austin Hooper out of the mix, Hayden Hurst will see a massive boost to his fantasy value in 2020. The third-year man projects for a major uptick in volume with 16 more receptions than he posted last year with the Ravens. While Hurst is intriguing, the numbers put him more in the TE-streamer range than in a spot where we should be considering him as a late-round fantasy pick in 2020 redraft leagues. 
[Find the full collection of analysis and insights on PFF's 2020 fantasy football projections for all 32 NFL teams. Check back as more articles will be added each day.]